Up in the air, everything changes. The world looks different, perspectives shift, and thoughts get a bit clearer. This is a feeling SHARK.AERO, a Czech-Slovak company, aims to provide through their record-breaking ultralight aircraft. Original Prusa 3D printers are helping them both with development and actual production. So, buckle up, and prepare for takeoff!
SHARK.AERO is a company with a rich history spanning over 30 years. They initially started as a parts producer for Diamond Aircraft but over time, they established their own brand – the Shark. The SHARK.AERO's hangar is full of various planes – a jaw-dropping sight. However they're not just any planes, but some of the fastest ultralight aircraft around.
Petr Hýl, the sales and marketing director, introduces us to the Sharks manufacturing process.
Making an airplane
The team at SHARK.AERO makes their own carbon composite parts, with each plane requiring around 200 components. The process of creating the composites is very complex and for smooth production, the team has to work like a well-oiled machine: laying carbon fiber into molds, joining the layers with epoxy, and using a vacuum pump to ensure a perfect spread and finish.
Some parts are even more complex: For instance, the Kevlar cage designed to protect the pilot, and the co-pilot in case of an accident. Mentioning that we're quickly assured that each Shark is equipped with an emergency parachute to ensure a safe landing for the whole plane in case of any problems.
The assembled composite parts are brushed, painted and polished in a separate area. This step-by-step process allows SHARK.AERO to produce three planes each month. And with rising demand, they're hoping to up this number to four soon.
As Petr easily lifts the tail of a plane with his hands, he explains: "The aircraft is designed according to the European ultralight category standards – so it is very light indeed." In fact, the whole aircraft only weighs about 350 kilograms (or 770 pounds).
Once the basic assembly and painting are done, the aircraft moves to the hangar for the engine and electronics to be installed. The engine is made by Rotax and is surprisingly efficient, consuming around the same amount of fuel as a car would – but no traffic jams in the sky…
Making of 1: After a day full of plane geekery, someone finally popped the magic question: "Wanna fly?" Well, why not?
We found ourselves in the record-breaking Shark, taking a quick flight over the city, and towards a ruin of a castle. The view was something else! But… Just to clarify, at 190 cm (that's 6'3) tall with a size 49 foot (13,5"), I'm not exactly built for ultralight flying. And despite previous flight experience, my stomach decided to ruin the show. So did the wind in fact. "Bit of a breeze," the pilot grumbled as he struggled with the controls and I held on to my dignity, determined to see it through. When we finally landed, I was as white as a sheet, but hey, I'd made it. "Amazing, wasn't it?" Tanya piped up. All I could muster was a quiet "Yeah, incredible."
More than 100 3D-printed parts
Over a hundred of the Shark's components are 3D printed. Most of them are hidden under the hood. It's in this hidden room next to the workshop, where Vlado Pekar, SHARK.AERO's CEO, reveals his workhorses – several Original Prusa 3D printers, including the resin SL1S and a brand new MK4!
"Using 3D printing saves us about 100 work hours," says Vlado. Most parts are printed from ABS due to its good temperature resistance. Anything near the motor cooling system is made from nylon. You can see one 3D-printed part right in the cockpit – the control grip of the plane, printed from resin using the Original Prusa SLA printer.
Vlado has successfully used 3D printing to perfect the aircraft's landing gear doors – a project that has been 10 years in the making. He describes the process as a constant trial and error, with countless variations tested until it was just right. The working doors are a mix of carbon composite and 3D-printed parts. Why all the fuss? Well, the retracted landing gear doors can give the aircraft an extra 10 kilometers of speed.
Their recently added Original Prusa MK4 has been a great help in their development process. "The first layer is always great and overall, the ease of access and user experience improved a lot. We're going to use it a lot once we reslice all our parts," Vlado mentions.
3D printing has also found its way into the workshop with printed tools, molds, and master models. Before every serial production, a 3D-printed model is made for testing and trials.
The best part of our visit was that everywhere we went we were accompanied by Izi, a dog that Vlado found near the airport. Izi is very friendly and most interestingly – he loves to fly and has over 80 hours in the air. Petr Hýl refers to him as their own "Chief Dog Officer".
Making of 2: So there we were, high in the sky, two Shark planes in a close formation. Below us sprawled the huge Nové Mlýny dam, while Děvín, the highest mountain in the region, to our left. It was nothing short of beautiful. Miraculously, my stomach decided to play ball this time. The breathtaking view made me momentarily forget our purpose: We were racing against the sunset, an hour left to capture the perfect shots for the video. Thankfully, Tanya with the main camera kept focused.
"Guys, we need more of you on the left with that mountain in the background!" she directed over the radio.
"Roger that," responded our pilot, veering sharply to the left without warning. I felt the shift, and not in a pleasant way.
"This is what flying is all about!" the pilot said with obvious excitement as he began to descend, then climb, turn sharply to the right, and a host of other maneuvers. I tried to concentrate on holding the secondary camera and remembering to breathe.
"Did we get the shot?" the pilot queried.
"Negative, you need to go again," Tanya relayed over the radio.
We had to repeat this dance with the devil five times.
Record-breaking planes
Lucky for us, during our visit, there was a special plane in the hangar: The one Zara Rutherford used to become the youngest woman to fly solo around the world. And her 17-year-old brother also used a Shark to become the youngest person to do so.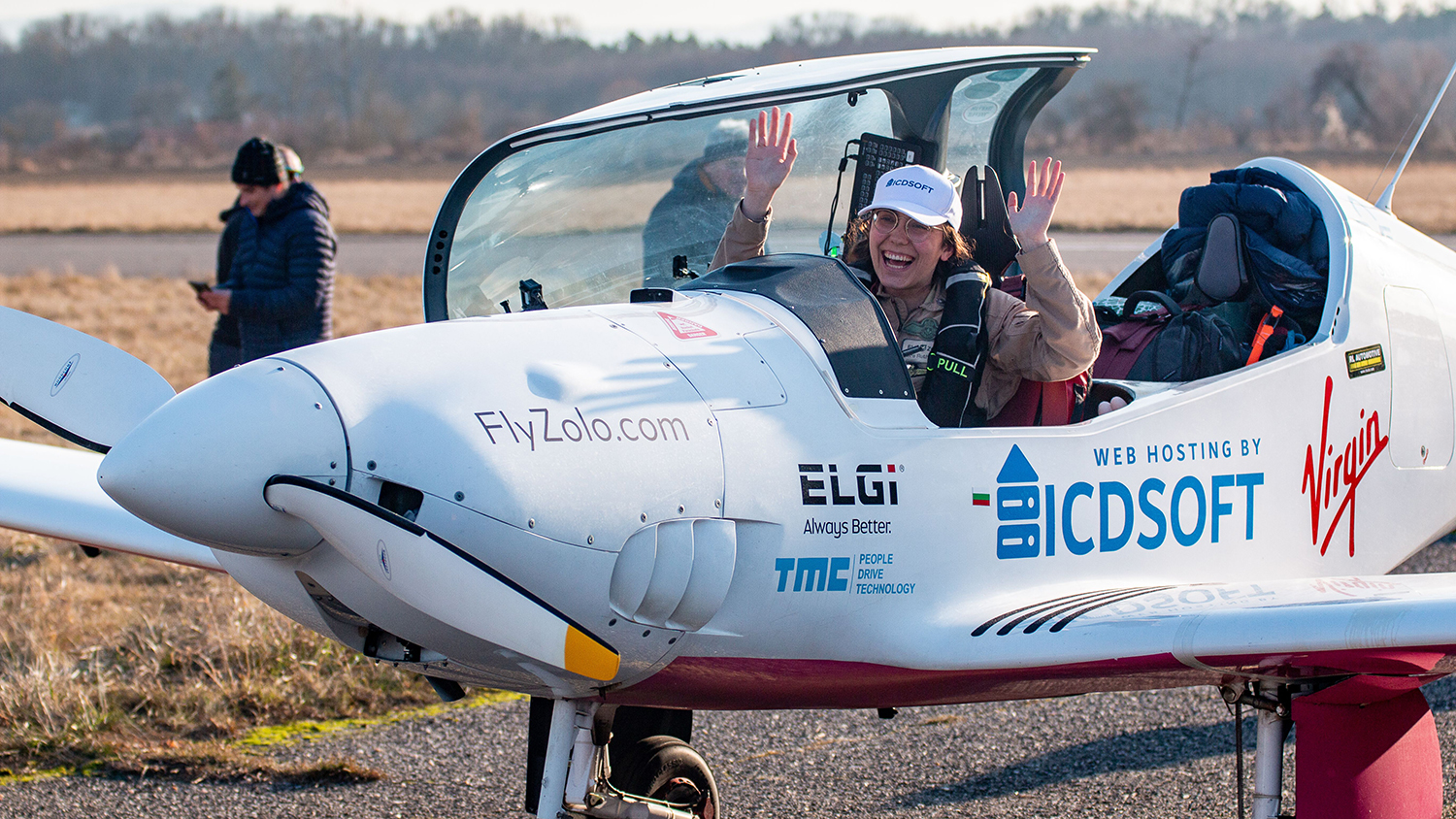 "For us, it proves that our planes are extremely reliable and can fly everywhere and in any climate. Who would have thought that a plane with 3D printed parts can do that? " Petr says with a smile.
Both flying and 3D printing seem to be quite addictive. But it's a good kind of addiction, one that keeps pushing boundaries, inventing incredible things, and achieving new heights.
Making of 3: When I finished this article and watched a preview of the video, I noticed something strange. The shots for which I had practically swallowed my pride… They were conspicuously absent from the video! When I asked Tanya about it, she simply replied with a knowing smile, "They weren't that good."
Oh, the joys of a dream job.
Štěpán Feik, Tanya Nevada and Jakub Kmošek