We keep rolling with the flash contests so keep your eyes peeled on this page to see the current themes. Reminder, flash contests come weekly, every Friday, and only last 9 days. There is also only one main prize, 400 PrusaMeters to the winner but we are awarding some other small prizes awarded at our discretion. Oh, and if you are working to collect as many badges as possible on Printables this is also a chance to get a contest winner badge!
Good luck and keep reading below to find our latest themes.
Current themes:
72. Ring Holders
Starting May 16, 2023 Ending June 04, 2023 23:59 UTC.
Entries from May 19, 2023 to June 04, 2023 23:59 UTC.
Get set to dazzle – the latest theme for our flash contest is 'Ring Holders'! Imagine a miniature dragon guarding your precious rings, or a castle, its towers offering perfect perches for your favorite pieces of jewelry. How about a tree branches gracefully curve to hold your rings, or something more simple and practical? This is your opportunity to transform the everyday ring holder into a tiny universe of fantasy with the help of your 3D printer. A valid entry is a stand that can hold at least one ring and will keep your jewelry safe when you're not wearing it. The ring(s) should also be easily accessible for everyday wear. We can't wait to see the unique and playful ring holders you'll craft for this contest!
Think outside the jewelry box and submit your design by June 04!
71. Organic Supports
Starting May 19, 2023 Ending May 28, 2023 23:59 UTC.
Entries from May 11, 2023 to May 28, 2023 23:59 UTC.
It's been a while since we introduced organic supports in PrusaSlicer 2.6.0. This new feature not only streamlines the printing and post-processing experience but also saves you some filament and additionally, there's a certain satisfying aesthetic to it all. But what if these organic supports, winding around your model, became an integral part of it? What if, instead of being removed, they added to the aesthetic or functional appeal of your creation? This intriguing idea, initially proposed by Joel Telling, is the focus of our upcoming flash contest! We're eager to see what you can come up with using this clever feature of PrusaSlicer! Whether it's a 3D printed forest, magical tentacles, a unique support system, or a purely abstract piece, the choice is yours. A valid entry is one that incorporates organic supports as an integral part of the model, regardless of the quantity used. We can't wait to see where your imagination will take us!
Submit your organic creation before May 28!
Archived themes:
70. Building Blocks
Starting May 12, 2023 Ending May 21, 2023 23:59 UTC.
Entries from May 04, 2023 to May 21, 2023 23:59 UTC.
A new Flash Contest is upon us, and this time, we're diving into the world of 3D printable building blocks! We want you to design your own, interlocking building blocks that can be printed and assembled for endless fun and imaginative play. Your entry should include a set of parts that can be connected together (or with other parts) in various ways, allowing for a multitude of construction possibilities. Think beyond the traditional block shapes and consider incorporating unique connectors, functional elements, or eye-catching patterns to make your designs stand out. 
Don't miss this chance to impress all the builders and submit your entries by May 21!
69. Tissue Box Covers
Starting May 05, 2023 Ending May 14, 2023 23:59 UTC.
Entries from April 28, 2023 to May 14, 2023 23:59 UTC.
Another round of the Flash Contest is here, and this time, the spotlight is on a household essential we often overlook – tissue box covers. We're inviting you to showcase your innovative designs and turn this everyday item into a conversation starter! Let's create a unique, functional, and eye-catching tissue box cover that elevates the ordinary. Whether it's a minimalist design, an intricate pattern, or a whimsical creation, we want to see your take on this common item. A valid entry should be able to hold a box of tissues commonly available in stores and be convenient to use. We can't wait to see your inventive tissue box cover designs, regardless of whether the base is square, rectangular, oval, or round.
Don't miss this chance to transform a mundane object into a work of art. Submit your entries by May 14th.
68. Retro Game Boy Accessories
Starting April 28, 2023 Ending May 07, 2023 23:59 UTC.
Entries from April 21, 2023 to May 07, 2023 23:59 UTC.
Are you a fan of the classic Game Boy and the retro gaming experience it provides? Then our latest flash contest is just the right opportunity you need to express your love for nostalgia! This time around, we're challenging you to create 3D printed accessories for the Game Boy that are practical or just super cool. From protective cases and screen covers to custom buttons and stands, we want to see how you can take your retro gaming experience to the next level with your designing skills. Whether you're a fan of iconic games like Super Mario, The Legend of Zelda, or Tetris, or simply want to create something unique and playful, this contest is the perfect opportunity to feel the retro vibes once again.  
So, dust off your Game Boy and enter the contest before May 7th! 
67. Models with Magnets
Starting April 21, 2023 Ending April 30, 2023 23:59 UTC.
Entries from April 14, 2023 to April 30, 2023 23:59 UTC.
Are you into exploring new possibilities in materials and design? If so, our latest flash contest is perfect for you! This time, we challenge you to create 3D models that incorporate magnets of any size in a functional or creative way. Whether it's a toy, a gadget, or a piece of art to decorate your home (excluding fridge magnets, which we have had some time ago), we want to see how you can use magnets to take your design to the next level. This contest is the perfect opportunity to let your imagination run wild and have some fun in the process.  The winning design will be selected based on its overall creativity and functionality, so don't hold back!
Let's see how you can harness the power of magnets – don´t forget to submit your design by April 30! 
66. Stroller accessories 
Starting April 14, 2023 Ending April 23, 2023 23:59 UTC.
Entries from April 07, 2023 to April 23, 2023 23:59 UTC.
Calling all 3D printing enthusiasts who are parents, grandparents, or simply love to design accessories. Our latest flash contest theme is all about creating 3D printed stroller accessories that are both practical and stylish. From storage solutions and sun shades to bottle holders and phone mounts, we want to see what you can come up with. We're looking for functional designs that can make strolling with your baby more comfortable and convenient. The winning design will be chosen based on its overall design and functionality no matter the stroller brand. Just make sure to mention what type of stroller is compatible with your design. So fire up your 3D printers and let's see what you can create! 
Be prepared for the wild ride and submit your entry before the contest ends!
65. Bookends
Starting April 07, 2023 Ending April 16, 2023 23:59 UTC.
Entries from March 31, 2023 to April 16, 2023 23:59 UTC.
Attention all bookworms and literary nerds! This week's 3D printing competition is all about creating the ultimate bookends for your personal library. Whether you prefer classic novels, modern bestsellers, or 3D printing manuals your books deserve the best support possible. So, put on your thinking caps and get ready to design some bookends that will have your books standing tall and proud. We're looking for designs that are both functional and visually appealing, so feel free to incorporate your favorite bookish puns and nerdy references. Let your imagination run wild, but please keep in mind that all entries must be able to securely hold books and be compatible with standard bookshelf sizes. May the best bookends win!
Don't forget to bookmark the competition and submit your entries before April 16.
64. Dog ID Tags
Starting March 31, 2023 Ending April 09, 2023 23:59 UTC
Entries from March 24, 2023 to April 09, 2023 23:59 UTC
We started the month with making toys for the feline members of our family and we are ending it with something for the dogs in our lives. This week's challenge is dog ID tags. Making sure your dog has proper identification is a great way to make sure they find their way back home if they ever become lost. The classic designs of circles and bones are great, but we think you all have the skills and imagination to come up with something cooler. All tags must have a hole in them or another way that they attach to a dogs collar. They should also be sized appropriately for a dog to wear without getting in the way.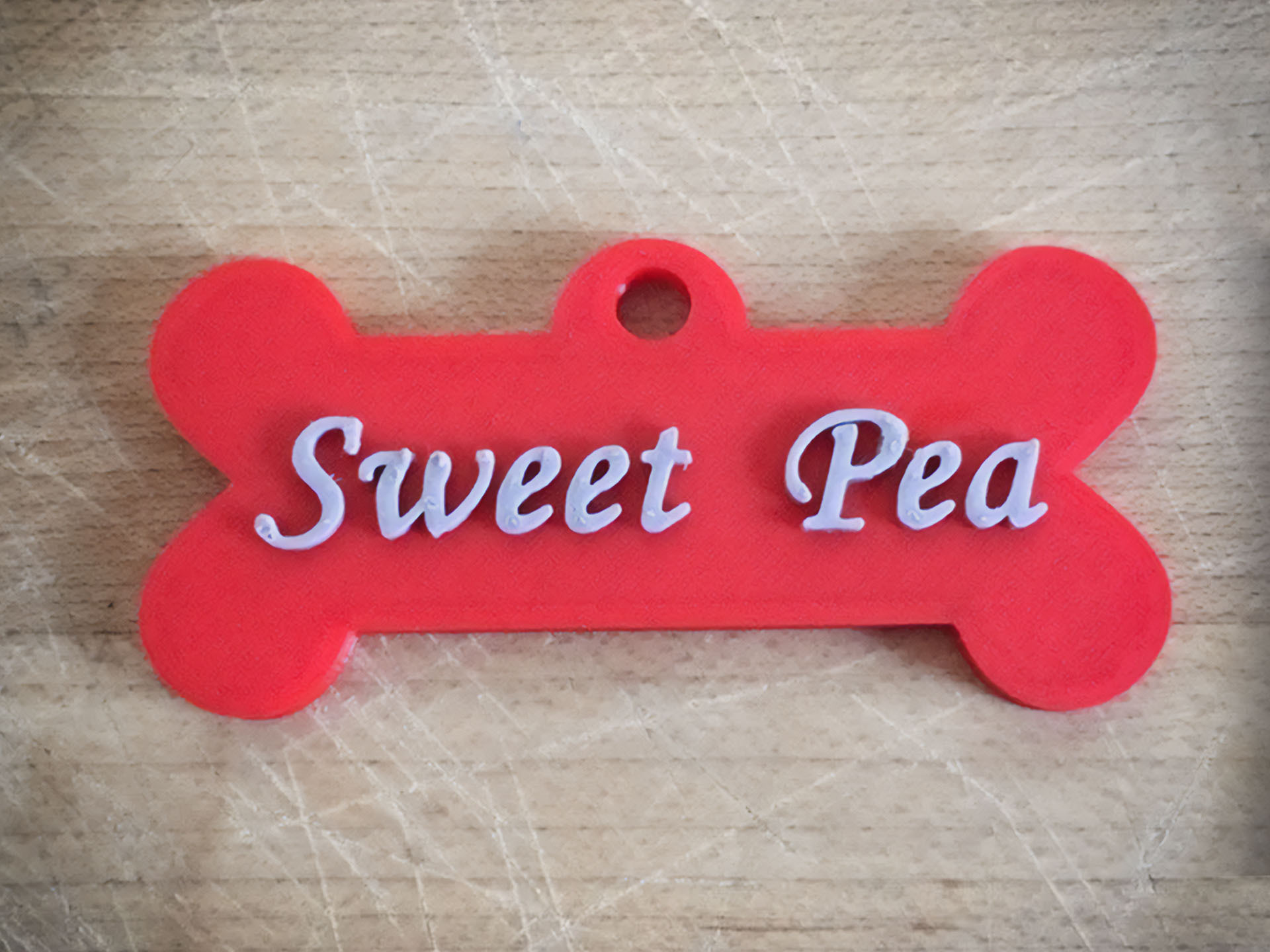 Don't leave this one hanging, get your entry in by April 9th.
63. Dice Storage
Starting March 24, 2023 Ending April 02, 2023 23:59 UTC
Entries from March 17, 2023 to April 02, 2023 23:59 UTC
Dungeons & Dragons has soared to new popularity, gone are the days of the game only being played by outcasts and now major movie stars stream their campaigns. You can't play a good game of D&D though without a good set of dice and when you find your lucky set you need to protect them. This week we are excited to see your takes on items to store your dice. This is a great opportunity to really go beyond basic boxes and embellish your carrier like your best dungeon master embellished the story of your favorite campaign. All entries should be able to carry multiple dice securely and should preferably accommodate dice with different numbers of sides.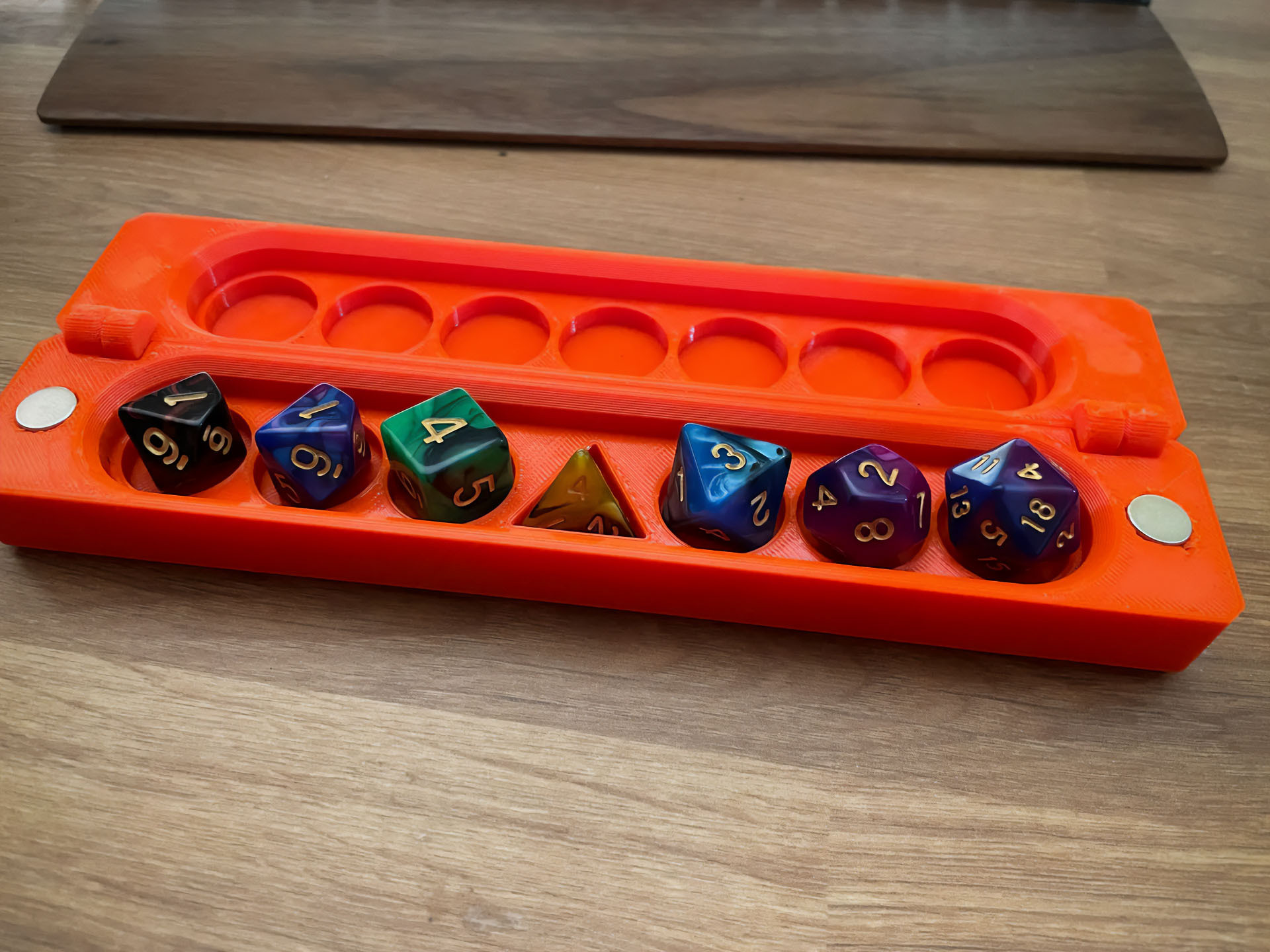 Roll for initiative and intelligence then get your entries in by April 2nd.
62. Trophies and Awards
Starting March 17, 2023 Ending March 26, 2023 23:59 UTC
Entries from March 10, 2023 to March 26, 2023 23:59 UTC
Congratulations, you've made it to Friday, this deserves an award! This week, we want you to design trophies and awards for any occasion that calls for physical recognition of accomplishment. The new text tool in Prusa Slicer 2.6 will make it easy for end users to modify your designs for any occasion. While we would love to see classic designs for trophies, plaques, and other types of awards, feel free to use some imagination to create a unique design (FIFA and the Super Bowl don't just use a standard cup after all). We know how hard it will be for some of you to resist with this one, but please keep the NSFW awards for your own personal usage.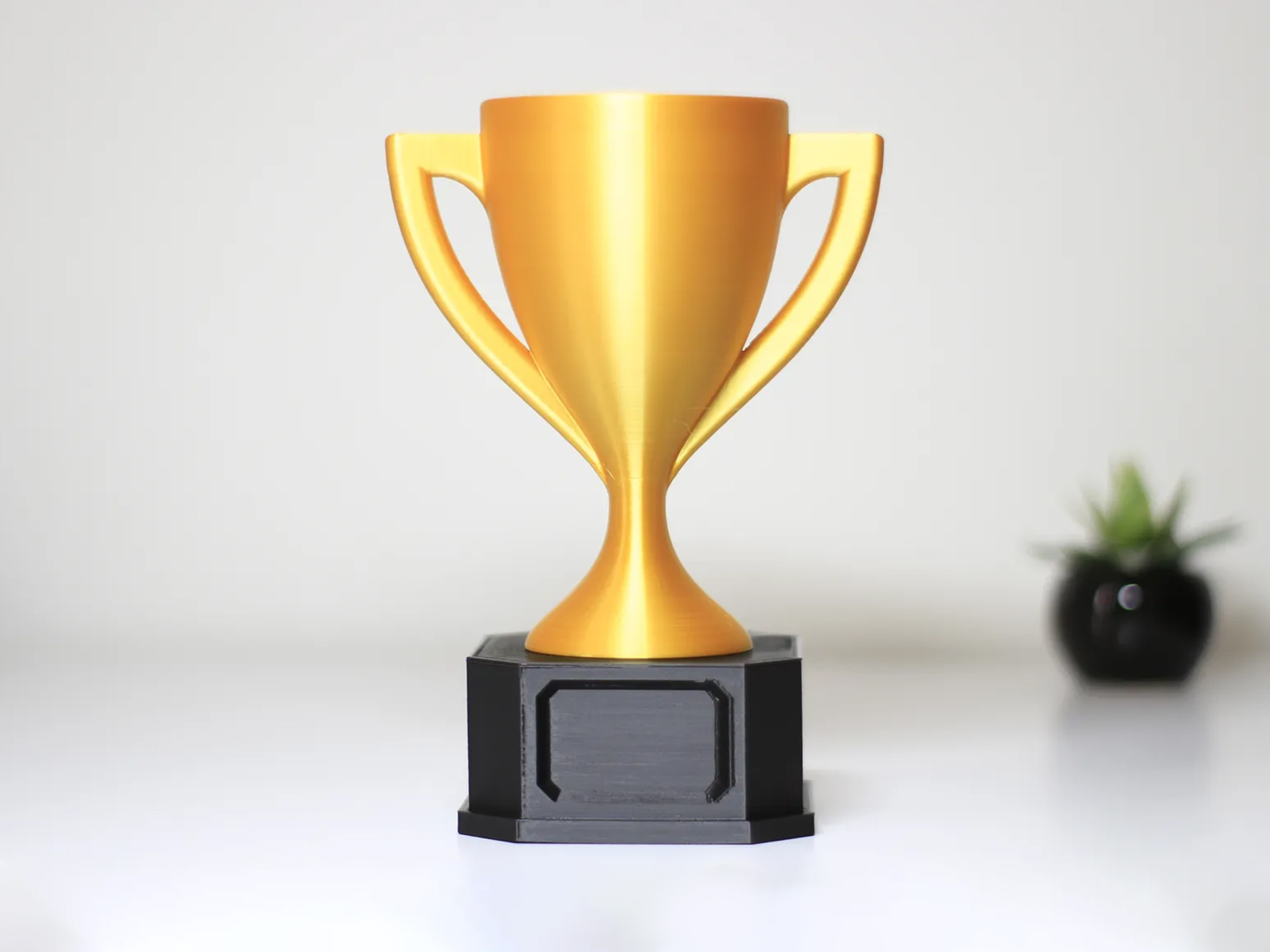 If you have an idea for an award worthy of an award, get your entry in by March 26th.
61. 45 Record Adapters
Starting March 10, 2023 Ending March 19, 2023 23:59 UTC
Entries from March 03, 2023 to March 19, 2023 23:59 UTC
Through the years, there have been numerous formats for consuming music that have come and gone. Our digital age has mostly stamped out physical media such as CDs, but some of us still enjoy the art of the packaging of an album and this has brought one medium back from the dead, the vinyl record. Records come in various formats but the two most popular are 12 inch which run at 33 1/3 RPM and 7 inch which run at 45 rpm. 45s often have a larger hole in the center that needs an adapter to be be played on a standard record player and these adapters can be a great place to have some design fun. This week's flash contest is your chance to show off some of your musical taste by creating your own 45 adapter. 45 adapters must be 1.5 inches around with a 9/32 inch hole in the center to work so all valid entries must conform to that size. Please leave the NSFW entries in your own private collection but other than that, let's see your best ideas for this classic piece of music memorabilia.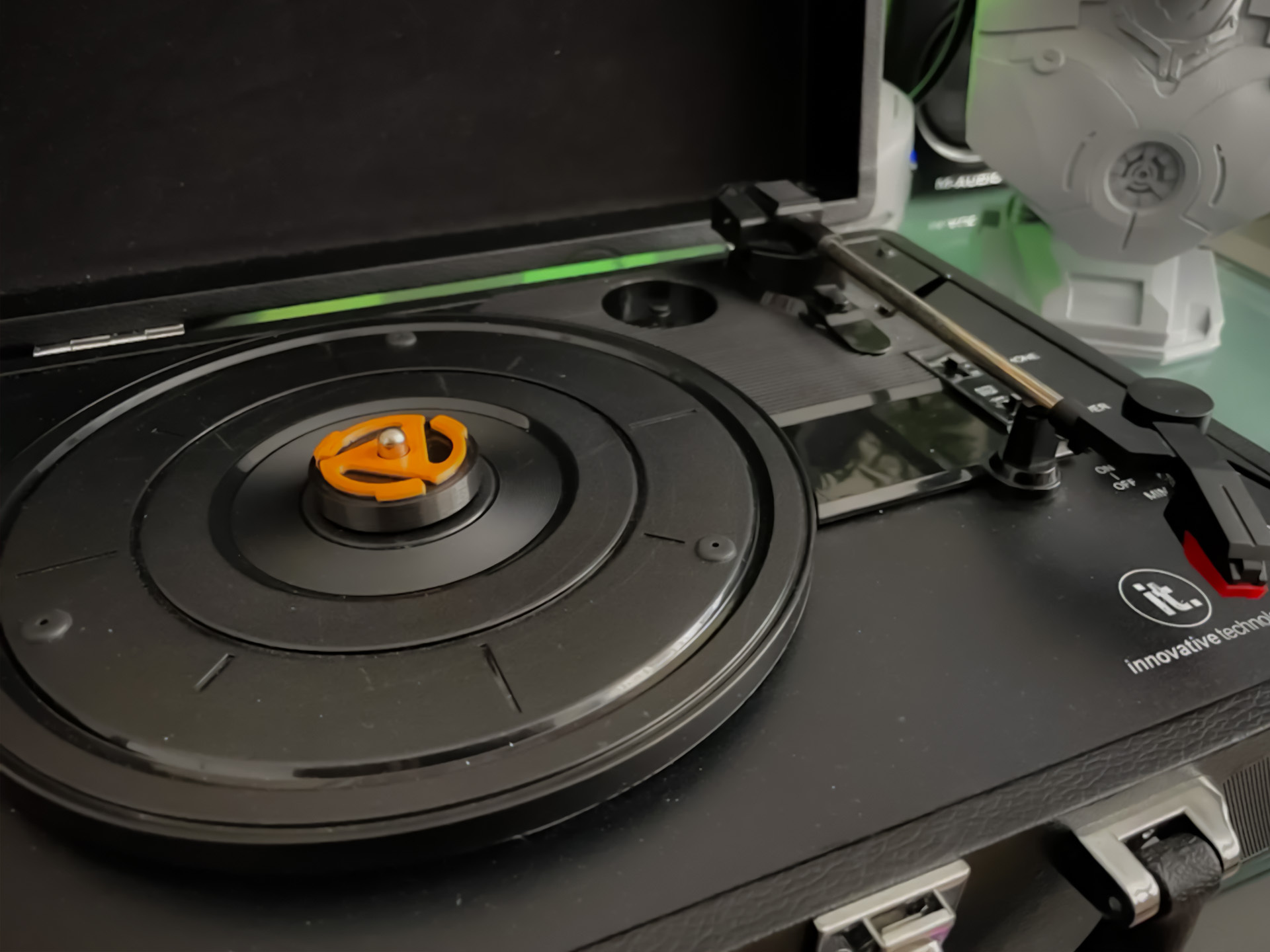 Don't let your ideas spin in your head for too long, get your entries in by the 19th.
60. Tea Organizers
Starting March 03, 2023 Ending March 12, 2023 23:59 UTC
Entries from February 24, 2023 to March 12, 2023 23:59 UTC
After water, tea is the second most popular beverage in the world. With so many varieties and flavors available, it's easy to find yourself with kitchen drawers and cabinets full of random half-full boxes of tea bags that you have to dig through to find what you are after. Let's help our fellow makers out of this predicament this week by designing organizers to keep those bags at bay. Since tea comes in many different forms and not all of it is bagged (some might even argue that bagged tea is blasphemous), we don't expect entries to only work for tea bags but if you design a storage solution not for tea bags, please ensure you supply photos showing how it properly stores the type of tea it is designed for. All valid entries must be designed specifically for storing tea and should not be NSFW models.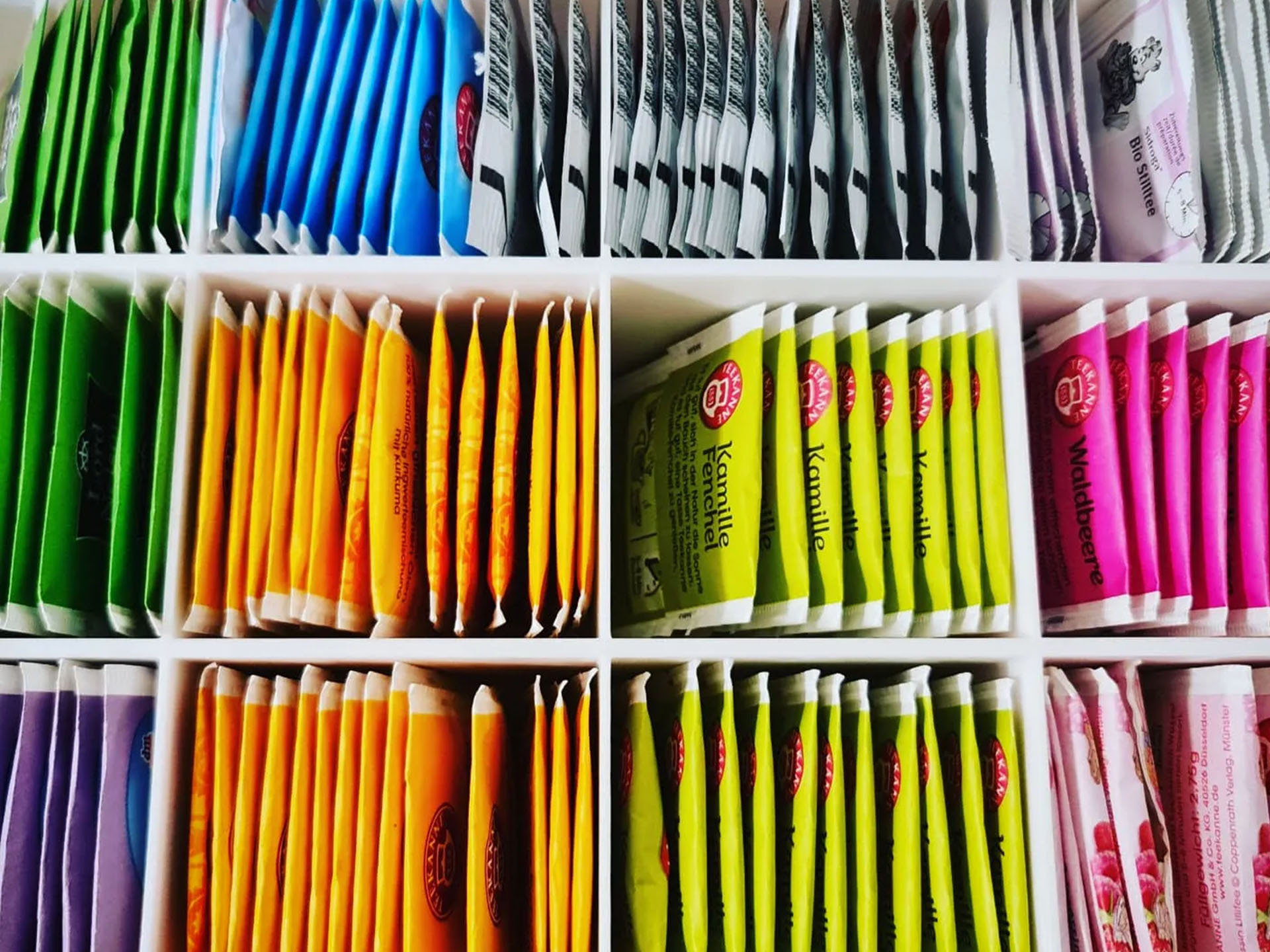 If you have an idea for a design that suits this contest to a T, get your entries in by the 12th.
59. Cat Toys
Starting February 24, 2023 Ending March 05, 2023 23:59 UTC
Entries from February 17, 2023 to March 05, 2023 23:59 UTC
We make lots of toys for kids of all ages on our 3D printers, but the humans in our homes are not the only ones who can get in on the 3D printing fun, let's make some toys for our cats! Our feline masters can be awful picky when it comes to what they will and won't play with so keep their needs in mind when designing your entry. While we know our cats believe they are smarter than us, they are not always the best at making safe decisions so please make sure your entries will not be a choking hazard or have sharp bits that might cause an injury during future play time (or when you eventually step on it after your cat sets up a trap for you). Valid entries should be designed specifically as toys for cats and as mentioned last week, let's skip the NSFW entries.
If the purrrrrfect design comes to you, get your entry in by March 5th.
58. Chopstick Stands
Starting February 17, 2023 Ending February 26, 2023 23:59 UTC
Entries from February 10, 2023 to February 26, 2023 23:59 UTC
Since the beginning of the desktop 3D printing revolution, there has been an ongoing debate about if 3D-printed objects are safe for food contact. While we like to play it safe by limiting food contact around here, that doesn't mean that 3D-printed objects can't be used in other ways around our kitchens and dining tables. We think that chopstick stands are a great example of a safe application, they are also something that you can have a lot of fun with when it comes to style. So this week, let's see what you can do designing chopstick stands. Valid entries should be specifically designed for lifting the ends of chopsticks from a table when they are set down during a meal. Random objects that could hold up chopsticks but are not purpose-made for this are not valid entries. Finally, we know a couple of you have found it funny adding some NSFW models to the competitions that really don't fit the brief well. From now on, let's try to keep things PG to help keep things more inclusive for the community. There are teachers who use the platform, they shouldn't have to worry about their students running into content that would get them in trouble if they browse the contest entries.
We hope you can come up with an idea that sticks before the 26th.
57. Keycaps
Starting February 10, 2023 Ending February 19, 2023 23:59 UTC
Entries from Februar 03, 2023 to February 19, 2023 23:59 UTC
Our keyboards are a major part of our daily lives and how we interact with the virtual world we spend so much of our time in. Why settle for just a boring standard interface when we can make it our own? Mechanical keyboards with replaceable keycaps keep growing in popularity. This week, we want to see your custom keycaps to create the keyboard of your dreams. These can look any way you want and be marked in any way you want but they must be able to attach to some form of a keyboard and all entries should list what keyboard or type of keys they are designed to work with such as the popular Cherry MX series.
If you have an idea that has clicked with you get your entry to us by the 19th.
56. 2023 Valentine's Day
Starting February 03, 2023 Ending February 12, 2023 23:59 UTC
Entries from January 27, 2023 to February 12, 2023 23:59 UTC
Whether you are feeling romance in the air or just the cold chill of winter, it's February which means it's time for every greeting card company's favorite holiday, Valentine's Day. Why not show those that you love how much you really care by making them something with your magic 3D printing powers and skip the cards, flowers, and chocolate (okay maybe not the chocolate, it's delicious)? This week's contest should help to that end as we challenge you all to create Valentine's Day-themed models. If you are looking for inspiration for what kind of models would qualify, take a glance over at last year's Valentine's contest winners.
If you fall in love with a winning idea, get your entries in by February 12th.
55. Toy Cars
Starting January 27, 2023 Ending February 05, 2023 23:59 UTC
Entries from January 20, 2023 to February 05, 2023 23:59 UTC
Many of us have fond childhood memories full of Matchbox, Hot Wheels, Micro Machines, and Tonka Trucks. We collected these toys and dreamed of the future when we would drive off in a real version of our favorites. Let's revisit those childhood days this week by designing our very own toy cars! We would like you to create toy cars, trucks, vans, and motorcycles for this week's contest. These can either be versions of existing vehicles or your own original creation. Remember these are toys so they should at least roll but the more fun you can have with them the better.
If you think you have what it takes to roll across the finish line of this competition claiming the checkered flag, get your entry in by February 5th.
54. Catch All Trays
Starting January 20, 2023 Ending January 29, 2023 23:59 UTC
Entries from January 13, 2023 to January 29, 2023 23:59 UTC
No one enjoys starting their days searching the entire house for their keys, wallet, or other necessary items to get on with their day. Let's make some catch-all trays (also known as valets or EDC trays) this week to help our fellow makers avoid this problem. While keeping things organized is important, let's work on the aesthetics of this one to have some classy trays you wouldn't mind sitting beside your front door or beside your bed. All valid entries should be purpose-made for holding items normally found in an average person's pockets, please don't submit soap dishes, candy bowls, or figurines, keep it on topic.
If you've caught a good idea, get it turned in by the 29th.
53. Celebration Decorations
Starting January 13, 2023 Ending January 22, 2023 23:59 UTC
Entries from January 06, 2023 to January 22, 2023 23:59 UTC
This is our 53rd weekly contest, a full year of Flash contests. Let's celebrate with a contest all about celebrating. This week we would love to see designs that help us show our joy on special days like birthdays and anniversaries. Cake toppers, decorations, party hats, and any other items you would use to commemorate a special occasion are all acceptable entries (did someone say piñata). Remember, only entries that match the theme may be entered in the contest, spamming our contests with invalid entries isn't a path to success.
The entire Prusa team would like to thank all of you who have entered our flash contests thus far. It's been an amazing year thanks to all of you and we are super excited to kick off our second year of these rapid-fire contests.
If you know how to party, then put your cards on the table while you're still able and get your entry in by the 22nd.
52. Business Card Holders
Starting January 06, 2023 Ending January 15, 2023 23:59 UTC
Entries from December 30, 2022 to January 15, 2023 23:59 UTC
Many ways that we do business, like the fax machine have gone the way of the dodo but somehow the business card manages to hang on. This week, let's see if we can't find ways to make business cards a little more fun with how we carry and display them. All entries must in some way hold multiple business cards at a time. Please only enter valid models to the contest, entries of models that do not fit will not win you a prize by accident, they will simply make a mess of the contests for the entire community.
If you can get the job done by the 15th, you have a shot so don't wait to get your entry in.
51. Eyeglass Holders
Starting December 30, 2022 Ending January 8, 2023 23:59 UTC
Entries from December 23, 2022 to January 8, 2023 23:59 UTC
We all know someone, a friend, coworker, loved one, maybe even ourselves who is constantly asking "have you seen my glasses?" This week let's try to help that problem a little bit by giving them a place to put them. Our competition this time around is for eyeglass storage. Cases, clips, stands, and any other way to keep your glasses safe and secure are all fair game. Valid entries must be able to effectively hold a pair of glasses.
If you have a clear vision of a model that can win this competition, get it submitted by January 8th.
50. Tessellating Tiles
Starting December 23, 2022 Ending January 1, 2023 23:59 UTC
Entries from December 16, 2022 to January 1, 2023 23:59 UTC
With many of us off for the holidays, we thought this week we would give you a bit trickier of a project. For our 50th flash contest, we are challenging you all to make tessellating tiles. Tessellations are repeating patterns of all the same shape that interlock with each other with no gaps. The artist MC Escher was famous for his tessellation art and hopefully some of his work can inspire you. Don't worry if you have never made a tessellation before, there are lots of videos available showing how to make it work. All valid entries must be more than basic shapes, triangles, squares, pentagons, hexagons, and other basic shapes will not count. We look forward to seeing what kind of patterns you all come up with.
Don't get lost in a maze of ideas and let the clock run out on this one, get your entries in by January 1st.
49. Bookmarks
Starting December 16, 2022 Ending December 25, 2022 23:59 UTC
Entries from December 09, 2022 to December 25, 2022 23:59 UTC
Just because we can create tall 3D prints doesn't mean we have to and just because we are into technology doesn't mean we don't love a good old-fashioned book. This week let's combine new school and old school and make some bookmarks. All entries this week must be able to fit into the pages of a physical book to keep your place. Any section that comes out of the book though you can go wild designing.
This contest goes into the books on Christmas so submit your entry before Santa comes to visit.
48. Cookie Cutters
Starting December 09, 2022 Ending December 18, 2022 23:59 UTC
Entries from December 02, 2022 to December 18, 2022 23:59 UTC
It's cookie time! This time of year, many of us get a healthy (or perhaps unhealthy) dose of cookies. While 3D printing for food applications can be questionable, cookie cutters remain a popular application of 3D printing. This week we are hoping to increase the options for your cookie shapes. While we are deep into the holiday season, this contest doesn't require that the cookie cutters have a holiday theme but all valid entries must be able to cut a shape or emboss a pattern into cookie dough. Good luck and we apologize to your diet.
If you think you have what it takes to make the cut, get your entry in by December 18th.
47. LED Diffusers
Starting December 02, 2022 Ending December 11, 2022 23:59 UTC
Entries from November 25, 2022 to December 11, 2022 23:59 UTC
It's hard to find a maker who doesn't get overly excited about the glow of an LED. We turn them into displays, accent light our projects, and sometimes create enough panic to shut down a major city. While we don't want you to create any bomb squares, we would love to see some LED fun out of you with custom LED diffusers. These can be diffusers for LED panels or LED strips but we would especially love to see some basic single LED diffusers made with just a LED, your print, and a button cell battery. All valid entries must house at least one LED with the light shining through the print, they cannot simply just hold the LED. With many of us entering the time of year with long winter nights, this is a great time to brighten your fellow makers days.
If you have a bright idea to win this one, get your entries in by December 11th.
46. Measurement Devices
Starting November 25, 2022 Ending December 4, 2022 23:59 UTC
Entries from November 18, 2022 to December 4, 2022 23:59 UTC
Our lives are full of things we need to measure, our coffee grounds, laundry soap, screws, and project parts are all just a small sampling. Sometimes the tools we have at our disposal are not optimal for the task. Thankfully we own 3D printers and have design skills to solve this issue. This week the challenge is all about measurement devices. Entries can measure anything you like and don't have to measure a specific type of object (a tool that measures round objects is great, a tool that specifically measures oranges is fine too, a bowl that just holds oranges is not a valid entry). This should be a fun one with lots of opportunities for interesting tools, we can't wait to see what you come up with.
If you think you have an idea that measures up to the task, enter by December 4th.
45. Thanksgiving and Fall
Starting November 18, 2022 Ending November 27, 2022 23:59 UTC
Entries from November 11, 2022 to November 27, 2022 23:59 UTC
In the Northern Hemisphere, the temperatures and the leaves are falling and here in the United States, we are getting ready for Thanksgiving next week. While the stores are all already decked out for Christmas, we are not forgetting how much fun it is to decorate our homes to celebrate that fall harvest holidays. So this week, let's see your turkeys, leaves, cornucopias, or other symbols you use to celebrate this popular time of the year. While we expect most of these entries to be purely decretive, it would be great to see some fall themed items with functions like napkin rings or food  labels for your family feast.
Don't be a turkey and get your entry in by November 27th.
44. Bobbleheads
Starting November 11, 2022 Ending November 20, 2022 23:59 UTC
Entries from November 4, 2022 to November 20, 2022 23:59 UTC
A few months ago, we talked about having a bobblehead contest on PrusaLive after I showed off one of 3D Printy's  models. Well, here we are it's finally time for us to see what kind of bobbleheads you have in you! Don't worry though, you won't need to run out and find the right spring or design your own. 3D Printy has released all the parts you need from his basic stands and springs to his parametric springs and even a negative volume to make it super easy to subtract that part from your model to make room and the connection for your spring. You can download this negative volume model from the templates section of his Emoji Bobbleheads model. Oh and to make it even better, 3D Printy is going to help us judging this contest too. So this one is easy, all valid entries must be working bobbleheads, you don't have to use 3D Printy's springs but we suggest you do unless you have a much better solution.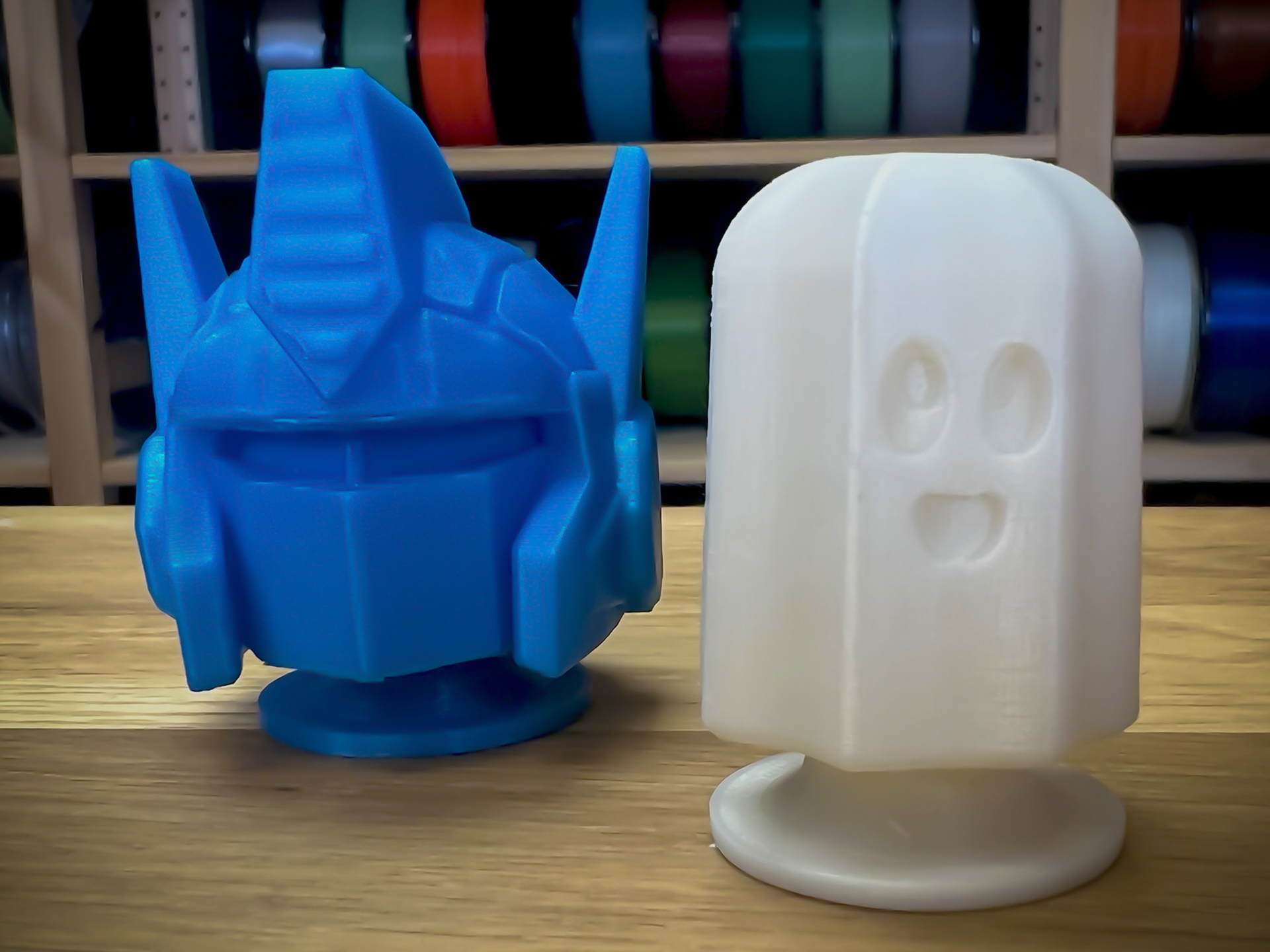 If you have a good idea for an entry to this contest rattling around in your head, get it submitted by the 20th for a chance to win.
43. Remote Holders
Starting November 4, 2022 Ending November 13, 2022 23:59 UTC
Entries from October 28, 2022 to November 13, 2022 23:59 UTC
One of the universal problems of our current way of living is there are just too many remotes. Our TVs, streaming systems, audio systems, lights, HVAC, and a myriad of other devices all have their own remote. All those remotes also have a tendency to disappear like an assistant in a Vegas magic act. Let's try to wrangle those remotes this week with our latest contest. We are challenging you to create holders for all of your remotes. They can be units to hold multiple generic remotes or ones to just hold a single remote. We would love to see some ingenious takes on this. See the example below. Valid entries must be able to hold at least one remote.
Get your ideas under control and entered before the 13th for a chance to win.
42. Cabinet Knobs
Starting October 28, 2022 Ending November 6, 2022 23:59 UTC
Entries from October 21, 2022 to November 6, 2022 23:59 UTC
Our workshops, bedrooms, kitchens, and bathrooms all have drawers in them and too often they are adorned with boring knobs with no real character. This is a great opportunity to put our modeling and 3D printing skills to work. This week we want you to create cabinet knobs, drawer handles, and drawer pulls. They can attach in any way you choose but should be able to attach securely (designs with planned bolt holes will be looked at more favorably than a design with just a flat back meant to be glued in place). If you need some inspiration, go out to your local home design store, and check out their walls of handles then go home and make something even cooler, we think this crowd can do better!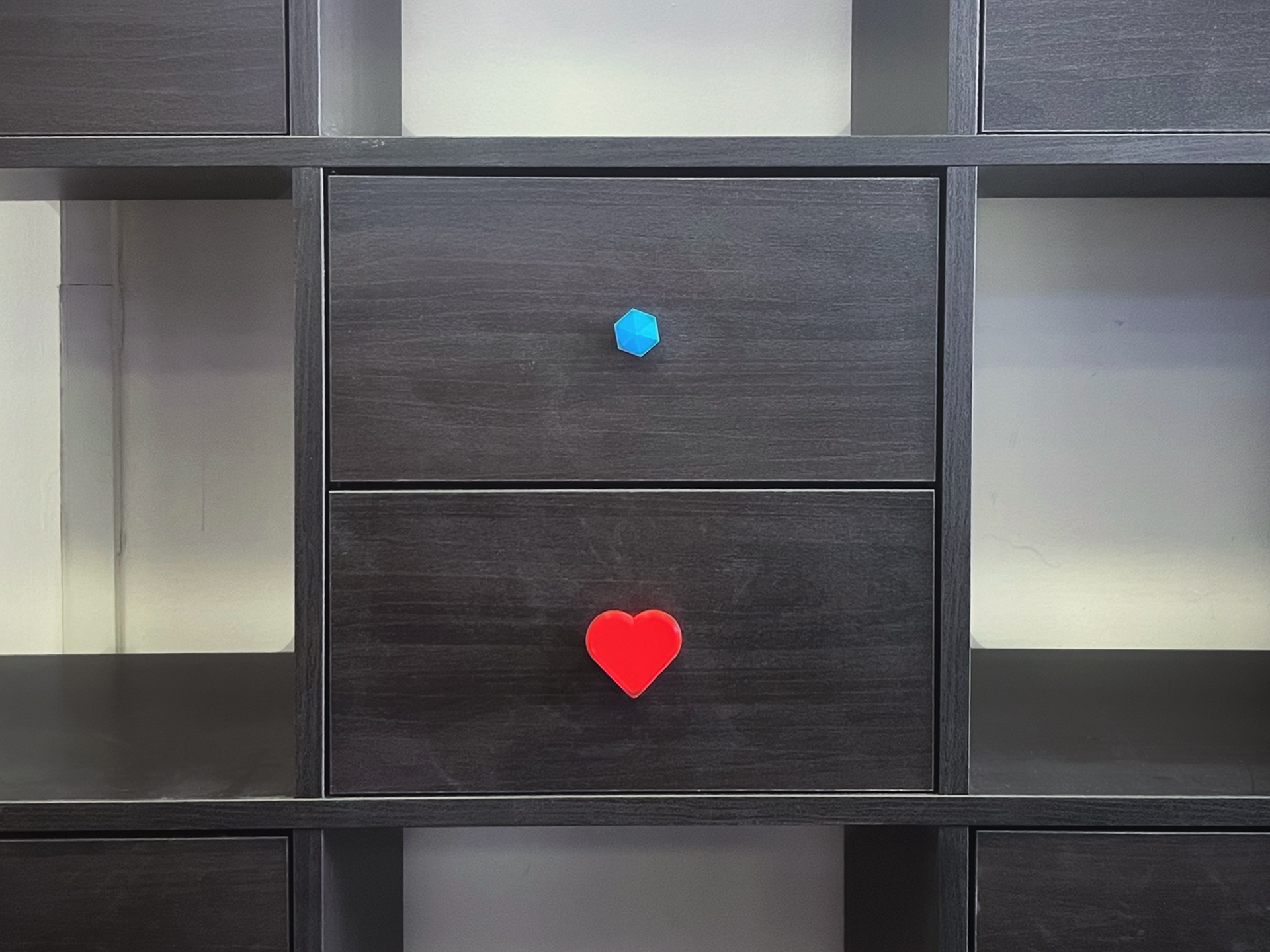 You only have a week too pull off your entry to this contest so get your knob submitted by November 6th.
41. Halloween
Starting October 1, 2022 Ending October 31, 2022 23:59 UTC
It's that time of year again, for many of us everything is turning a little extra spooky around us. You've probably already seen an influx of pumpkins, monsters, and ghouls on your Printables feed. Halloween is here and for those of you waiting for our annual contest, wait no longer. This week, we want to see all your creations fit for the Adams Family house. Ghosts, zombies, spiders, bats, black cats, gravestones, vampires, werewolves, and all your otherworldly favorites are all fair game. Beyond just simple decorations, we would love to see more costume-related items too. Now we know lots of you have already started posting your Halloween creations to Printables and you might be bummed hearing that we are just now launching the contest, don't worry, for this one we are allowing any applicable designs from the entire month of October to be entered so go back and update your models! Oh yeah and since Halloween is the Monday after the contest would usually end, we are giving you an extra day on this one.
Don't let this contest scare you away, submit your entry by October 31st for a chance to win.
40. Repairs
Starting October 14, 2022 Ending October 23, 2022 23:59 UTC
One of the superpowers of owning a 3D printer is the ability to fix things rather than throw them away. This Saturday is International Repair Day, so our contest this week will celebrate our ability to put our skills to use keeping our possessions out of landfills and fully functioning. All the entries this week must be repairs to broken things. We of course ask that you don't go breaking your possessions but instead look around for something you own that might need a repair. Also please do not post any potentially dangerous repairs such as home AC plugs. While this won't affect the contest, we would love to see your previous repairs using your printer posted to social media on Saturday so feel free to tag us if you post any.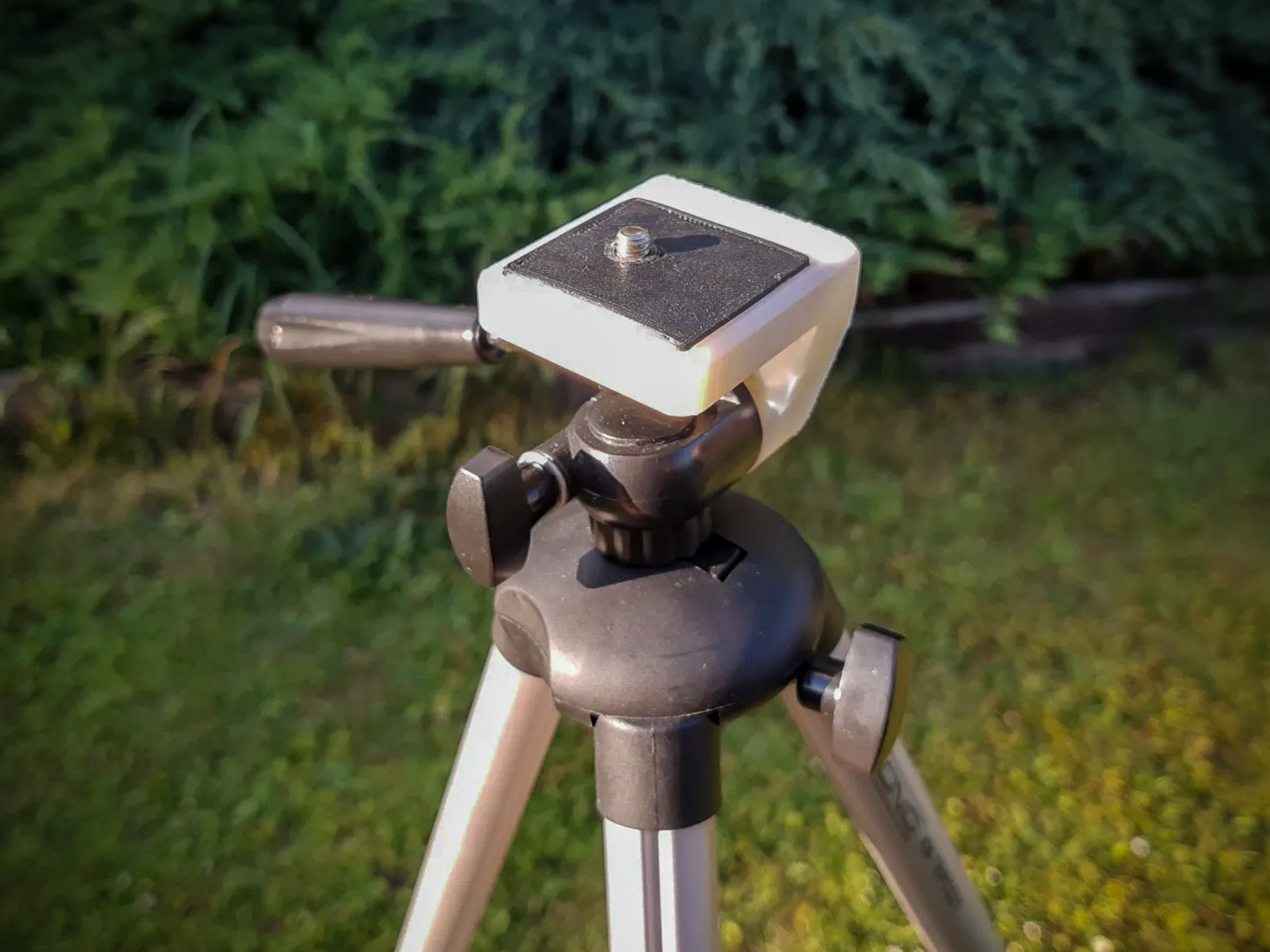 If you have a fix on an idea for this contest, get it submitted by Sunday the 23rd for your chance to win.
39. Lack Hacks
Starting October 07, 2022 Ending October 16, 2022 23:59 UTC
The Ikea Lack table became popular in the Prusa community as an easy way to create an enclosure for your printer. The low cost of the Lack while still being a decent sized table makes it a great platform to hack on, and hack on it we will! For this contest, we want to see you create connectors, shelves, brackets, leg extenders, or any other kind of mods you think will make the Ikea Lack table more useful or just plain cooler. Valid entries must be designed around the Lack table, not just any side table.
Don't table your ideas for another day get them in before October 16th.
38. Vases
Starting September 30, 2022 Ending October 9, 2022 23:59 UTC
Vase mode prints have been made popular for their usefulness along with their speed in printing. Watching them quickly grow off the build platform makes them fun live demo prints also. The thing is, they offer a lot of options when it comes to design complexity. A simple vase can be made with merely a cylinder, you could even design a basic vase in PrusaSlicer without the need of any CAD package. More complicated designs though can create stunning results that are sure to impress. For this challenge, we want to see your vases printed in vase mode. Printing in vase mode means the models should all be solid when designed and able to be printed with a single outer wall and no solid top layers to produce the empty volume of the vase. While there are lots of other ways to produce vases, for this contest, we only want vase mode designs.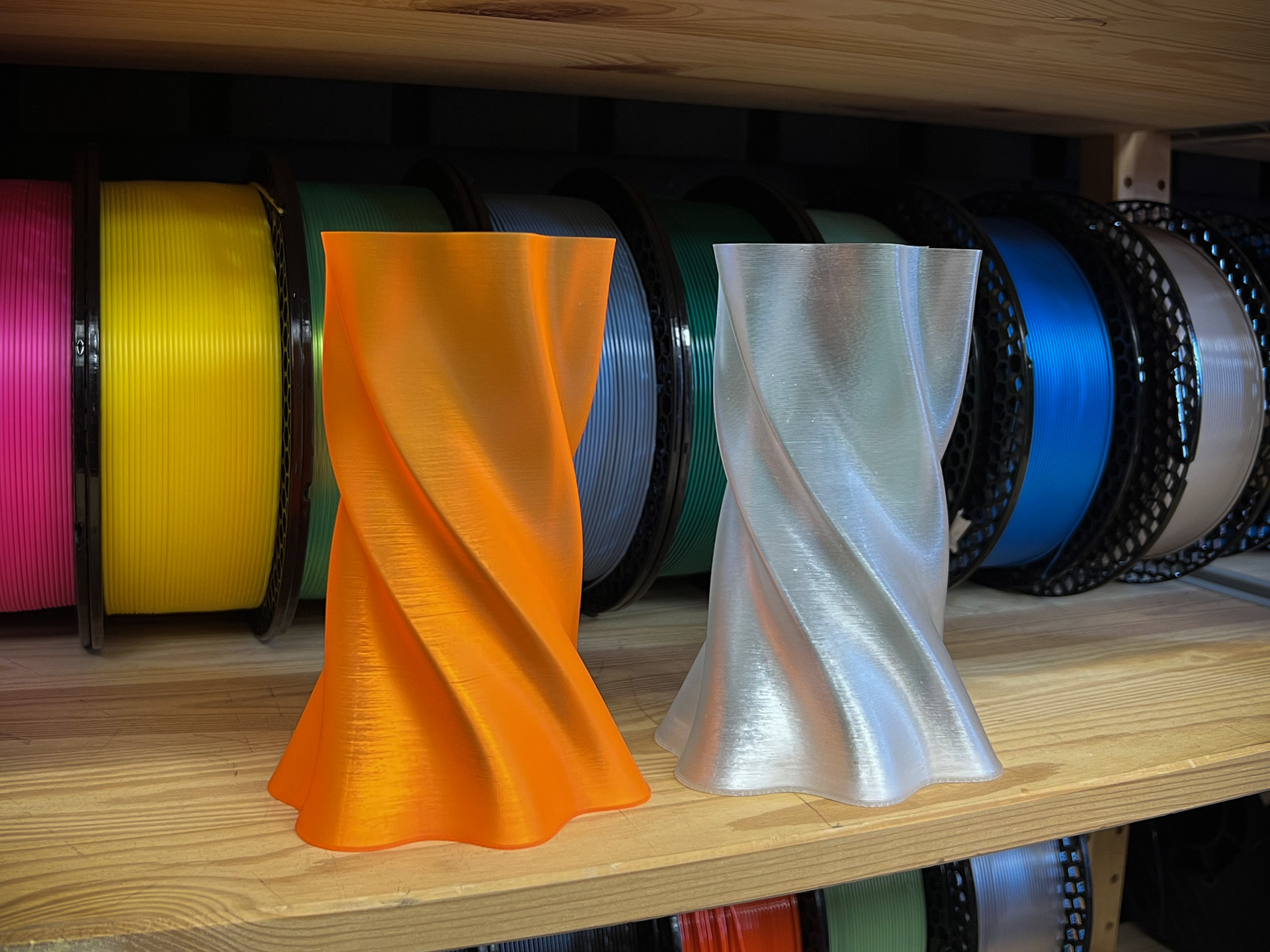 If you have an idea for a vase that will amaze, get it in by Sunday October 9th.
37. Wedding Decorations
Starting September 23, 2022 Ending October 2, 2022 23:59 UTC
This week's contest is rather special. One of our users reached out to us and asked if we could do a flash contest around wedding decorations to help them get ideas for their wedding. We thought about all the times we have seen friends use their 3D printers to help celebrate important life moments and thought this would be a great contest idea. So this week, it's all about tying the knot. We would like to see cake toppers, table markers, ring boxes, favors, and any other kind of wedding themed items. There is lots of great inspiration out there if you are looking for ideas. Let's make Pinterest explode with this one!
If this contest has you feeling engaged, get your entry in by October 2nd.
36. Pegboard Accessories
Starting September 16, 2022 Ending September 25, 2022 23:59 UTC
You can find pegboards in workshops worldwide, holding our tools mostly on various sizes of metal pegs. 3D printing though allows us to make even better storage solutions for our tools that are still compatible with these popular wall-mounted grids of holes. You all have created plenty of amazing pegboard accessories for some of our other contests but we think there is still more great designs out there yet to be created. This week we want to coax some of those out of you all with our pegboard accessories theme. We aren't looking for generic hooks here, we are hoping to see some unique solutions that still work with standard pegboards.
If you think you have this contest pegged, get your entry into us by the 25th.
35. Keychain Tools
Starting September 9, 2022 Ending September 18, 2022 23:59 UTC
Keychains are a fun way to show off the things that you love, but they also tend to get in the way, taking up too much space in our pockets or bags. If they are going to inhabit these spaces, they should also serve a purpose. On the other hand, a useful tool that is easily accessed is well worth some added pocket room. This week, let's mix the two! We are challenging you to create keychain tools. We already have a few wrenches, bit drivers, phone stands, whistles, and other useful creations but we think there is room for more. All entries must be able to be attached to a keyring and must have another purpose beyond organizing or decorating your keys.
This contest ends on the 18th so put your tools to work and get your entry in.
34. Marble Mazes
Starting September 2, 2022 Ending September 11, 2022 23:59 UTC
There are all kinds of puzzles that can be made with the help of 3D printing but one of the most fun are marble mazes. Sure, it's easy enough to make a basic marble maze from wood or even carboard but 3D printing makes creating more complicated even 3D  mazes easy enough to create. This week, we challenge you to create a marble maze of your own. All entries must have a ball of some form that travels through some kind of maze and must have a final solution (no trick mazes that are impossible to solve to drive us all mad). The ball is up to you, a ball bearing, glass marble, or even something larger are all acceptable.
This contest will be rolling out on September 11th, so get your entry in right away.
33. Filament Sample Swatches
Starting August 26, 2022 Ending September 4, 2022 23:59 UTC
Whether you run into us at an event where we have samples, sign up for a service like the Alien box, swap filament with friends, or just have a serious filament addiction (no judgment here, we understand), it's easy to find yourself with dozens if not hundreds of filaments in your collection. Keeping track of all the different colors and materials can be tricky. Some people print models like Benchies but these take up a lot of space. Small swatches take up less filament and less time to print but the key is how do you store them to keep them organized and how do you mark them to know what is what? This week, finding the solution to these two problems is your challenge. We want you to design the perfect swatch for tracking all of our filament libraries. All entries must be quick prints but most importantly, they must be easy to organize and easy to label. If you can find a way to make them fun with those limits, all the better.
Don't just sample this challenge, dive in and get your entry to us by September 4th.
32. Knife Holders
Starting August 19, 2022 Ending August 28, 2022 23:59 UTC
Properly caring for your tools is important to keeping them in peak operating condition. This means regular maintenance to your 3D printer in your workshop but also mean proper storage of your knives in your kitchen. This week we are challenging you to create a knife holder to keep your fingers safe and your blades from getting dinged up. Remember this is about storing knives, we don't want to see handles or scales for existing blades. Your holder can be for a single knife or multiple knives, it's up to you. This is going to be a contest that is either won with really creative practicality or a super clever aesthetic (or who knows with you lot, maybe both). I should also say, I'm not a fan of knife blocks that are hard to clean if any kitchen mess gets in them, I'll be keeping an eye on this when picking our winners.
If you think you've got a sharp idea for a design, get your entry to us by the 28th.
31. Sealable Boxes
Starting August 12, 2022 Ending August 21, 2022 23:59 UTC
If you spend enough time in the 3D printing hobby you will acquire a lot of little bits and bobs from various printers. Keeping them all organized and secure can be a challenge. We have had lots of organizational contests but many of them result in drawers and open top boxes. Those won't fly for this contest though, this week we challenge you to create boxes that securely shut. We want to see snap lids, hinges with clasps, screw tops, and lock boxes. Your box can be any size or hold any type of object but it must have a secured lid.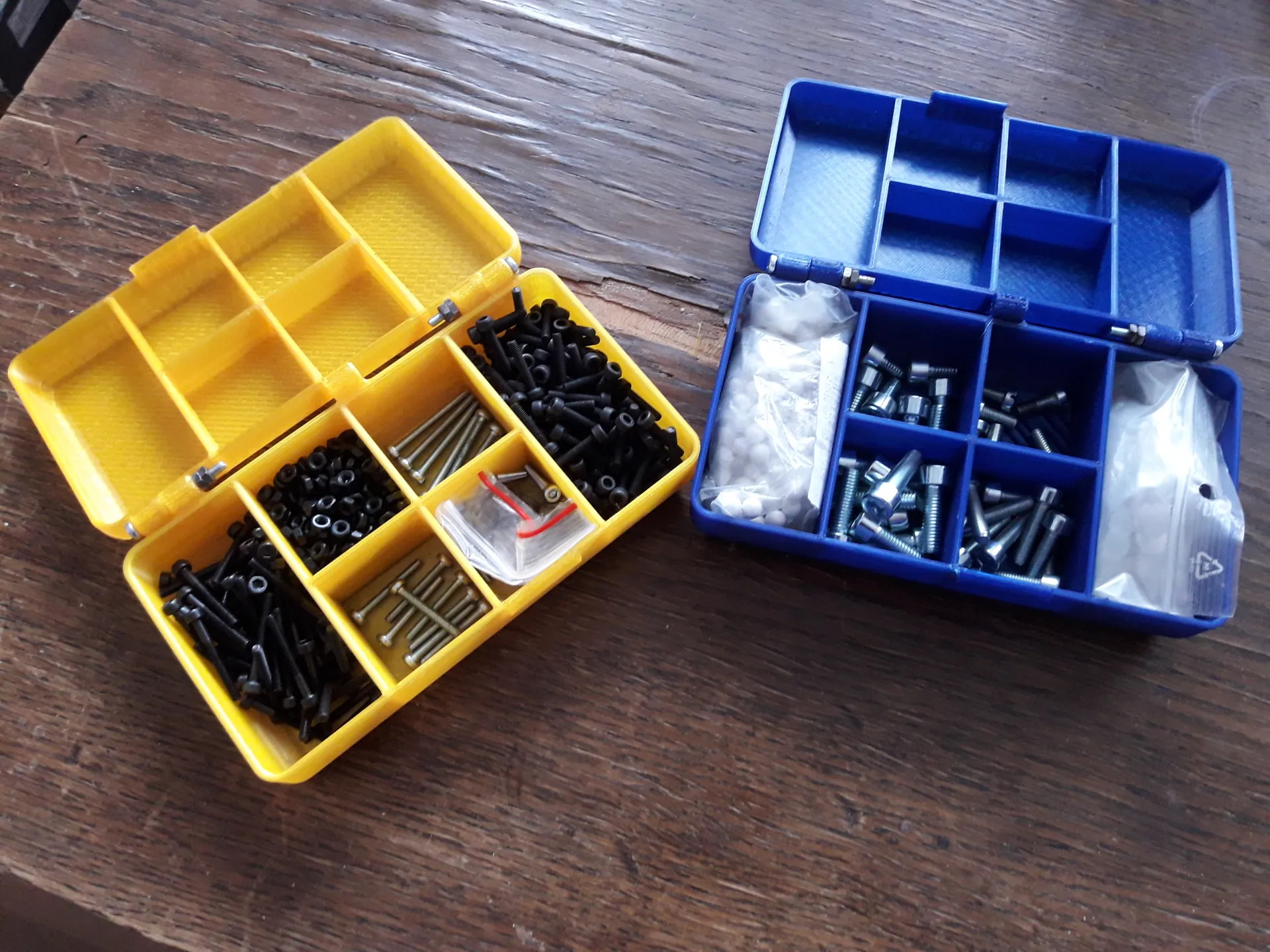 We will be putting the lid on this project on Sunday the 21st so get your entry in before it's too late.
30. AirTag Accessories
Starting August 5, 2022 Ending August 14, 2022 23:59 UTC
They say big things come in small packages and Apple is attempting to prove it with their AirTag devices. These small coin sized devices use the network created by ubiquity of iPhones to track anything they are attached to, your luggage, your bike, your pet, are all easy to find if they have an AirTag attached. So this week, we want you to make holders and accessories to better attach AirTags to anything you may want to track (please use this power responsibly). Don't worry if you don't already have an AirTag, there is already a sample model here on Printables. All qualifying models must somehow hold an Apple AirTag, other than that, it's up to you.
If you think you can track down a winning idea, be sure to get your entry in by Sunday August 14th.
29. Sharpie Mods
Starting July 29, 2022 Ending August 7, 2022 23:59 UTC
Some brands capture a market so well that their name becomes synonymous with the entire market of that product; Kleenex, Band-aid, or for permanent markers, Sharpie. This week our challenge to you is to create mods and accessories for the ever ubiquitous Sharpie permanent marker. While we will still accept simple holders and stands, if you want to win we suggest finding more creative solutions. All winning entries must use a Sharpie marker in them. Sharpies come in all different sizes, shapes, and point styles though and any of those are acceptable for this challenge.
Like all of our flash contests, this one will be gone quickly so make your mark on it by August 7th before it's too late.
28. Battery Boxes
Starting July 22, 2022 Ending July 31, 2022 23:59 UTC
Storing batteries properly is essential to keeping them in good shape so they are ready to use and to prevent mishaps (have you ever nearly caught your office on fire with an errant 9v battery, we have). Of course, most of the time, the boxes your batteries come in are better suited for marketing than they are for not taking up too much space in your battery drawer. This week, let's tidy up our batteries by making boxes to better store them. Your entry can be designed to hold any standard battery size but must store them safely so they cannot accidentally discharge. The form factor is up to you, be it a wall mount, a drawer organizer, or any other form.
If this contest gets you charged up, be sure to get your entry in by the last day of the month because this one will be over when August joins us.
27. Wallets
Starting July 15, 2022 Ending July 24, 2022 23:59 UTC
A few weeks ago I saw a tweet from someone talking about getting one of those fancy slim wallets that you can't escape ads for if you are browsing social media. I suggested to him that he print a wallet instead and while browsing some of the awesome wallets on Printables, I thought this would be a great theme for a flash contest. So this week the contest theme is wallets. All qualifying entries must be able to hold at least 5 credit card sized cards securely, any additional features you add are just a bonus to help edge you towards the winning spot. Functionality of course shouldn't be the only consideration here too, a wallet should sit comfortably in your pocket and be able to withstand some abuse. It will also help if your entry is stylish looking!
You have until the 24th to get your entry in on this one so get your entry in your pocket before it's too late.
26. LCD Knobs
Starting July 8, 2022 Ending July 17, 2022 23:59 UTC
One of the more fun aspects of owning an open source 3D printer is how easy it is to customize it and make it your own. You may have recently seen the special edition printer we released to commemorate our 10th anniversary and that we donated to the Sanjay Foundation to be auctioned off. While we won't be going that over the top this week, our theme is a pretty simple printer modification that can be an easy way to add some personality or better ergonomics to your printer, the LCD knob. While we don't expect all of you to have one of our printers, all valid entries must be for a knob that goes on either a 3D printer or fits the same rotary encoder found on the standard RepRap LCD control panels.
If you are dialed into this contest, be sure to get your entry in by Sunday the 17th of July.
25. Bag Clips
Starting July 1, 2022 Ending July 10, 2022 23:59 UTC
Food waste is a big problem, it fills our landfills and wastes resources that could be put to better use. Let's reduce our food waste by making sure we keep our food bags closed and the contents of them nice and fresh. We have lots of bag clips on Printables, one even won our Quick Prints competition but we think there is still room for some great ideas. For this week's challenge, you must create a print that will keep a food storage bag closed. This could be fairly general or you could target the packaging of your favorite snack specifically. We love some of these that have print-in-place mechanisms to keep things sealed tight but we also love designs that have some whimsy to them. Either way, we look forward to seeing what you come up with.
Don't let your ideas get stale, submit your design by Sunday July 10th.
24. Fidget Toys
Starting June 24, 2022 Ending July 03, 2022 23:59 UTC
A few years ago, the 3D printing community blew up with everyone using their printers to make fidget spinners. Since then, we have seen lots of different types of fidget toys but none of them have caught on in quite the same way. Let's see if we can make lightening strike twice! This week the theme is Fidget Toys. You're probably not going to win with just a basic fidget spinner, we want to see a fidget toy that is entertaining and unique. Take a look at some of the other great fidgets already on Printables.
Don't twiddle your thumbs waiting for this contest to end, get your entries in by July 3rd.
23. Coasters
Starting June 17, 2022 Ending June 26, 2022 23:59 UTC
With the temperatures rising and the humidity increasing, nothing is more refreshing than an icy cold beverage. Of course nothing is also as bad for our furniture as the rings left behind by the sweating glass caused by all of that hot humid air condensing on the side of our glasses. Let's put our design skills and machines to work to make sure no piece of furniture needs to suffer this ringed fate.
This week our theme is Coasters. All entries must be large enough to hold a glass and prevent it from making contact with the surface of a table. Why stop at a basic coaster though, we can do better, as a bonus why not consider how to collect and manage the water that is rolling off the side of the glass being held. Of course aesthetics are important here too, no one wants an ugly coaster on their nice piece of furniture.
You have 9 days before this contest coasts by. Get your entry in by June 26th.
22. Plant Pots
Starting June 10, 2022 Ending June 19, 2022 23:59 UTC
While many of us are enjoying the green out doors this time of year, it's never a bad time to bring some green into our homes too. This week we are going after a very popular item for 3D printing, plant pots. We have hundreds of pots on Printables already but with such a huge range of possibilities for designs, it never hurts to have more. Of course with so many pots out there and such a basic set of requirements, the winners are going to need to bring something special this week. We think you all have it in you, let's see what you've got!
This contest will be growing until June 19th, get you entries in before that for a chance to win.
21. Name Tags
Starting June 3, 2022 Ending June 12, 2022 23:59 UTC
As we all are slowly coming out of our pandemic induced isolation,  we are starting to return to events in the real world where we get a chance to meet face to face. The lack of zoom titles can create some awkward situations where we can't remember the name of the person you just met (or haven't seen in years). Let's help each other out by creating some super cool name badges that beat the "Hello My Name Is" stickers we have all known for years. This is a great chance to try out the Auto Color Change feature of PrusaSlicer to add more dimension to your name tag. All valid entries must either contain a name (a list of common names would be great) or a space where a user can easily add their own name either printed, with a sticker, or hand written. This challenge would also be a great time to brush up on your OpenSCAD or other parametric modeling software to make it easy for users to add their own names.
If this contest feels like it has your name on it, get your entries in by June 12th.
20. Refrigerator Magnets
Starting May 27, 2022 Ending June 5, 2022 23:59 UTC
The front and sides of our refrigerators are our art galleries, our place to put the things we don't want to forget, and the pages of our most poetic works. My refrigerator is packed with magnets picked up at the destinations of my travels. Refrigerator magnets can be functional and ornamental and often both at the same time. We want to see what kind of magnets you want to put on your refrigerator (there is already a great marble track that could use some additions on Printables). All entries must contain space for a magnet large enough to support the print and preferably to hold something to a refrigerator.
This contest won't stick around forever, get your entries in by June 5th to have a chance to win.
19. Soap Dishes
Starting May 20, 2022 Ending May 29, 2022 23:59 UTC
Being able to create our own home goods with our printers is one of the best parts of owning a 3D printer. Instead of running out and buying one of the few overpriced options your local stores have to offer, you can print your own items that fit your color and style desires. This week we are going to help up the options for a 3D printing favorite in the home goods category, soap dishes. Your entry in this contest should hold a bar of soap and hopefully provide some drainage options to keep the soap in good condition (no one likes a slimy bar of soap). Since this is a pretty easy design as far as function goes, we are really going to be looking at the design aesthetic on this one to pick the winner.
Don't wash out of this contest, get your entry in by May 29th for a chance to win.
18. Last Meter
Starting May 13, 2022 Ending May 22, 2022 23:59 UTC
This is another one from our Sustainability team. It's a shame to waste plastic, not only is it a valuable resource, it has an environmental impact. When we get down to those last few meters of plastic on our spools though, it can be hard to find a good use for them. So this week, let's find some good uses!
This contest is all about small and useful prints that use as little filament as possible. Valid entries must be something useful and must be under 5 meters of filament, the less the better. To help us judge the entries, we also ask that you upload gcode on this one so we can easily see how much material is used.
Don't wait till the last minute to get your entry in, you have until May 22nd.
17. Pen Cups
Starting May 6, 2022 Ending May 15, 2022 23:59 UTC
I have to admit, this one comes from personal need, I have way too many pens, pencils, markers, small tools, and other assorted things that I jam into vase mode prints around the house. and while prints designed as vases often work, there can be drawbacks from prints designed for flowers when storing pens.  So this week, help me put my pens away by designing "cups" to hold them. Vase mode prints are great for speed but it would be also great to see designs that take a more interesting shot at the problem.
Don't write off this contest, get your entry in by Sunday the 15th for your chance to win.
16. Motor Visualizers
Starting Apr 29, 2022 Ending May 8, 2022 23:59 UTC
There are all kinds of mods for printers, some make them easier to use, some just make them prettier. One of the most popular that lives largely in the later category is motor visualizers. As the motors on your printer turn, magnets attached to motor shafts turn parts on the visualizers with corresponding magnets attached too. While there are some great visualizers already on Printables, we think the coolest ones have yet to be created and this week's contest is your chance to prove us right. Qualifying entries must contain an element that moves in sync with any motor on your printer without causing any kind of issues with the motor's primary function.
This is our last contest in April with all entries due in by May 8th.
15. Game Tokens
Starting Apr 22, 2022 Ending May 1, 2022 23:59 UTC
We all love to play games and some of our game contests in the past have been very successful. Of course with flash contests we try to keep things a bit more focused and whether you are trying to collect all the railroads or settle some foreign lands, you need tokens, but maybe a boot just doesn't represent you. In this challenge we want you to create your own versions of the tokens and pieces of your favorite games. Please don't release the entire game of any copyrighted games but we think additional tokens, pieces, and accessories are fair game.
April won't be around much longer and this contest ends May 1st so don't wait to show us a new piece to your favorite game.
14. Phone and Tablet Stands
Starting Apr 15, 2022 Ending Apr 24, 2022 23:59 UTC
From the kitchen counter, a desk, a nightstand, or numerous other places, sometimes it's useful to prop up your phone on a stand. I've been known to employ various objects for this task when I didn't have a real stand at hand. Now's your chance to make sure none of us have to improvise another way to hold our phones in place. This week, create phone and tablet stands for your chance to win Prusameters. There are lots of phone and tablet stands already on Printables so we are really hoping you find some creative solutions for this one.
Don't stand around waiting to get your entry in, this contest ends on April 24th.
13. Easter Decorations
Starting Apr 8, 2022 Ending Apr 17, 2022 23:59 UTC
Spring is here and with it comes one of the more popular holidays on Printables, Easter. This week it's all about cute as we challenge you to create your best eggs, bunnies, flowers, and other spring and Easter themed designs. The decorative potential of eggs alone should give you all plenty of opportunities to create something super fun for this one.
You've got until Easter Sunday for this one so hop on it and get your entries in!
12. Pranks, Tricks, Gags, and Jokes
Starting Apr 1, 2022 Ending Apr 10, 2022 23:59 UTC
It's April 1st so what better time to show a little humor with your prints. We want to see your best jokes, gags, tricks, and pranks as entries in this week's contest. Novelty shops have had years of selling us fake poo's and trick boxes, now it's your turn to dig up your inner prankster, so let's see what you've got.
Don't be a fool, get your entry in by April 10th!
11. Nozzle Holders
Starting Mar 25, 2022 Ending Apr 3, 2022 23:59 UTC
There are lots of reasons to have a supply of extra nozzles handy. You may want to change sizes to adjust how your print turns out, you may have specialty nozzles for specific types of materials, or you may just need to replace a worn-out nozzle from time time time. New hotends like those featured in our upcoming Nextruder or the E3D Revo system will make nozzle changes a breeze in the future increasing the likelihood that users will want to swap nozzles from time to time. All these extra nozzles need a place to live so they don't get lost. We've seen some really creative and useful nozzle storage systems in the past but there is always room for something new.
For this contest, all designs must hold at least one 3D printer nozzle in a reasonably effective and useful way (please don't submit just an empty box that the nozzle would rattle around in or something like that). We don't care what brand of nozzles or for what hotends the nozzles are compatible with. We would love to see designs that attach to printers, label what nozzles go where, or have other useful features, let's see what you all come up with!
This contest ends on April 3rd so get those nozzles hot and your designs submitted.
10. Upcycling PET Bottles
Starting Mar 18, 2022 Ending Mar 27, 2022 23:59 UTC
One of the criticisms often placed on 3D printing is that it is contributing to the amount of plastic waste in the world, but what if we could use it to create less plastic waste? Recycling obviously helps make plastics more sustainable but sometimes, recycling can be less carbon-friendly than we would like for it to be so instead of recycling, why don't we try upcycling! Upcycling is the process of reusing items in a way they were not necessarily intended for that gives them a new life rather than going into the trash or being sent off to be recycled.  We previously had a Prusament Spool Upcycling contest but this time we are going after a far more ubiquitous plastic waste source, PET bottles. We would like to see you create a print that helps you re-use a water, soda, or other plastic drink bottle in a new and useful way. Your entry doesn't have to contain the whole bottle but must include a print and at least part of a plastic bottle.
As always, you have 9 days to get your entries in for this contest so don't wait.
9. Wall Hooks
Starting Mar 11, 2022 Ending Mar 20, 2022 23:59 UTC
Our Picture Frames flash contest is about to wrap up so, of course, we need ways to get our frames (and other things) on our walls. This week we challenge you to create wall hooks to hold anything you need to your walls. I personally have a wall leading into the basement of my house that is my "measurement station" with hooks to hold a meter stick, a set of calipers, and a bin for a tape measure. It's really nice to not hunt for these things when my family needs them. So what will you hang on your walls when this contest is complete?
We don't care if it's with screws, nails, double-sided tape, glue, or other adhesives but to be a valid entry in this contest the model must attach to your wall. The entry must also be able to support another item, not simply be a decoration.
If this contest hooks your attention, be sure to get your entry in by March 20th, 2022.
8. Picture Frames
Starting Mar 4, 2022 Ending Mar 13, 2022 23:59 UTC
In our digital age, many things have been replaced by technology but despite many attempts, digital picture frames have not really caught on. To view our memories, we still love good old-fashioned physical media so we need picture frames. Sure you can go to any of your favorite big box stores and pick up a frame but we are makers, we want to be able to print the things we need from the comfort of our own homes. For this competition, you can design your picture frame in any size or shape that you wish but it must be able to hold a photo, painting, or other similar art. We will even accept digital picture frames, maybe you can change our minds on the medium!
Entries are do by March 13 so don't hang around waiting or this one might pass you by.
7. Toothbrush Holders
Starting Feb 25, 2022 Ending Mar 6, 2022 23:59 UTC
It wasn't all that long ago that all toothbrushes were generally the same size and shape and it was easy enough to just toss them in a cup with a few holes in the top to store them by the sink. Now, that's far from the case. Handles have become more ergonomic, no longer rectangular and electric toothbrushes come in all kinds of shapes and sizes to handle their batteries. Of course, when you have a 3D printer, making a holder that fits your needs perfectly is an easy job. With this flash contest, we want to see your toothbrush holders. It would be great if these designs also serve other functions, holding other items but to qualify at a minimum they must hold a toothbrush.
6. Bottle Openers
Starting Feb 18, 2022 Ending Feb 27, 2022 23:59 UTC
It didn't take long after desktop 3D printing began and users started sharing their designs with each other for a bottle opener to appear and we have seen tons of variations since but that doesn't mean there isn't room for new and unique takes on this tool. Be it a cap lifter or a cap turner, if it can help you open a bottle without resorting to the often furniture or teeth damaging tricks we have all seen in the past, we want to see it in this competition.
5. Rings
Starting Feb 11, 2022 Ending Feb 20, 2022 23:59 UTC
Tuning into the news the past week, it's been hard to miss the talk of competitions and while our printers may not print in gold, silver, and bronze, you won't want to let the opportunity skate by to win this week's flash contest making some rings of your own. 3D printing is increasingly being used in the jewelry industry, especially using resin printers to create high quality models that can be molded and cast in precious metals. For this rings competition, we want to see it all, rings intended to just be worn in plastic and models that could be cast if desired, so long as they can fit on a finger (or a toe) they are perfect.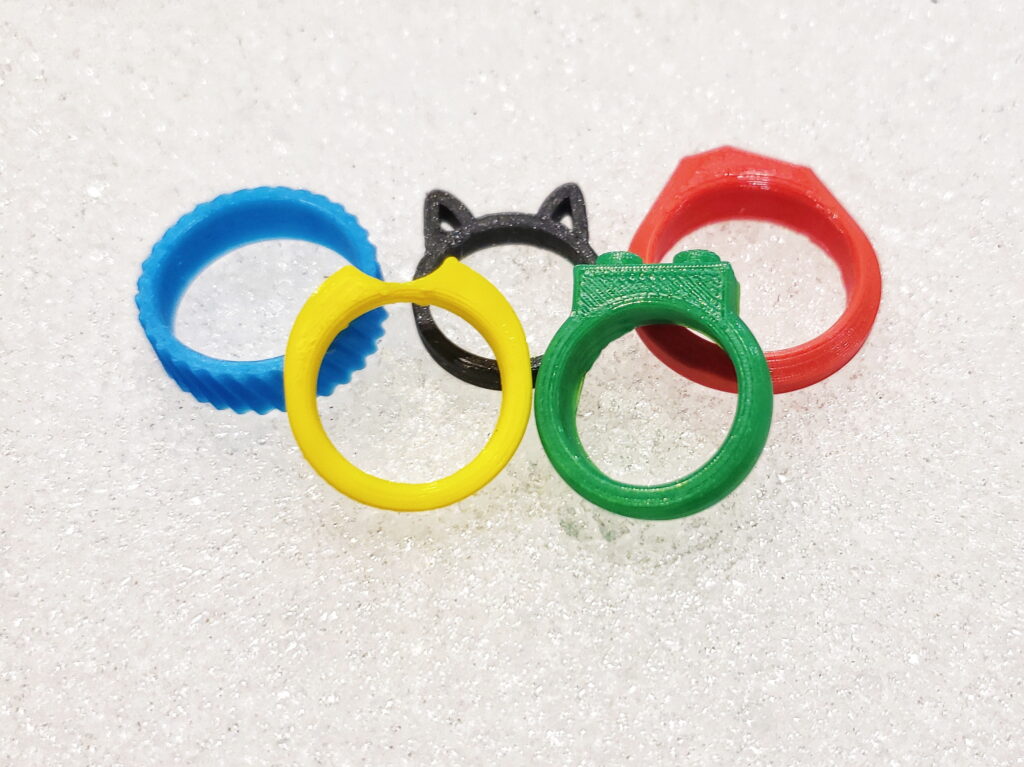 4. Valentines
Starting Feb 4, 2022 Ending Feb 13, 2022 23:59 UTC
It's that time of the year, love is in the air as Valentine's day is right around the corner. The theme for this week's flash contest is you guessed it, Valentines. It's time to break out your Ms. Pink and Lipstick Red Prusament and make all the cutesy creations you can stand. Let's see those hearts, cupids, bows, and roses! We don't really care what the items is or does this time so long as it's brimming with love. We know this is a week early for actual Valentine's day but we wanted to give you a chance to print some of the contest entries for your special someone.
All entries must be submitted to the contest by February 13th. Have fun and good luck dealing with all that pink!
3. Pens and Pencils
Starting Jan 28, 2022 Ending Feb 6, 2022 23:59 UTC
From quills to roller balls, we have found an incredible variety of ways to make writing instruments over the years, now's your chance to make one too. This contest is all about Pens and Pencils, we don't want holders or other accessories, we want the actual bodies of the pens and pencils for this one. The wood turning crowd has been making fancy DIY pens and pencils for years and woodworking supply shops and of course Amazon are full of fancy kits for turning your own pens on a lathe and these can be used with 3D prints to make pens that would be impossible to create on a lathe. Of course we are not going to require you use a fancy kit for this competition if you don't want, pop open a Bic pen and use the ink cartridge from it if you would like but to have a valid entry for this competition, it has to write.
If you are a regular watcher of PrusaLive, you will have seen the master of 3D printed pens DSK001 on the show and might be worried that he will be entering the contest and would be hard to beat. Don't worry, I thought about this and instead he is going to be a guest judge, helping us pick out the best pen you all create! All entries must be in by February 6th, we can't wait to see what you come up with.
2. Cable Organizers
Starting Jan 21, 2022 Ending Jan 30, 2022 23:59 UTC
Wow, you really blew us away with your response to the first flash contest and we are ready to launch the second theme. Our modern lives have turned into a collection of cables. I'm willing to bet all of you have a drawer or box (or many of both) in your home that is a mess of cables from old phones, computer peripherals, and various gadgets. Sure, we've seen plenty of printable cable wraps and clamps designs, but hey, I think we need more.
1. Clothes Buttons
Starting Jan 18, 2022 Ending Jan 27th, 2022 23:59 UTC
We aren't waiting for Friday for this first contest, we are kicking it off today! Our good friend Pooch creator of the RepBox posted a picture on twitter recently of fixing his pants with a 3D printed button. This sparked a conversation about how a couple of us had fixed our clothes with printed buttons and how we needed more on PrusaPrinters. This all eventually led me to the entire idea of the Flash Contests so it only felt right that it would be our first theme.
Create shirt buttons, pants buttons, jacket toggles. Make them round, square, or crazy interesting shapes, surprise us with what a button can be. This contest will close on Wednesday January 27th 2022.
Judging Criteria
Overall quality of the model.
Printability – whether the model has an optimal orientation, whether it is divided into multiple parts so it can be printed more easily (without supports) etc.
Originality – If you create something truly unique, it will be rated better than a slightly altered existing model.
Popularity – Share your model to increase its popularity, prove that users appreciate such a model.
Your other works – In case we can't decide between two favorite designs, we often check your other models to see what you can do.
Assembly instructions – if your model consists of multiple parts, we check how easy it is to assemble the final product.
How to participate?
It's easy to participate in this competition. Just follow these simple instructions.
Design and create a model or improve an already existing one ("remix") so that the result fits the theme of this contest. The model has to be printable on an FFF/FDM or SLA 3D printer (any manufacturer and model). This also means that you don't need to own a 3D printer in order to participate. When creating the model, keep in mind the pros and cons of various types of 3D printing technologies and what can and can't be actually done.
Upload the model to PrusaPrinters.org and make sure it contains:

Model in .3MF or .STL file format (print files are optional)
Photo or render of the model (ideally both)
Model description

Add the model to the contest. You will find the new competition button next to your name on the print's page after you publish your print. Click the Compete medal and select the contest for name that matches the flash contest you are entering.
Of course, you can share your model on social networks (Facebook, Instagram, Twitter, Pinterest,…) and don't forget to add the #PrusaPrinters hashtag. This can help increase the popularity of the model.
Terms and conditions
You can submit any number of models (unique) to the competition and increase your chances of winning.
Models submitted to the contest must be new models created during each flash contest window.
The entry must contain at least one printed part and must include all models required to complete the project.
By entering the contest, you agree to keep your model posted to PrusaPrinters for a minimum of one year. The Prusa team reserves the right to repost your design if it is removed before the end of that year.
You must be the original creator of the model you upload, please no reposting other people's models from other sites.
We reserve the right to terminate the competition or change the conditions of the competition at any time. In case of violation of the terms and conditions or an attempted fraud, the competitor will be disqualified.
Results are at the judges discretion and all results are final.