Škoda Auto is an important member of the Volkswagen Group and the biggest employer in Czechia. Škoda manufactured more than 800 000 cars in 2021 for customers all around the world. The company is not only a symbol of the Czech industry but also a leader in the field of innovations and introducing of new technologies. One of them is the use of 3D printing in production.
Plastic 3D printing is not new to the Central pilot hall at Škoda Auto – they've used the technology for years now for developing new models, analysis and testing, and pre-production car models. The technology also proved irreplaceable at Central technical service for printing spare parts, rapid prototyping, and material testing for mass production. However, the biggest user by far is the Car manufacturing department.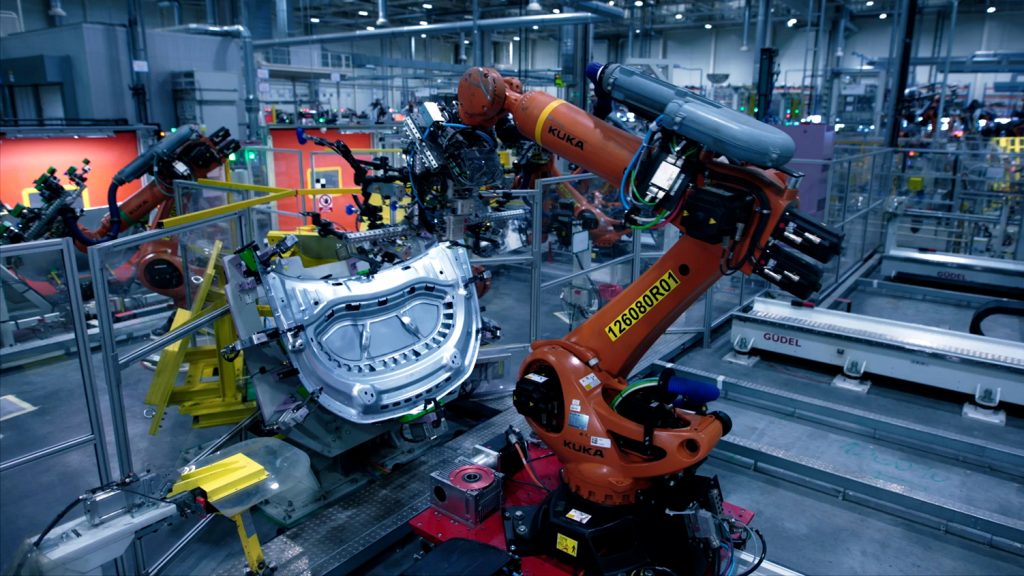 It was here where the idea to use 3D printers in production came from: Many of the internal maintenance employees have a 3D printer at home and are among the most passionate users. From their perspective, a 3D printer is a standard work tool, therefore – why not use it in production? The idea was well received and after a successful testing run, Škoda Auto decided to build their first low-cost 3D printing farm right in the main factory – in the welding plant in Mladá Boleslav.
"The results exceeded our expectations and subsequently very significantly influenced the expansion of plastic 3D printing to our other facilities. Now we have more than 60 3D printers," says Jana Polášek Filová, Expert Coordinator for Digitisation and Innovation in Production and Logistics at Škoda Auto.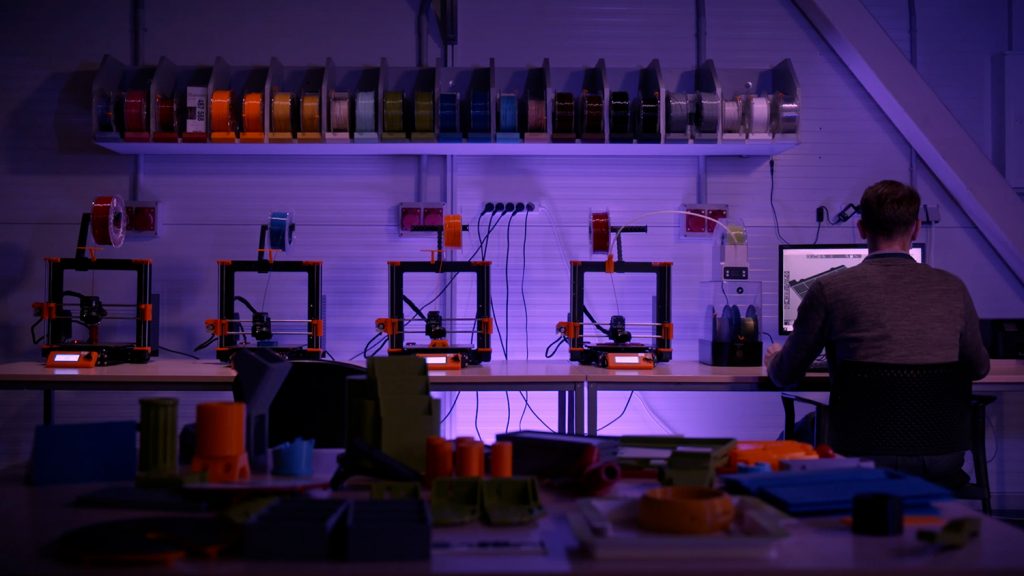 The production of 3D printing farms is very flexible – for example, they can print various different tools, parts, or prototypes. There are internal processes in place, so the employee only needs to supply the farm with a sketch of the desired model or the original part as a template. All parts are checked in the internal database first – original parts come with printing data and instructions, and new models have to be approved by patent specialists before printing. 3D printing farm operators are then capable of delivering models in desired numbers in a matter of hours.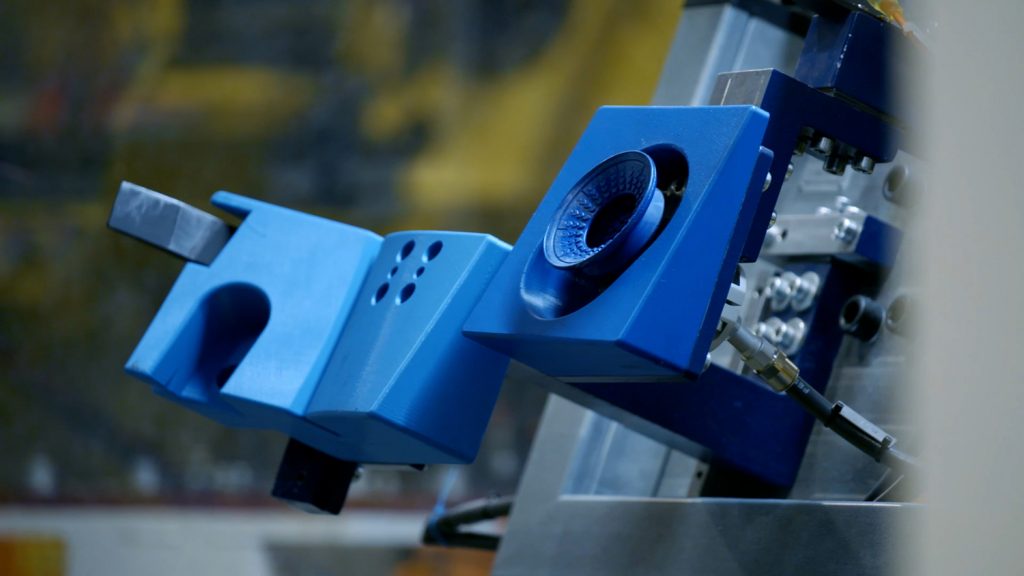 What do they print
You can find machines of renowned brands on 3D printing farms – and the use of 3D printers varies significantly according to the specific requirements of each department. The Central Pilot Hall most often prints templates for surface and perimeter continuity or models of assembly parts such as taillight, front light, or back door spoiler. The 3D-printed parts help with optimizing the welding process in the pre-production phase.
The maintenance department in the pressing plant prints special templates for examination of the molds – it saves them time and increases the quality of production. Before 3D printing, the maintenance department had to bring the molds for examination to a dedicated workshop, now they can check the quality directly at the pressing line.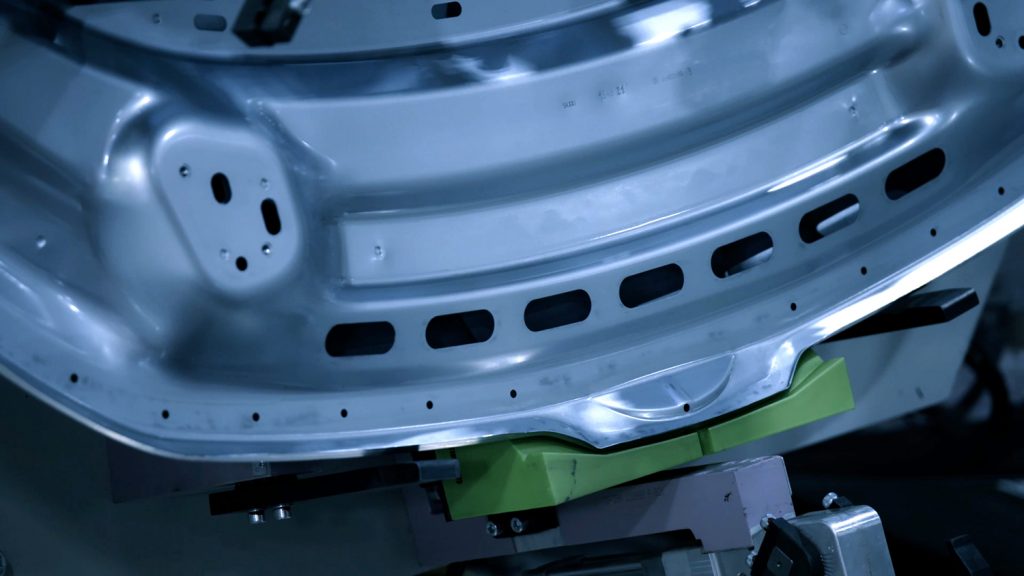 Engine and transmission manufacturing department focus on smart solutions that optimize their operations. For example clamps – tools used to manipulate the production line cogwheels. 3D-printed clamps fully replaced metal ones, which wore the cogwheels out. The price of a printed clamp is incomparably lower than the metal one – and, while not wearing out the cogwheels, it also lasts longer.
The workshop crew most often prints shaped parts for holding fixtures – the kind that was previously produced by machine tools in large centers. This change made their production both faster and cheaper. The logistics department uses 3D printers to make labels on trolleys with ready-to-assemble parts or car body covers to help with safe handling.
In the Central Technical Service, 3D printing quickly became indispensable for the production of sophisticated spare parts: For example shape pads or jigs for measuring the size of joints. In a short time, they basically stopped buying these parts and simply started 3D printing them. This is also a necessary process for the older machines – the technicians from Škoda Auto often improve the spare parts themselves – prototyping, testing and gradually refining them until the production gives approval.
3D printing helps with many challenges
When making all sorts of tools and accessories, one of  the main advantages of 3D printing are unlimited possibilities and huge flexibility. Škoda Auto realized that when they encountered a broken supply chain due to COVID-19 restrictions: Thousands of cars couldn't be completed, with immitent risk of stopping the whole production – and in automotive that means huge complications on many levels.
"Due to problems in the supply chain, 3D printing farms were tasked to help with completing the finalization of Škoda Superb and Karoq models in Kvasiny plant – where there was a problem with a gearbox rod supply. Printed plastic covers were used to stabilize the gearbox in a neutral position. Without that, the cars wouldn't be able to complete their journey through the production process. We waited for the original part to be delivered to replace the plastic cover afterward," Jana Polášek Filová describes the complicated times.
Thanks to rapid-fast prototyping, quick approval process, and mass production of the plastic covers (also utilizing 3D printing production capabilities here at Prusa Research), a long production delay of more than 13 000 cars delivery was prevented. This kind of fast and flexible reaction to unforeseen circumstances would not be possible without 3D printing.
Change of traditional thinking ways
For Škoda Auto, the introduction of 3D printing in production brings vast benefits. On the other hand, it causes the requirements for qualified personnel to rise. And that doesn't mean just the 3D printer operators – but everyone in the production process. Škoda Auto's goal is to get the full potential out of 3D printing, and use the 3D printer as a full-fledged working tool. That requires proper education and training that the current engineers don't have. That's why 3D printing became a part of a training program in the Škoda Academy: To increase the number of skilled and educated people that can recognize situations that require or would benefit from using 3D printing technology.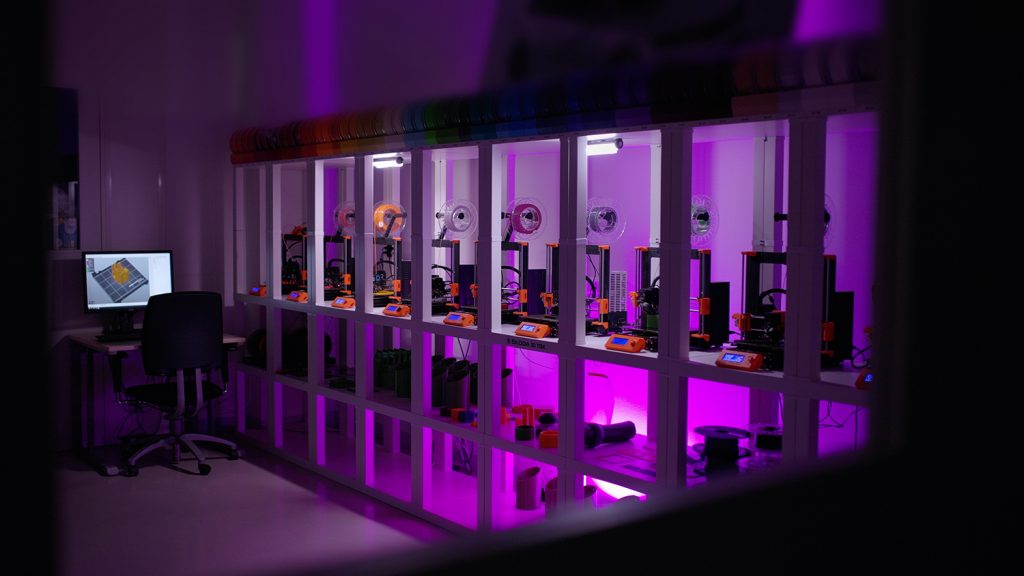 Although Škoda Auto has many different machines from various brands in their portfolio, the vast majority of 3D printers are Original Prusa.
"The choice of a 3D printer was no coincidence – a major part of the decision was based on price availability, simple controls, and maintenance, reliability, and quality of the prints that are in pair with our standard for making prototypes or tools," Jana Polášek Filová explains.
"Cooperation of Škoda Auto and Prusa Research helped start a change in a way of thinking about production and helped motivate our employees to use additive manufacturing technologies in new ways," she adds.
A new standard
3D printing in Škoda Auto helps save both money and time, helps with innovative thinking, and invents new procedures – employees themselves come up with new ideas for innovations and better tools that help them with their work and improve the production process. 3D printers became a full-fledged working tool, just like a screwdriver, PC, or CNC. The next goal is to promote 3D printing from prototyping and tool-making to be a part of the final production.
"There are 40 people now in Škoda Auto Production and Logistics that are a part of our Plastic 3D printing work group. And they are fascinated by the possibilities of additive manufacturing. Their excitement is quickly captured by other departments and I'm sure that in three years' time, there will be hundreds of active makers in Škoda Auto," predicts Jana Polášek Filová and adds: I believe that in the future, 3D printing will not only a useful prototyping tool, but an indispensable part of the final car production.