Light surrounds us every day and night in many different forms. It comes naturally from sun's rays or from artificial electrical sources. In the evenings, at night or during the winter months, we compensate for the absence of natural light with artificial lighting. And artificial lights are the main theme of our seventh design competition.
The theme of the contest is a single word: Light – your model must shine. And we don't mean it merely as a figure of speech. We want you to design a source of light. ?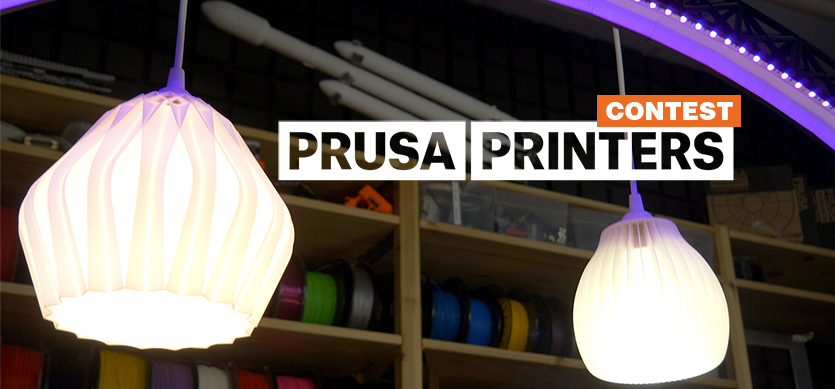 You can incorporate various light sources into your 3D print. Light bulbs, single LEDs, LED strips, fluorescent lamps and so on. We recommend avoiding the old tungsten light bulbs, which produce a lot of heat and could damage the printed model! It is much better to stick to LEDs as a light source.
Here's a couple of ideas that represent a sensible combination of 3D printing and LED light sources: a table lamp, shade for a chandelier (or even a complete chandelier), wall lamp, design light, lithophane lamp, outdoor and garden lighting, flower pot with artificial light, lightsaber and many others.
Make your model unique and exceptional. This will greatly improve your chances of winning this contest. Let your creativity go wild. How about a garden lamp that combines LEDs, a remote control and a solar panel with a battery? Not only will it make your garden look beautiful at night, but there will also be no need for any power cords or chargers.
Always pay attention to safety when designing and using your invention. Your model will be powered by electricity. Even battery-powered models can suffer from short circuits, which may result in melted plastics or, in the worst case scenario, even fire. Choose the material carefully, because light sources usually produce a certain level of heat. ASA or PC Blend may be a better choice in this case.
Contest evaluation and prizes
We will select four main winners. The first place will be divided into two distinct categories.
Two 1st places – 3D printer Original Prusa i3 MK3S (kit)
designs based around a lightbulb socket (e.g. IKEA HEMMA or SEKOND)
all other designs
2nd place – 3 spools of filament (Prusament)
of your choice – PLA / PETG / ASA

3rd place – 2 spools of filament (Prusament)
of your choice – PLA / PET / ASA

Also, another
five designs
that will get the highest overall amount of Likes
/ Hearts will receive a
50USD voucher
to our e-shop for purchasing any goods. The deadline for counting "likes" is 48 hours after the end of the competition.
Deadline for entries: September 27th, 2020, 23:59 UTC.
The best models will be selected by a jury of Prusa Research employees. Winners will be contacted by email. The results will be published here on our blog.
The main evaluation criteria will be:
Overall quality of the model
Printability – whether the model has an optimal orientation, whether it is divided into multiple parts so it can be printed more easily (without supports) etc.
Originality – If you create something truly unique, it will be rated better than a slightly altered existing model
Popularity – Share your model to increase its popularity, prove that users appreciate such a model.
Your other works – In case we can't decide between two favorite designs, we often check your other models to see what you can do.
Assembly instructions – if your model consists of multiple parts, we check how easy is to assemble the final product.
How to participate?
It's easy to participate in this competition. Just follow these simple instructions:
Design and create a model or improve an already existing one ("remix") so that the result fits the theme of this contest. The model has to be printable on an FFF/FDM or SLA 3D printer (any manufacturer and model). This also means that you don't need to own a 3D printer in order to participate. When creating the model, keep in mind the pros and cons of various types of 3D printing technologies and what can and can't be actually done.
Upload the model to PrusaPrinters.org and make sure it contains:

Model in .3MF or .STL file format (print files are optional)
Photo or render of the model (ideally both)
Model description

Add the model to the contest. You can do it the same way you add a model to a Collection. Click the Add to collection button next to the model and select the first item in the list, which is the name of the currently running competition. By ticking the checkbox next to "Lights and 3D printing" you finalize submitting the model into the competition.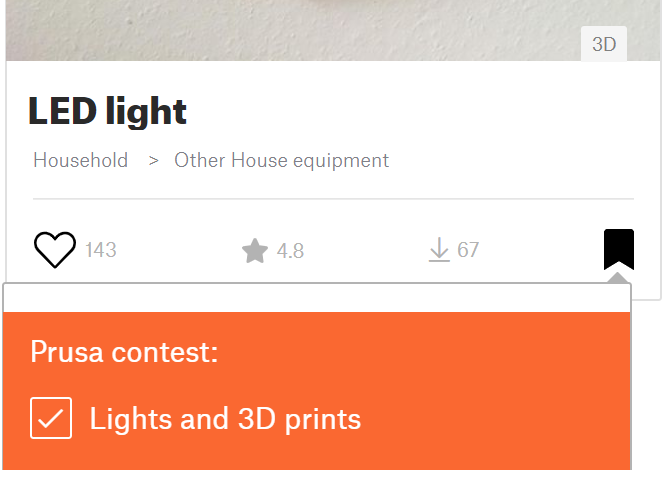 Of course, you can share your model on social networks (Facebook, Instagram, Twitter, Pinterest,…) and don't forget to add the #PrusaPrinters hashtag. This can help increase the popularity of the model.
Terms and conditions
The contest runs from August 19th, 2020 to September 27th, 2020 23:59 UTC.
You can submit any number of models (unique) to the competition and increase your chances of winning.
The model must contain at least one printed part and must incorporate a source of artificial light.
We reserve the right to terminate the competition or change the conditions of the competition at any time. In case of violation of the terms and conditions or an attempted fraud, the competitor will be disqualified.
We look forward to your participation!
Happy printing!