More and more different lines of work are using 3D printing nowadays, and we really like seeing new designs that have some real use. The theme of our new designer contest is fashion – one of the fields which enjoys a great increase of 3D print utilization, letting the designers put into practice some completely new ideas. There are earrings, necklaces, belts, ties, buttons, even wrist watches, shoes, hats, purses, or whole dresses. Be creative and don't be afraid to come up with something novel and unheard of.
Contest theme: Fashion & fashion accessories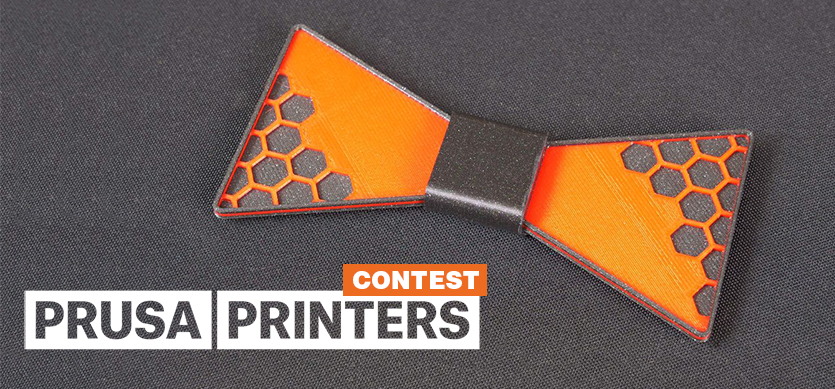 What's in it for you?
This is our first contest featuring our newest printer, the Original Prusa MINI, as a prize. And since good things come in pairs, we've thrown in two of them right away. This is a unique chance to get the MINI without any waiting time due to huge demand. If you are waiting for yours right now, our apologies. But even we couldn't jump our own line and had to book the printers for this contest two months in advance.
There are also five spools of Prusament and e-shop vouchers worth a total of USD 250.
1st place – Original Prusa MINI with both smooth and textured PEI sheet and a filament sensor
2nd place – Original Prusa MINI with smooth PEI sheet
3rd place – three spools of filament (Prusament)
of your choice (
PLA
,
PETG
,
ASA
, or
PC Blend
)
4th place – two spools of filament (Prusament) of your choice (PLA, PETG, or ASA)


Another five designers with the highest amount of Likes (Hearts) count will earn a voucher worth USD 50 for any products from our e-shop. (Likes will be counted 48 hours past the contest deadline).
Deadline for entries: November 20th, 2020, 23:59 UTC.
The best models will be selected by a jury of Prusa Research employees. Winners will be contacted by email. The results will be published here on our blog.
The main evaluation criteria will be:
Overall quality of the model
Printability – whether the model has an optimal orientation, whether it is divided into multiple parts so it can be printed more easily (without supports) etc.
Originality – If you create something truly unique, it will be rated better than a slightly altered existing model
Popularity – Share your model to increase its popularity, prove that users appreciate such a model.
Your other works – In case we can't decide between two favorite designs, we often check your other models to see what you can do.
Assembly instructions – if your model consists of multiple parts, we check how easy is to assemble the final product.
How to participate?
It's easy to participate in this competition. Just follow these simple instructions:
Design and create a model or improve an already existing one ("remix") so that the result fits the theme of this contest. The model has to be printable on an FFF/FDM or SLA 3D printer (any manufacturer and model). This also means that you don't need to own a 3D printer in order to participate. When creating the model, keep in mind the pros and cons of various types of 3D printing technologies and what can and can't be actually done.
Upload the model to PrusaPrinters.org and make sure it contains:

Model in .3MF or .STL file format (print files are optional)
Photo or render of the model (ideally both)
Model description

Add the model to the contest. You can do it the same way you add a model to a Collection. Click the Add to collection button next to the model and select the first item in the list, which is the name of the currently running competition. By ticking the checkbox next to "Fashion & fashion accessories" you finalize submitting the model into the competition.
Of course, you can share your model on social networks (Facebook, Instagram, Twitter, Pinterest,…) and don't forget to add the #PrusaPrinters hashtag. This can help increase the popularity of the model.
Terms and conditions
The contest runs from October 16th, 2020 to November 20th, 2020 23:59 UTC.
You can submit any number of models (unique) to the competition and increase your chances of winning.
The model must contain at least one printed part.
We reserve the right to terminate the competition or change the conditions of the competition at any time. In case of violation of the terms and conditions or an attempted fraud, the competitor will be disqualified.
We look forward to your participation!
Happy printing!