Welcome to the first part of our series on 3D printed workshop equipment. Today we will focus on tidying up our man caves (or woman caves ;-)) with the help of 3D printing. 
Actually, your workshop doesn't really have to look like a cave anymore nowadays. In DIY stores, you can find a neat selection of holders, organizers, racks, and containers. However, chances are you might want to opt for 3D printing, even though it will always be more expensive and time-consuming than buying ready-made stuff. 
The customizing and personalizing aspects might be well worth it – pick your favorite color, match the style of organizers you already have, and tailor everything to utilize all the available space…which is somehow never large enough.

Wall-mounted systems
Having everything in boxes or drawers is tidy and makes the dusting much easier, however, searching for the right tool in closed containers is time-consuming and distracting. 
We really recommend having everything readily accessible, with each thing in its permanent place, preferably right in front of your eyes. Some sort of a wall-mounted storage system is ideal for this.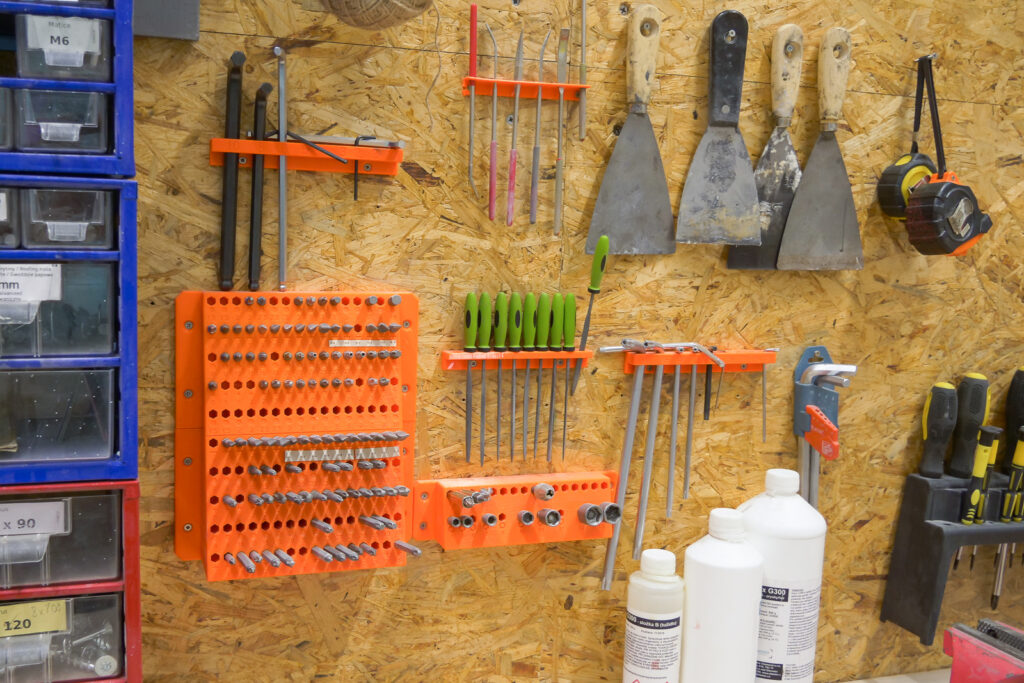 Mounting all the racks and holders directly on the wall is not very practical. Instead, you should screw or glue them to a desk and then attach the whole desk to the wall. It's up to you whether you want to use plywood, chipboard, or solid wood.
Another option is a pegboard: a perforated panel with standardized holes. Again, there are various materials: metal, plastic, or hardboard.
There are various types of pegboards with different shapes, sizes, and spacing of the holes. If you want to use downloaded 3D models, plan ahead and make sure they are going to be compatible.
Where to get the models?
Speaking of downloading 3D models, there is a whole category of organizers in the PrusaPrinters database. You will also find links to individual models and collections below.

Another option is modeling the parts of the storage system yourself. It might seem daunting at first, however, it is actually an ideal beginner's project, and also a very rewarding one. All the boxes, racks, and holders are relatively simple geometrical shapes after all. In fact, practical thinking and patience to measure everything twice are going to be much more important than awesome 3D modeling tricks.

We are using the Fusion 360, which we consider a good beginner's choice: it is very user-friendly for such a sophisticated piece of software.

By the way, consider checking out our article on parametric modeling. Storage systems are a typical application of the parametric approach – it is extremely useful to branch out various types and sizes from a basic model with just a few clicks.

Consider sharing the results of your work with others via PrusaPrinters and enjoy our new system of rewards!

If you don't feel ready to start from scratch yet, you can begin with remixes and adjustments to existing models (for simple things like deleting pegs, adding holes, etc., even Tinkercad will do) and slowly work your way through to your own creations.
Links and examples
Finally, let's move on to the models for download and/or your inspiration.

Screwdriver holder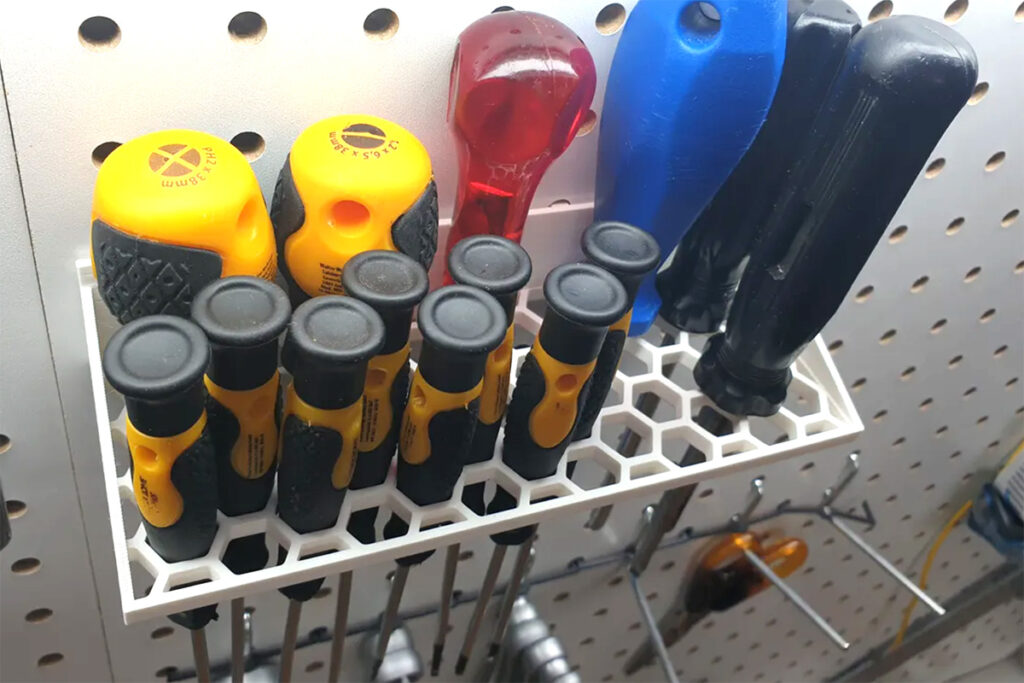 This one is designed for a pegboard, but you can easily remove the peg mounts and model (or later drill) holes instead.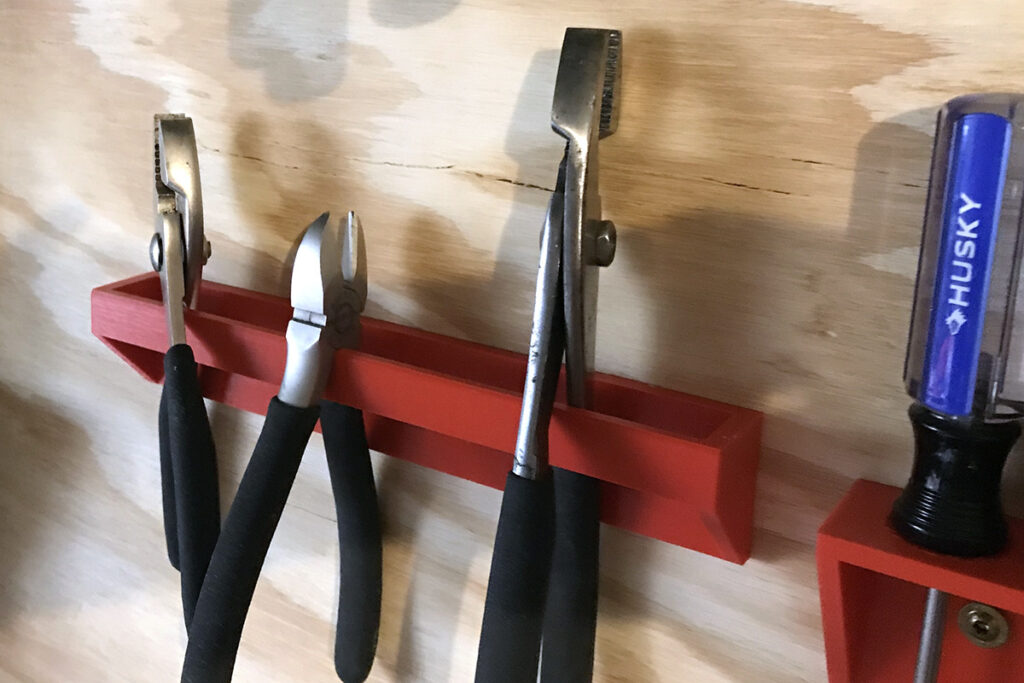 Designed to be mounted on a board. Looks primitive, but there is really not much to improve. Works perfectly with pliers of various shapes and sizes.
Drill holders are especially useful as sifting through a pile of them to find a correct diameter is a major PITA. The holes are marked with numbers – it is just a matter of your discipline returning the drills to their correct places immediately 😉

Organizing your paints is a topic on its own. Few painters and modelers remain faithful to one brand (neither is one brand suitable for all applications), so inevitably, over the years they end up with a motley assortment of oil paint tubes, spray cans, tins, bottles, and pedal bins (or whatever are the Citadel containers properly called ;-)). With 3D printing, you can mix and match your paint rack to accommodate everything efficiently, even if you have only a few pieces of each brand.
The Vallejo (or Vallejo-sized, like AK Interactive, etc.) paint holder comes in various sizes, from 2×3 to 9×6 bottles.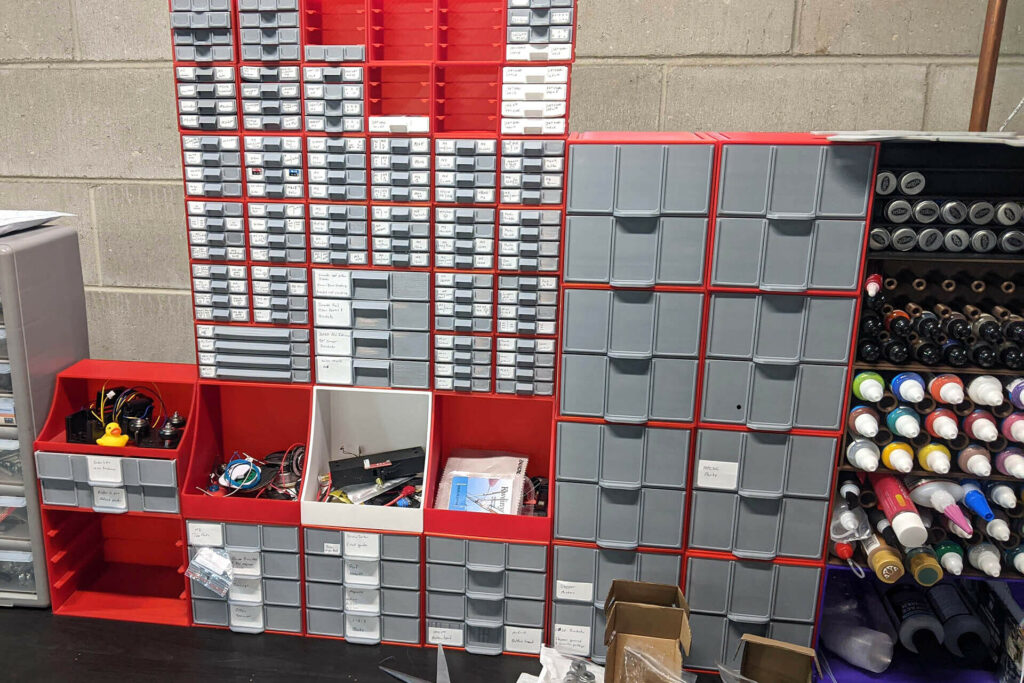 Even though we earlier dismissed boxes and drawers for storing your tools, they are golden for all those nuts, screws, and other small bits. In the link above, there is a whole system of more than 60 models of all sizes that you can stack and attach to each other to completely fill your available storage space.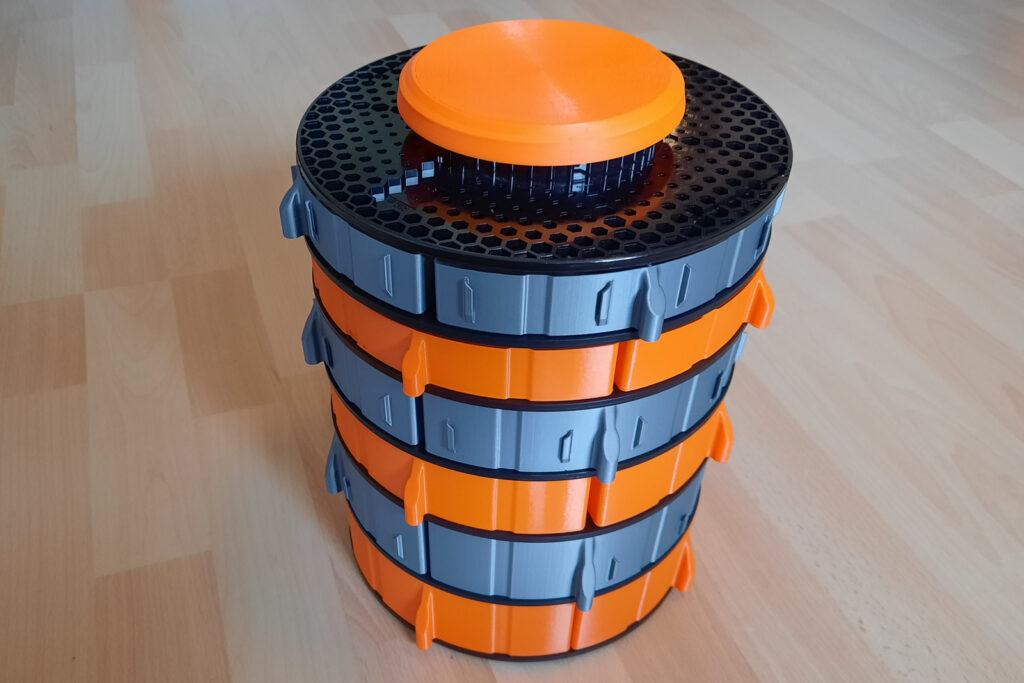 Here is an interesting organizer, upcycling plastic sides of empty Prusament spools.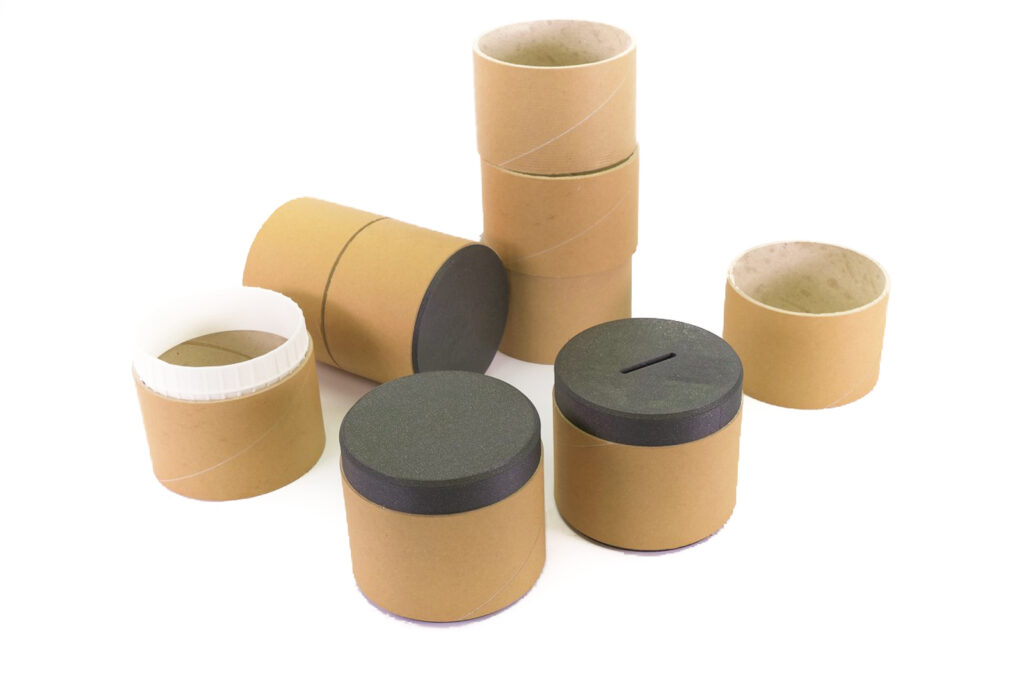 By the way, the whole spool is reusable, even the paper tubes!
Last but not least, here is a collection of various small containers.
Our picks
This is a whole system we use in our own modeling workshop. It contains holders for paints, drill bits, small trays, but also less obvious, but useful things like a heat gun holster or a paper towel rack.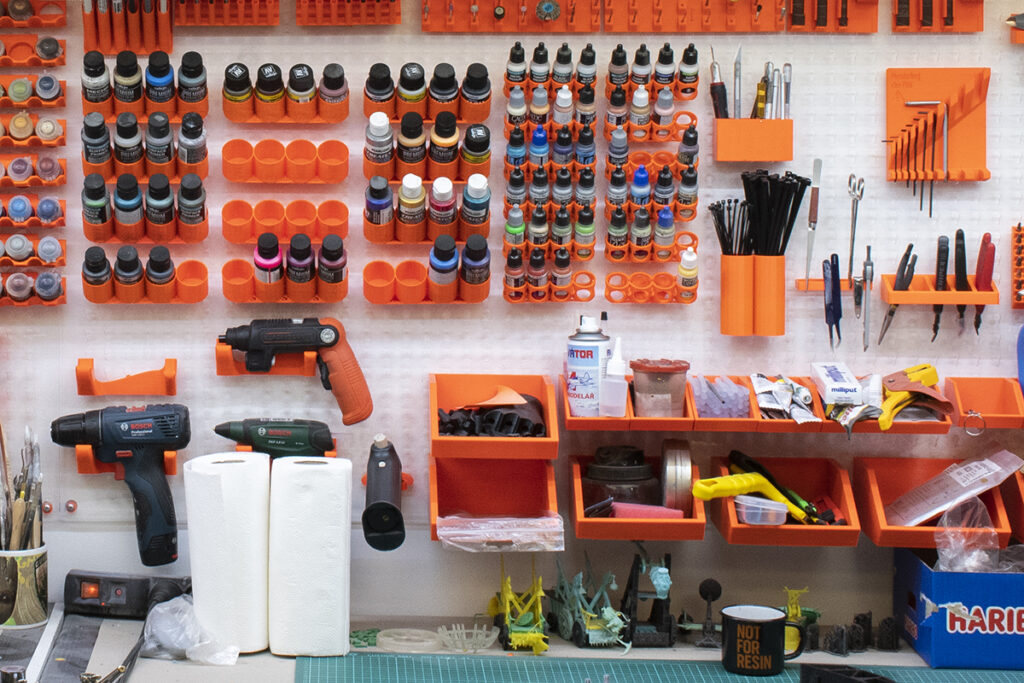 And here is another collection of assorted prints we consider interesting and useful.
Stay tuned!
We will soon follow up with another article (or two), this time focused on the tools themselves.

In the meantime, please feel free to share your tips and suggestions. Also, you can share photos of your workbench, no matter if it's neatly organized, or…less so. Let the unofficial quest for the worst place of chaos and despair begin 😉
Happy printing!