A year ago, we acquired an 80% share in Trilab, a Czech manufacturer of 3D printers based in Hradec Králové, as a strategic partner. Trilab's 3D printers based on delta construction are highly regarded industrial solutions, and it only made sense for us to keep the AzteQ and DeltiQ series running. What's more, you can now find both models directly in our e-shop!
Our plan from the very start was to keep the Trilab brand and expand their team instead of merging our teams into one large group. We will continue to support Trilab further, providing them with the financial security and background of a large company, as well as our contacts and know-how associated with the mass production of 3D printers so that they can further develop their industrial machines.
The addition of the DeltiQ and AzteQ printers to our e-shop is the perfect opportunity to introduce Trilab and its machines a little more closely!
Industrial delta 3D printers
In Prusa Research, we've been working with Cartesian 3D printers – machines with a heatbed moving along the Y-axis and an X-axis extruder and we will soon be expanding our portfolio with the addition of CoreXY models (XL and AFS). Trilab, on the other hand, has extensive experience with delta 3D printers: the heatbed is completely static and the lightweight extruder is moved by three carbon arms arranged in a triangle shape.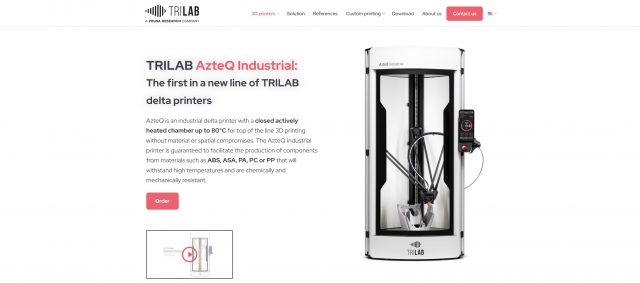 As a result, delta printers can achieve very high speeds, handle flexible materials without problems, and the printed objects are beautifully detailed. The DeltiQ 2 Plus version offers a Z-axis up to 500 mm high, making it ideal for printing tall objects. The statuettes for the prestigious BRIT Awards were prototyped using Trilab printers.
If you need more info about the printers you can check our product pages on e-shop or take a look at reviews of DeltiQ on Techradar or 3DPrintingIndustry.com.
Trilab is right at home in areas such as design, automotive, R&D laboratories and other industrial segments. Their customers include companies such as Skoda, Koyo, Vetropack, AlcaPlast, Viracoustic and Lasvit. These customers appreciate, among other things, the many advanced functions and practical features that Trilab's 3D printers offer. Whether it's the easily interchangeable print heads for different material types or the actively heated print chamber, Trilab's 3D printers cover a truly wide range of requirements, including rich connectivity and remote access options. They are even equipped with a camera module.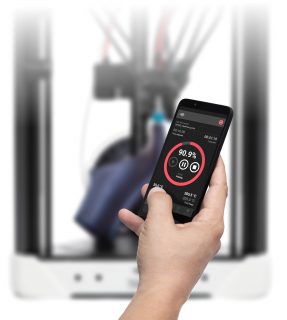 The Trilab team has been using and recommending our in-house manufactured filament (Prusament) to their customers for a long time, even before the start of our cooperation. PLA, PETG, ASA, PC Blend, Nylon, Flex and many other materials are among those that AzteQ and DeltiQ can handle with ease. A popular attraction of Trilab at trade shows is to let visitors try to break a thin part from PC Blend Prusament printed inside the heated chamber of the AzteQ version – and usually, there is no need to take more than one print with you to the entire show. 😉 Advanced materials also require a high-quality print surface – this is where our experience with many years of developing and manufacturing spring steel printing plates came in handy.
Trilab is expanding!
One of the first things we tackled, when we started working with Trilab, was to ensure the company's continued growth. A year ago, Trilab was based in the Technology Centre in Hradec Kralove in a 60m² (about 640 sq ft) office space and a 140m² (about 1500 sq ft) production hall, and things were getting pretty tight. Even the technological facilities were insufficient and the circuit breakers were almost at their limit.
At the beginning of this year, Trilab was finally able to move into three times larger premises, namely the former Vertex factory. 180 m² for offices and 400 m² for the production hall are the welcome improvements, allowing the company to expand further. It is already at triple the number of employees compared to last year. We have also supported the expansion of production from our side: Trilab is switching to the production system concept from our factory in Prague. Processes, production tables, logistics – all this (and more) has received a major upgrade.
I am extremely pleased that we have managed to move forward despite the difficult market situation. With the increased production capacity, both AzteQ and DeltiQ will be able to go to more companies to assist in development and production. I can't wait to see where we go with Trilab next year!
Happy printing!