The tradition of glassworks in Czechia goes back seven hundred years. On this historical foundation, the design and glass-making company Lasvit is making top-notch glass works while combining the know-how of skilled craftsmen with modern technology and cutting-edge design. And with that kind of ambition, you need a 3D printer for sure!
You can find Lasvit's works in more than 2500 hotels around the world, in public spaces, on yachts, or in private residences – from eye-catching light designs to monumental installations such as the crystal dragon in Saipan or the iceberg by Maxim Velčovský in KKCG HQ. They are also an award-winning company, Lasvit landed the prestigious Milan Design Award in 2018. Adele has it, Tour de France winners have it – Czech glassmakers also make prestigious awards, winners cups and trophies. While making those, they heavily rely on Original Prusa 3D printers and Trilab 3D printers – and the designers are not afraid to admit that they can't imagine their work without them!
Adele's BRIT Award statue is a fine example of using 3D printing for R&D purposes: From the first design to the final model, the makers work with a printed prototype. They were checking the right proportions, tuning details, and experimenting with various possibilities. The result was a final 1:1 model for production – a thing that's priceless for the glassblowers. You can see all the details and things that a paper sketch will never tell you and which you could miss while working with a digital model.
The way of Making the final glass product is very traditional – a good and honest work next to a burning furnace. Glass itself melts at 1500 °C which means that the glassblowers are never cold at work. After pulling it out of the furnace, they cool it slowly and then hand-tune it to the desired shape. A boiling red hot bubble becomes a real work of art in a few minutes!
But we are mainly interested in the 3D printing that goes on in northern Czechia – in Nový Bor at Lasvit HQ. And – no surprise there – the head office is built out of glass! It's a symbol not only of the company's work focus but also of its boldness and ingenuity. Both of which are synonymous with Lasvit's designers and engineers. They use 3D printing not only for design checks but also for prototyping or small-parts production: Various fillings that prevent the glass from breaking or parts that mask electronics or material edges. Thanks to 3D printing, the designers can make various prototypes in a matter of hours and the production receives only the 100 % perfect final instructions and plans. This significantly reduces the amount of glass scrap – literally hundreds of flawed designs and unsuccessful prototypes – therefore had to be scrapped later. Now there are almost none.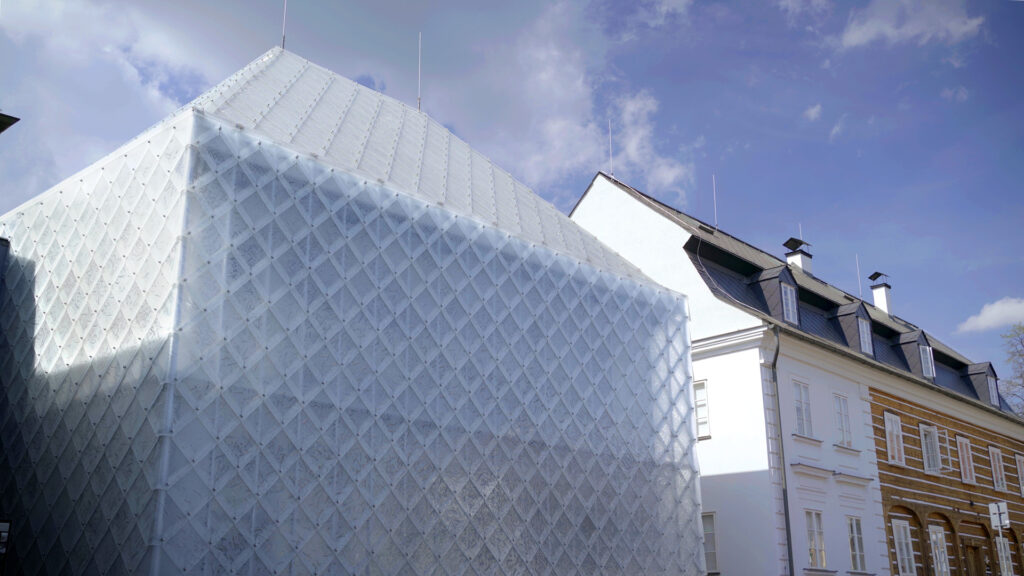 There's a long tradition of 3D printing at Lasvit – it all started around the year 2017 when the company bought an Original Prusa MK2. Today, they have four Original Prusa MK3S+, Original Prusa SL1, and three Trilab printers. Together they complement each other very well: Original Prusa printers are used for models with a smaller size or lower height, or small series component production, and Trilab is there for big and tall prototypes. The most used printing material is Prusament PETG.
3D printing helped to create various interesting and astounding projects, such as the unique glass interior at Galaxy Casino in Macau.
Lasvit wants to expand the usage of 3D printing in the future: Their goal is to have 3D printed parts for most of their projects. Right now, they are testing rubber parts of unique shapes and sizes made from FLEX, something that can't be made using standard means.
"We can't imagine working without 3D printing. When the designers start with the initial designs of various glass shapes, they can print, see and touch them. Therefore everything that goes into final production is fine-tuned into perfection thanks to Prusa and Trilab printers," says Marek Noháč, Design Engineer at Lasvit.
– Jakub Fiedler, Štěpán Feik, Jakub Kmošek