A couple of incredibly busy weeks are behind us. I went on a tour around the North America (which was amazing!) and meanwhile, the team back at the HQ managed to wrap up a ton of things – both figuratively and literally. If you've been following us on social media, you probably know what has been happening. If not, don't worry! This article is just for you! I'll cover the latest news about the MK4, XL, MMU3, Input Shaper, PrusaSlicer, Printables, shipping dates and more.
Let's dive in! *cracks knuckles*
MK4 – assembly kits are shipping
The production of the assembled MK4 is running smoothly and we're gradually ramping up the number of new printers manufactured every day. After thorough beta testing, we're now shipping the MK4 kit. We wanted to ensure the entire printer can be assembled with minimal hassle in home conditions – especially the gearbox. Fine-tuning everything took us two weeks longer than we expected, but the first MK4 assembly kits are already on the way.
This also means we have published the full assembly guide, so you can start inspecting how to build the MK4, how the gearbox works and so on – you'll see we made plenty of various improvements compared to the MK3S+. As always, you can expect detailed step-by-step instructions. And it's pretty awesome to see the excited reactions in the community! 🙂 I said it many times before and I'll gladly say it again: the assembly kit is the best way how to get to know your 3D printer inside and out!
Oh, and before I forget: we originally wanted to include a free 1kg spool of filament with every MK4 assembly kit until the end of May, but we eventually decided to extend this opportunity to all MK4 assembly kit orders made until the end of June, so you can still take advantage of that! 😉
To make assembling the printer at home easier, we updated the assembly process for the gearbox, which briefly affected the production of the assembled MK4 (you might have noticed the slightly different gearbox cover). In terms of quality, performance or reliability, there's no difference between printers manufactured before and after this change. In other words: these changes affect the assembly process and also enable a higher yield – we can manufacture more printers.
We have created a shipping schedule to keep you informed about your printer's shipping date. Check out this page on our website to find out when your printer will be sent based on the week you placed your order.
| | |
| --- | --- |
| | |
We're also gathering feedback from customers who already have the MK4 at home through a short online survey. The majority of users love their new 3D printer, and I'm happy to say that this has been our best launch so far. However, we did receive a few reports regarding the printer's noise. Some users mentioned hearing a mechanical rattling noise, which we didn't encounter during internal testing. We immediately started investigating the issue and identified the culprit – a limited number of faulty motors. These motors could appear on MK4s shipped before 23rd May, and newer machines are not affected.. To prevent future occurrences, we've implemented additional precautions and developed a special new tester for the stepper motors. This tester measures accelerations and can diagnose if a tested sample doesn't meet the specifications.
If your MK4 is affected, reach out to our tech support and we'll fix it under warranty. You can also try installing the latest alpha firmware 5.0.0 with Input Shaper, because it features a new precise stepping algorithm for the motors, which may help reduce or eliminate the noise.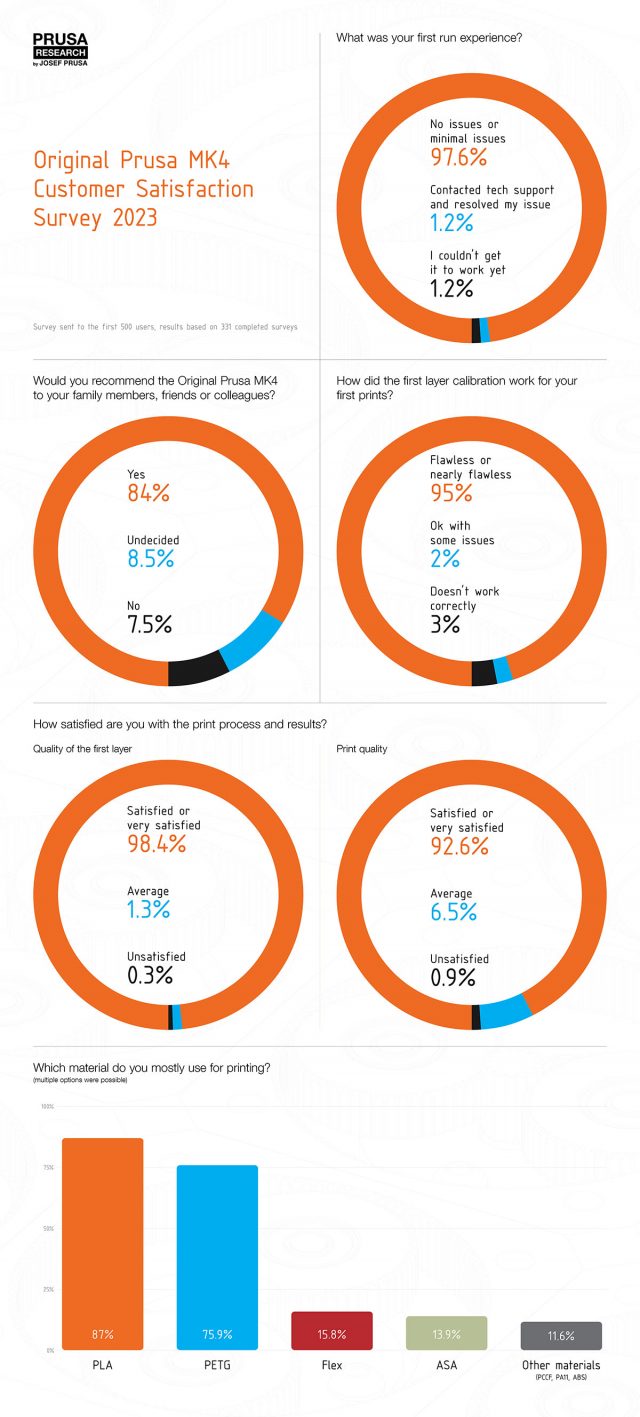 In another rare issue, a few printers had swapped fans on the Nextruder due to a manufacturing error – it occurred only in one manufacturing shift. We've added a safety software check in the firmware anyway, just to be on the safe side. This change may also benefit users who will be building their MK4 kits.
Now, let's touch briefly on MK4 upgrades. Full MK3S+ to MK4 upgrades are currently in progress and will begin shipping in the week of June 26th. The MK3.5 upgrade will start shipping in late July, as will the MK3.9 upgrade. You can find detailed information about the contents of the upgrade packages on the respective store pages.
XL updates
We began shipping XL single-tool semi-assembled printers to our first customers. The manufacturing is moving into full swing this week.
The first units are now out in the wild, and we'll soon be following up with the Dual-Head XL models in the upcoming days. They are just around the corner, with the first units scheduled for the week of June 19th. To optimize the rollout of these machines, we've decided that the five-head XL will start shipping approximately 4 weeks after the dual-head version, specifically in July 2023. I apologize for the delay – we want to ensure a smooth rollout of all the new products, and this was the best way to achieve that. The XL with the toolchanger was in development for several years and the expectations are high – we simply didn't want to leave anything to chance and compromise the quality of the final product.
The first semi-assembled XLs (single tool) are leaving the factory today!📦 pic.twitter.com/AdNwAcGF9e

— Prusa3D by Josef Prusa (@Prusa3D) May 31, 2023
Based on the valuable feedback from our external beta testers, we've implemented a number of small yet useful tweaks. For example, the rear side of the X/Y axis now features perforation to enhance the cooling of parked toolheads. We're also making changes in PrusaSlicer that align with the technology of the new machine, including detailed toolhead settings, a new compact priming tower, and more. The release candidate version is now available, and we're swiftly approaching the final release.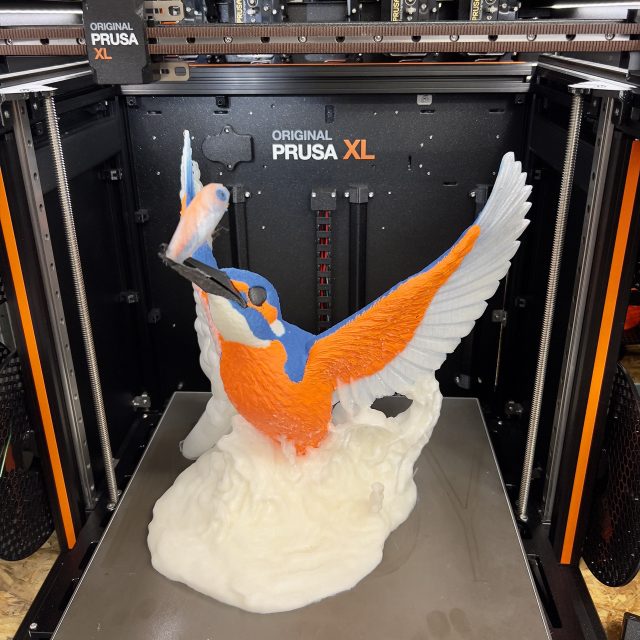 MK4 Input Shaper Alpha FW is out
…and the response is amazing! We've had a breakthrough with the Input Shaper quite late in the MK4's development and I couldn't be happier with the way our devs pulled it off in the end. You can download the alpha version from our Github – just make sure to read the release notes first. Another alpha release is quickly approaching.
There are a couple of frequently asked questions floating around this technology, so this is a good time to address them.
So, first of all, what are Input Shaper and Pressure Advance? Contrary to popular belief, it's not something that primarily aims to make your printer go BRRRRR. 🙂
Input Shaper is a feature designed to reduce ringing (also known as ghosting) by canceling resonance vibrations. It works by analyzing the printer's movements and applying a filter to the input signals. Thanks to faster travel speed and accelerations, it can also minimize stringing.
Pressure Advance is another important addition to the firmware's set of features. This function aims to improve the quality of printed parts by compensating for the pressure changes in the nozzle during printing. It works by extruding extra filament during accelerations and retracting the filament during deceleration to maintain a consistent pressure inside the nozzle. Pressure Advance together with Input Shaper enables the printing of better-looking models, reducing ringing, overshoots and issues with inconsistent filament extrusion. Together, they enable significantly faster printing.
This wouldn't be possible without a new precise stepper management system. We have a new implementation of the stepper routine which allows precise timing of motor steps. It was a necessary prerequisite for both Input Shaper and Pressure Advance.
We've also made some smart improvements to how PrusaSlicer handles larger objects printed at higher speeds – since the software can analyze the object thoroughly, it also adjusts the speed based on the height/weight of the object which helps to keep consistent quality even on larger and heavier objects.
However, there are still a number of things we're working on. The next alpha version should arrive next week and the final release should be ready in August, but it also depends on the feedback we'll receive.
And last but not least, the Input Shaper firmware for the Original Prusa XL is being developed and we're estimating a couple of weeks before the public release.
MMU3 Update
The orders of the MMU3 for MK3S/+ and the shipping are scheduled for the end of June. MMU2->MMU3 upgrade kits will be available for order in July.
The obvious question is what about the MMU3 for the MK4? We have the entire setup ready and we're now adjusting the filament sensor. During beta testing, we discovered that the thousands and thousands of filament changes may cause an increased accumulation of plastic dust and debris inside the Nextruder – which may affect the performance of the filament sensor. We've already come up with a solution but we want to make sure that it performs great in the long run. The testing should conclude by the end of June and we expect to ship out the MMU3 for the MK4 in August.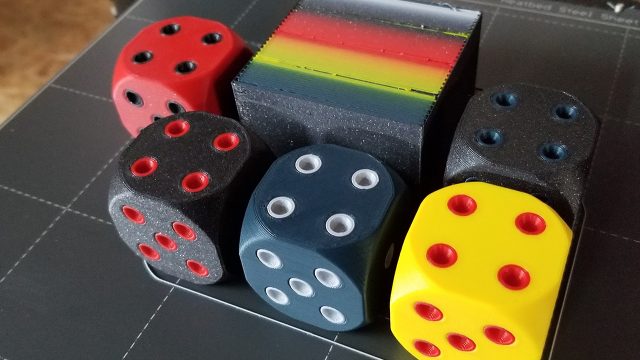 Here's to a busy Summer!
A small part of our team spent the last couple of weeks on the roads. We traveled across the United States and visited Canada and met hundreds of you at various 3D printing events including our new PUG Meetups. And it was amazing and very well worth those dozens and dozens of hours on the plane. 🙂 Sure, you can reach out to people via social media these days, but nothing ever comes close to meeting you in person. I'd like to thank everyone who decided to stop by, say hello and discuss 3D printing with us. We had a total blast and can't wait to do it again!
| | |
| --- | --- |
| | |
The 3D printing community is the cornerstone of everything we do. And this is also why we decided to prepare a new section for Printables.com – check out the announcement article if you missed it! We have also released a very thorough Sustainability report. It's gonna become a requirement for companies in a few years, but we said – hey, why not try it right now? Before you dismiss it as a boring corporate presentation, maybe you could consider checking out at least a few minutes of this awesome video by
In other news, we're looking forward to expanding our team with another 100 team members by the end of this year to expand our manufacturing and boost the XL production capacity. It's kind of unbelievable that we're still able to find new space in our HQ after all these years.
I can't wait till it's finally August and we have all these new releases behind us and the production is in full swing. 🙂 I'll be sure to write another update once the dust settles a little bit.
Happy printing!