From the moment we launched Printables, we knew adding a way for designers and artists to turn their passion into a viable source of income was something we definitely wanted to do in the future. But how exactly to implement it is a huge question to tackle. And doing it wrong could do more harm than good. Needless to say, we want to keep the main 3D printable model database free.
Fast forward a year of hard work and brainstorming, we now have a system that we believe strikes the right balance and we're ready to show it to you. But before we officially launch the first version, we want to hear your feedback and ensure that we create the best possible experience for everyone in our community! If you're in just for the free models, you'll barely notice anything different (we won't mix paid and free models) and if you're a creator, you'll have awesome new ways to engage with your audience.
Why do it in the first place?
The Printables database is large and diverse. From huge projects and incredibly detailed sculptures, small, but very practical prints, to toys and calibration models. It's clear that many of the authors spent endless hours fine-tuning everything to perfection. And there's only so much time you can put into a model if it's something you'll be releasing for free or something you're doing in your free time. Over the years, we have talked to many artists and designers who managed to turn their hobby into a successful source of income. Many of them would love to have their models on Printables. And vice-versa, we would love to bring their high-quality content to our large user base. Speaking of…
Every year we set goals that we would like to achieve with Printables. And every year, we put "Become no.1 model database" on the list as a kind of "world domination" joke. It seemed completely impossible – the market was already dominated by established websites. We started by tackling and fixing various issues that were bothering us on these platforms. Just like with our printers, we wanted to have something that we personally want to use as well. And as time went on, Printables were growing at a faster and faster rate.
Printables is now the 2nd most visited 3D printable model database. We have over 2 million unique visitors per month (doubled year-on-year), 10.3 million monthly visits, and there are over 750 models uploaded to Printables every day. With this traffic, we feel like it will finally be possible to realize the plan to let designers and artists make a living or at least get a nice boost to their standard income.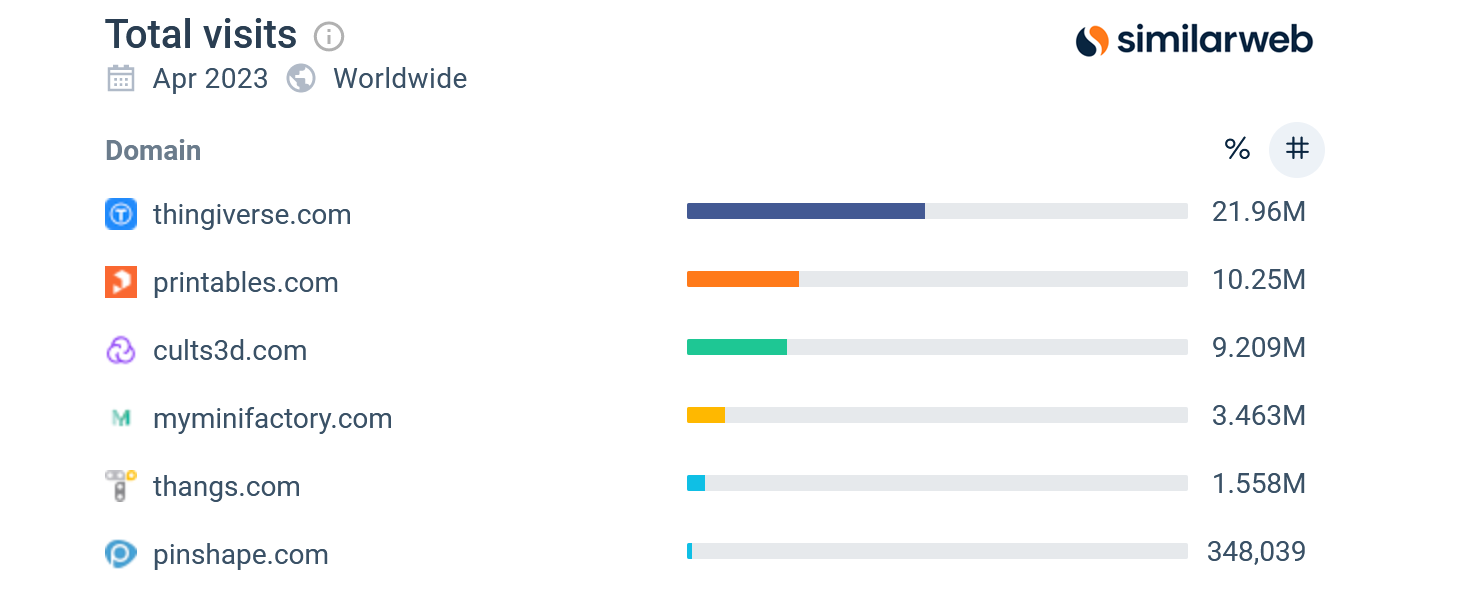 (source – SimilarWeb)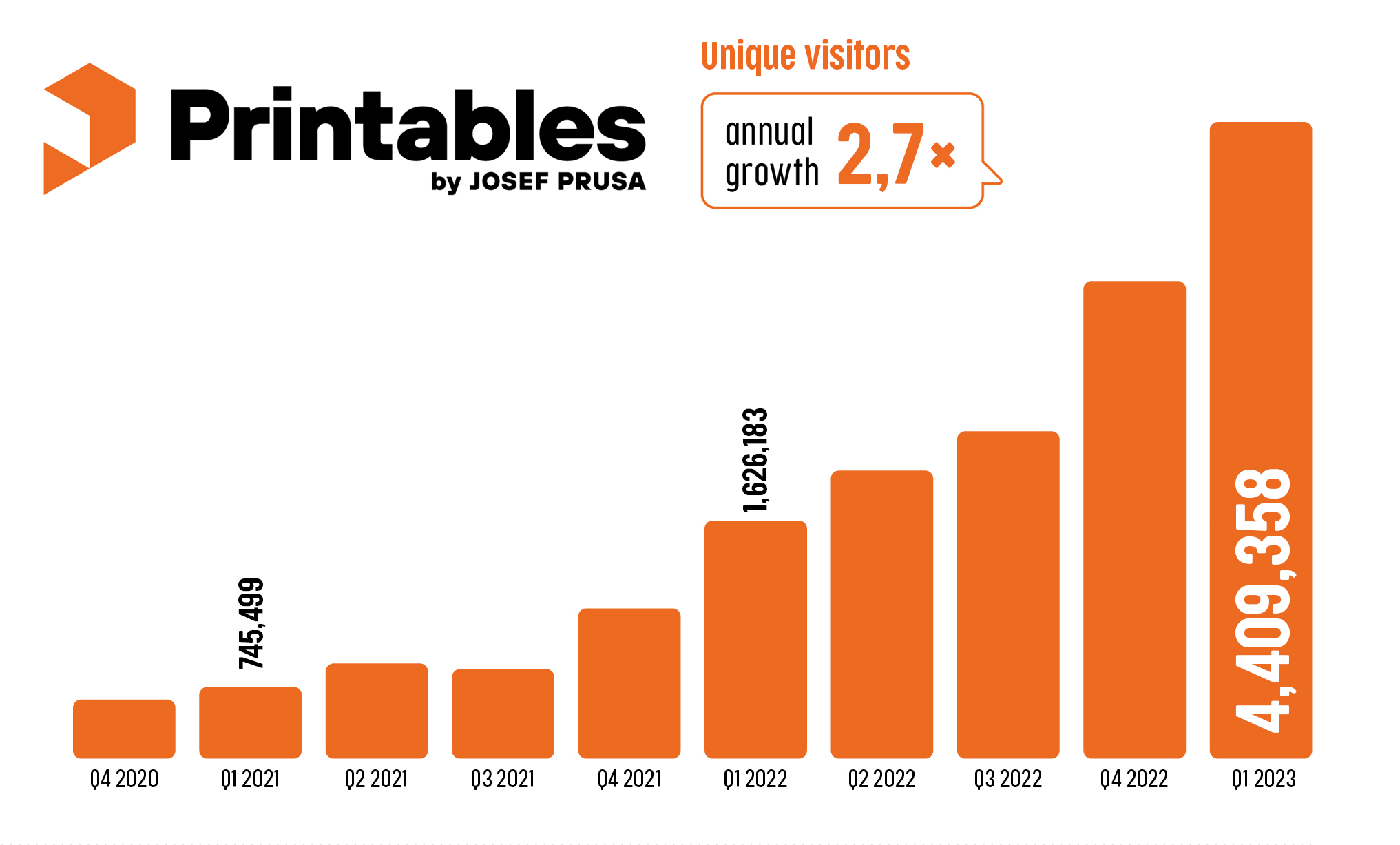 Keeping Printables a database of free models
There are several ways to monetize 3D printable models. From charging for individual models, charging for packs of models, to donations and monthly subscriptions.
It was interesting to see that when we briefly mentioned the possibility of adding monetization to Printables in a blog post from March 2022, there were many comments with strong feelings about this.
A lot of the comments aligned with our own opinion on the matter. We hate browsing sites where free and paid content is mixed. You find exactly what you were looking for, only to realize it's hidden behind a paywall. Even with the option to filter for free results, it's still cumbersome to toggle the filter every time you forget to enable it.
After much discussion, we decided that it's crucial that the main database of models on Printables stays completely free. Everything you see when browsing the database or when using the search function is downloadable without any paywalls, you don't even have to be logged in.
Instead, we drafted a different system – in short, it's a monthly donation system. We presented it to several creators last September to get valuable feedback, polished the idea, and implemented the base functionality.
The idea behind this monthly subscription system is to give content creators useful options to engage with their audience – a system similar to Patreon (with a few upgrades – more on that in a second). We're leaving it completely up to the designers to approach their audience however they see fit – pricing, rewards, number of models per month, etc.: that's entirely up to you.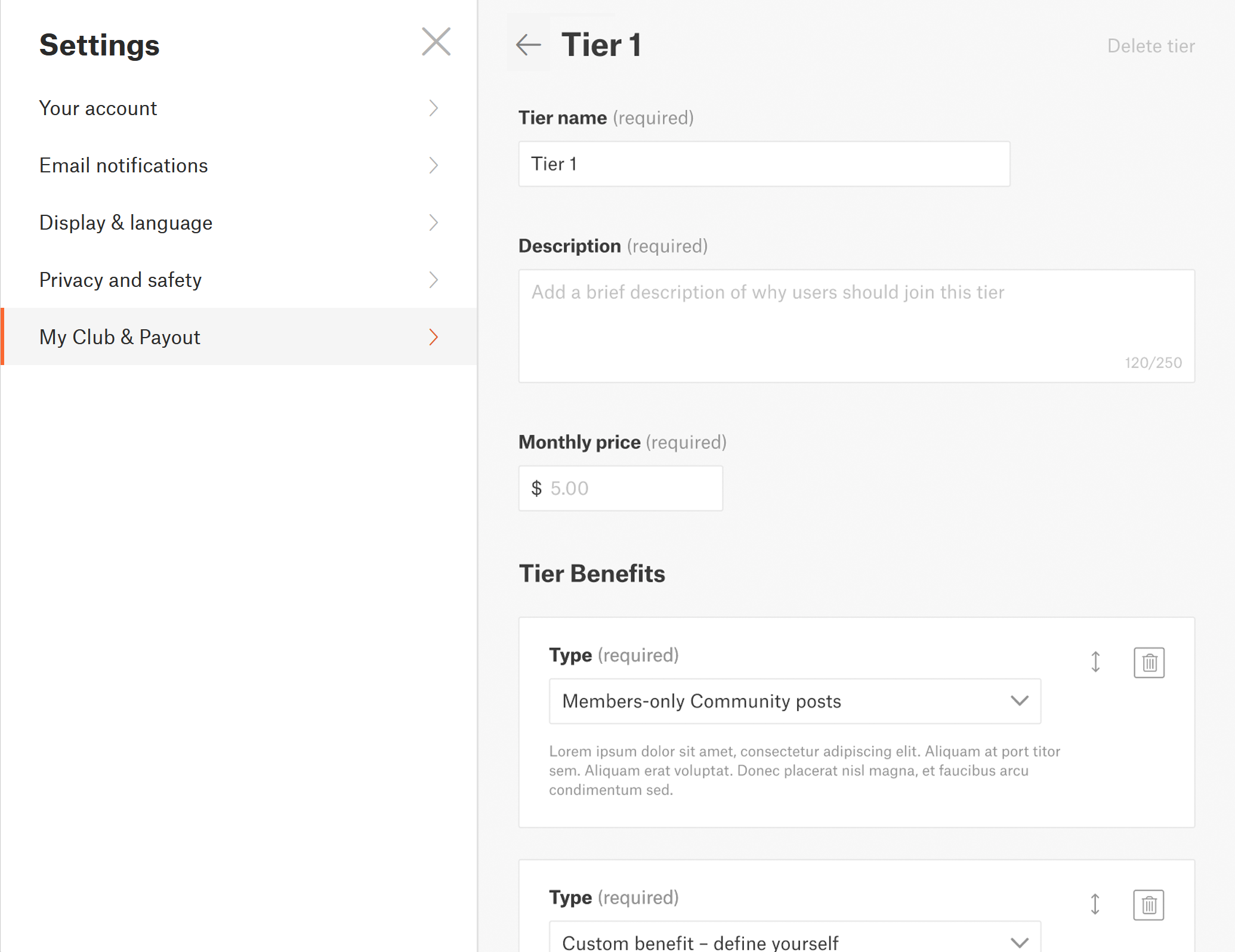 If you've been following along with the recent updates, you might have noticed that we've been releasing a lot of features related to all of this. User handles and nice short user profile URLs, completely revamped user settings with plenty of space for extra categories, detailed analytics, and so on.
Why not just use Patreon?
Many of the full-time artists and designers we've talked with have a Patreon account. But since Patreon is not made specifically for 3D printable models, the designers mentioned all sorts of features they miss and things that should work differently.
First of all, Patreon doesn't have any file-management system. Creators that wish to release models only for their supporters have to manage a Dropbox or Google Drive storage and create a new link every time they wish to invalidate the old one. There is also no way to show what models the supporter will get, once they start the subscription. Artists get around this by manually creating galleries of their work. It was mentioned by one of the artists on our call, that it sometimes takes them more time to publish their model and manage all of this than to actually model it.
Discoverability is another significant challenge, as creators must consistently produce content on social media to attract new patrons and drive people from other websites to their Patreon profile. At Printables.com, there are millions of users interested in the content. These are just a few of the hurdles that were brought up during our discussions.
We did our best to take all this feedback into account when creating the new system on Printables.
How it works
You'll be able to subscribe to an artist for a monthly fee. Our goal is to make it clear that while you will get extra benefits as a supporter, the main motivation for the monthly donation should be supporting the designer. Designers can create up to 5 tiers with customized benefits and prices for each tier. Such as subscriber-only posts, voting in polls, access to commercial licensing options, and more.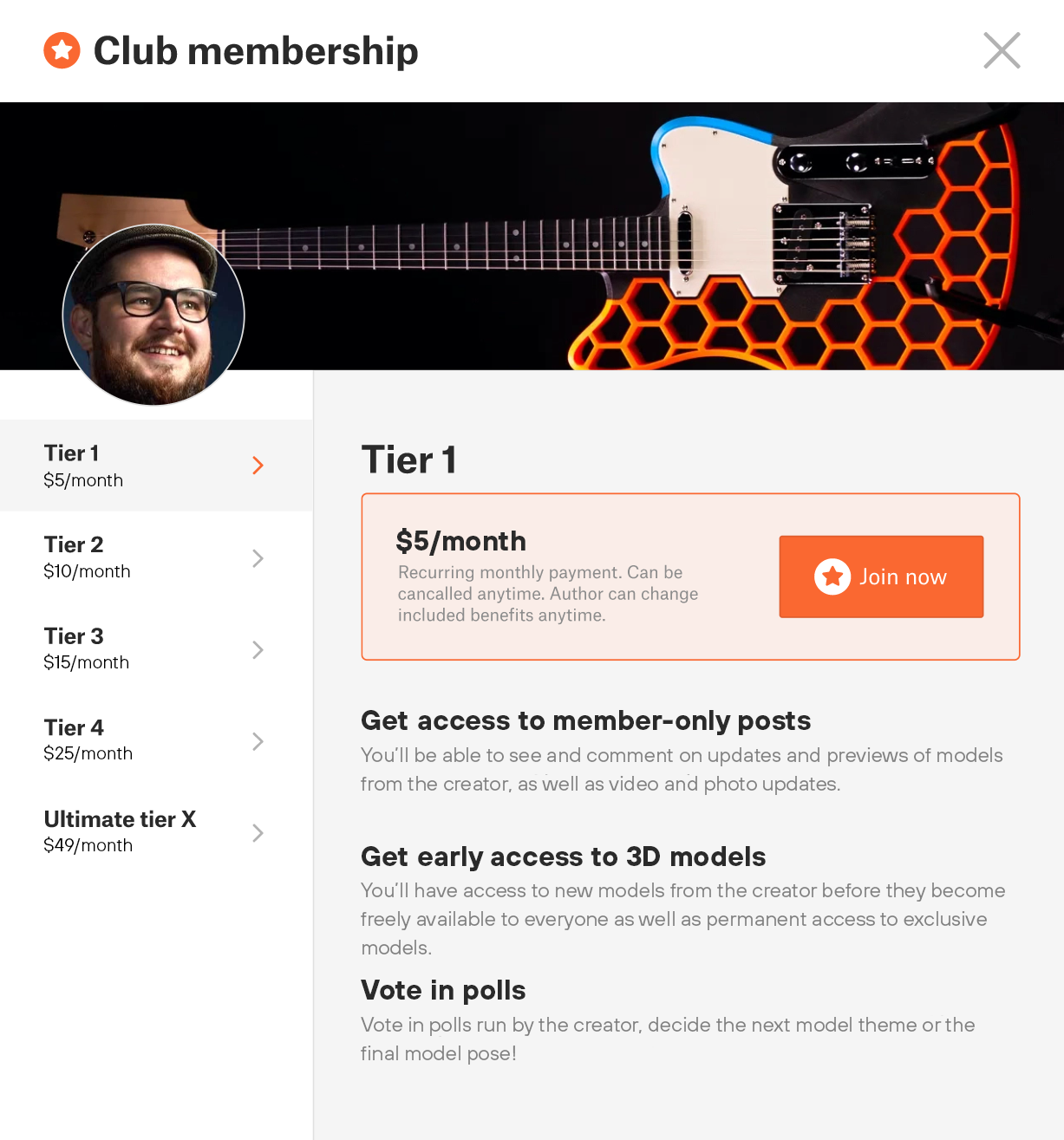 The designer can still choose to release all their work for free. As the models are visible to everyone browsing Printables, they are a great way to attract new fans and supporters. However, creators also have the option to offer exclusive content solely for their supporters. These models will only be visible on the designer's profile. If you're not a supporter yet, you will see a preview of all the models (thumbnail and short description), but you won't be able to download them. The same goes for visiting a direct link to a supporter-only model. Supporters, on the other hand, will have access to the models in their search results and within the database, clearly labeled as supporter-only models. Designers will be able to choose to automatically release supporter-only models for free to everyone after a specified period (e.g. 30 days).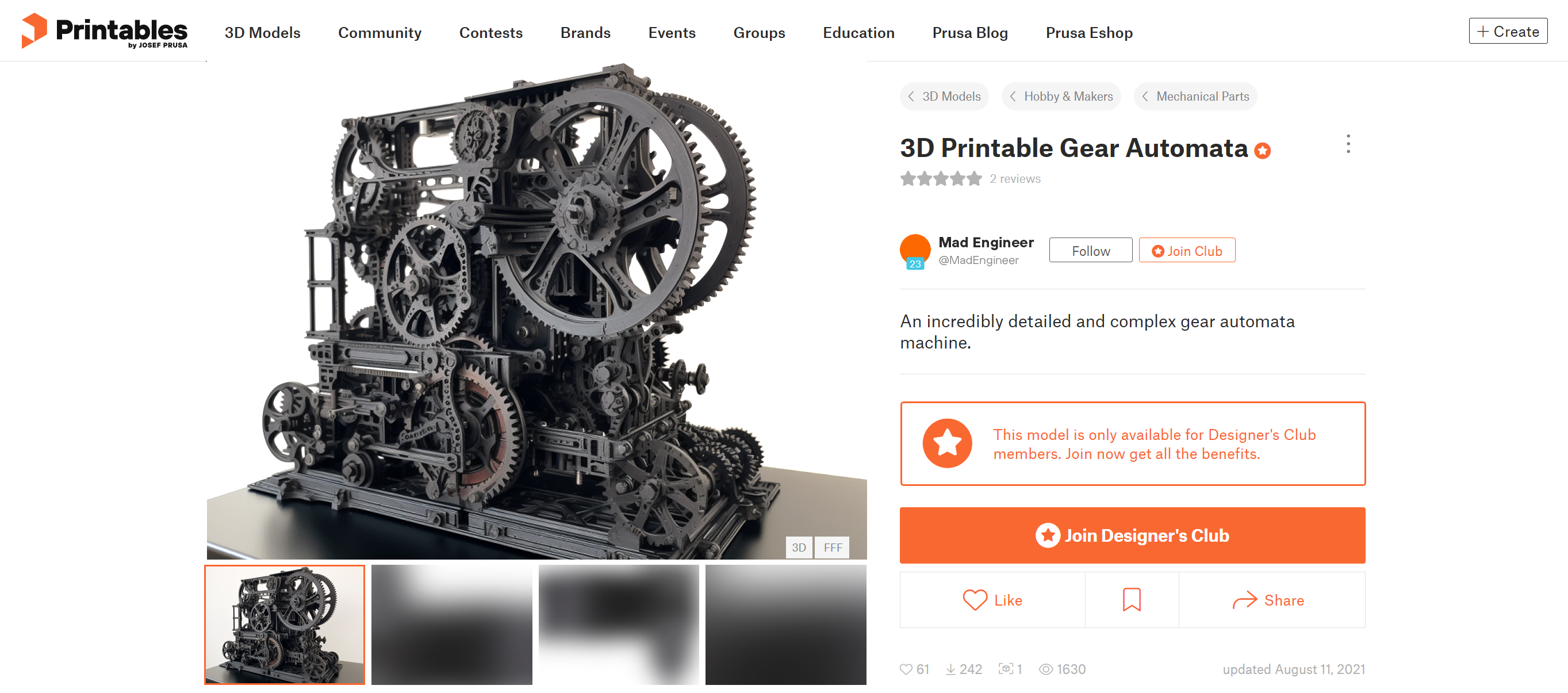 Users will be able to pin their favorite creations on their profile – everyone visiting your profile will immediately see the models you are most proud of. This feature will be available to everyone, even to users outside of the subscription program.
The Community Feed will also get a significant upgrade. A new tab will let you see the feed of posts only from creators you are subscribed to. Such as screenshots of work in progress of upcoming models, polls the creator wants to ask their community or general text posts with updates and topics for discussion. For every post, the creator will be able to decide if it should be visible to everyone or to the subscribers only, the same goes for polls, images and videos.

As far as payments go, we will start by accepting credit card and PayPal transfers. On the side of withdrawing the earned donations, we will support PayPal only for now. We would like to expand these options in the future. As far as fees go, we will take a small cut (about 10%) to at least partially cover the costs of running Printables – from maintaining the servers to developer and moderator salaries. All of these costs are currently covered by our 3D printer sales (there are no ads) and we're committed to continue doing that, but it will be nice if Printables eventually become a fully self-sustainable project. It is worth noting that every payment will also be subject to transaction fees by credit card companies or banks (these fees are outside our control).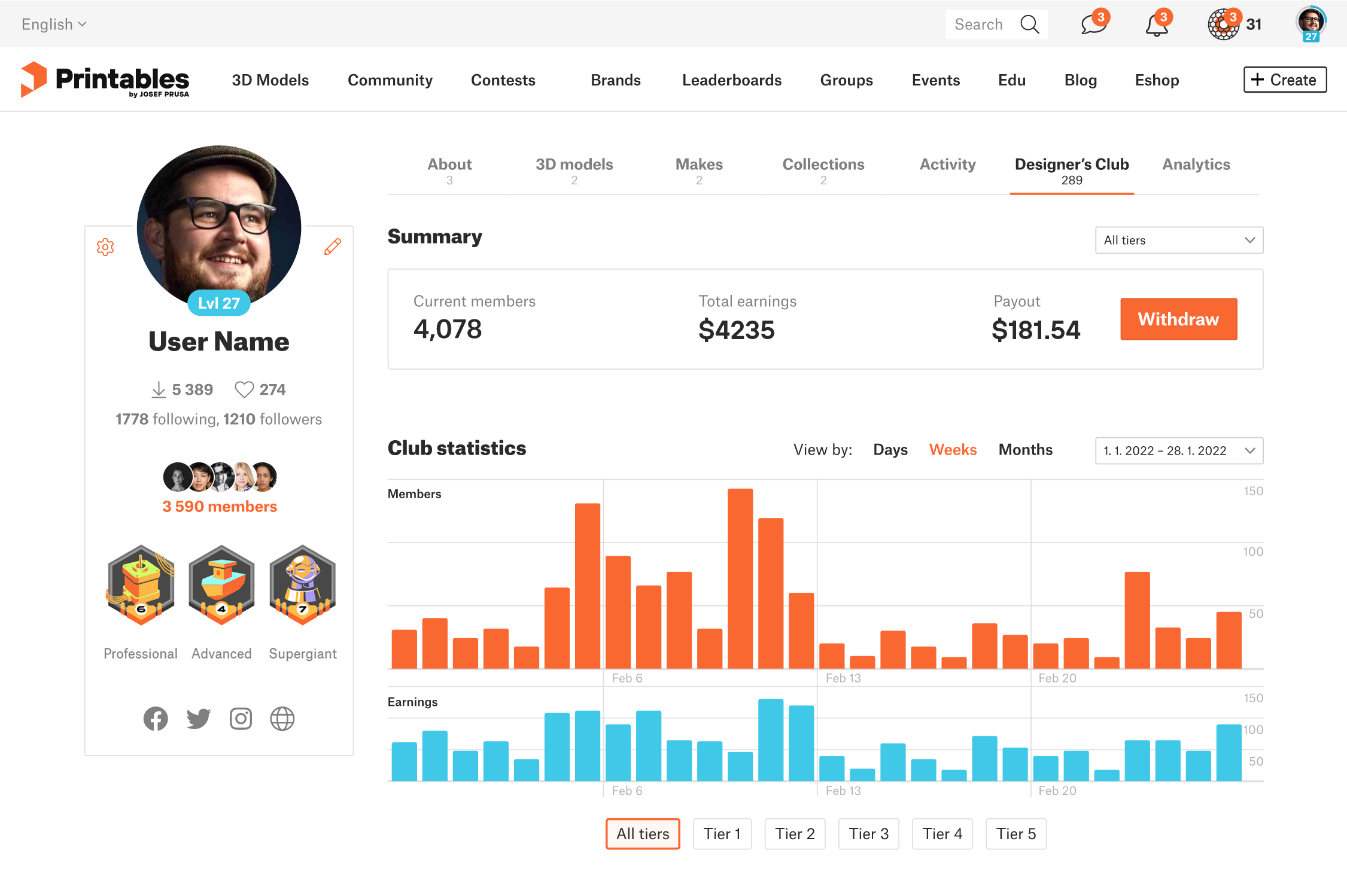 Users supporting the creator will have a badge next to their name whenever they post a comment or a make on any of the creator's models. This is one of the things we're still polishing, but we're considering also adding a number to the label to show how long has the user been supporting the creator.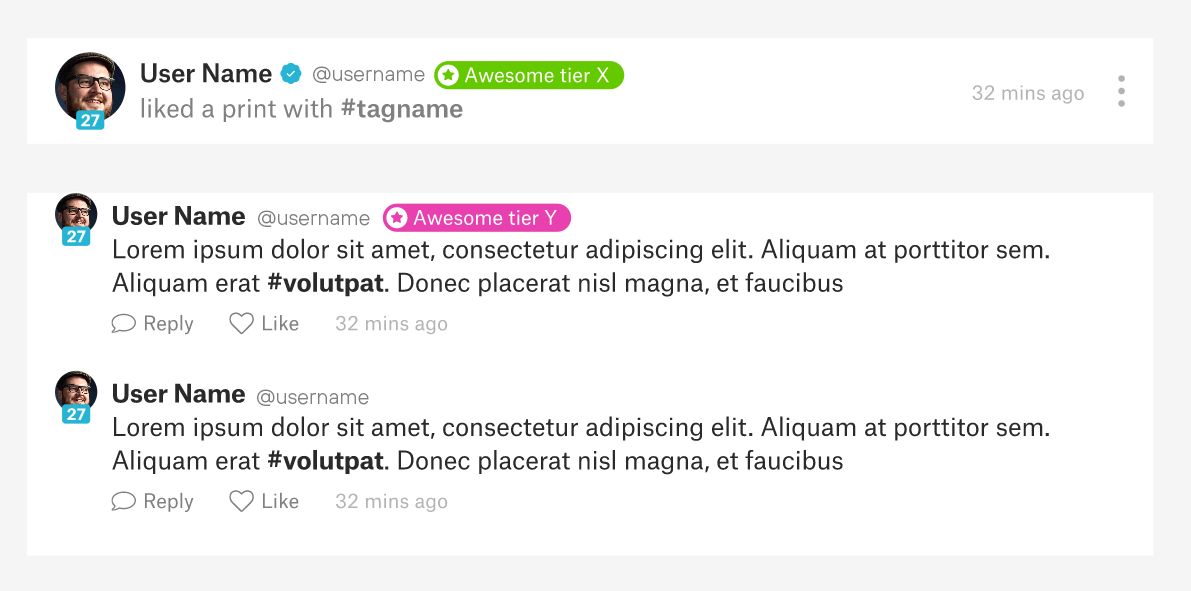 You will be able to see a list of all your active memberships, so you can easily visit the creator's profile or cancel the membership at any time. You will also see the list of expired memberships.
And what about Prusameters? The existing reward system stays in place! Creators in the subscription program will still be able to earn Prusameters for likes/downloads of their free models, but models available only to subscribers won't generate any Prusamenters.
Just like with the Prusameter reward system, our moderators and automated systems will be carefully monitoring all activity, to make sure that nobody is trying to cheat the system, farm likes and downloads with bots to get to the front page, etc.
Help us name it!
Throughout this article, you may have noticed that we've used various terms interchangeably—supporter, subscriber, member.… Our working title is Designer's club / joining a club. We're still not sure what to call this system and how to call the action of becoming a supporter. And because it is for you, we want you to name it! We'll pick our favorite and award the first mention of it with 10,000 Prusameters! 🙂
Closed-beta for designers
If you're an artist or designer eager to be a part of the Printables Subscriptions program, we invite you to join our closed beta testing phase. Simply email us at [email protected] and include a link to your portfolio (please include "Printables early access" in the subject). We will give a selected few early access, enabling them to be in direct communication with our team, and set up their profiles ahead of the official launch, scheduled around the end of June. If you have a large existing library of models, our team will assist you in migrating it over to Printables.
Your feedback
We would love to hear your thoughts about our proposed system. Do you have a suggestion on how to do something differently? Or how to improve it? Let us know! As with everything on Printables, we're planning to regularly update and expand the features of the subscription system based on your feedback. Happy printing!