It has been a year since we launched Prusa Academy, our library of online courses on various 3D print related topics. The core content is the popular beginners' guides for the users of MK3S+ and MINI, which teach the basics of our printers' maintenance and controls and print preparation in the PrusaSlicer software.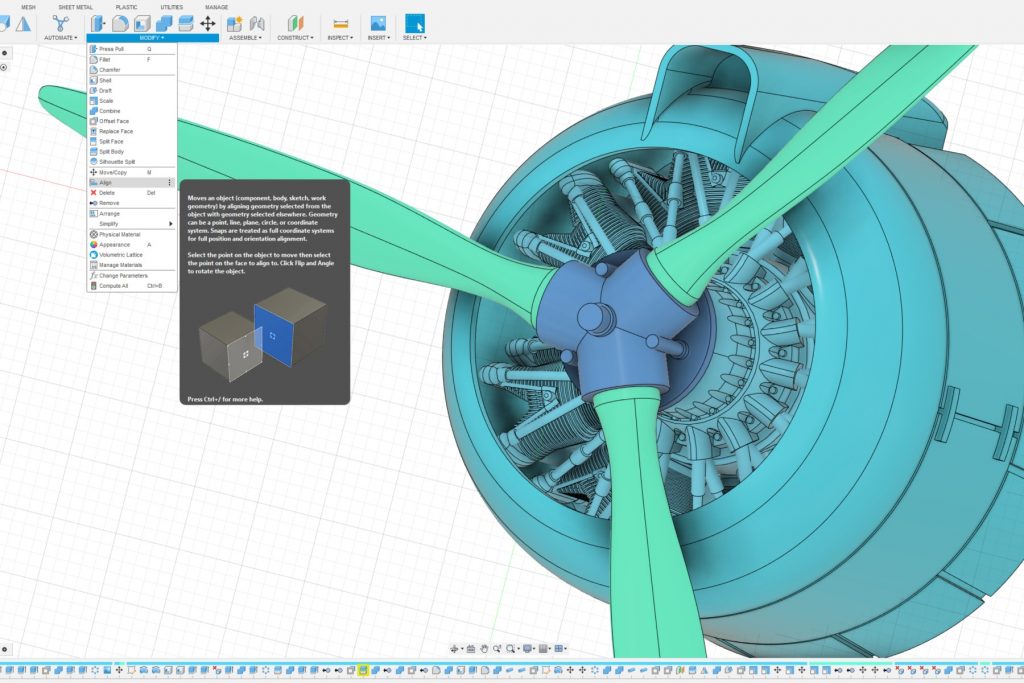 Fusion 360 is a nifty hobby tool, for example for creating realistic scale model aircraft parts.
Today we introduce a new addition to our lineup – a beginners' course on 3D modeling in Fusion 360.
You can obtain it via our e-shop, pretty much in the same way as any other product. No extra registration is needed, just click the link that you will get via email right after the purchase.
By the way, you can also get the course in exchange for Prusameters on Printables.com! 🙂
The form and contents of the course
Fusion 360 features a vast amount of various tools, which is both a curse and a blessing – for a beginner, it might be difficult to find a way around all of the menus.
Therefore, we didn't go for an exhaustive description of all the functions. Instead, we lay out a relatively quick, straightforward path and only describe the most important stuff in more detail.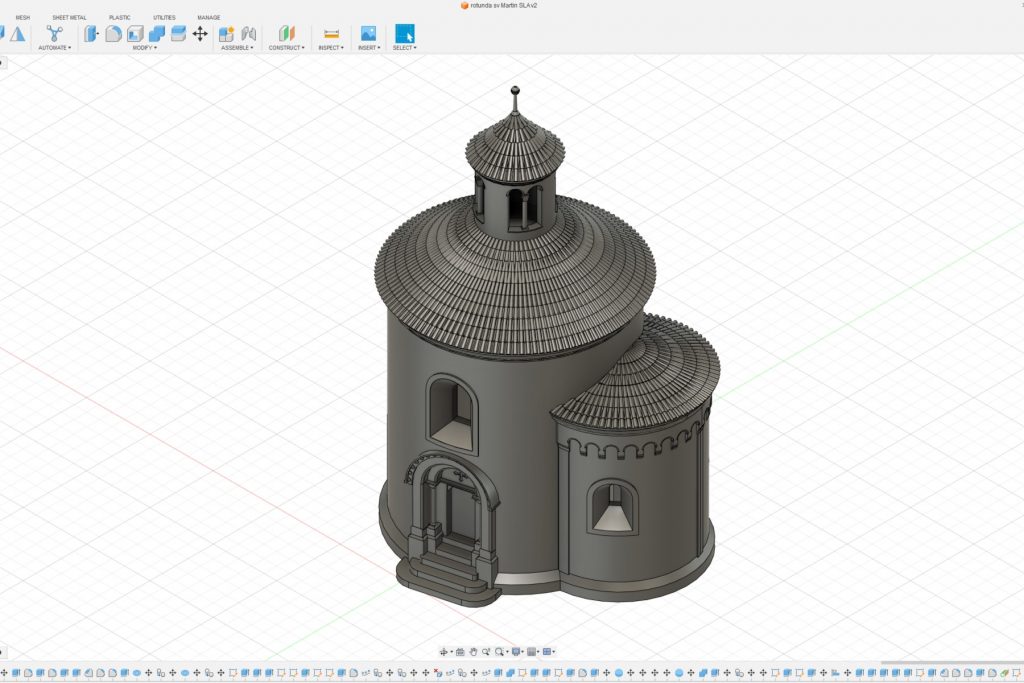 Fusion 360 is also suitable for architecture models, such as this Prague rotunda.
While you can learn a lot of the basics simply by trial and error, this could be tricky in the long term. Often there are multiple ways to do the same thing, but it is not always easy to tell which approach is optimal. What seems to be a smooth solution initially might later become a source of a major headache when you delve deeper into a complicated project. In the course, we try to demonstrate the correct 3D modeling habits and practices right from the start.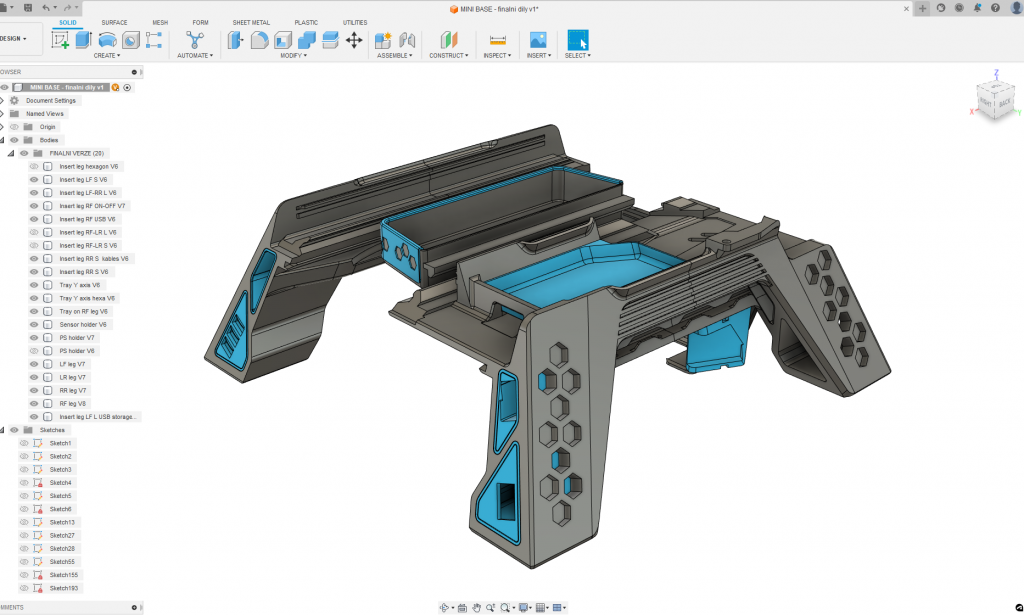 The MINI Base, a very popular modification of our Original Prusa MINI printer, was designed in Fusion 360.
The course is primarily intended for hobbyists, makers, and small businesses, which means we omitted on purpose all the tools related to a more professional workflow (i.e. creating factory drawings, managing teamwork, testing and prototyping workflow, etc.). However, even if you have outright professional ambitions, the course could serve as a solid base for further study.
Another deliberate restriction is that we only describe those tools that are usable for 3D printing (Fusion 360 is otherwise capable of creating models usable for various manufacturing techniques – from circuit boards to sheet metal to CNC machining).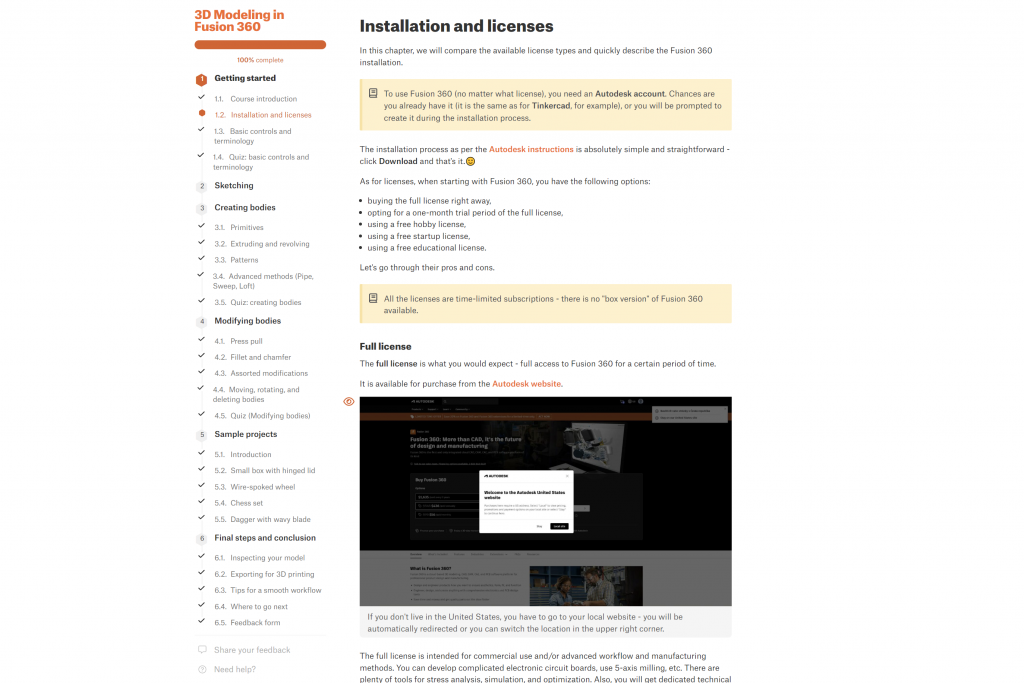 You can go back and forth through the lessons as you wish, using the table of contents on the left side of the screen.
As for the form of this course, it follows the same recipe as the other existing Prusa Academy courses. It is mainly text-based, however, the text is color coded and split into very short paragraphs. There are many pictures, and wherever needed, also short videos.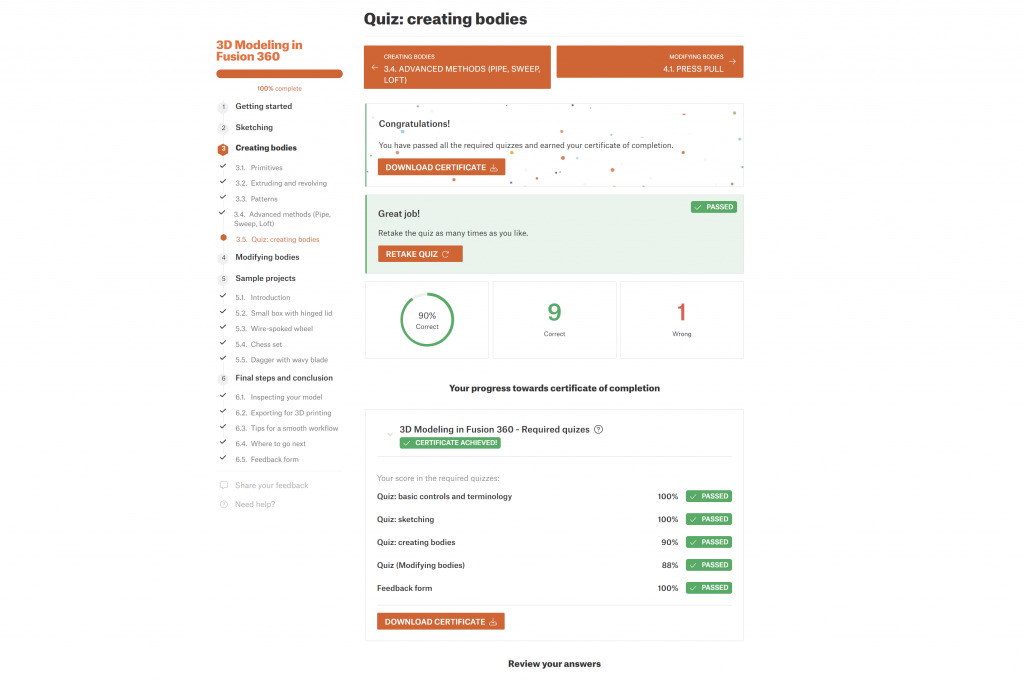 You can redo the quizzes as many times as you want, and look up the necessary info in the lessons.
The same as in other courses, there are a few quizzes to test your newly gained knowledge along the way. If you pass all of them successfully, you can download a nice certificate of completion. 🙂
Sample projects
Of course, just reading about what menu button does what will only get you so far. The cornerstones of the course are the sample projects, where you can try everything hands-on.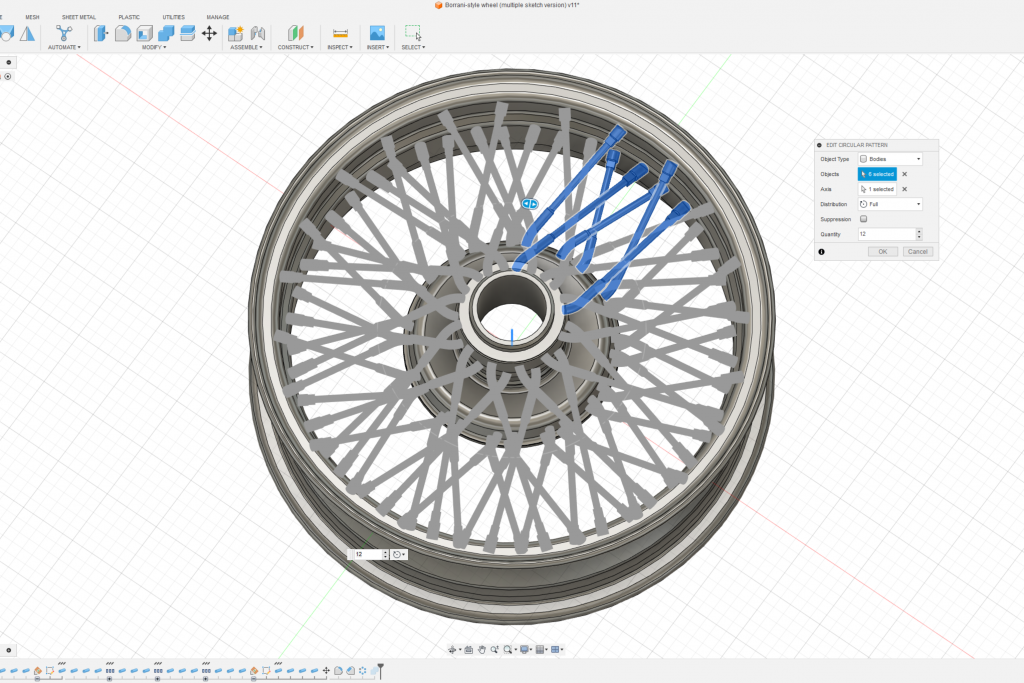 In one of the sample projects we create a Borrani style wire-spoked wheel. It is a nice example of an intricate model that actually doesn't need much effort.
We tried to put together a varied selection, regarding topic, used tools and complexity of the projects. All the finished 3D models are available on Printables.com: so far, there is a simple box with a hinged lid, a wire-spoked wheel, a dagger with a wavy blade and a set of chess pieces. In the course, there are thorough step-by-step instructions of each of the projects, and also the F3D files which store the whole workflow. That means whenever you struggle with a certain step, you can open the file and look it up.
We plan to expand the sample project selection in the future – if you have any interesting ideas, feel free to share them with us!
Why 3D modeling in Fusion 360?
3D modeling is obviously a crucial 3D print related skill, some gatekeeping purists could even say that as long as you are only downloading and not creating your own models, you are not a true 3D printer. 😉 Anyhow, to create your own design from scratch, all the way from an idea through sketch and 3D model and finally to a well-tuned 3D printed object, is a priceless feeling.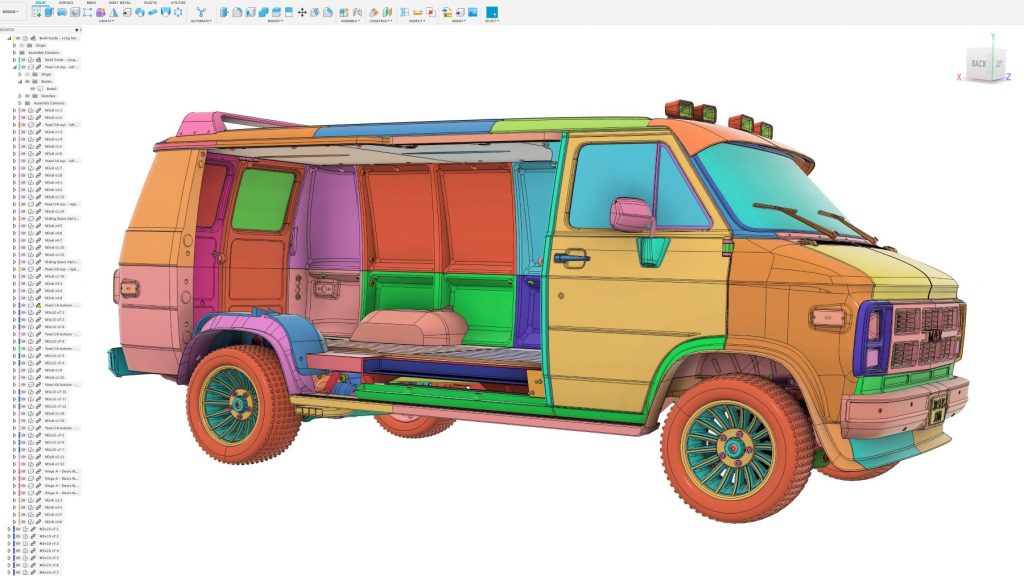 Guys from 3D Sets use Fusion 360 to design their incredibly sophisticated car models.
There is a whole lesson about Tinkercad and the very basics of Fusion 360 in our Prusa Academy beginners' courses, and it's not so far ago when we published a tutorial on sculpting a simple miniature in ZBrush Core Mini. In Prusa Academy, there is also the 3D Design Principles for 3D Printed Parts course, however, that is intended for people who already know how to 3D model and only seek some extra tips and principles specific to 3D printing. A whole 3D modeling course for beginners is something we have been missing for quite a while and we are happy to finally fill this gap!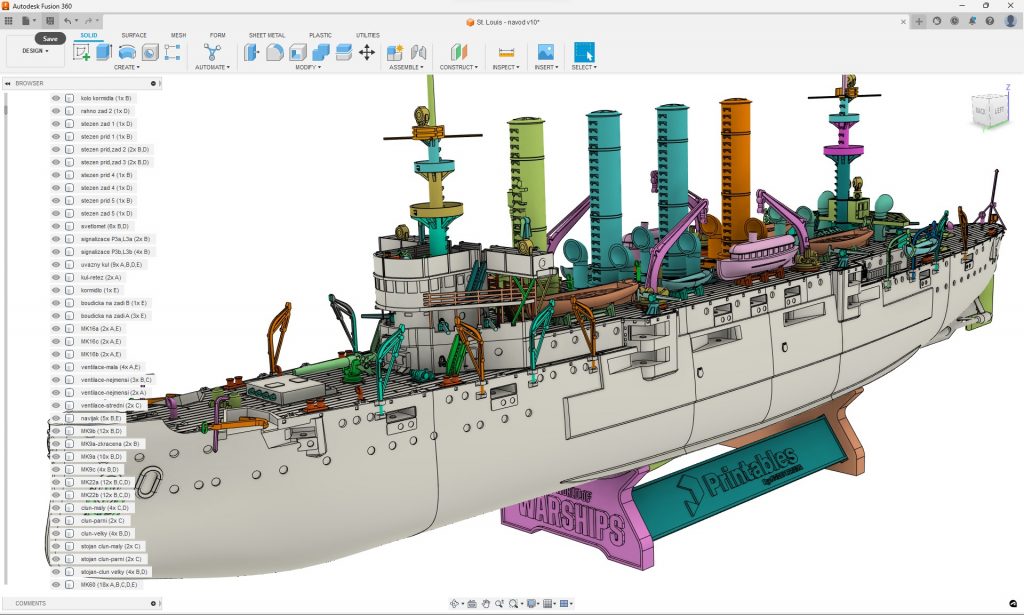 Last but not least, this is the Fusion 360 design of USS St. Louis cruiser model, made in a collaboration with World of Warships.
As for the choice of particular software, Fusion 360 was an easy pick, it is one of the most popular 3D modeling programs, it is user-friendly and completely free for non-commercial use. Of course, the free license is somewhat restricted, but it still features everything you might ever need for the purpose of hobby 3D printing.
Further plans for the future
We are already working on a beginners' course similar to the existing ones for MK3S+ and MINI, for the Original Prusa MK4. This is currently one of our priorities, obviously.
A thorough course on PrusaSlicer has been sorely needed for a long time already. We mentioned it in the announcement article a year ago, however, it is still far from finished. The main "problem" is that PrusaSlicer gets so many improvements and new features so quickly that it's hard to keep track, and the course might become obsolete before it's even finished. 😉
We are working on the postprocessing courses – focused on everything from basic gluing, filling and sanding, all the way to advanced airbrush techniques.
The offer from the original announcement article still stands – if you have an idea for an online course, feel free to contact us and we can try to work something out together.
We are also looking forward to any feedback on the existing courses.
Happy printing!