Since 2012 I'm working hard (along with all colleagues from Prusa Research) to develop 3D printers that are easy to use, reliable, versatile and affordable. The Original Prusa i3 has become well-known all over the world. But now it's time to take another step. I repeatedly said that print quality for FDM is peaking and we just need to make our printers more digestible for casual users. With the Original Prusa i3 MK3, we have introduced our most reliable and user-friendly 3D printer. And now we plan to do something with versatility as well. I would like to introduce a brand new Original Prusa i3 MK3 Master Chef upgrade!
New features
Scrambled eggs preparation
Soup stirring
Dough roller
Five o'clock tea
MK3 Master Chef Upgrade contains
Rotary spatula attachment
Custom-design spatula
Dough roller
T.E.A.B.A.G. tea module
Cookie cutter
Scrambled eggs preparation
The perfect breakfast includes scrambled eggs. However, their preparation may be annoying in the morning. Because of that, many of us often prefer something less strenuous. But why abstain from this delicacy? The Original Prusa i3 MK3 Master Chef will easily make scrambled eggs for you. Attach the rotary spatula attachment to the extruder, crack the egg right on the heatbed and prepare your plate.
Thanks to the tuned G-code, the mixing speed is adjusted according to the heatbed temperature, so the eggs will never curdle, instead they will become irresistibly light and fluffy.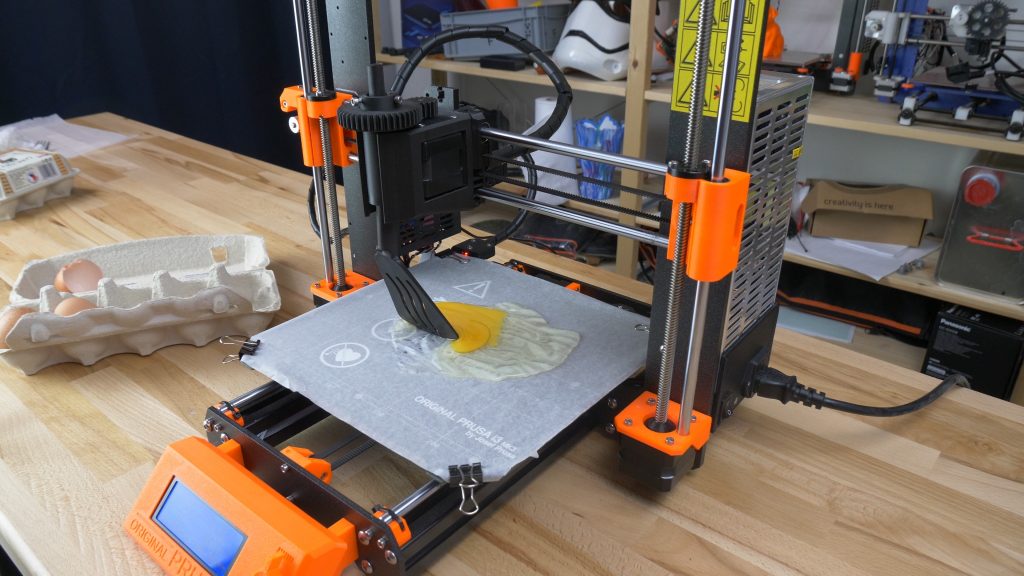 Soup stirring
You can easily burn your soup while heating it on a simple cooker. To prevent this, you must mix it regularly. But this is uncomfortable and time-consuming. And when you forget about stirring, the last reminder of a soup being heated will be an awful smell coming from the kitchen.
But this will never happen again with the Master Chef Upgrade! Just place a pot of soup or sauce on a heatbed and run the G-code. Everything is absolutely safe thanks to the magnets embedded inside the bed, plus the content of the pot will never start to boil. This is especially important for a cream-based sauces and soups.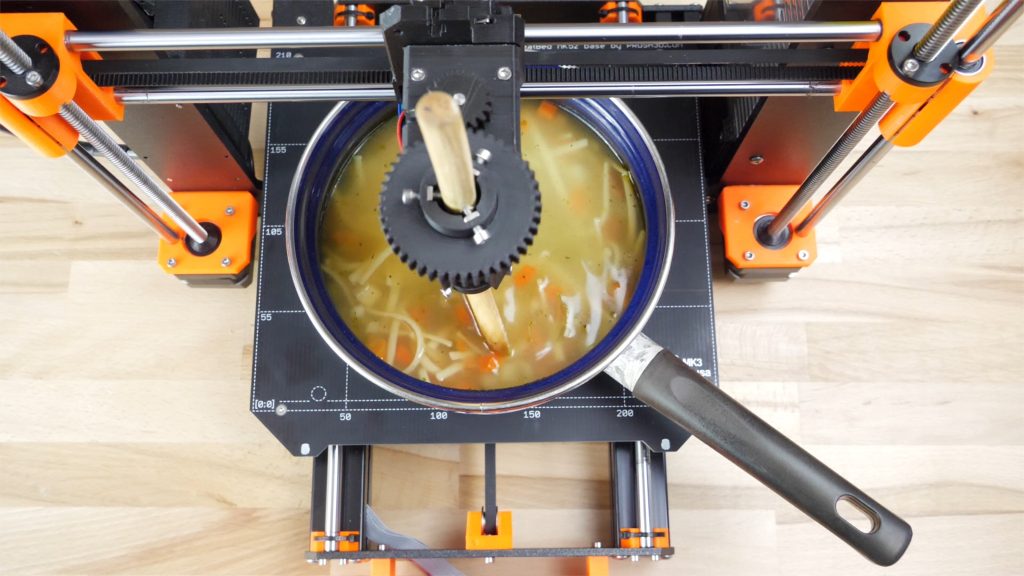 Dough roller
We received literally thousands of e-mails asking about this topic. Dough rolling is one of the most exhausting cooking activities. However, after a long development, we have come up with a solution that will please all lovers of cookies and cake rolls. Our solution is a three-dimensional solid object made up of two parallel circular bases connected by a curved anti-slip surface, sometimes also known as dough roller.
Attach our unique roller extension to the Z axis and place our revolutionary double-sided spring steel baking sheet with a matt non-adherent surface on the magnetic heatbed. Then just put the dough on the sheet, dust it with flour and run the prepared G-code.
Thanks to the Live Adjust Z feature, you can easily set the thickness of the dough during the rolling process. And that's not all! Our developers have also prepared a smart cookie cutter for you to save you extra work.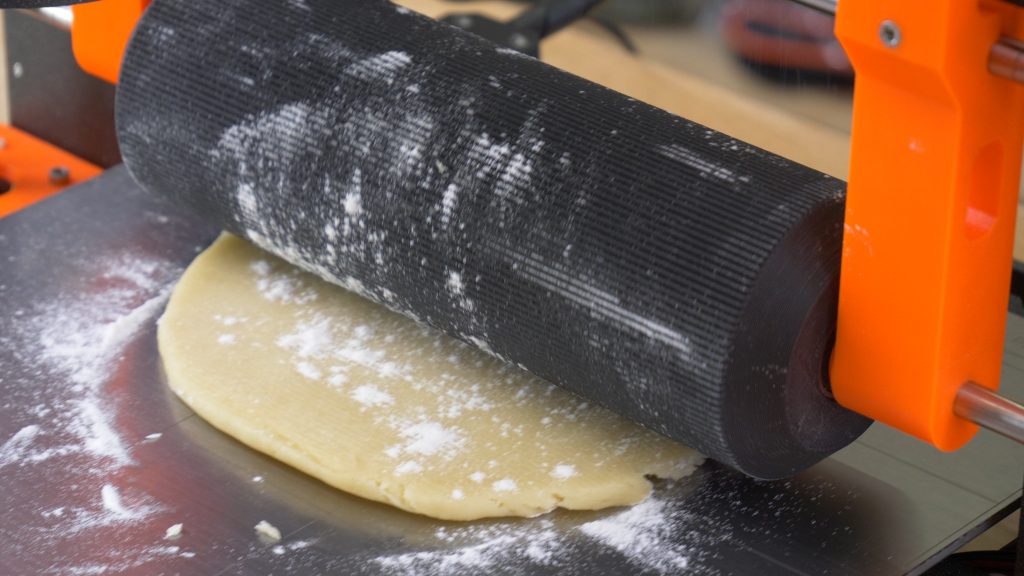 Five o'clock tea
Does it make you angry when your just-finished tea becomes lukewarm during the diffusion? You're right. The perfect tea should be hot. And we came up with a smart solution. When the water is boiling (our heatbed will not help you with this, but the ordinary kettle will do), pour it into a mug and put it on the heatbed. Then you must secure a tea bag into the T.E.A.B.A.G module and that's it! The Master Chef will take care of dunking and a perfect diffusion. It even takes care of the final shake off. And the tea is still perfectly warm!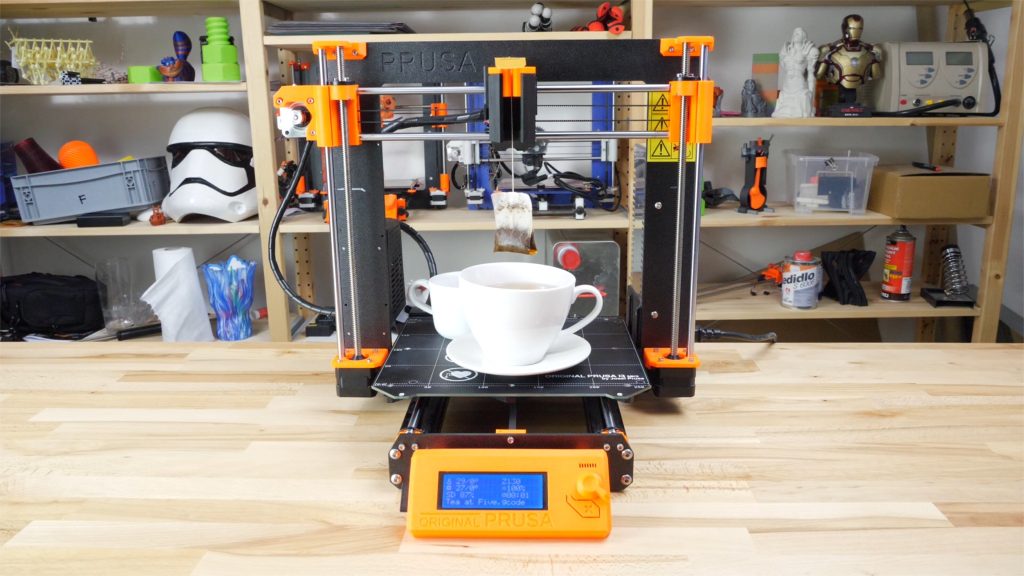 One more thing…
The Master Chef upgrade is our gift to the 3D printing community. It's entirely free and with no lead time. You can download the STL file and G-Codes directly from our website and print the required plastic parts by yourself. Please note, however, that the upgrade is only for highly experienced users.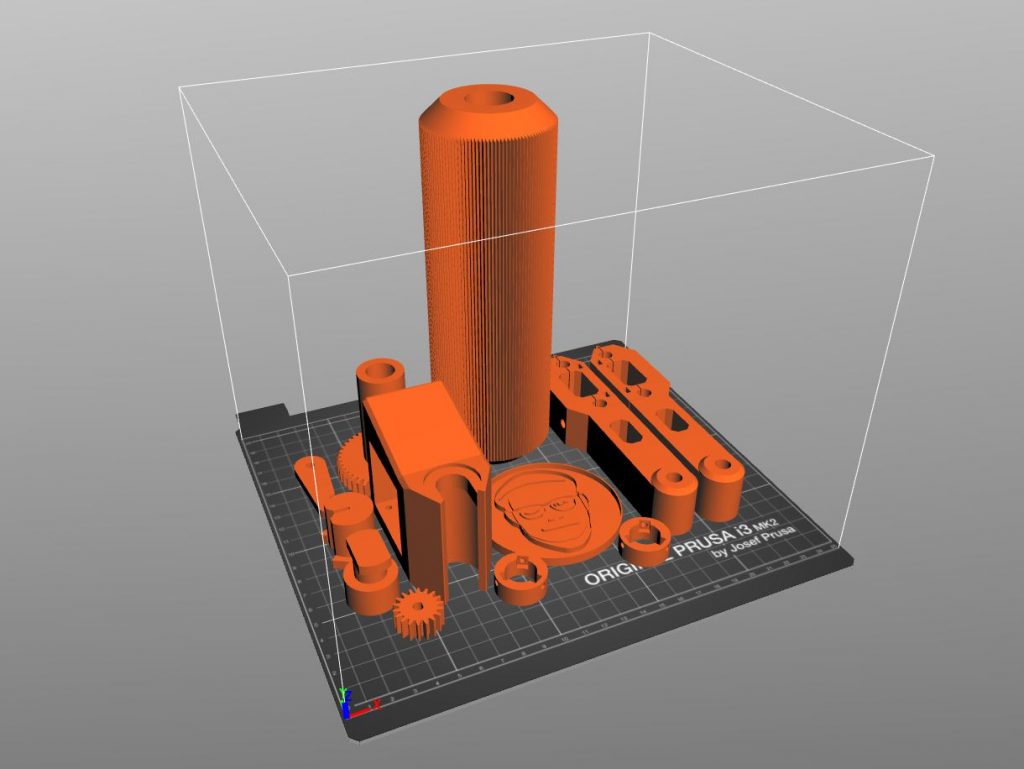 But for everyone else, we have another surprise ready. We've prepared two G-Codes for anybody who wants to try cooking even on the unmodified Original Prusa i3 MK3. Download the G-codes for pizza heating and wieners warming right now and enjoy your first steps in the world of high-tech gastronomy.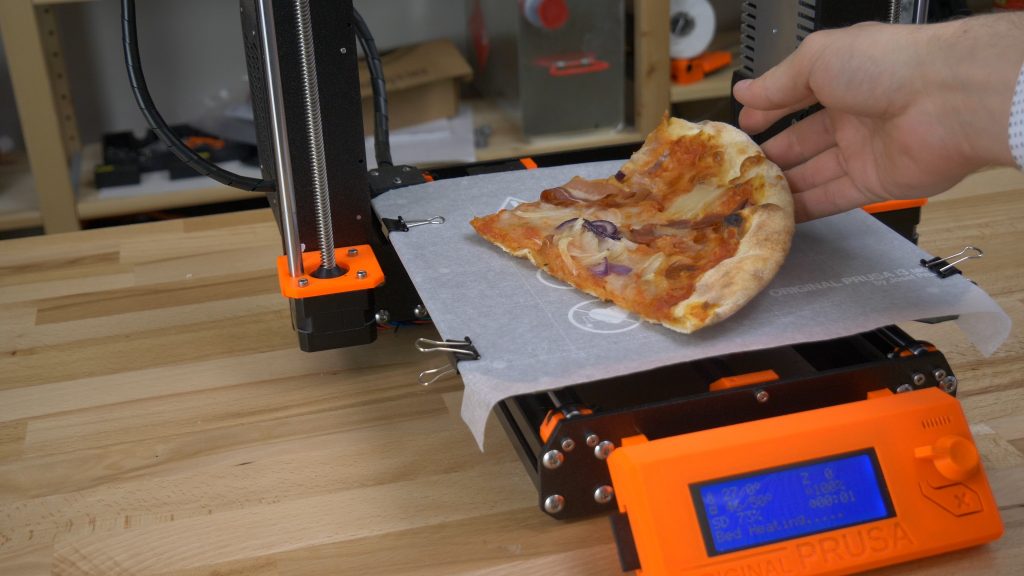 Happy cooking!
Jo Prusa