Are you perhaps wondering, what kind of cool gadget you should print on your shiny new 3D printer? Definitely something useful! How about something that can help you to get rid of the ever-returning mess on your work desk? After seeing the success of our previous article about extruder visualizers, we have decided to prepare a list of 10 handy little prints that will pimp up your 3D printer or your workplace. Of course, we have printed all the models, so we're certain they are of good quality and we can happily recommend them. You can download all G-codes in one package (15 MB – MK3, printed from PLA) or separately under the picture of each model.
Toppers for Prusa Printers
There are two hexagonal holes on the top of Z-axis printed parts (on both MK2 and MK3 models). They serve no special purpose, we just wanted to save some material 🙂 However, you can actually use these holes. How? It depends on whether you want to go for functionality or aesthetics. Let's begin with the latter. We present you a set of toppers that will fit these hexagonal holes perfectly. You can choose from several different models: Death Star or its laser turrets, crystals or even Dalek from Doctor Who series.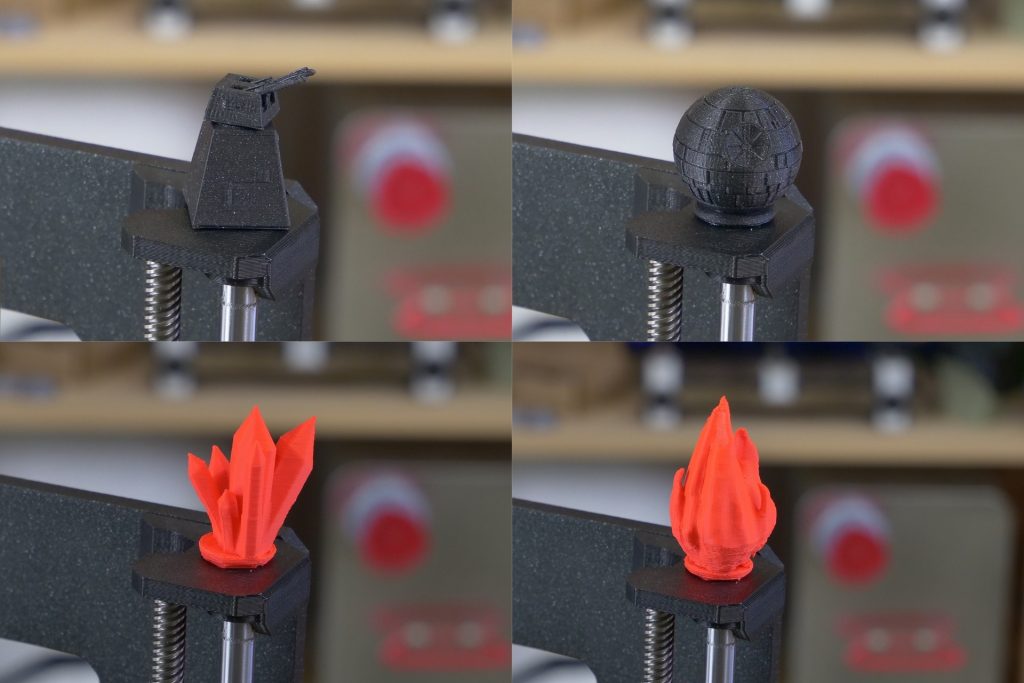 Download STL from Thingiverse | Download MK3 G-code (PLA) – 4 MB
Multi-Purpose Platform
And now for something that's actually useful: Multi-Purpose Platform could one day become something like a swiss knife add-on for our printers. However, as of right now, the selection of tools is quite modest. They can be pretty useful nonetheless, so let's take a look at them. First of all, you should print the universal platform, attach it to the Z-axis top and then print add-ons, such as this tray, which can be used as a nifty storage for your tools – nippers or screwdrivers. Another add-on is a paper towel holder, however, the design is less than perfect and gluing the shield to the base platform requires some skill. We're eagerly awaiting more add-ons, though!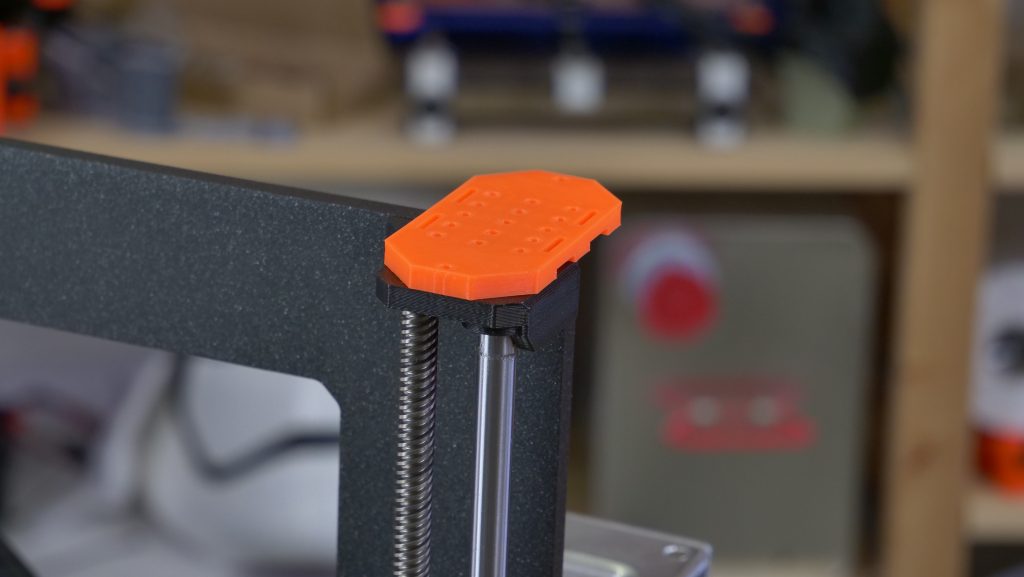 Download STL from Thingiverse | Download MK3 G-code (PLA) – 0.6 MB
Test your 3D printer!
This model is absolutely recommended for printing beginners, who just completed building their kit or unpacked their brand new assembled printer. By printing this model, you can see your printer's capabilities, plus it gives you a good overview of what kind of models you can print with ease. This model contains an incredible amount of 21 tests in a single print. Test your printer before your first (complex) print, so you can see how well your printer deals with holes, bridges, spheres and other tricky shapes. An alternative model can be downloaded here. And of course, you can always try Benchy, available as a ready-to-print G-code on your printer's SD card. And another useful model for testing your 3D printer is available for download here.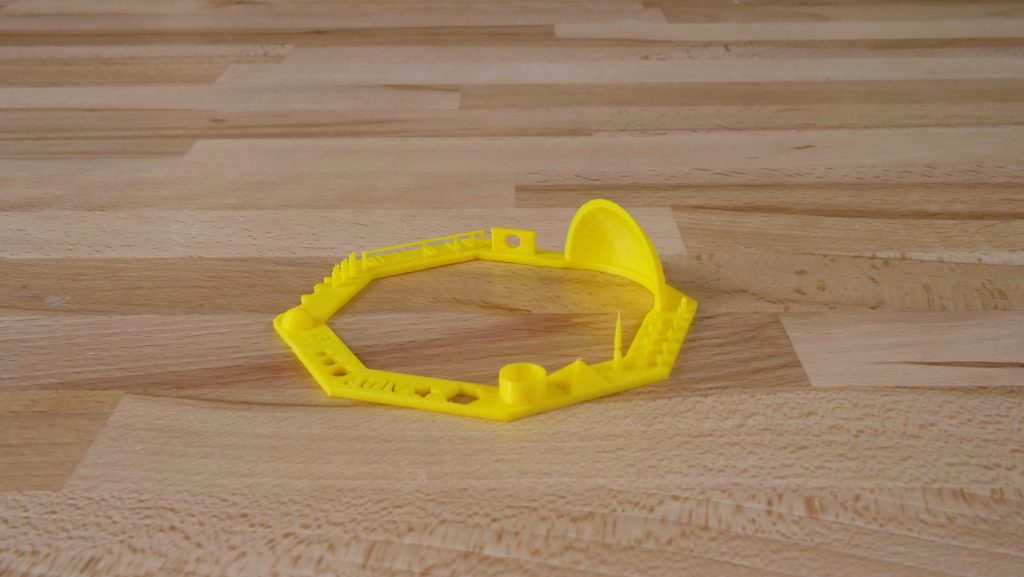 Download STL from Thingiverse | Download MK3 G-code (PLA) – 0.5 MB
Filament dust filter
In case your printer is located in a place with an excessive amount of dust (such as a garage or a workshop), a dust layer can accumulate on your stored and less used filaments over time. When the material melts along with the accumulated dirt, your final print might be also dirty. You can deal with this issue by printing the following model. Print it, insert a small piece of sponge in it, push the filament through the makeshift filter and clean your filament on the go as you print.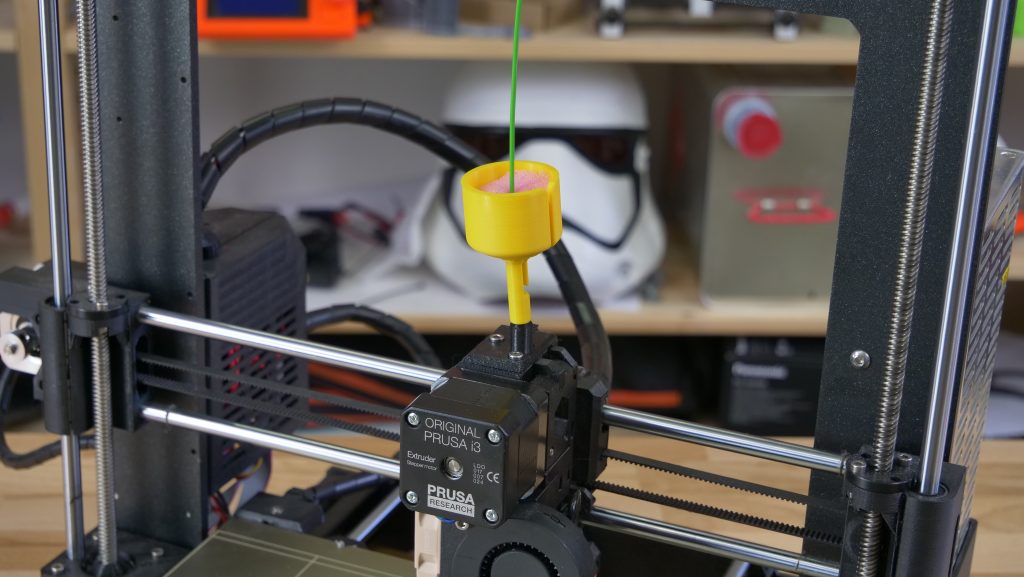 Download STL from Thingiverse | Download MK3 G-code (PLA) – 2 MB
1.75mm filament clip
Let's take a look at another filament-related gadget. It will be especially useful for those, who need to have a nice and tidy workspace, where everything is perfectly organized. Maybe even you hate those free-hanging filament ends sticking out of spools. If you can't stand those ugly crooked ends of strings, definitely print this set of clips which you can attach to a spool. There are 11 types of these clips, so you can find the best fit for a vast majority of spool types. There's only one catch: clips are quite small and they are easily misplaced.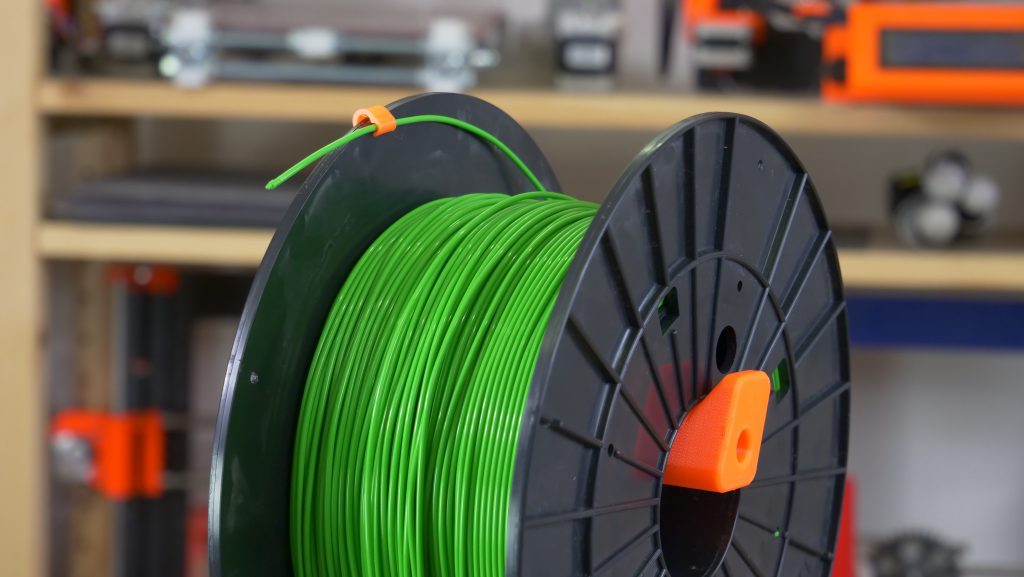 Download STL from Thingiverse | Download MK3 G-code (PLA) – 0.5 MB
3D Printing caution sign to put at your print place
We get it, all those gadgets are nice, but you want to show the world that you are a proud 3D printer! Well, nothing is easier! Just download and print this caution sign and warn every living soul capable of reading that printing is taking place here. The model is multicolored, but no worries, you can print all the parts separately and then just glue them together.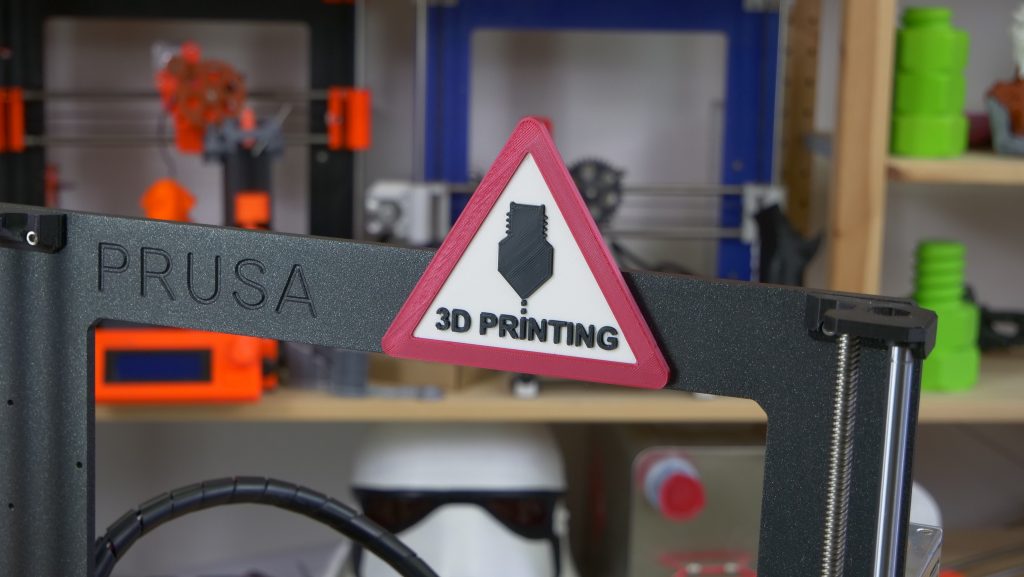 Download STL from Thingiverse | Download MK3 G-code (PLA) – 0.4 MB
Modular rack for nippers, pliers, tools
It's great to have tools organized, so you can always find those little nippers or pliers quickly. Well, tell that to our team. Anyway, we tried to solve this ongoing issue with missing nippers and other tools by printing this handy modular rack. For other stuff like screwdrivers or Allen keys, you can also print this multifunctional tool stand. Did it help us? Only time will tell…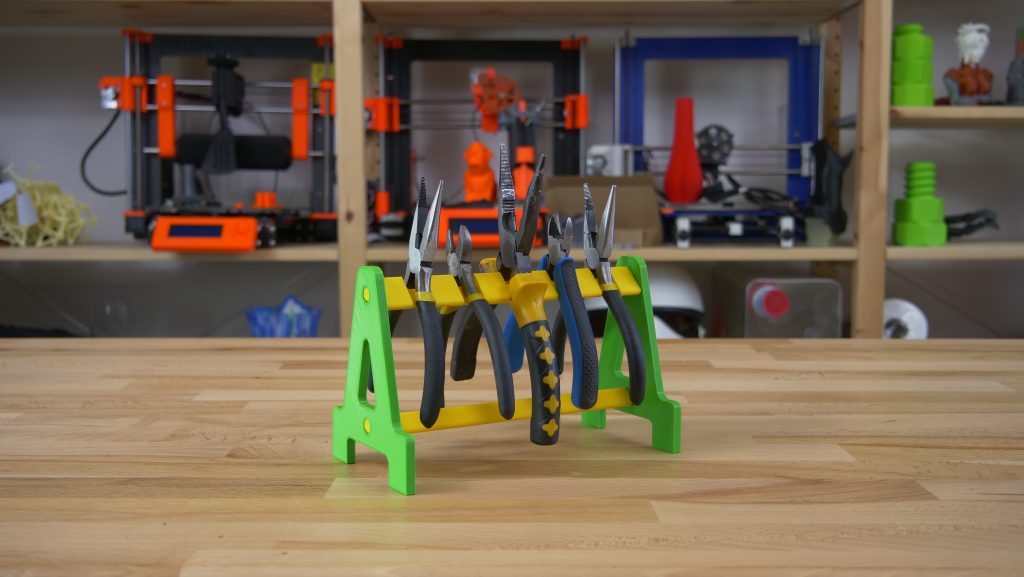 Download STL from Thingiverse | Download MK3 G-code (PLA) – 1.2 MB
Nozzleboard
Makers, who take printing really seriously, aren't usually happy with just one type of nozzle. They often use multiple nozzles, some with a wider diameter for faster prints (or for woodfil) or nozzles with a smaller diameter for more detailed prints. Also, special hardened nozzles are essential for bronzefil and similar materials. So if you are using several types of nozzles, print this board to nicely arrange your nozzles according to their width.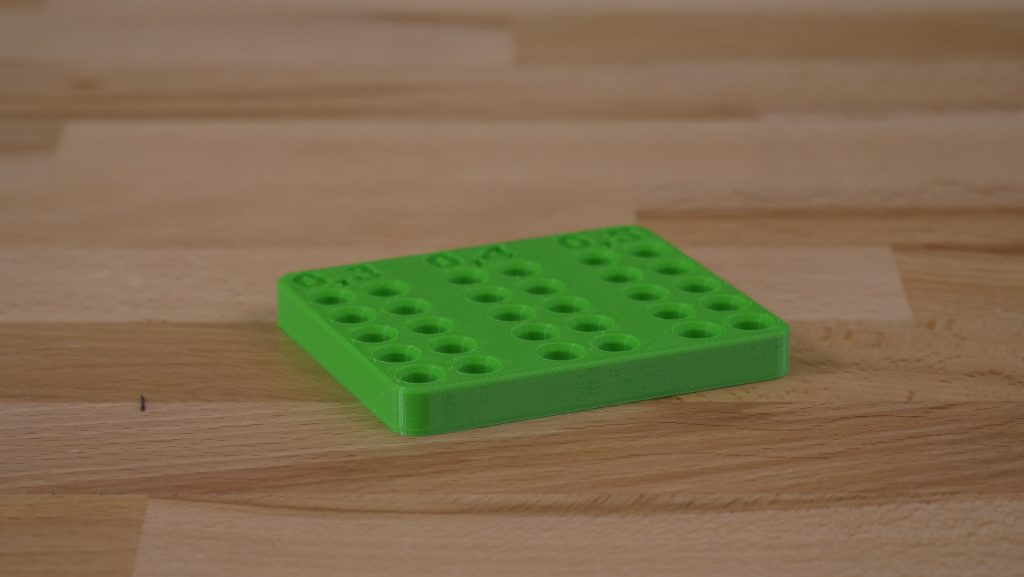 Download STL from Thingiverse | Download MK3 G-code (PLA) – 1.1 MB
SD Card Mountain
An essential component for printing is, of course, the SD card that holds your G-codes. Designers from 3D Brooklyn created this beautiful SD card stand that will turn your pile of memory cards into a shape resembling a mountain range.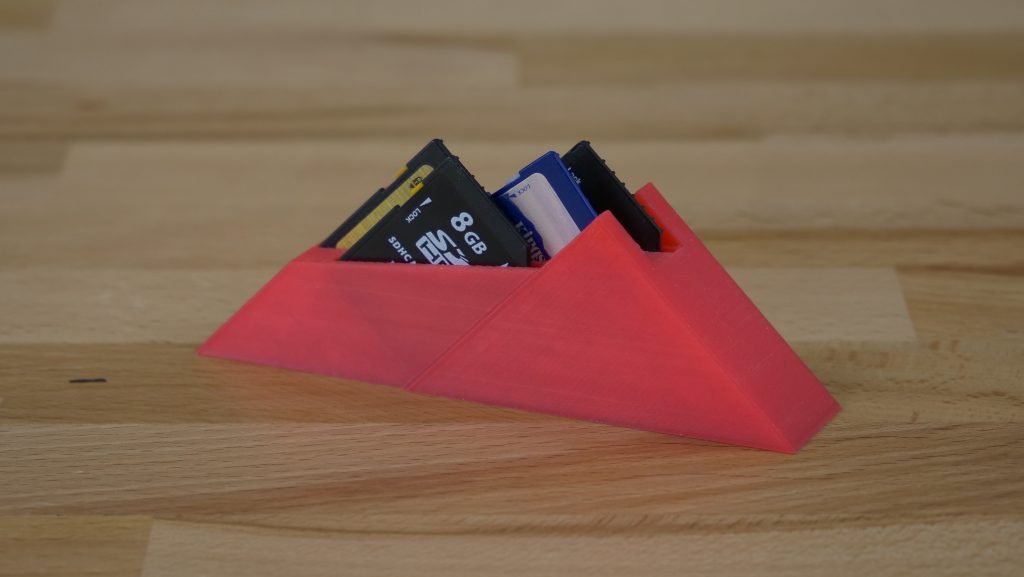 Download STL from Thingiverse | Download MK3 G-code (PLA) – 0.5 MB
Extruder Visualizer
And of course, we can't forget our propellers for extruder movement visualization. But you know them already 🙂