It seems to us like yesterday since we launched our first Prusament PLA and yet, it's already 5 years. Since then, our filament (and resin) offering has greatly expanded with some pretty amazing new materials and colors. Now, we would like to celebrate it with a new limited Prusament PLA Anniversary edition and a short recap on what's happened during the past five years.
PLA Super Galaxy (PLA Anniversary LE 2023)
For the 5th anniversary of Prusament, we wanted to prepare a special, limited run of a unique take on one of our popular colors. The Prusament Super Galaxy lies somewhere between our PETG Ultramarine Blue and PLA Galaxy Purple, with several colors of glitter inside. Plus we added way more glitter overall.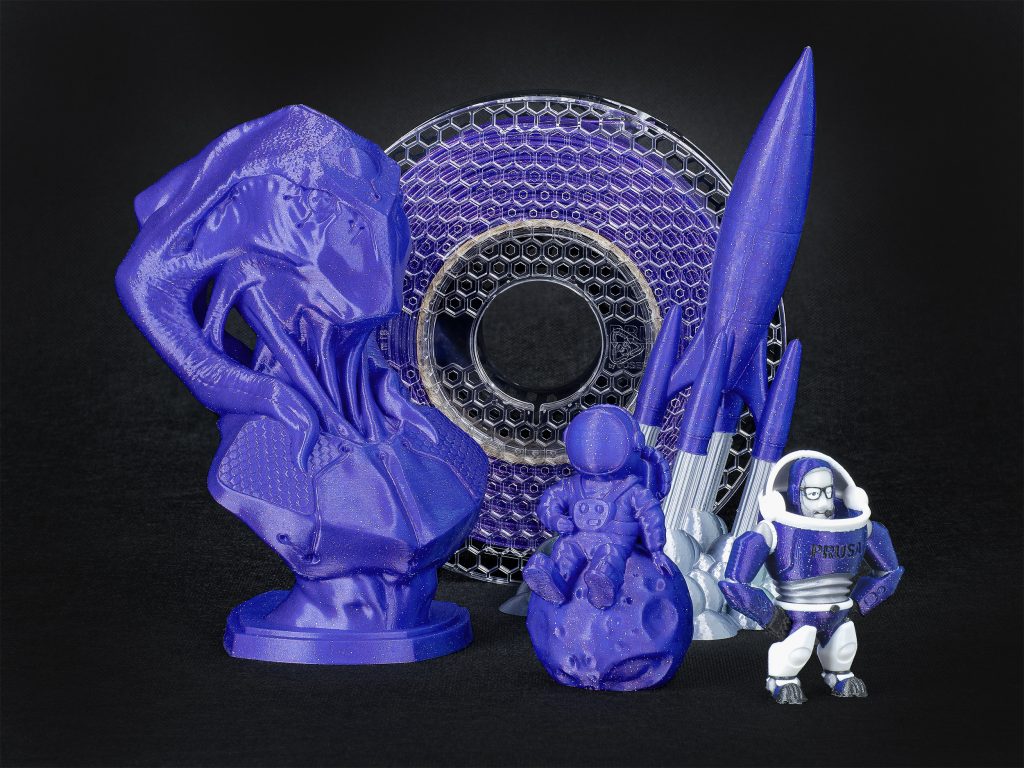 The spool sides are also distinguished from other Prusaments with one side being transparent clear, and the other side regular black.
We've manufactured 500 spools of this unique Prusament, every spool has its unique number (1-500). If you like the color, get it before they're gone! The 1 kg spool of the PLA Super Galaxy costs 36,90 USD / 41,90 EUR (VAT incl.).
We're talking about a limited edition of Prusament, so to avoid scalpers ruining the fun for everyone, each account can only buy one spool of the Prusament Super Galaxy PLA.
Prusament milestones
Over the five years, our portfolio vastly expanded with many colors and several materials – we have 81 filaments and 23 resins at our e-shop. With this number, our machines are fully occupied, so we had to stop here for a short time. But don't worry, we'll let you know as soon as we make a new Prusament. Then, of course, the Prusa Polymers team grew as well! It now consists of 135 people and tested 445 materials (and their variations) already! Let's do a quick review of what Prusament materials we offer and what are they good for:
Everyday use-materials
During the first year (2018-2019), we launched three materials: PLA, PETG, and ASA. Most of you already know these – PLA is the best for printing visual models with tiny details, PETG is a technical material for everyday use and ASA is one of the most UV-resistant filaments (best for outdoors, prints better than old-school ABS).
Prusament PLA (left) and PETG (right)
Later (2021), we added to our portfolio a cool design filament PVB, which is transparent and (together with ASA) perfect for chemical smoothing.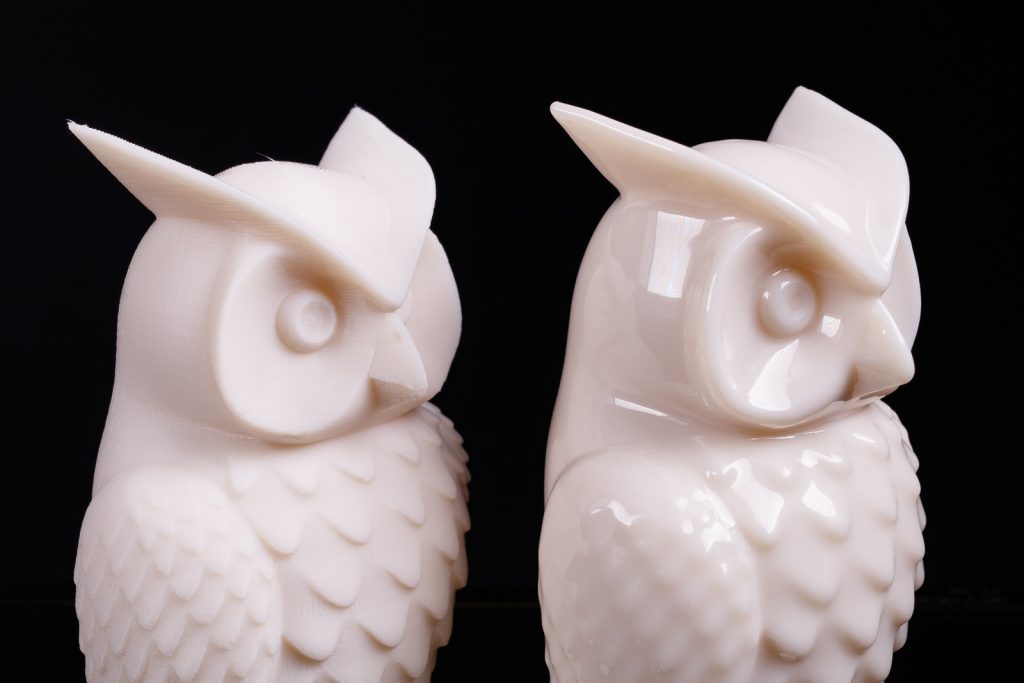 Example of chemical-smoothed material (ASA + Acetone)
At some point, we wanted to have even stronger material that would benefit both professionals and hobby enthusiasts. This led us to make Prusament PC Blend (2020), which is significantly stronger and more resilient than PETG and still reasonably easy to print.
Carbon filled filaments
However, just like nearly all high-temperature thermoplastics, the PC Blend has one downside – warping. While our PC Blend is significantly less prone to warping compared to standard Polycarbonate, enclosure (or large brim) is still recommended for printing anything bigger than small. This phenomenon is usually moderated by adding carbon fibers inside the material. And that's what we did. We came with three filaments filled with carbon fiber to decrease warping and improve other material properties, such as heat resistance. We launched PC Blend Carbon Fiber (2021) which resists temperatures up to 114 °C. Then, we went one step further with PA11 Carbon Fiber (2022), which resists stunning 192 °C and highly aggressive solvents.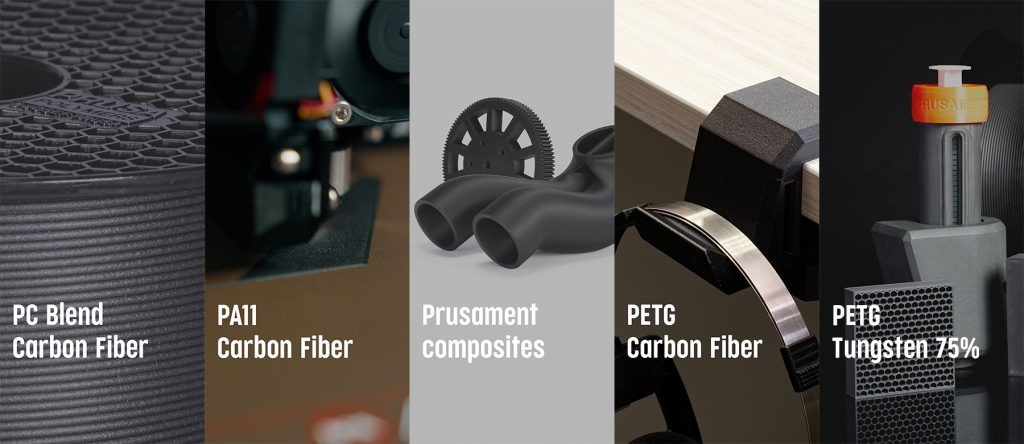 Oh, and we added the carbon fiber to PETG too – we thought it looked cool.
High-tech variants of PETG
By the beginning of this year, we've launched the Prusament PETG Tungsten 75%. This filament allows people to print radiation shielding equipment for various technical and medicinal applications. We even have an article about it in EFOMP European Medical Physics News!
Finally, the last filament we manufactured was Prusament PETG V0 (2023) with self-extinguishing properties. So far, this is the one-in-the-world UL-certified self-extinguishing PETG filament. It's perfect for both professional environments, where safety certifications are a must, and for homemade electronic appliances that may pose a potential fire hazard. Here's an article about it!
Self-extinguishing Prusament PETG V0
Prusament Resin
When it comes to our resins, we are doing our best to make materials with absolutely minimal health impacts. This is quite a big deal as there are many hobby users working with SLA printers on a daily basis. If you're not aware of the resin toxicity, don't forget to read our older article! Unlike most resins on the market, ours are BPA and other toxic chemicals free!
So far, we launched four types of resin materials: Tough, Model, BioBased60, and Flex80. The Tough resins (launched in 2021) are basic materials for everyday use, with a good combination of detail and printability. The Model resins are a successor to the Tough ones – so far they come with great printability, a nice and smooth surface finish, and the best detail. BioBased60 resins have similar properties to the Tough ones but 60% of their weight is made with plant-based materials. The Flex80 resins are flexible materials with a Shore hardness of 82A or less.
Prusament Resin Model (left), BioBased60 (middle), Flex80 (right)
Is that all? Not really. As we already said in this article, we decided to take a short break before releasing new materials. However, the Prusa Polymers team didn't stop their work – our people are always working hard and testing various combinations of materials and colors. It will just take some time before you get the final and tested product. Meanwhile, you can enjoy the new anniversary PLA and share your makes. We're always welcoming constructive feedback.
Happy printing!
Used models: