Cooler Master was one of the first brands to join Printables.com and offer official 3D printable files for their products. With these files, you could print useful things like special feet for your PC case, replacement panel clips, and even a bracket for the power supply. However, this time, we have to tip our hat to them for pushing customization with 3D printing to the next level.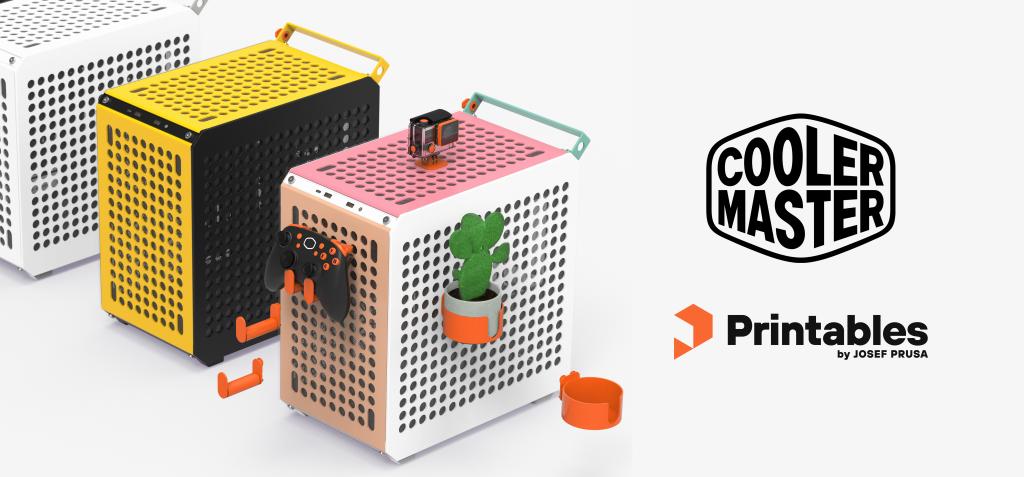 Cooler Master just released their new Qube 500 flat-packed PC case. It features an all-over modular hole pattern ready to support 3D-printed accessories! We are teaming up with them to hold a special design contest around these accessories. Cooler Master even prepared a design guide, a template STEP file of the case, and a few template models, so you can start creating right away. It doesn't get much cooler than this! (Pun intented.)
Design guidelines and sample models
Designing accessories for a PC case you do not yet own, but one you can win in this contest, seems a bit like Catch-22. Fortunately, we thought about this. First of all, Cooler Master prepared a design guide PDF for the QUBE 500 case. In it, you will find all the relevant dimensions and drawings of the case. But there's more!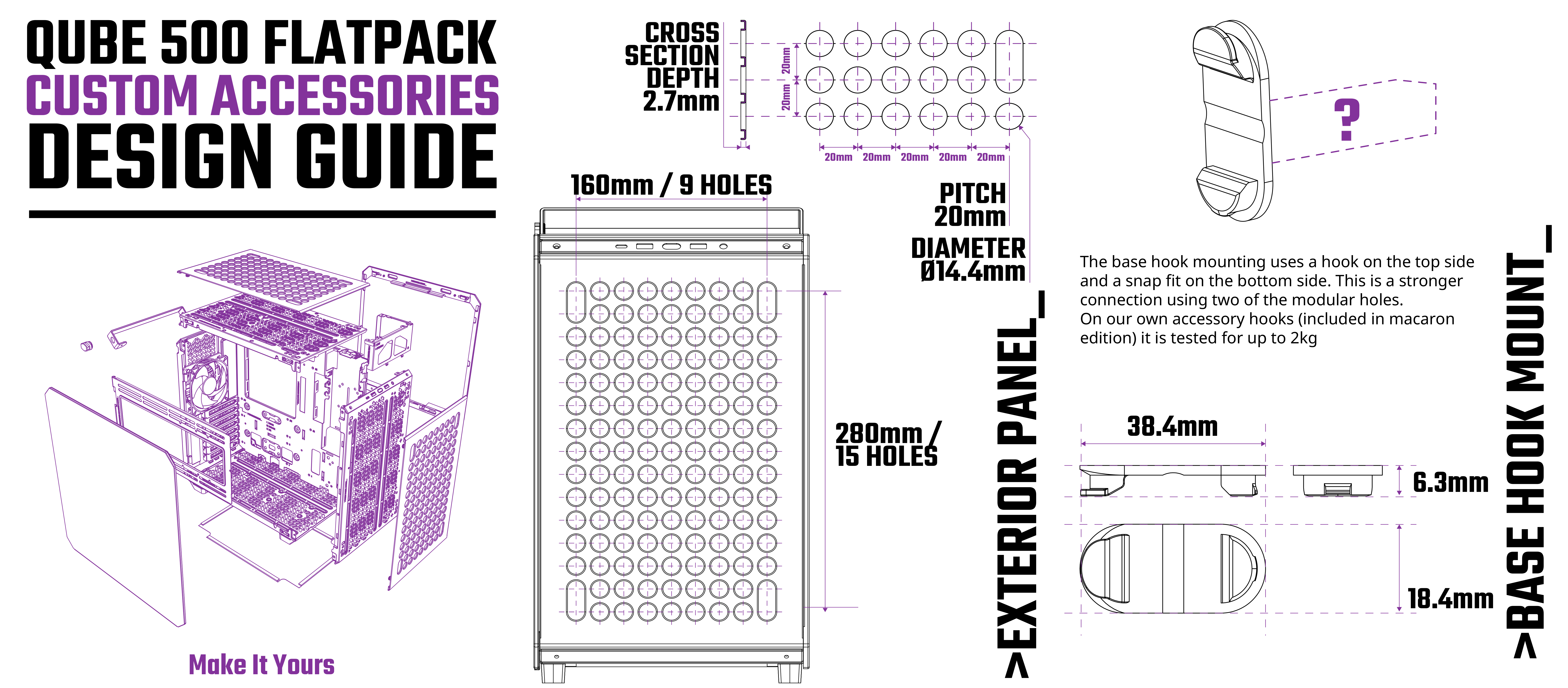 Download the Reference materials (PDF Guide, STEP files) or the sample models
If you visit Cooler Master's profile on Printables, you will find not only 3 sample parts that fit the pattern on the side panels, but also a STEP file of the entire PC case! Simply import it to the CAD software of your choice and you can start creating right away.
If you're worried about dust accumulation, it's worth noting that beneath those perforated metal panels, there are filters to keep dust out (included in the model as well). This filter is somewhat flexible, so the printed parts will simply push it back, even if they intersect slightly in the 3D model.
With the entire case model, you don't have to limit yourself to designing  parts just for the pattern on the side panels. You can create custom feet designs, entire custom panels, or even internal components like cable management channels, SSD mounts, and more.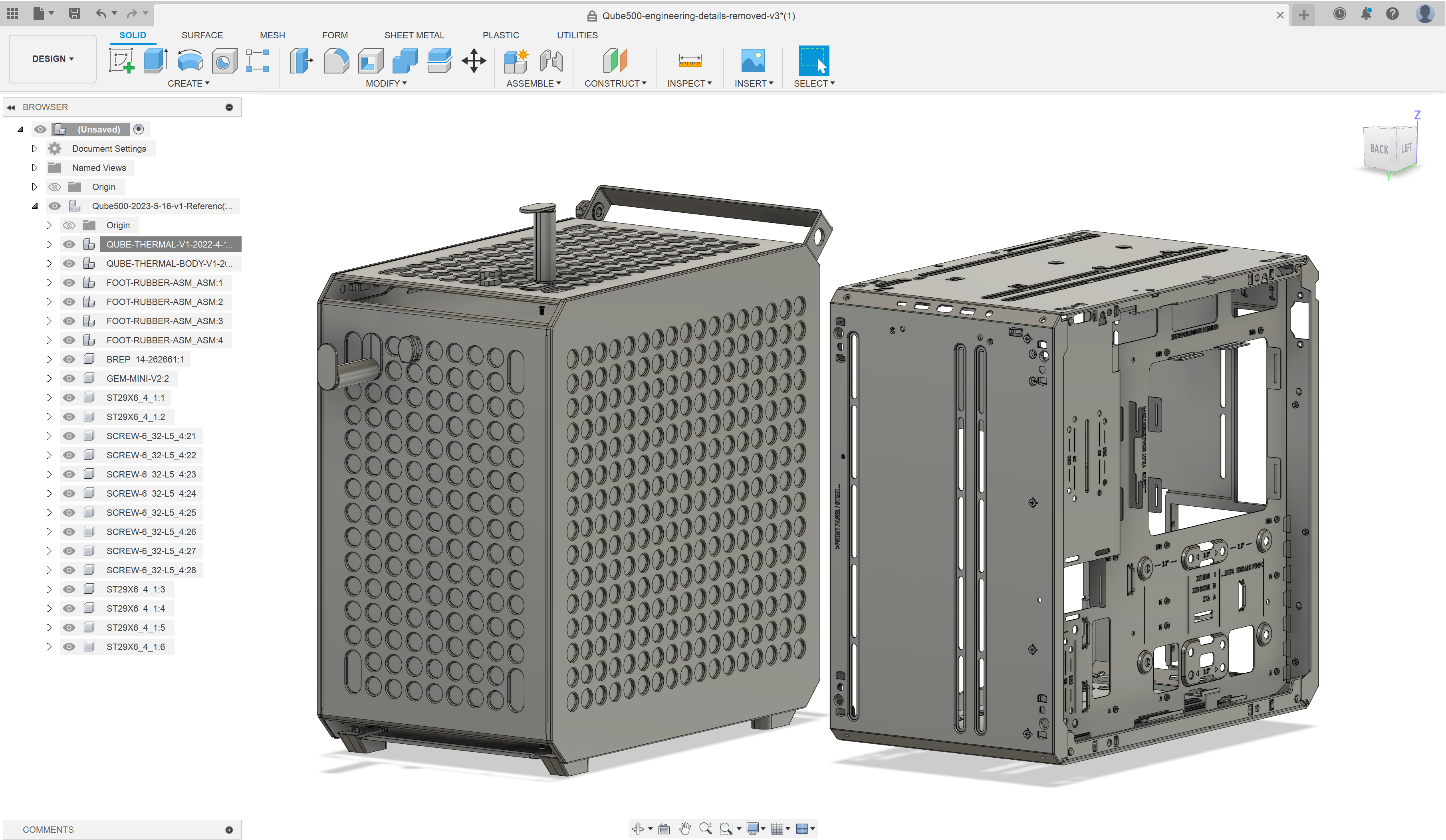 Prizes
1st place
Our first-place winner will receive both the brand new Cooler Master Qube 500 Macaron and the Original Prusa MK4 Kit! The Macaron kit includes all mint, pink, and cream panels, which you can mix & match.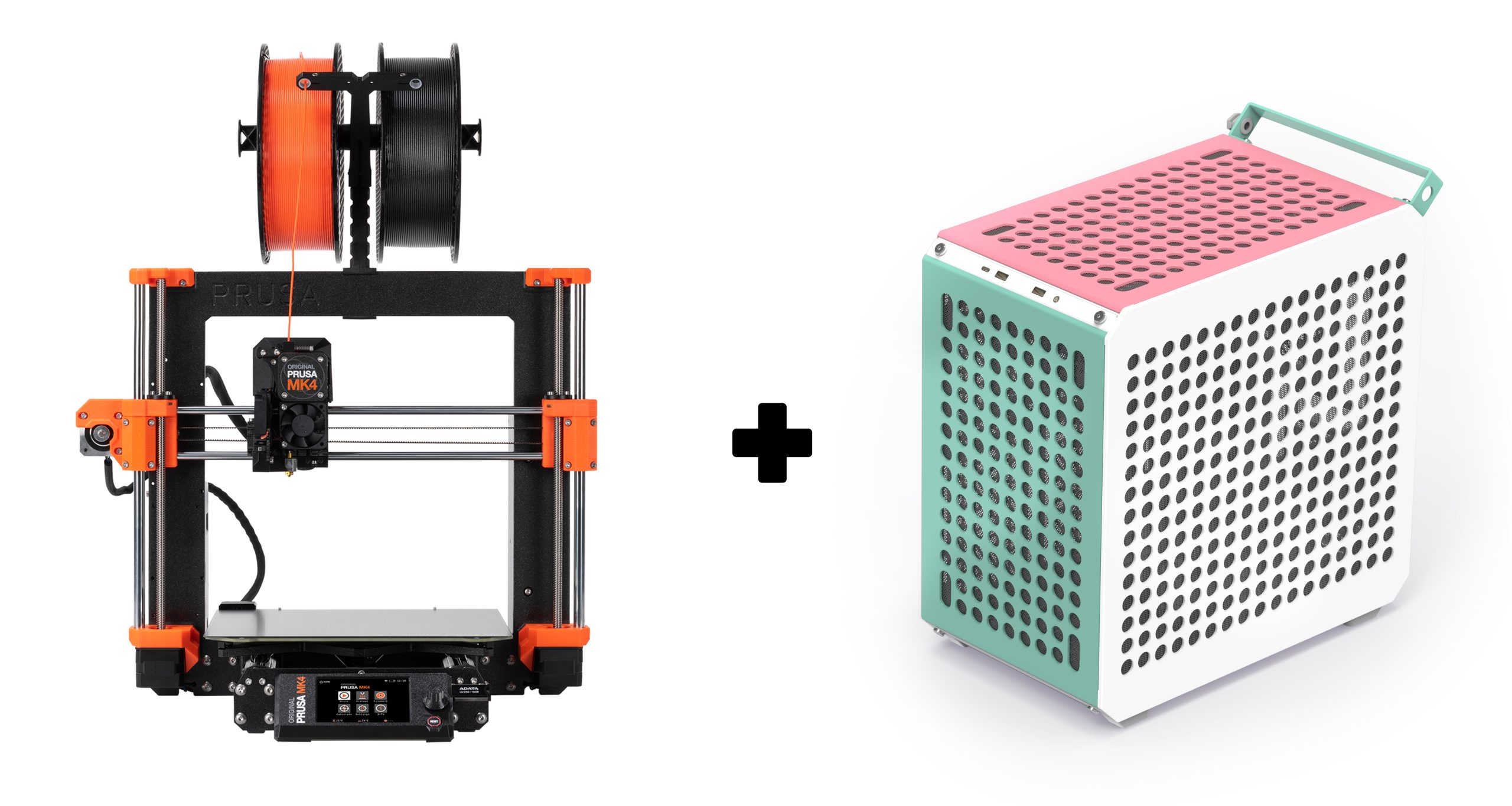 2nd place
The second-place winner will receive the Cooler Master Qube 500 Macaron + GEM + 350 Prusameters. The Macaron kit includes all mint, pink, and cream panels, which you can mix & match.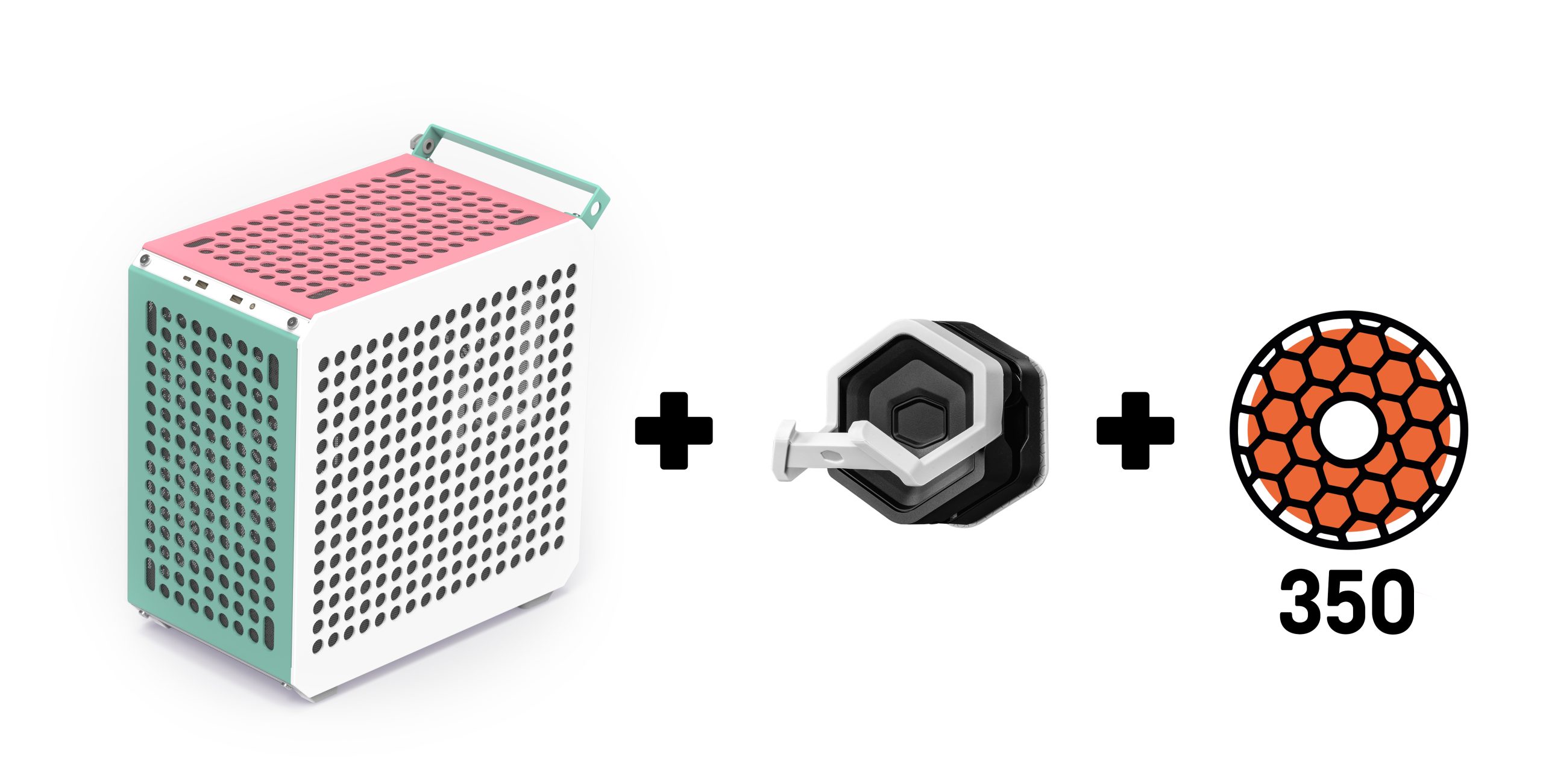 3rd place
Third place will win Cooler Master Qube 500 black/white + GEM + 350 Prusameters.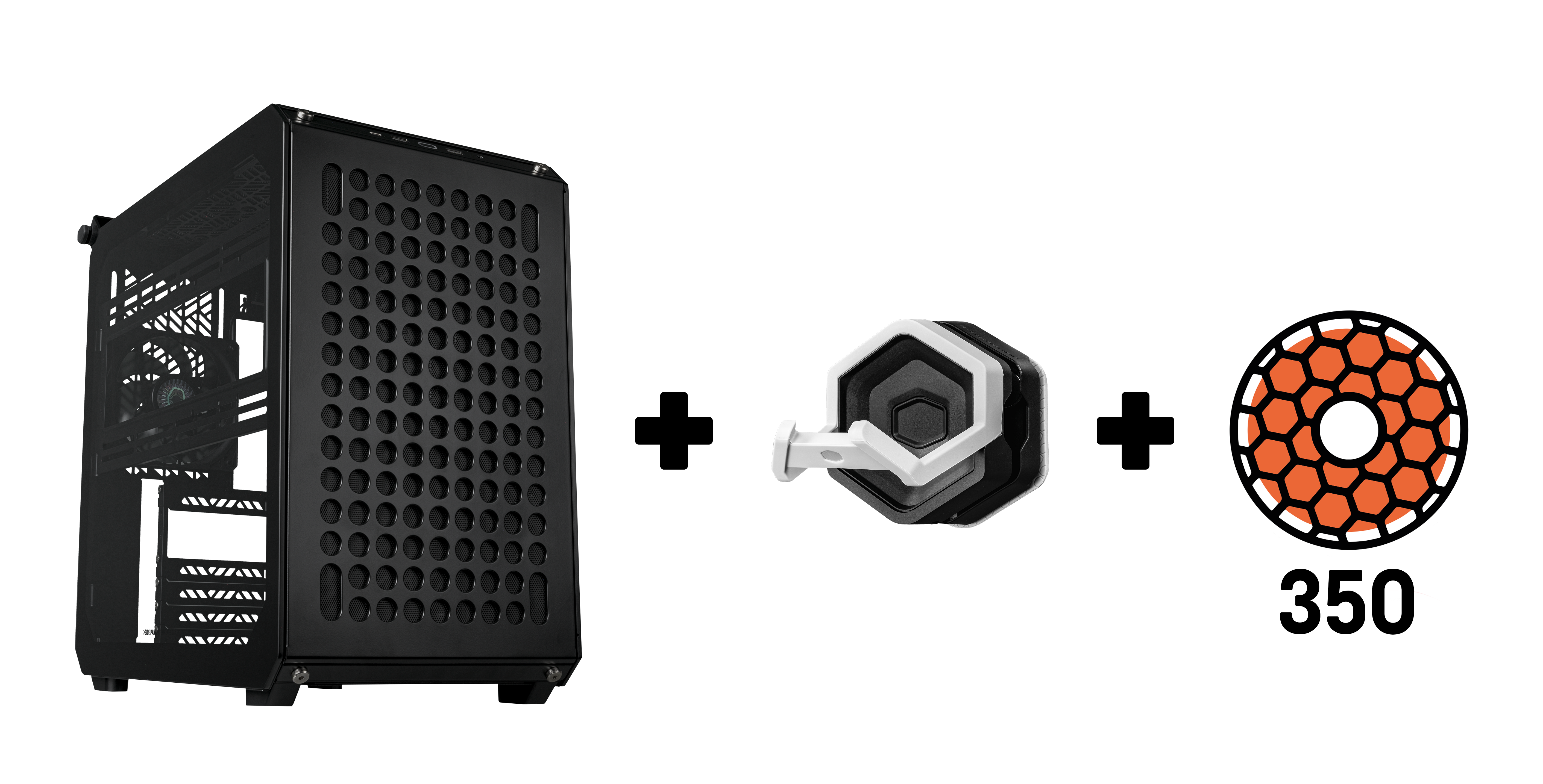 4th place
The fourth place will win 700 Prusameters.
5th place
The fifthplace will win 350 Prusameters.
Honorary Mentions
After awarding the top 5 places, we'll also be recognizing a select number of exceptional designs with 'Honorary Mentions.' Each will be awarded 50 Prusameters.
Judging Criteria
Apart from the overall subjective quallity of the model, these are the main judging criteria:
Printability – The overall ease of 3D printing of the design. Whether the model has an optimal print orientation, whether it is divided into multiple parts so it can be printed more easily (without supports) etc. Judged by the team at Printables/Prusa Research.
Originality – If you create something truly unique, something with a clever design feature, or something aesthetically pleasing, it will be rated better than a slightly altered existing model. Judged by the Cooler Master team.
Popularity – Share your model to increase its popularity, and prove that users appreciate such a model. Judged by the community (number of likes, makes, comments and downloads)
Additional judging criteria:
Allow remixing – While it's not a requirement, choosing a license for your design that allows others to remix it will be viewed favorably by the judges. It showcases a collaborative spirit and enables others to build upon and improve your design.
Assembly instructions – If your model consists of multiple parts, we check how easy it is to assemble the final product.
Your other works – In case we can't decide between two favorite designs, we often check your other models to see what you can do.
Photo quality – Well-lit, in-focus, and clear photos help show off your work and help us pick the best designs.
How to participate?
It's easy to participate in this competition. Just follow these simple instructions.
Design and create a model that fits the theme of this contest. The model has to be printable on an FFF/FDM or SLA 3D printer (any manufacturer and model). This also means that you don't need to own a 3D printer to participate. When creating the model, keep in mind the pros and cons of various types of 3D printing technologies and what can and can't be done.
Upload the model to Printables.com and make sure it contains:

Model in .3MF, .STL, or .STEP file format (print files are optional)
Photo or render of the model (ideally both)
Model description

Add the model to the contest. You will find the new competition button just below the download button on the print's page after you publish your print. Click the Compete medal and select this contest from the list of running ones. After that, your print will be shown on the contest page, and you will be in the running.
Of course, you can share your model on social networks (Facebook, Instagram, Twitter, Pinterest,…), and don't forget to add @coolermaster and @printablescom. This can help increase the popularity of the model.
Terms and conditions
The contest runs from September 21nd, 2023 to Oct 15th, 2023.
You can submit up to 5 models (unique) to the competition and increase your chances of winning.
Models submitted to the contest must be new models that have been uploaded on or after the 22nd of September 2023.
The model must contain at least one printed part.
By entering the contest, you agree to keep your model posted to Printables.com for a minimum of one year. Pritables and the Cooler Master team reserves the right to repost your design if it is removed before the end of that year.
You must be the original creator of the model you upload, please no reposting other people's models from other sites.
We reserve the right to terminate the competition or change the conditions of the competition at any time. In case of violation of the terms and conditions or attempted fraud, the competitor will be disqualified.
Submitting entries that do not fit the contest criteria will result in disqualification and repeated offenses may disqualify you from future contests.
Results are at the judge's discretion and all results are final