Connecting members of 3D printing communities have an extremely positive effect – more than ever. People can benefit from easier communication and cooperation in many different cases – you can share information, collaborate on interesting projects or (as many people currently do) help with the production of protective equipment like face shields. It's great to be a part of a community. This is why we're introducing Groups, a brand new feature of PrusaPrinters, that will give you more options to get advice, consult ideas and share the enthusiasm for your interests with other people. Let us walk you through the new changes because our Groups give you a lot of useful options…
What are Groups good for?
The goal of Groups is to enable communication and cooperation among users. Essentially, there are two main group types. Either they are used by community members in the near vicinity – these are the local groups. Or, they can be focused on sharing a common interest – e.g. RC models. We would like to stress out that the members don't have to be 3D printer owners! These groups can be also based around various topics – there can be groups offering help, consultation, services and so on. The huge advantage of our Groups is the fact that it is directly connected to our World map, which already consists of more than 40.000 users!
How to find groups near me?
The best way to find groups near you is to use the World map. Click the World tab and in the menu on the left, select Groups. Zoom out the map until you start seeing various groups as points on the map. Click these points to reveal the Group's info. You can join the selected group directly, or you can view its profile page first, where you can learn more about it.
You can also display a complete list of all groups by opening the Discover tab. This list can be further refined by applying filters – e.g. distance from you and so on. In the near future, we're planning to add sorting by a number of members and by foundation date.
As of right now, there are almost 30 groups and we expect the number will rise – feel free to start your own group!
Founding a Group
No interesting group in your vicinity? Start your own – it's easy! Go to PrusaPrinters.org and in the right corner of the top menu click the + CREATE button. Select Groups from the drop-down menu, then enter the group name and a short description, add a central location of the group and a little bit of info. Finally, click CREATE and you're all set!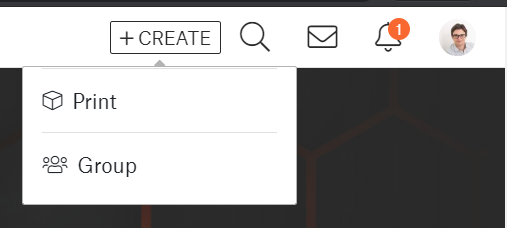 What's the advantage of Groups in the current situation?
During the current coronavirus pandemic, many enthusiasts across the world started printing a protective shield design we've published at PrusaPrinters.org – in fact, the files have been downloaded over 100.000 times, which is an unbelievable number.
Due to a massive shortage of protective equipment, 3D printer owners across the entire world put their machines to work and keep on producing thousands of protective face shields, so they can donate them to doctors, police officers, firefighters… to anyone who needs them. It's a massive, collective effort – something truly amazing! We joined in as well and very quickly realized there are more people who want to help but have trouble e.g. sourcing certain materials. This is also why we decided to ask our programmers to finish Groups as quickly as possible. You can now use this feature to create local groups and coordinate your manufacturing process, while physicians, firefighters, police officers, and other professionals can join these groups, too, and communicate their needs with you directly.
How did we develop Groups – and why now?
We were getting ready to launch a new feature on PrusaPrinters by mid-March 2020 – an extensive overview of all shows, workshops, expos, trade fairs and other events related to 3D printing and DIY/maker hobbies. However, with the first precautions, restrictions, and limitations taking place due to the spread of the COVID-19 virus, we've canceled our planned presence on events worldwide. Soon after it was clear that for some time there will be no events happening – so implementing a function-based around events wouldn't be appropriate.
In the current situation, we have decided that it is important to connect people around printing protective equipment as soon as possible. So we transformed events support into something similar programming-wise, yet different from the users' point of view. It took a mere two days to change the event-planning system into a Group manager. In other words, we tried to implement this functionality as quickly as possible and we're still working on improvements. You can consider it to be in an "open beta" stage right now. The main functionality is working well and we're going to add new stuff in the near future – also based on your comments and suggestions. Your feedback is what drives us forward!
Share your feedback!
Now you should know everything about Groups – if you have any questions, suggestions or bugs to report, please let us know either in the comments or by sending us a note via PrusaPrinters feedback tool. We will be happy if you decide to join in or even start your own Group.