It's been four months since we started shipping the Original Prusa MINI 3D printer. It was an exhausting race to get the machine to first customers before Xmas. We made it, although there were some things that could've gone better. However, our engineers and programmers keep working on updates for both software and hardware and we released several new firmware updates during the past few months. We also listened to your feedback and improved certain parts of the printer.
So let's dig into some details, discuss the new firmware 4.0.5 and our new Knowledge Base website.
Table of content:
Original Prusa MINI after 4 months
There were a number of things we focused on during the first months after the shipping started. Firmware, hardware, QA and packaging.
The "shipping" firmware was pretty stable and featured all things needed for successful printing. However, our common practice is to further update and enhance our products with consecutive firmware releases – for example, the MK3(S) still receives firmware updates even more than two years since launch. We add new features, fix reported bugs, tweak and tune various parts of the code to improve the performance… and the firmware for MINI is no different. The MINI also meant moving onto a brand new 32-bit platform (the MK3S still uses an 8-bit board), which brought new challenges but also allowed us to implement features that weren't possible before – like Prusa Connect web-based UI – more about it in a second.
Firmwares 4.0.1, 4.0.3 and 4.0.5 brought dozens of fixes and improvements, making the overall experience much smoother. So, don't forget to upgrade your printer to the latest 4.0.5 version!
And there were some changes on the hardware side, too. We had to react to several issues brought to our attention by our customers – e.g. poor handling of shipping boxes caused damage to MINI's cables leading from the extruder to the print head. As I wrote in my previous article, we have redesigned both the MINDA holder and the cable clamp to fight this issue – and the number of reported problems dropped dramatically. As always, you can download and print the improved parts so you have the latest version of the printer.

Old MINDA mount (left), new improved and sturdier mount (right)
Old cable mount with a zip-tie (left), new improved cable mount (right) 
This also led to another precaution. We're now placing impact stickers onto some boxes (selected randomly) to give our customers a better idea of how well (or how badly) was their box handled during shipping. Because even though we were pretty sure the MINI packaging is sufficient and we had the package thoroughly tested by an independent company like every other printer box, some MINIs still arrived damaged. It looked like those boxes went through hell. So if your printer arrives with the impact sticker showing red color, contact our tech support immediately!
We also received an above-than-average number of reports that the encoder (the "Knob") got stuck after a relatively short period of time. This has been fixed by replacing the new encoder with the "good old" MK3S encoder.
Feedback from our customers and community helped us to pinpoint problematic areas with greater speed and precision. We're reading all your suggestions and your messages on Facebook and our community forums. We always appreciate when you bring any concerns to our attention. One such thing was the recent concern that the connection of heatbed cables might not be sufficient. We ran internal tests and summarized our findings in this article.
And what's next for the MINI? We're improving our QA process by adding new machines (such as the XZ-axis tester, which moves the printer's axes to ensure it's well built) and we added an extra round of QA for every MINI that leaves our factory. Plus, we're ramping up the production with this month's target of 140 MINIs manufactured every day. Thanks to all the precautions we made even before the COVID-19 pandemic started, we managed to maintain our manufacturing capacity. However, we're aware of the fact that the waiting line is currently very long and we're doing everything we can to go through the backorders as quickly as possible. As always, you can find the updated shipping table here.
Firmware 4.0.5 and Prusa Connect
Because the recent firmware releases brought plenty of new features, tweaks, and fixes, let's go over the most important items (since 4.0.1) on the list. You can view the complete changelog on our Github here.
Prusa Connect Local
Remote print with Octoprint
Adjustments to e-steps (underextrusion fix)
Automatic filament sensor detection
Repeatable purge and improved filament changes (M600)
Crash Dump feature
Dozens of fixes and optimizations
So what's Prusa Connect Local? Starting with firmware 4.0.5, we're giving you a small glimpse of things to come. Prusa Connect Local is a web-based UI that gives you a complete overview of the current status of your printer. Right now, it only displays a number of useful information about the current print job, but we're planning to expand it in the future with a list of features that will give you a higher level of control over your printer remotely. Our goal is to bring you a versatile tool for managing your own print farm. Prusa Connect Local currently works only on local area network, but a "cloud" version is already in development. If you wish to do more with your MINI right now, using OctoPrint is also an option.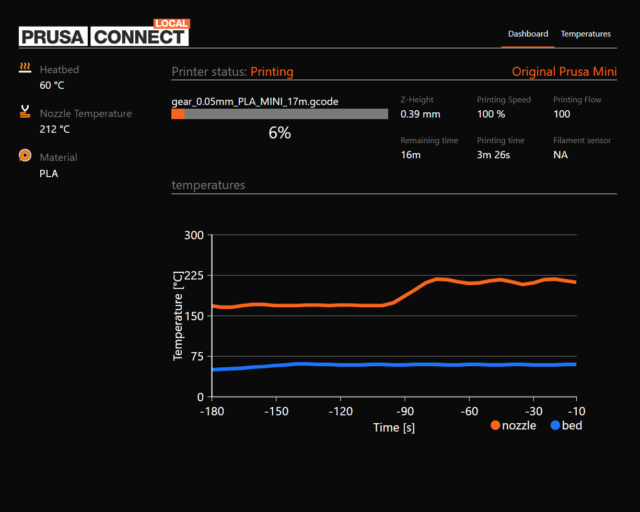 The rest of the changes and fixes is pretty self-explanatory – the optional filament sensor is now automatically recognized and there's a lot of improvements and fixes for the filament loading/unloading process – things like filament changes (M600), repeatable filament purge, earlier filament load, and other tweaks should make working with the MINI much easier 🙂
Our new Knowledge Base is out!
Another thing we've been working on in secret for many months! We've launched a brand new and completely redesigned version of our Knowledge Base. We're using our own custom-made system and a new user interface. And it includes brand new and extensive PrusaSlicer documentation, too! So if you run into an issue you don't know how to solve, head over to our Knowledge Base and find a solution!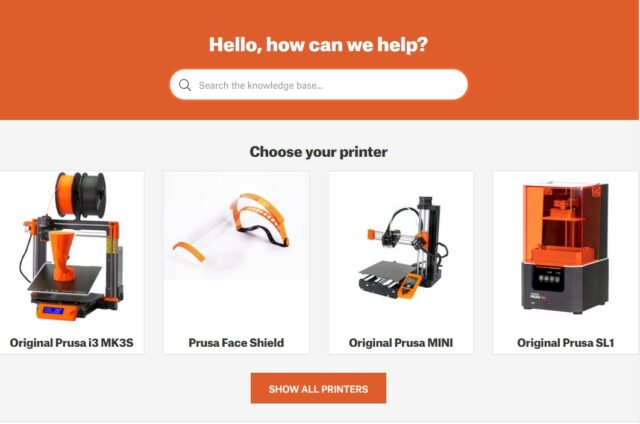 The system is still in the beta stage and some sections might be a little bit lean, but we're doing our best to add articles covering not only the most common issues but also some very specific ones. If you miss any guide covering an important or interesting matter, do let us know! And also, since it's a beta version, if you spot a bug, give us a heads-up! 🙂
Join contests at PrusaPrinters.org and win a 3D printer!
In these difficult times, when the COVID-19 pandemic is causing trouble all over the world, we are proud of 3D printing communities more than ever. Thousands and thousands of people around the globe are printing personal protective equipment for frontline staff – an amazing and respectable feat! I already explained why it makes more sense to print protection shields rather than face masks, however, there are many other helpful accessories that can be produced.
This is why we've launched a new massive contest at PrusaPrinters.org after the last one (Practical and Functional models) finished with more than 1.200 entries! The new one, which runs until April 17th 2020, is called "Everyday Life Necessities, Interactive Toys and Educational Items" – you can enter with models that can help in everyday life during the COVID-19 pandemic. Things like face mask accessories, hands-free door handles, toys and educational items for children who must stay at home etc. So come up with a clever design and you have a chance to win one of our Original Prusa i3 MK3S 3D printers! The competition will run until April 17th, 2020 23:59 UTC.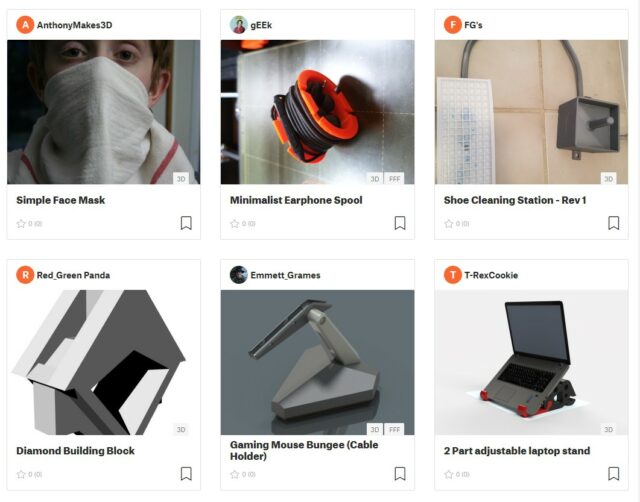 We're always trying to emphasize the fact that 3D printers can do more than print some figures or toys, and I hope this contest proved it once and for all 🙂
Another thing worth mentioning is the new "Groups" function at PrusaPrinters.org. This feature is currently in a beta stage and it allows you to do precisely what the name suggests – create and join groups of makers around the world. We decided to launch this feature as quickly as we could to make it easier for you to find other people nearby printing personal protective equipment, so you can coordinate your efforts. However, this is not the sole purpose of this function, we've been planning to implement this functionality for a long time, but the current events changed our plans a little bit. We hope that in the future, you will use Groups to coordinate various cool 3D printing projects.
And two more quick things about PrusaPrinters: due to performance reasons, we have temporarily disabled the download counter display. Don't worry, we're still monitoring everything on the backend, so once the functionality is back, you'll see updated numbers. Also, we have temporarily disabled Thingiverse import, while we work on an updated version.