PrusaPrinters.org community website is rapidly growing in many respects. We are working hard on further development, with a lot of help from our users and their models. We are focusing both on new features and optimizations, which considerably speed up the print saving process. For example, you can add donation links, using various payment services (PayPal, Ko-fi, Patreon, Open Collective, etc.). Your fans can send you some money as a thank you for your work. This "Donate" button will display both on your profile and with each of your prints. You can now watch and sort your prints not only by a number of downloads but also by the number of print views.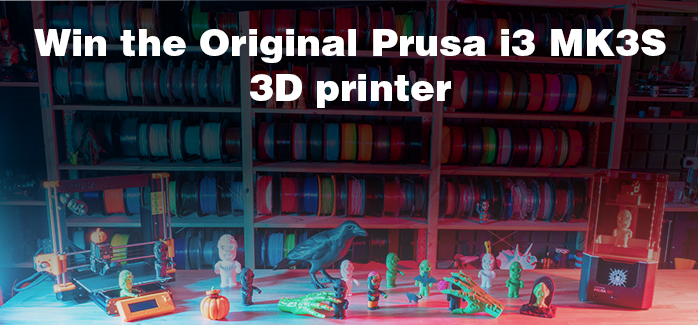 We've also added designer competitions! These will be announced and evaluated on a monthly basis. The best model designers can look forward to valuable prizes, such as award-winning Original Prusa i3 MK3S 3D printer or Prusament, which is our own in-house made filament. Feel free to join the game!

October 2019 theme: Halloween
Make any of your Halloween themed ideas come true and win our Original Prusa i3 MK3S printer. Create some living room decorations, a Jack-o'-lantern, a candy box, some spooky printer add-ons, a mask, or surprise us with just about anything else – there are no boundaries in your creativity! You can find some inspiration in last year's article and video.
Models submitted to the current competition
What are we playing for?
For authors of the best three prints we prepared the following prizes:
1st place – 3D printer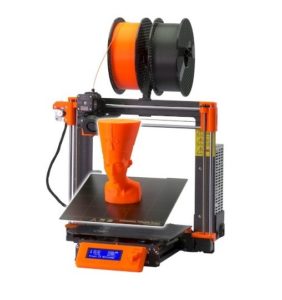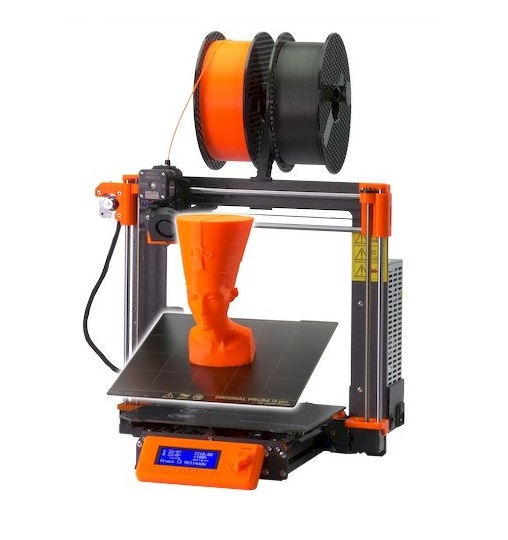 2nd place – 4x Prusament
1x PLA Lime Green (brand new color!)
1x PETG Ultramarine Blue Transparent
1x PETG Carmine Red Transparent

3rd place – 2x Prusament

On top of that, four of the best prints will be tagged as
 "Featured print"
. These prints will be featured for one week on the PrusaPrinters.org main page.
How to enter?
It is very easy to take part in this competition. Follow the instructions below:
Design and create a model, or upgrade someone else's print (remix), fitting into the current theme. The design must be printable on a FFF or SLA printer (no matter which manufacturer or model).
Create a new print on PrusaPrinters (print must be created during the competition span), which shall include:

model in .stl format (.3mf a G-code are optional)
nice photo or a render (ideally both)
print description.

Add your print to the competition. It's the same process as adding a print to a collection. Click on the collection icon ([icon name="bookmark-o" class="" unprefixed_class=""]) and your first option will be the current competition. By ticking a Halloween checkbox you add your print to a competition collection. If you change your mind, you can withdraw it anytime.
Optionally share your print on social media (Facebook, Instagram, Twitter, Pinterest) and add a hashtag #PrusaPrinters. This will increase the popularity of your model.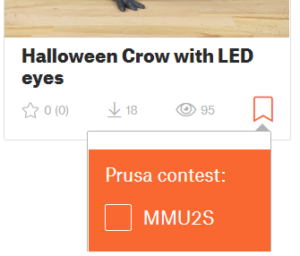 Competition rules
The competition lasts from October 1st, 2019 till October 28th, 2019 (included).
You can add as many models as you like (each of them unique), increasing your winning chances.
You could add your model or remix someone else's – in that case, abide by its licensing limitations.
The model must fit into the competition theme.
We reserve a right to change any conditions or cancel our competition anytime. Any contestant breaching the competition rules or attempting any cheating will be disqualified.
Selecting winners
Winners will be selected by a Prusa Research panel of judges. Authors of the best three models will get valuable prizes. We shall take the following into account: quality of the model, its printability (using either FFF or SLA technology), popularity (you can affect this one by sharing on social media) and originality.
We will contact the winners via PrusaPrinters messenger. Also, results will be published no later than October 29th on our Twitter and Facebook.
We look forward to your models. 😉
Happy printing!