We still have a couple of weeks until the holiday season, but here's an early gift for you: I'm excited to announce our brand new Original Prusa MINI, a smart and compact 3D printing workhorse with all the bells and whistles you're accustomed to when you buy an Original Prusa 3D printer. While we know that many of you have been calling for a larger printer, we think the MINI might surprise you and this article may have some additional treats at the end! The MINI has a print volume of 18×18×18 cm (7×7×7 inches), removable spring steel bed sheets, networking with ethernet and optional Wi-Fi and it's all controlled by our brand new custom-made 32-bit Buddy mainboard with silent 2209 Trinamic drivers. The icing on the cake, we managed to do this (and more) for 349 USD / 379 EUR (VAT incl.)!
New compact workhorse
A bit of a backstory: During the last 10 years of making 3D printers, I have come to realize there will never be a single universal "almighty" machine. I like the idea of what's currently happening in the field of computer processors, especially ARM with their big.LITTLE architecture. A couple of big, fast, power-hungry cores that do the heavy lifting when it's needed, and many little efficient ones for taking care of mundane tasks. So how does the $349 Original Prusa MINI fit into this scheme?
Our goal was to make an ideal mix of streamlined and simple, compact and capable. And the MINI is the result: a printer we wanted and needed for ourselves. Our print farm is a great example of where the MINI can stand out.
First of all, the print area dimensions are 18×18×18 centimeters or 7×7×7 inches. The printer itself has a small footprint of 33×37 cm (13×14.5 in) and it's 38 cm (15 in) tall. It requires a little extra desk space of about 35×45 cm (14×18 in) for correct operation since there needs to be some leeway for cables. This means you can easily fit several of these machines on a single shelf and run them simultaneously, producing a large number of high-quality objects at a rapid pace. Don't like waiting for a print job to finish? Run three or four printers at the same time and get your results much faster! To make this even more efficient, we plan to implement our print farm management software in a future update.
One of the problems with large-format 3D printers is the fact that print jobs usually take dozens of hours – and if, for whatever reason, the print fails after three days of non-stop operation… well, it's pretty painful.
This little machine is capable of doing some great things – no matter whether you want to set up a small printer farm, make accessories for cosplaying, print miniature figures for desktop RPGs, or produce prototypes and mechanical parts from PETG, the MINI can do it with minimum hassle. After a fast minimal assembly, you're ready to print.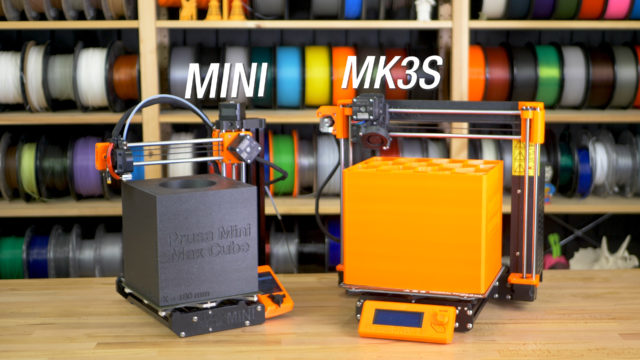 With the MINI, you're getting everything that has made our printers popular worldwide: fully tested parts with a warranty, a detailed assembly guide, and 3D printing handbook tested print profiles in PrusaSlicer, 24/7 tech support in seven languages, firmware updates… and there's, of course, the massive community that can help you with both the basics and advanced 3D printing topics. We also have our safety features in place – three thermistors, power panic and more. All of which makes the MINI an ideal first 3D printer – not only for individuals, but I imagine it will be very attractive for classrooms as well.
Smart with plenty of features
As I already mentioned, the price of the Original Prusa MINI is 349 USD / 379 EUR (VAT incl.). So what did we manage to do with such a tight budget?
Essentially, we went back to the drawing board and did something similar to what I had done with the i3. Back then, I took something rather complicated, which was then seen as a standard, and turned it into something much more streamlined. Yeah, you might say that the MINI looks like it's missing some parts. Trust me, the same happened with the i3 design – and it became a huge hit.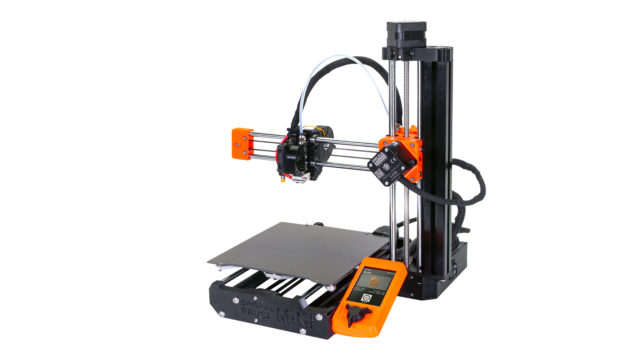 Of course, the MINI isn't just a smaller version of its older brother, it adds quite a few awesome features that are new to our family. It has a full color LCD display (2.8'', 320×240, 65k colors), replaceable spring steel sheets (you can choose between smooth and powder-coated!), print via ethernet, optional Wi-Fi, or direct from USB drives (no more SD cards), Mesh Bed Leveling, support for E3D nozzles, sensorless homing thanks to silent Trinamic 2209 drivers, custom 32-bit mainboard, built-in online firmware updater… And we're improving the user experience as well.
The MINI comes standard with "One-Click Printing" – insert a USB drive with a sliced object and then you're just one click away from starting the print! And the rest is pretty quick, too! Preheating the machine for PLA printing takes roughly a minute, while ASA preheat is around 3 minutes – depending on the ambient temperature, of course. Plus, you can swap the nozzles with other E3D compatible nozzles. The standard 0.40mm nozzle is a great, versatile solution, but if you need highly detailed prints (e.g. miniatures for your desktop RPGs), you can easily swap it with a 0.25mm to achieve a higher level of detail.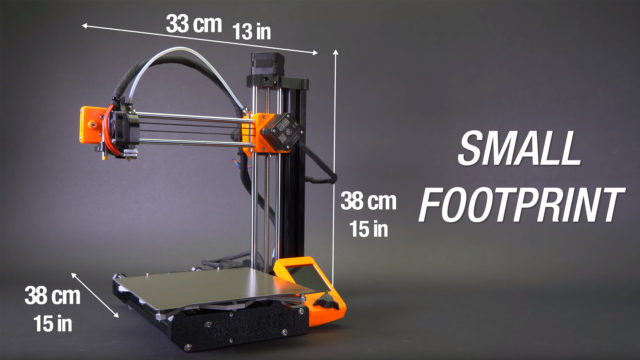 You can inspect the detailed specs below:
| | | |
| --- | --- | --- |
| | ORIGINAL PRUSA MINI | ORIGINAL PRUSA i3 MK3S |
| Build volume | 18 x 18 x 18 cm | 7 x 7 x 7 in | 25 x 21 x 21 cm | 9.84 x 8.3 x 8.3 in |
| Layer height | 0.05 – 0.35 mm | 0.05 – 0.35 mm |
| Max travel speed | 200+ mm/s | 200+ mm/s |
| Max hotend/heatbed temp. | 280 °C / 100 °C (536 °F / 212 °F) | 300 °C / 120 °C (572 °F / 248 °F) |
| Mainboard | Custom 32-bit Buddy electronics with STM32 and latest Trinamic 2209 silent stepper drivers  | Einsy RAMBo 8-bit board with Trinamic 2130 drivers co-developed with Ultimachine |
| Extruder | Bowden system with 3:1 gearing | Direct drive |
| LCD screen | 2.8″ graphic 65k color screen | Monochromatic LCD |
| Print surface | magnetic heatbed with removable PEI spring steel sheets | magnetic heatbed with removable PEI spring steel sheets |
| Filament diameter | 1.75mm | 1.75mm |
| Nozzle diameter | 0.4mm (default) / other nozzle diameters supported | 0.4mm (default) / other nozzle diameters supported |
| Supported materials | PLA, PETG, ASA, ABS | Any thermoplastic including Nylon and Polycarbonate |
| Filament sensor | Optional upgrade | Yes |
| Power panic | The future software upgrade, single layer accuracy | Hardware-based, single G-code line accuracy |
| Ethernet connection | Yes | Via Raspberry Pi |
| Wi-Fi connection | As a separate future upgrade | Via Raspberry Pi |
| MMU2S compatibility | No | Yes |
| Advanced sensors | 3 thermistors, fan RPM sensors | 4 thermistors, fan RPM sensors |
| Farm mode | Yes, built-in (upcoming feature) | Yes, with additional HW |
| Calibration | Automatic, Mesh Bed Leveling | Automatic, Mesh Bed Leveling |
| Print medium | USB drive / LAN | SD card |
| Firmware update interface | USB drive / LAN | USB port |
| PSU | 160W, external adapter by Meanwell or Delta depending on the region | 240W, custom made by Delta with Power Panic HW |
| Kit price | 349 USD / 379 EUR (VAT incl.) | 749 USD / 769 EUR (VAT incl.) |
| Assembled printer price | – | 999 USD |
So, here we are, once again on our way to turn something that might be seen by many as a very complicated machine into something that is getting closer to a home appliance. This is also reflected in the assembly process: we decided to launch the MINI as a much more simplistic "assembly kit" – you just put three pieces together and then you're ready to print in less than half an hour.
In the end, we were pretty much surprised to see how many boxes the MINI ticked. To keep the price down, we decided to make the filament sensor an optional upgrade, while the power panic will come later as a free software update. Sure, the build volume is smaller, the power supply is an external adapter and the Wi-Fi will use a small cheap ESP board you can source yourself from any good electronics shop. However, there are so many things squeezed into the very tight price point of 349 USD we could not believe it ourselves. 🙂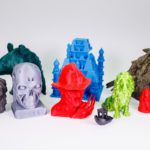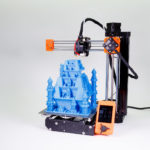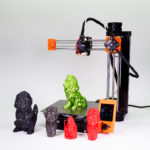 The Prusa i3 heritage
Wait a second, does this mean that the MINI is like a video game console with no means of tweaking, tinkering or modding? Not at all! It's still an open-source machine and I can't wait to see what our community will do with it. In fact, we're giving you some rather powerful hardware to play with.
This time, we're using our own custom-made 32-bit mainboard called Buddy. It's based on an ARM STM32F407 chipset, it features RTOS (Real-Time OS), silent Trinamic 2209 drivers, ethernet port, ESP support (for the optional Wi-Fi module) and it will support our farm management software natively in the future. It allows us to run things in parallel – one thread is reserved for Marlin 2 (motion planning), the second thread is for LCD GUI and the third one is for networking. Basically, everything you can achieve with OctoPrint can be done on this mainboard as well – even a camera connection (although it runs at 1 fps)! Not every feature will be available in the launch firmware, but we will keep improving the printer through new firmware after launch.
Why did we decide to switch to a 32-bit board? Surprisingly, raw performance is not the main reason. We can now write cleaner and more abstract (reusable) code without assembler hacks like on the 8-bit board. Adding new features becomes much less of a hassle and we don't have to count every single byte in the flash memory. Unit tests and JTAG debugging sped up the development and we also got the chance to include ethernet and optional Wi-Fi connections.
The new 32-bit board will also allow us to bring you our sophisticated print farm management software in the future. You often ask us, how do we manage 500 3D printers running 24/7 – smart management software is the answer. It's something our community has been asking for a lot. We're working on it – it will take some time to make it user-friendly, though.
When you take a look at the machine, you will certainly recognize many familiar parts – we're using long-time proven components for maximum reliability, something you would expect from our printers. However, there are some slightly different bits: since we're using a streamlined design for the X-axis (the "arm"), we made the extruder a lot lighter. However, this also means that the MINI is not compatible with MMU2S. The extruder motor is now located on the vertical column and it feeds the filament with a 3:1-ratio drive gear through a PTFE tube into the hotend, which moves along the X-axis.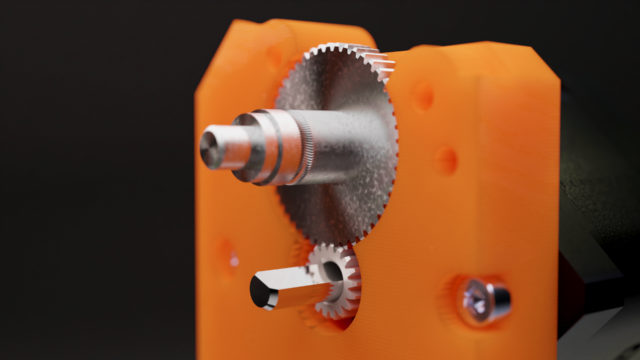 A large printer, you say?
So, as you can see, the MINI can do a lot. However, if you are one of those who need a large-format 3D printer (and you managed to read all the way through), here's the news for you: we're working on a little something you may call a "Prusa XL". Expect a print volume of 40×40×40 cm and a lot more! This won't be merely a bigger MK3S – using the same design would bring way too many issues (heavy heatbed, less stability with higher Z-axis values). Instead, we plan to base the XL on CoreXY architecture. It will feature a new geared extruder and an improved heatbed – among other things.
Quite a lot of news for just one article, right? 🙂 Well, we still have something else. "What about the i3 line and the MK3?" you might ask. Is it now outdated? I assure you it's not. We're still deep in development of the XL (CoreXY) 3D printer and it's quite possible that some of the best features of both new printers will find their way to the good ol' MK3 in a form of an affordable upgrade.
In other words: the MINI isn't meant to replace the i3 MK3S product line. It's a different kind of product and we don't plan to discontinue the MK3S anytime soon – there's still room for potential upgrades. We're definitely not going to announce another new printer this year. The MK3S in the current form is better than ever and it is in-stock with both steel sheets variants.
Model by Arte Creator
A printer for everyone
So here's my vision, returning to the big.LITTLE CPU analogy: imagine a workplace with two large XL printers, a couple of MK3S machines, a number of MINIs and an SL1 – every printer has its place and purpose, allowing enterprises and individuals to achieve their goals in the most efficient ways.
The MINI is an awesome starting printer for pretty much anyone! Whether you are a cosplayer, hobbyist, or just curious about 3D printing, the MINI has you covered. Do you want to print something large? A piece of armor for your cosplay? Since printed costume parts usually need to be post-processed (sanded, painted), you can easily print a larger object separated into several parts and glue everything together afterward. Fillers and paint will hide the seams.  Do you need a set of figures for your desktop RPG? Replace the 0.4mm nozzle with a 0.25mm model and you're all set! Does your client require a number of mechanical parts printed with PETG no later than tomorrow? Set up a small print farm with a couple of MINIs and let them produce dozens of parts in parallel!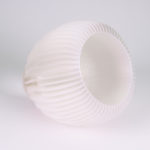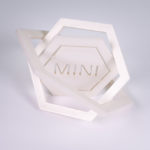 The Original Prusa MINI
will start
shipping in just a few weeks – at the end of November.
However, we expect that there will be a bit of a queue, so if you order it right after the launch (e.g. December), expect some lead times. This is why we have decided to limit the number of printers per order to two units. Oh, and by the way – we're giving you the option to
bundle a spool of filament for no extra shipping costs
to your MINI 😉
So don't forget to check out the product page and the store page. And if you're at East Coast RepRap Fest, stop by at our booth and see the MINI with your own eyes. Or, of course, you can take a look at MINI on all upcoming events promoted on our website.  It's small, but it can do some mighty things!
Happy printing!