The fifth designer contest on PrusaPrinters.org is here and it's all about sculpting! Model your favorite movie character, animal, monster, D&D miniature, or any other organic-looking model using sculpting and have a chance to win the Original Prusa SL1!
What is sculpting? Unlike CAD modeling, where we focus on precise dimensions and sharp corners, sculpting is all about organic shapes. You start with a piece of digital clay and you grab, pull, pinch, and otherwise manipulate it. We have an entire article about sculpting, check it out!
Contest evaluation and prizes
Our last designer contest had an incredible turnout with a total of 1 350 competing models. In three rounds we've given away 3× Original Prusa i3 MK3S printers and tens of Prusament spools. Sculpted objects can, of course, be printed on an FFF 3D printer. But since they're usually very detailed and organic looking with very few sharp corners, it's ideal to print them using the SLA 3D printing technology. That's why, for the first time ever, we decided to award the winning design with the Original Prusa SL1 kit + Curing and Washing Machine BUNDLE.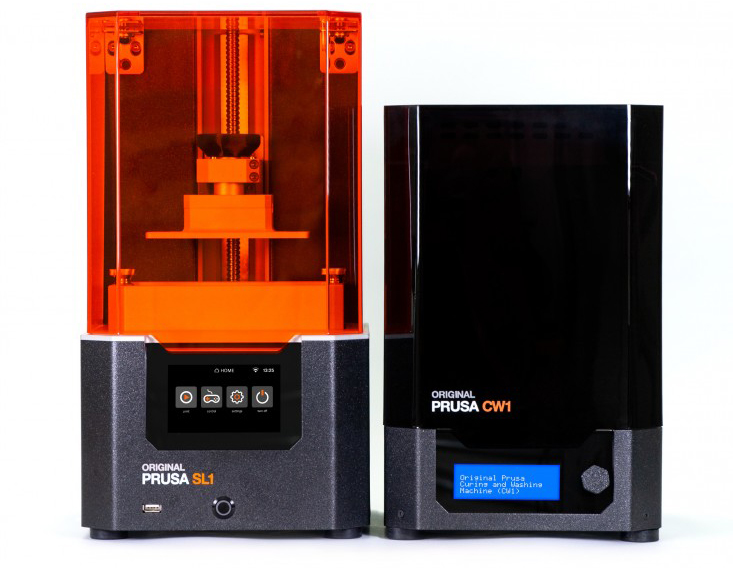 2nd place – 4× Filament (Prusament) of your choice or $150 USD voucher to our e-shop
You can pick any 4 Prusaments including free shipping from our e-shop or if you don't have an FFF 3D printer, you can use a $150 USD voucher for whatever you want from our e-shop.

3rd place – 2× Filament (Prusament) of your choice or $100 USD voucher to our e-shop
You can pick any 2 Prusaments including free shipping from our e-shop or if you don't have an FFF 3D printer, you can use a $100 USD voucher for whatever you want from our e-shop.

As an addition, we will print the first five best models on Original Prusa SL1 printer and send them to the authors. Also, the best models will be awarded a lifetime "Featured print" badge and they will be featured on the main page of PrusaPrinters.
Deadline: 7th June 2020 23:59 UTC
The best models will be selected by a jury consisting of Prusa Research employees and professional sculptors from studios like Prime 1, Sideshow, or Disney!
The main criteria are:
the overall quality of the model
printability – a clever print orientation or splitting the object to multiple parts to lower the number of supports
originality – a newly sculpted model will probably have a better score, than a model, which we eventually find to be easy remix
popularity – share the print to increase the popularity
other uploads – when we can't decide between the very best models, we also consider other uploads from the designer
Winners will be contacted via e-mail. The results will be also published on our blog on June 15th.
We hope that it will inspire everyone to give sculpting a go and to come up with interesting and fun characters to share with the rest of the community.
Expert tips
Split the model to several, easy to print parts if your model is complex. If you also add some guiding pins, it will be easy to align and glue the parts together.
Consider using a texture brush to add tiny details such as skin pores, ripped pieces of cloth, or cracks in metal/stone.
If you model the base mesh in a T-pose, make sure you sculpt on top of the posed model. Making muscles look stretched or compressed can make a big difference to the overlook of a model.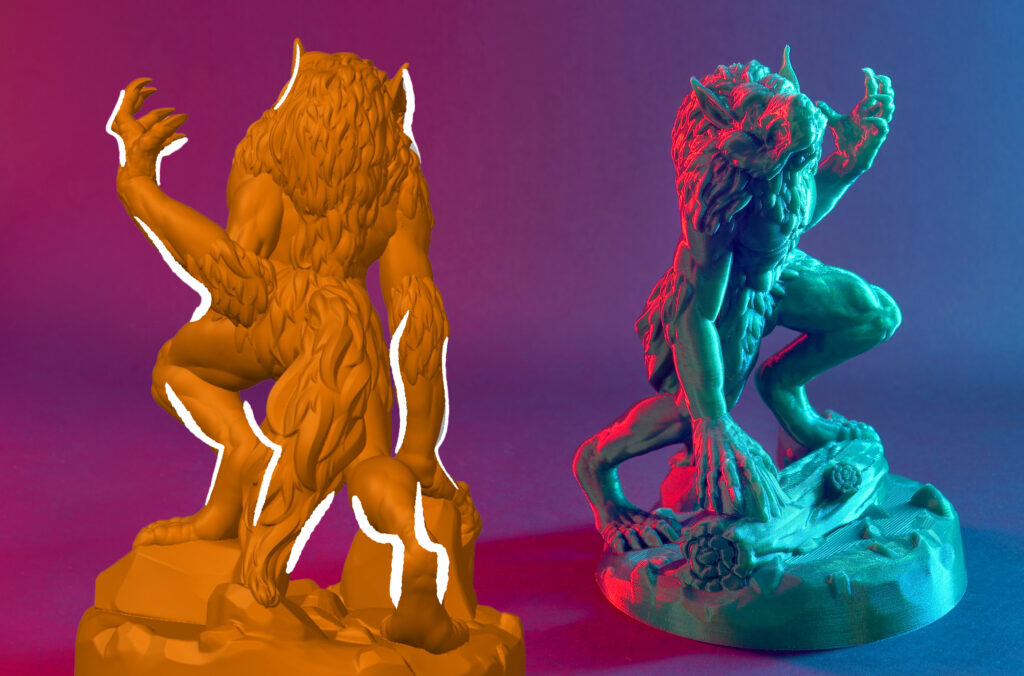 Werewolf model cleverly designed to be printed without supports (RocketPigGames)
How to enter the contest?
Entering the contest is easy – follow the steps below:
Design a 3D model or create a remix (based on somebody else's design) that fits the contest theme. The model must be printable on an FFF or SLA 3D printer (any brand). This also means it's not necessary to own a 3D printer – just keep in mind the limits of the technology.
Upload the model to PrusaPrinters.org (the model has to be published during the contest duration). The upload must contain:

model uploaded as .3MF or .STL (print file is optional but useful)
photo or render of the model (or both in the ideal case)
model description

Submit the model in the contest. The procedure is the same as adding a print into a collection. Open the model page and click the Collections icon. The first one will be the name of the contest – "Sculpting". Tick the box and you're done.
(Optional) Share the model online (on Facebook, Instagram, Twitter, Pinterest). Add #PrusaPrinters hashtag and increase the popularity of your model!
Terms and conditions
The contest runs from April 30th, 2020 till June 7th, 2020 23:59 UTC.
You can enter with as many unique models as you like to increase your chances to win.
You can create a brand new unique model, or create a remix (model based on someone else's design) – however, the remix must not be in conflict with the original model's license!
The model has to be created (at least partly) by sculpting
We reserve the right to terminate or change the terms of the competition at any time. In the event of a violation of the terms of the competition or attempted fraudulent conduct, the competitor will be excluded from the competition.
We are looking forward to your models.
Happy sculpting!