What is stronger? Mind or muscle? You need both to compete at the top level. Physical preparation is essential for the body to perform, but it is the brain that operates the power level usage. That's why professional athletes turn to so-called cognitive training – to fully unlock their potential. And this is where Czech company Sense Arena comes in with their revolutionary solution – a set of hockey and tennis training programs for virtual reality – skill-honing training available anytime and anywhere! An interesting solution born with the help of 3D printing.
Wait, what? Training in VR?
Yes, it's real and it's quickly becoming more and more popular among professional athletes. It's simple and all you need is a VR equipment set, controls, and training programs from Sense Arena, pioneers in this field. For many years, top-level sports were all about muscles, training, and hard work. The role of the brain and thinking patterns was underestimated. Sense Arena wants to change that, claiming that the mind is the most powerful muscle in your body. And that using it wisely will give athletes the much-needed edge to win. As the company uses our 3D printers to manufacture the equipment for VR training, we visited them to learn more about it. We were introduced to the principles of training in VR by Sense Arena CEO and founder Bob Tetiva and product development director Daniel Beneš.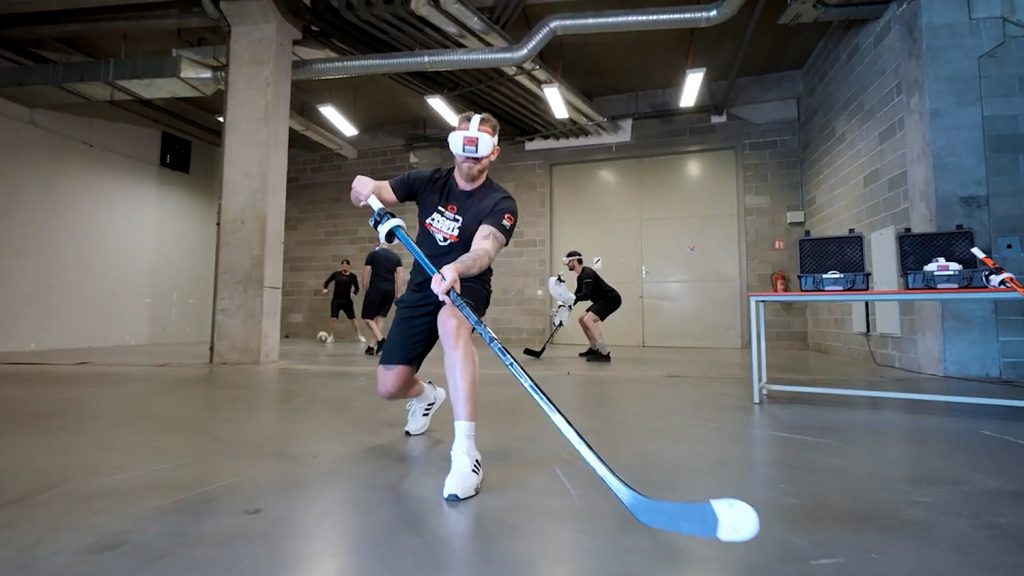 VR? What is it good for?
Time spent on the court or in the field is indispensable. However, there are situations or exercises that can't be done by just one person – situations that require teammates or specific conditions: Imagine you want to train in shooting or have a tennis match at three in the morning. With VR training you can! You can simulate almost any situation or condition. You can repeat it as many times as you can and where ever you are. With VR, you can train at home or even in a hotel room – whenever you feel like it. Jaromír Jágr used to borrow the keys to the stadium to go for a night of training in private. A modern-day hockey player needs only the VR set.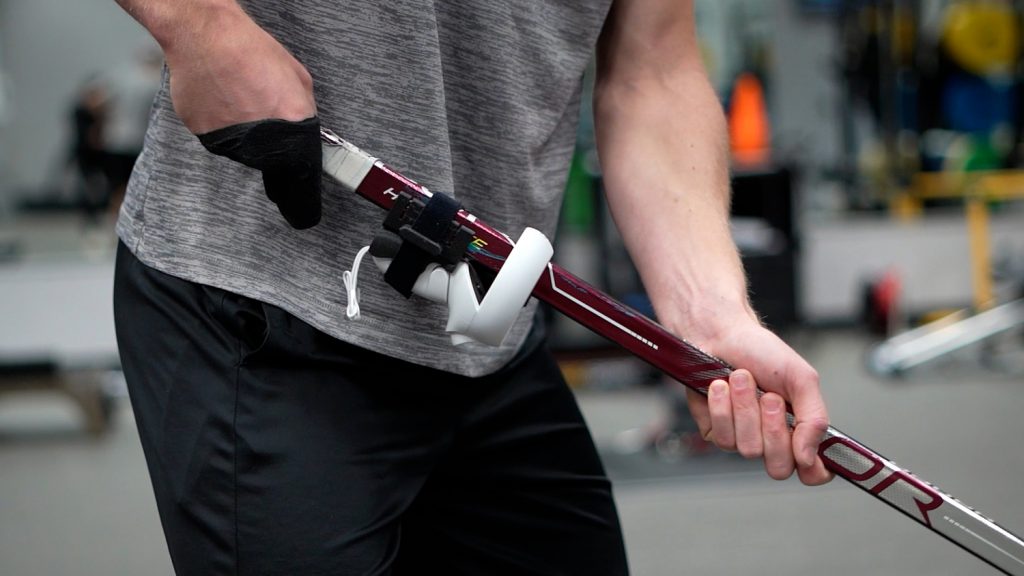 VR training helps your brain to understand the reading of the game better: Subconsciously recognize specific situations and help create automatic reactions. It helps players to be instinctively smarter and quicker. The same goes for goalies – reading the game, better covering the angles, and fighting with stress. Through haptic reactions, VR training helps with the puck- or ball-handling skills.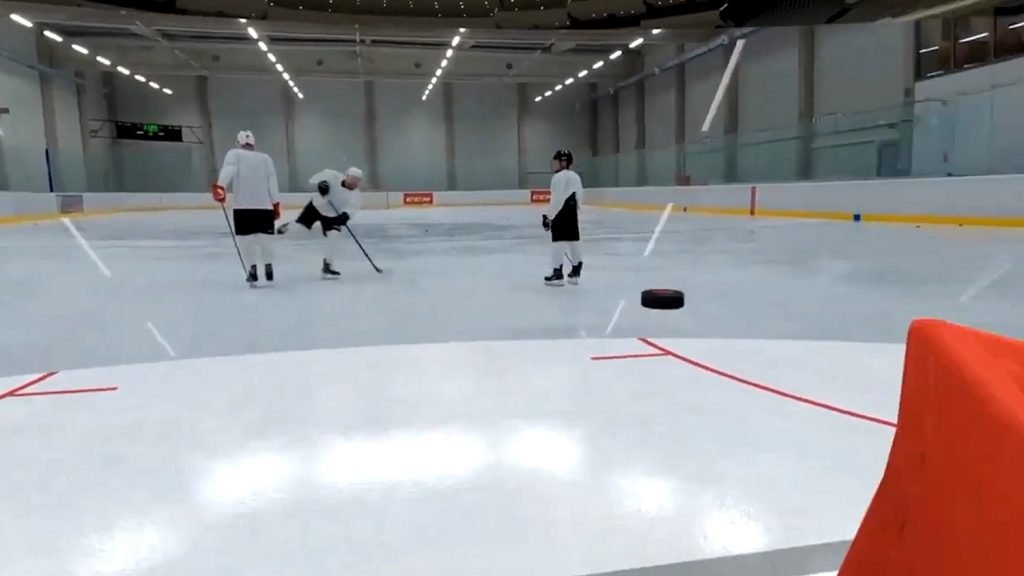 Custom-tailored (3D printed) equipment
To help players fully immerse in the situation, Sense Arena prepared special accessories for hockey sticks and goalie equipment. With those, you can easily attach the VR controllers and simulate the vibrations of the puck – the stick vibrates accordingly to the speed of the puck you receive, goalies really feel hard shots in their catching gloves. Those special accessories can be attached to players' own sticks and equipment – so it feels real in every way.
Tennis players have a special racket that works in a very similar way – and feels like a real racket in every way! Though the solution is much more complex in principle.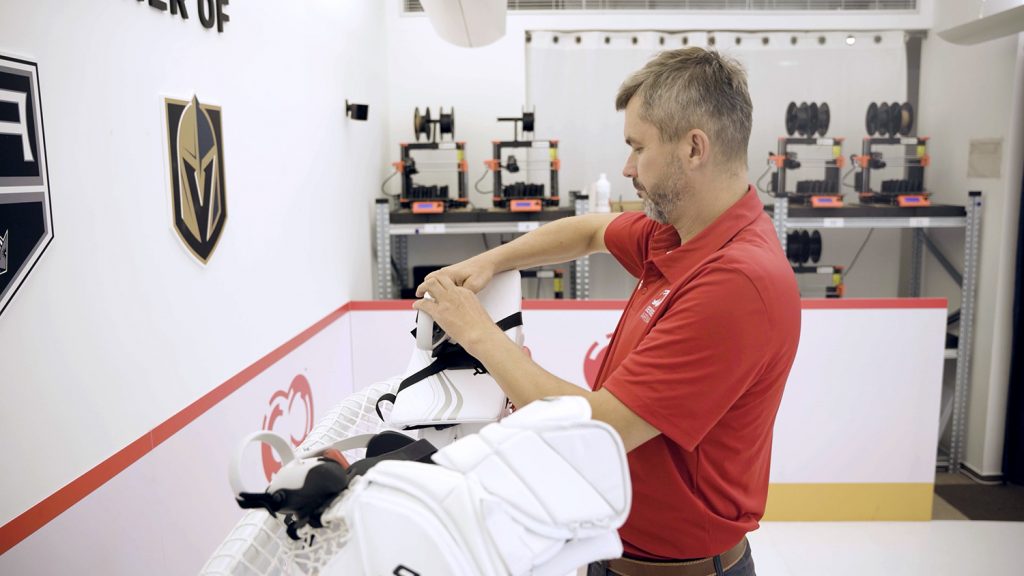 Who's using it?
More than 10 000 professional athletes are using Sense Arena's solution – it's subscription-based, VR training-as-a-service. NHL teams such as New Jersey Devils, Arizona Coyotes, LA Kings, and Las Vegas Golden Knights are among satisfied customers. Also, more than 40 NHL-playing goalies use VR training to hone their skills. Sense Arena runs nine NCAA VR training programs – assuring, that VR training will be a normal part of the process with the new generation of pros.
Tennis is a new area of interest for Sense Arena – Tetiva and Beneš see huge potential in it. To guarantee the best quality possible, they joined forces with the biggest woman tennis legend of all time – Martina Navratilova. More users to subscribe, surely!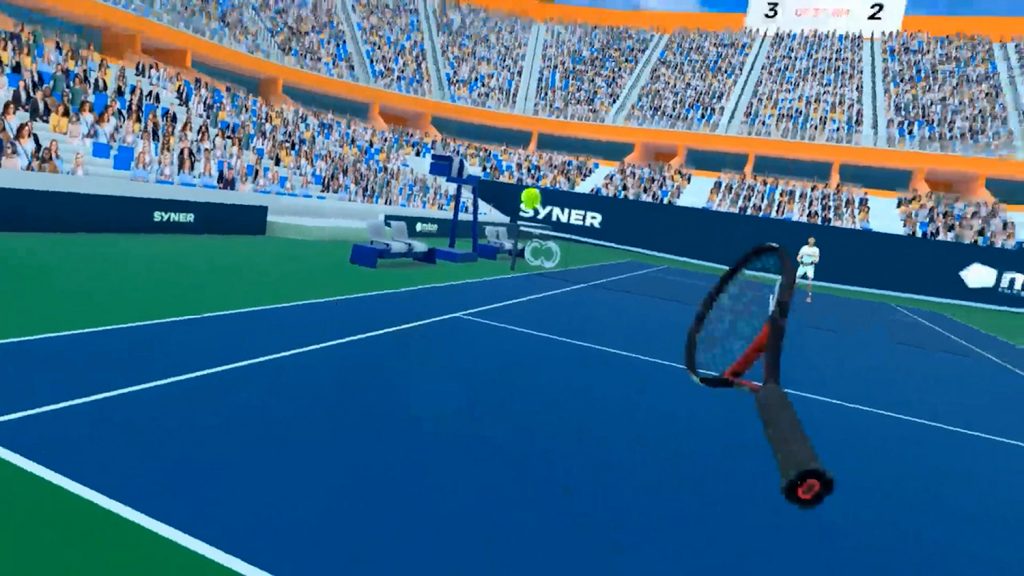 3D printed dream
In the beginning, there was an idea, two people, two computers, and a 3D printer – but not a Prusa one yet. Their first Original Prusa 3D printer came very soon after they realized that they needed a real professional solution. Over time, Sense Arena has built a 3D printing farm consisting of Original Prusa 3D printers that almost never stops.
It's because all the hockey accessories are 3D printed. This technology helps them not only with fast production but also with immediate tweaking and improving. The quality of the prints is fully adequate and what was intended for prototyping is now a small-batch production solution. However, tennis racket controllers are more complicated to produce – this is where 3D printing stays just for prototyping.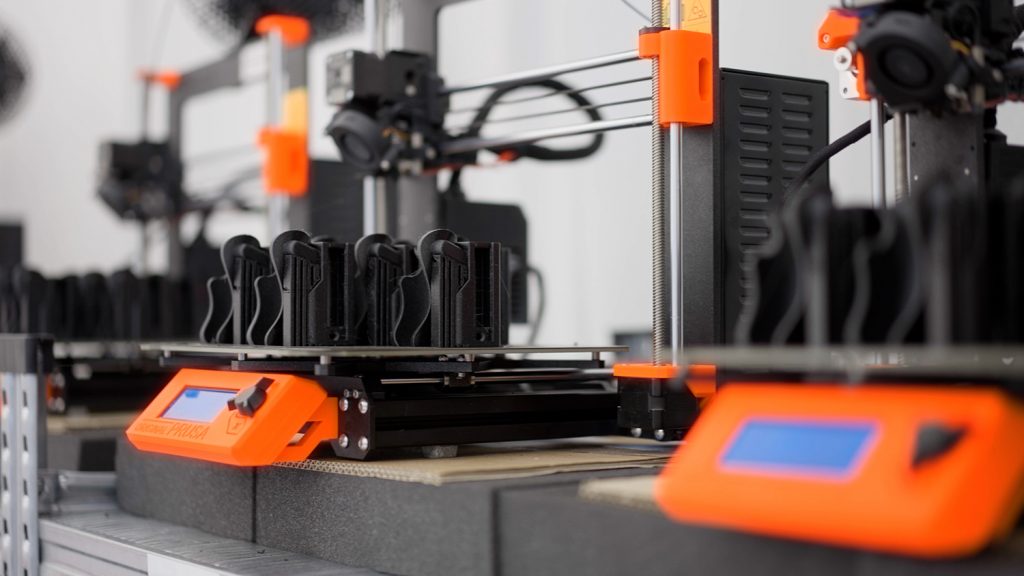 When we asked Bob Tetiva and Daniel Beneš about the benefits of 3D printing, they – except all mentioned above – give a surprising answer:
"Mobility," sais Beneš. "With the COVID-19 pandemic and closed offices, I simply transported all our 3D printers home with my car and we continued production and development without a hassle."
And he adds:
"3D printing is a very quick and easy-to-implement solution. And it just works!"
Website: www.sensearena.com