Autumn is nearly upon us and even though Summer is usually the time for holidays and vacations, we're pretty busy here in Prague! We're releasing a new firmware, new materials, new PrusaSlicer versions… oh, and by the way, we also managed to set a new world record! 🙂 Curious to see what's going on? Let's not waste any time here – take a look!
PrusaSlicer 2.1 is out! UNDO/REDO IS HERE!
It's amazing to see the rate at which our developers churn out new PrusaSlicer features! The newly released PrusaSlicer 2.1 may look similar to the previous one, but there's plenty of new parts under the hood.
We've prepared a new video that covers all important features in great detail, so let's go through the news quickly. Or, actually, I could just say that Undo/Redo functions are here and that would be enough of a reason to go and install the latest version, right? 🙂 But wait, there's more!
Another important thing is the height range modifiers feature. Just like modifier meshes, they let you change settings for a specific part of the model. However, modifier meshes are geometry-based (e.g. a cylinder-shaped area defines where supports shouldn't be created – support blocker), while height range modifiers are based on, surprise, height information. So you can easily set different infill density for the base of the model and for the rest of the model. Height range modifiers can be used in a variety of ways, including changing the layer height for various parts of the model.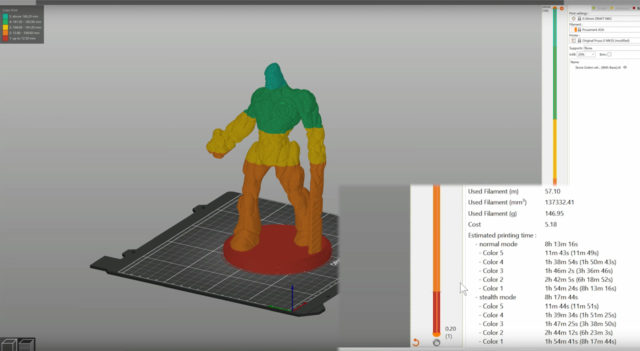 DOWNLOAD NEW DRIVERS & APPS PACKAGE 2.2.7 WITH PRUSASLICER 2.1.0
The owners of Original Prusa SL1 will certainly welcome another new feature. Starting with PrusaSlicer 2.1, it is now possible to place the object directly onto the printing platform and generate supports wherever necessary or even add a pad around the object.
Then there's a rather cosmetic change, but I believe some users will appreciate it: you can now switch between orthographic camera (old default) and perspective camera (new default). The perspective camera represents our view of the world more faithfully (objects farther away from the camera are smaller). Maybe you will start switching the cameras on the fly, because each of them has its advantages.
And there's more:
Partial arrangement – great for a situation in which you already have several objects on the virtual print bed, and you add some more. You can select the new ones and arrange them by pressing Shift+A so they fill the gaps between already placed objects
Max scale – Select an object, switch to Scale mode (the S key) and press the F key to scale the model so it covers the entire print bed
Toolpath export – you can do photorealistic renders of the G-code
Color change improved
Translations into Czech, German, Polish, Spanish, French and Italian
Faster start-up
Faster tree support generation for the SL1 / MSLA 3D printers
Selective slicing
Modifier meshes and model parts can be dropped onto the print bed
DOWNLOAD NEW DRIVERS & APPS PACKAGE 2.2.7 WITH PRUSASLICER 2.1.0
Original Prusa SL1 – new firmware, shipping kits
The Original Prusa SL1, our MSLA 3D printer, started shipping back in May, but only as an assembled printer. We had an unfortunate delay with the assembly kits – this was caused by a number of factors, the most important being the fact that we had to adjust and fine-tune everything so you can assemble this extremely precise 3D printer at home – not only in a fully-equipped workshop. You can check the shipping table with up-to-date details here.
Many assembly kits have been already shipped to customers, and Facebook groups are starting to buzz with a new activity – there's a lot of people sharing their prints and the initial feedback is more than positive. Several users already created custom-made accessories for the SL1! We are also getting requests to add 3D-printed samples to our e-shop – we're working on this and we should have an update for you soon.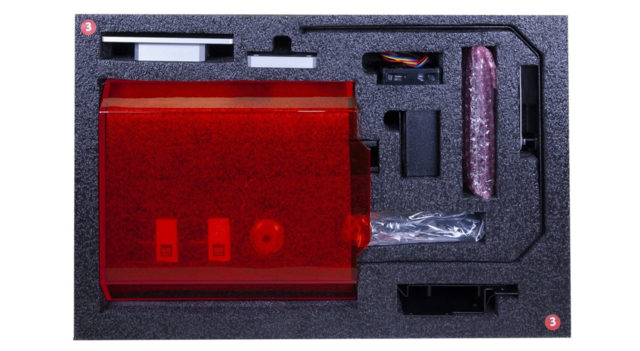 The SL1 has received four new firmwares since its launch, the latest one being 1.2.1. Each of the releases brought a number of important fixes, tweaks and changes that improve the user experience – so make sure you're running the latest version! You can update the firmware easily, just download it directly from our servers using the printer's menu.
As I have already mentioned in the PrusaSlicer chapter, one of the requested features for SLA slicing was the option to place an object directly onto the print platform and generate supports (and pad) around it – the latest version of PrusaSlicer 2.1 features exactly this option. You can now print various statues or figures with even greater ease! We're of course working on more features that will be added in the future – such as highly-requested hollowing, another useful tool that allows you to print more reliably and save precious resin.
Firmware 3.8.0 for MK3/S and MK2.5/S with sheet profiles
Almost exactly two years ago, I announced the Original Prusa i3 MK3 and we started shipping in a couple of weeks later. Back then, I said the MK3 is "bloody smart" and I definitely meant it. However, with the continued support throughout the years and with many new firmware releases, the MK3 is becoming even smarter. The world-domination plan is becoming a reality! 🙂
Our recent firmware release, the 3.8.0, is another major milestone. Since we managed to finally solve the situation with the shortage of powder-coated sheets, many of you probably have two sheets at home now. Here's the catch, though – smooth and textured sheets have a different thickness, which means the Live Z value is different for each of them. Hmm, how to solve that? We're introducing steel sheet profiles! You can now store up to 8 sheets in the printer's memory, set individual Live Z / Calibration values for each of them, rename them or switch between them quickly. Let us know what you think about this improvement!
All this (and more) is possible thanks to the new HW Setup menu on your printer. Just open the main menu and go to Settings. You will see a new menu option called HW Setup. This menu includes not only the sheet profiles, but also safety checks for the nozzle, 3D printer model and firmware. You can manually configure these checks in three levels: none, warn and strict. These are largely dependant on the new version of PrusaSlicer 2.1, which will add some new information into sliced G-Codes. So what does it all do? Let's say you replaced the nozzle and you're now using a 0.25mm version. However, the G-Code you put on an SD Card contains settings for standard 0.4mm nozzle. Starting with 3.8.0, you can set the nozzle check to "warn" or "strict", so the printer will either inform you that the settings are not compatible (but will allow you to proceed with the print), or it won't allow you to start the print, respectively.

Same goes for printer model and firmware version.
The 3.8.0 firmware also contains a number of tweaks and fixes, the most notable being the addition of revised sound profiles, the addition of ASA material, crash detection fixes and heatbed noise fixes (on 110V network). You can download it from our website as usual. We will also publish updated handbooks this week that will reflect these changes.
DOWNLOAD FIRMWARE 3.8.0 FOR THE ORIGINAL PRUSA I3 MK3/S AND MK2.5/S
And here's a little teaser for you: starting next week, we'll start releasing semi-regular Dev Diaries, which will uncover many interesting aspects of our development process. You'll take a peek "behind the scenes" and see how various functions of our printers were made and tested – e.g. the upgraded 7-point mesh bed leveling etc.
Also, you can start looking forward to upcoming firmware releases. The 3.8.1 will bring several bug fixes and the option to perform First Layer Calibration with other materials than PLA. Next, in November 2019, we would like to release firmware 3.9.0 – and I'm very happy we could actively work with our community to bring you some major features. One of them is Linear Advance 1.5, which will be backward compatible with older G-Codes. We're planning UI tweaks, overall improvements of the printer performance and there will be also improvements to the filament sensor and how it works. Currently, we're developing and testing various enhancements: Linear Advance 1.5, Y-Axis crash detection when printing with ASA, decreasing the E-axis (extruder) motor temperatures when printing with PLA, moire pattern reduction and much more. So stay tuned, there's a lot of interesting stuff coming!
Introducing Prusa Stories
Prusa Stories is our new project, which started with the intention to expand the knowledge of 3D printing among the general public and in education. Our team has already published several videos about companies and institutions that are using our Original Prusa 3D printers with amazing results.
The Czech Institute of Egyptology used both the Original Prusa i3 MK3S and the Original Prusa SL1 to print a number of highly-detailed replicas of their actual archeological finds from Egypt. Since the artifacts they found are priceless and cannot be transported from Egypt, the team instead made 3D scans of the items and printed them with our 3D printers for an exhibition in Prague. This also means that the visitors were allowed to touch the displayed replicas.
Our technology is also used in IKEM, Prague's Institute of Experimental Medicine. 3D prints allow IKEM's surgeons to hold specific organs (scanned using computer tomography) in their hands before the surgery even starts. This gives them a much better overview of the situation.
We will add more Prusa Stories videos to our YouTube channel in the upcoming weeks. So if you use our printers to create something awesome, do let us know – the next video could be about you and your project!
Prusament: ASA, Amazon and lead times
Have you heard about our in-house made filament manufactured with the diameter tolerance of +-0,02 mm? I'm sure you did 🙂 The demand was very strong right from the start, and the only thing we could do was to buy more filament manufacturing lines – and they're finally here!
We have finished the renovations of a huge new hall in our building – yes, it's the one where we broke the world record with Most 3D printers operating simultaneously 🙂 We moved the manufacturing lines in, and started tweaking them immediately.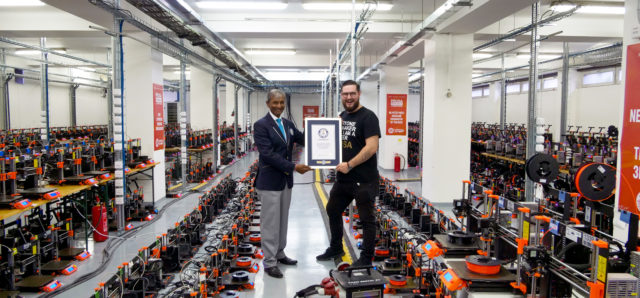 Right now, we have managed to decrease the Prusament lead-time to zero, which is a major milestone! All orders are taken care of pretty much immediately, no more waiting. There are two exceptions, though. We have introduced new material, ASA (read more about it here) – it's essentially an improved version of ABS. Right now, we have a resource shortage, but we'll be back on track in about two weeks. The other Prusament not in stock is Ms. Pink PLA – however, we're working hard to get it back in stock asap.
By the way, we continue to improve our shipping rates for countries worldwide. For example, shipping costs for two spools of Prusament PLA Galaxy Black to the USA are around 11 USD and you will receive the goods in about 3 days.
Still not enough? Well, there's one more option: we managed to increase our stocks in Amazon US pretty well, so there are now 9 colors and two different materials (PETG and PLA) to choose from.
Steel sheets update
Some of you may have noticed that the brand new smooth PEI sheets come in a slightly different shade – they are currently greyish-green. The only thing that's different is the color, though.
Here's what's going on: we've been using a specialized procedure to paint the sheets using a process called KTL – cataphoresis (it's based on electrolysis). We produced black smooth PEI steel sheets this way. However, there was a large amount of scrap because of issues with surface uniformity, stains and uneven thickness of the surface layer etc. So we had to start looking for new manufacturers. However, our requirements are very strict and we obviously ran into trouble with finding a new manufacturer.
Eventually, we solved the issue – and we started using a grey primer as the base color, utilizing a powder-coating method. Ok, hold on a sec, so why is the sheet greyish-green? Well, that's caused by the PEI layer, which has a yellowish tint. I assure you, these sheets are completely up-to-specs. We're still working on getting them in completely black color, though. Unfortunately, all of this caused a gap in shipments, so the smooth PEI sheets are out of stock right now – new shipment is expected next week.
However, in case you missed the announcement previously, the powder-coated textured sheets are fully in stock and you can order them immediately from our e-shop. Just remember to log in (they are available to printer owners only).
PrusaPrinters.org is gaining momentum
I'm happy to say that PrusaPrinters keeps growing steadily – we're welcoming new users every day and the model library is now pretty vast. And we're adding new functions, too.
In the last article, I mentioned the addition of an improved search function and the addition of Collections. Recently, we have added another often-requested function: Remixes. Using them is really simple – when you create a remix (a modified version) of an existing print, you can use the "Remixes" tab to add your own model to an existing one using our standard upload form.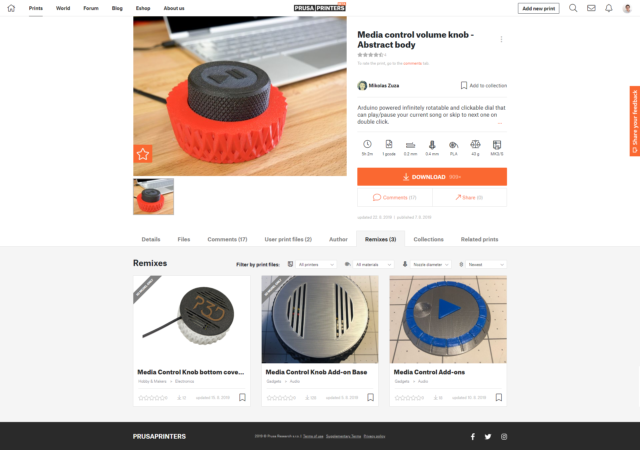 And we're not stopping there – we're currently testing various features, such as donations, notifications, messenger improvements, or the heavily requested option to migrate your own models from Thingiverse.
See you soon!
So that's it – for now, at least. This is definitely not the last article this year, we are still planning some announcements, both big and small. You'll hear from us soon! In the meantime, you can check our events page to see where we will go in the near future to show our printers. And you can also meet me at some of these events and say hi – I'm looking forward to meeting makers all over the world! 🙂
So until next time – happy printing!