On August 16th, 2019, Prusa Research set a new world record for the Most 3D printers operating simultaneously with 1096 3D printers operating at the same time in one room. The record was officially confirmed by a representative of Guinness World Records. And here's how it all happened!
The "hold-my-beer" moment
As many of you probably know, we have an in-house "Print farm", a large hall with 500 Original Prusa 3D printers operating 24/7. They produce parts for new Prusa printers. This method, compared to e.g. injection molding, brings us a number of benefits, such as the ability to quickly iterate through new designs, so we can implement new and upgraded parts very quickly.
However, there are many other 3D printers in our building. In almost every office, in every little storage area, in every room… there's at least one 3D printer. Yes, there are 3D printers even in the accountant's office, sales team's office, everywhere. Recently, we counted all the machines in the whole building and the counting stopped very close to the magical number of 1.000. This gave us an idea.
First of all, it's a clear sign of how universal this technology has become. No matter whether you are interested in small-scale production, prototyping or just plain fun, 3D printers can be operated by pretty much anyone. And what happened next?
It was probably something as innocent as someone saying: "Hey, one thousand printers in one building… that must be a record!"
Coincidentally, we have just renovated a huge hall in the basement of our HQ that will house new filament production lines to produce more Prusament. The conditions were perfect.
Bringing it all together
We didn't have much time, though, the new filament lines were already on their way, so we had to move quickly. We got in touch with Guinness World Records and set a date for the record attempt: August 16th, 2019.
On August 14th, the continuous hum of the print farm's machines stopped. For the first time in two years, the print farm fell completely silent. We started bringing 3D printers to the basement, all 500 of them. Then the next phase began – bringing the printers from our offices. Everything was labeled and strategically placed, every inch of space was used and it still wasn't enough. Tables were brought in, so we could place even more 3D printers wherever we could.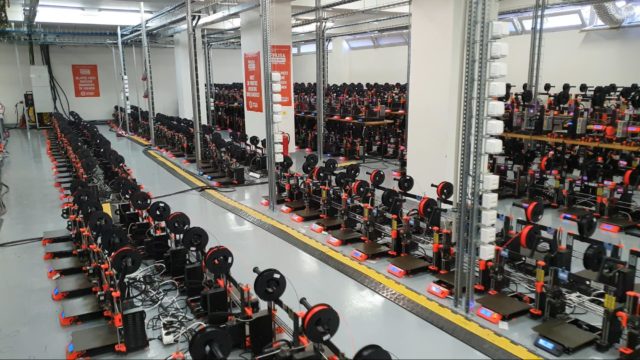 Meanwhile, another group of employees started connecting all printers to a massive electrical substation in the back of the hall. We needed heavy-duty extension cords, more than 330 of them. Many stores in the neighborhood ran out of extension cords that day.
Once everything was plugged in and ready to go, we could start the testing.
We decided to print a simple hexagon – for several reasons. It's a popular infill pattern and it's prominently featured on our packages, handbooks, leaflets, and other assets. Also, we needed a short print, because those 1.100 machines printed with PETG (most of them had powder-coated sheets), so the heatbeds operated at 90 °C. This caused the temperature in the hall to raise by 10 °C in around 10 minutes. There had to be 33 printer operators, 22 independent supervisors ('stewards') and an independent expert along with a referee present for the entire duration of the attempt and we didn't want to keep them in 30+ °C temperatures for too long. The amount of power needed for the attempt peaked at 124 kW and the total energy consumption stopped at 127 kWh.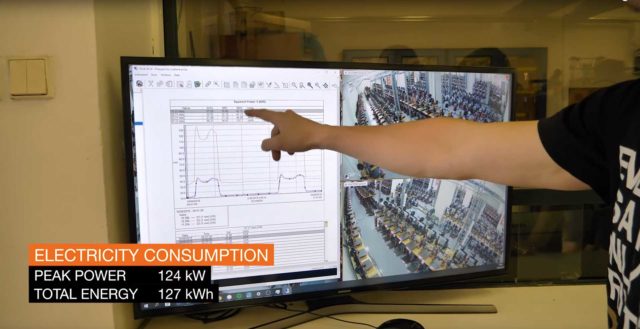 The Challenge
There were very specific requirements we had to meet in order to break the existing record, which was set in 2014 by California-based Airwolf3D with 159 machines running simultaneously.
All 3D printers had to be located within a single room, all prints had to start within a five-minute window and once the initial 5 minutes had passed, nobody was allowed to touch the machines. If something were to go wrong after those 5 minutes – e.g. the print would detach from the sheet, we were not allowed to fix it. In order to ensure that everything was by the books, 22 independent stewards had to be present on-site, each of them supervising 50 printers.
Once the machines finished printing, the stewards would collect up 50 objects each, so the two judges could inspect the objects for quality and count them. We had to have a perfect plan for this to happen and perfect coordination. We ran many tests on August 14th and 15th. Each printer was fine-tuned by our printing farm operators. When you went by, the heatwave coming from the room (and the smell of isopropyl alcohol used to clean the print sheets) could not go unnoticed.
The testing went well, many sample objects were printed and we started to feel pretty good about the attempt. By the end of the day, the lights were turned off and the room was left in a mesmerizing blue glow of a thousand LCD screens. Everything was ready for the big event.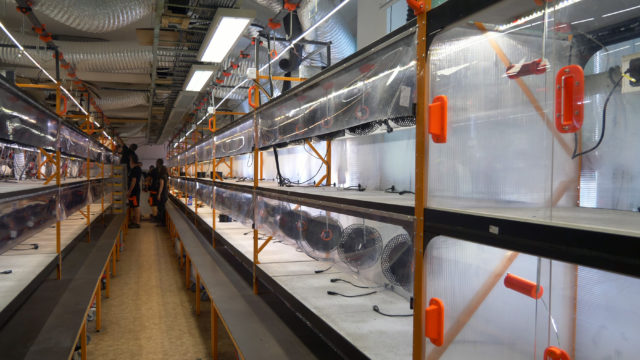 A rare photo of an empty farm
The Record
On the morning of August 16th, everything was pretty much running on its own. The stewards arrived and received a full brief on their responsibilities. Our trained staff got into position, while Josef Prusa along with the Guinness World Records representative, surrounded by journalists, started the countdown. We managed to start all 1.100 3D printers within the aforementioned 5 minutes, and there was still a good amount of time left. Then, everybody had to wait. The temperature in the room started to rise quickly, but nobody seemed to care. Everybody was watching the printers. Would they fail?
Fifteen minutes later, we celebrated our first success: all printers, except for one, finished printing without issues. Then, the counting commenced. In the end, one print did not finish, two prints were overlooked by the stewards and left behind (and returning for them would be against the rules). One print had to be discarded, because one of the stewards mistakenly brought 51 prints, while 50 was the maximum number per each person. This brought the total number of valid prints/printers to 1096, almost seven times more compared to the old record.
We did all of this because we believe that 3D printing is a wonderful industry, which can attract all sorts of people, professionals and amateurs alike. Nowadays, 3D printers are easy to operate and they are used by our employees on a daily basis – and these are not just 3D printing geeks. A huge thanks go to all participants who helped to make it happen! Although it was a lot of work, we thoroughly enjoyed it! And that's also a major part of 3D printing: having fun.
Printed hexagons will be turned into a large mosaic and displayed near the entrance to our HQ. We will keep you updated!
And one more thing
To bring the total number of 3D printers to 1.100, we had to manufacture 150 new Original Prusa i3 MK3S units. Once the event was over, we have re-tested these machines and packed them into regular boxes ready for shipping to customers. So, yes, if you order an assembled Original Prusa MK3S printer from us, there's a chance you will receive one of the printers that broke the world record. These machines are sent at random and there's an easy way to tell whether you received one of these units: there will be a special label on the printer and also a thank-you letter included in the package. Rest assured, these machines are brand new, as we always make a test print on assembled printers. But in these cases, the hexagons have been used as a test print instead of Prusa logo.