The first batch of our brand new Original Prusa MINI is with our customers right now, so it's a good time to do a quick recap of the current situation. We recorded a new video for you and I'd also like to shed some light on the situation with custom firmware.
Original Prusa MINI is here!
And what's the MINI you may ask? Well, it's our brand new smart and compact 3D printer that comes packed with a number of cool things! It has an 18×18×18 cm build volume, 32-bit electronics, removable spring steel sheets, built-in ethernet port, affordable price and all the bells and whistles you would expect from the Original Prusa device family! It's great for newcomers, yet it's fully capable to become a 3D printing workhorse! Learn more about what kind of awesome stuff you can do with this compact device in our announcement article!
Since Tuesday, December 10th, we're shipping first batches of Original Prusa MINI 3D printers to our customers. We had a bit of delay with finalizing the firmware, but I'm happy to say that we got it into great shape and we will still manage to ship quite a lot of MINIs before Xmas. Since we were waiting only for the firmware to be finalized, we were able to manufacture the hardware in advance and then we just bundled the USB drive with the release firmware just before shipping.
Things like calibration wizard, one-click printing and object preview are in place and they will help you to get started in no time. We're pretty excited to have the object preview up and running because it improves the user experience a lot, plus… it just looks plain cool! 🙂 It's great especially in case you are scrolling through a bunch of older G-codes and you don't remember what's what. Keep in mind that you need to use the latest PrusaSlicer 2.1.1 (available at our GitHub or in our Drivers & Apps 2.2.9) to slice objects for the MINI and include the object preview in the G-code.
And you can watch me unpack, assemble and calibrate the MINI in our latest videos! 🙂
This firmware is new and I think we did very good work with user interface and user experience. But we are here to listen, so do not hesitate to let us know if you think something can be smoother or more user-friendly! We are ready to make the changes quickly and I expect that there will be new firmware released almost weekly in the first couple of months.
As we announced previously, not everything is available Day-1. I'm talking especially about network features. The good news is that we're planning to introduce a firmware update in late January/early February with a little something that we call PrusaConnect. It's essentially a web interface that gives you a great amount of control over the printer. We have a small sneak-peek for you – check out the screenshots below!
So that's going to be a big update in the very near future. As of right now, the page is still under construction as you can see below 🙂
And of course, you can expect more support for the MINI – print guides, tips, tricks, service manuals and much more. Remember to keep checking our blog and website regularly for the latest news.
We also did a last-minute tweak of the filament sensor, which was actually pretty important and I couldn't leave it out – so I decided to postpone the shipping of the sensor by two days. However, everything's back on track now and we're sending plenty of MINIs every day in every possible combination – including smooth and powder-coated sheets along with filament sensors.
In case you're still waiting for your unit to arrive, you can browse through the Assembly guide and the handbook in the meantime, so when you get the MINI, you'll know exactly what to do 🙂
Custom firmware files and warranty
Several of our customers started discussing the fact that in order to flash a custom firmware into the MINI, you have to physically break a little tab on the mainboard. Breaking this tab allows you to flash an unofficial firmware but also voids your warranty on electronics.
There are several reasons why we decided to go this way: 3D printers aren't cell phones or tablets. They are mechanical devices with high-temperature parts. And many people got used to flashing any hex firmware files they found on the internet, mainly with the intention of improving their printer's performance. And while there are proven community firmware out there, there are also many pieces of untested firmware with no guarantees of what they might do. People don't realize they could burn down their houses this way! Imagine the firmware would disable the printer's safety measures and increase the temperature of heated parts beyond their limits with the fans off. This is extremely dangerous.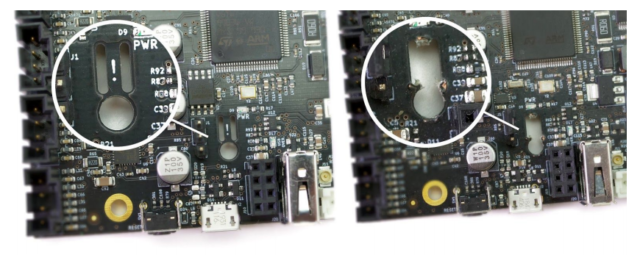 By introducing a physical fuse, the users now have to make a conscious decision before they flash a file found on the internet. By the way, the warranty terms are still the same as before – we never accepted warranty claims on printers that malfunctioned due to a problem caused by an unofficial firmware. Now, you know you're voiding your warranty beforehand because you have to break the fuse. Another thing is that the MINI is now an internet-connected device, which brings both an increased user comfort along with plenty of security headaches. And we take security very seriously.
So as you can see, this has nothing to do with the printer being open-source. We still publish all the sources on GitHub and you are still free to flash community-made firmware. Also, we plan to launch a community developer program in the upcoming months. You'll get extra resources from us and in case you break something during development, you will get new parts (no matter whether you broke the "appendix" on the mainboard). We'll publish more information soon, so stay tuned!
Ongoing support
You can rest assured that even though we're focusing on the MINI, we're not forgetting the MK3 product line (and MMU2). In fact, firmware 3.9 for the MK3S is about to enter our internal testing round – this will be a very important update because a lot of the features and bug fixes were made in cooperation with our community – it's amazing to see how the relationship keeps on growing! You should see the Release Candidate and final releases in January!
And speaking of community – you have just a few more days to enter our community contest at PrusaPrinters.org and win one of our Original Prusa i3 MK3S 3D printers. The deadline is December 18th, so there's still a good chance to still get the main prize before the holidays! And by the way, PrusaPrinters now allows uploading print files for the Original Prusa SL1 – so if you have any highly-detailed models suitable for SLA printing, share them with the rest of the community!
Happy printing!