PLA is the most used material in the world of FFF/FDM 3D printing. It's safe, easy to use and affordable. After all, our in-house made Prusament PLA is a prime example. With its Galaxy Black, Prusa Orange and Galaxy Silver variations, it is by far the most popular material in our e-shop. Since we manufacture all our filaments directly in our HQ, we have complete control over their quality and a perfect overview of the entire process. It also means we need to deal with things like plastic waste which is generated during production. We felt it would be a shame to simply dispose of it, so we started researching how to use that waste effectively to produce something useful – like more material for 3D printing! And we're excited that we can finally show you the result: the new Prusament PLA Recycled.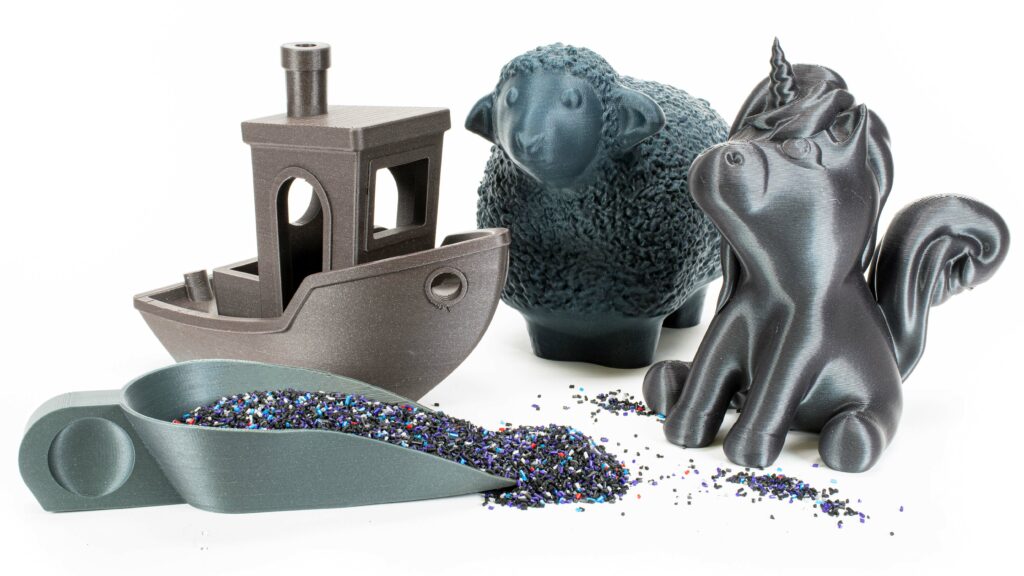 What is Prusament PLA Recycled?
We take no small pride in our filament manufacturing process. We even give you the option to inspect the manufacturing report of every single spool of Prusament you buy. Our materials have great color consistency, highly accurate diameter measured in two axes, perfect winding and more. This also means there's a very strict QA control in place. Not every spool meets our strict requirements, so there's a relatively substantial amount of waste, especially when we find an error on a nearly finished spool. Of course, we use up many of these "unsatisfactory" spools internally, so they don't go to waste. However, there are some beyond saving. And precisely these spools are used for the production of the Prusament PLA Recycled, which contains 100 % of recycled Prusament PLA materials.
There are no further additives or pigments mixed with the recycled material. Every time a new batch is produced, the filament has a completely unique color. In other words: the color of Prusament PLA Recycled is determined by the colors of filaments thrown into the mix. Currently, we offer recycled PLA on a large 2kg spool, which also means you need to upgrade your spoolholder with a new 125mm variant. You can download the updated design here (Original Prusa i3 MK3s+) and here (Original Prusa MINI+).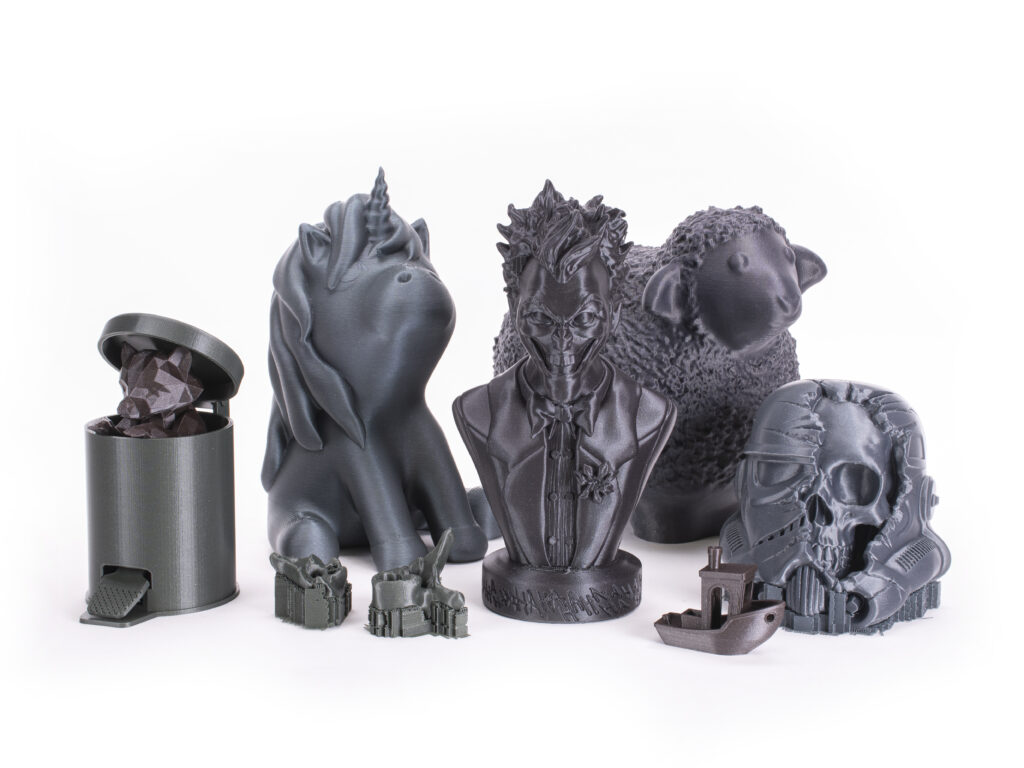 Print quality
Compared to our standard Prusament PLA, the Recycled version has a slightly higher manufacturing tolerance (±0,05 mm) and it doesn't have the perfect winding – but the filament strand is still quite nicely aligned to ensure it won't tangle up. We've been testing the new material for months and went through dozens and dozens of spools without a single hitch before we concluded that Prusament PLA Recycled can deliver compelling printing performance and it's a great and useful addition to our Prusament lineup.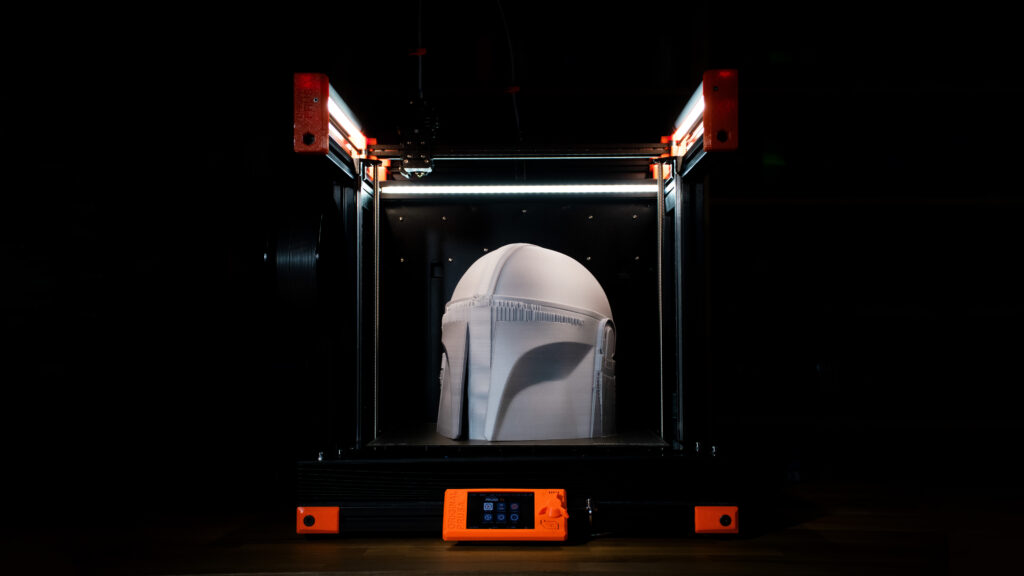 The standard Prusament PLA still delivers better results thanks to its more strict manufacturing tolerances, but if you're looking to print, e.g., large objects which will be later post-processed and painted, the 2kg spool of Prusament PLA Recycled is a great choice. You can easily cover its color with a filler spray and the 2 kilograms worth of material will ensure you won't need to switch spools during long prints. Or maybe you'll actually find out that the newly produced batch has exactly the color you've been looking for. 🙂
Also, there are no changes in PrusaSlicer configuration. You don't need to import any new profiles – simply use the proven Prusament PLA profiles. The Recycled version works with existing profiles perfectly.
New uses for recycled materials
You have probably noticed that we also minimize waste by using a smart design in our spools. The core of the spool, made from cardboard, is combined with lightweight plastic sides. We even researched spools made entirely of cardboard, but in the end it wasn't a suitable solution for us. This is why we use cardboard only for the core of the spool where it functions well. The cardboard we use is FSC certified, it is made from recycled materials and can be further recycled. It makes up to 20 percent of the total weight of the 1kg spool variant and up to 29 percent of the 2kg spool.
Iterative development, prototyping, improved designs… Those are all the main characteristics of the 3D printing industry. And our spool designs follow in the same direction. This Summer, we started manufacturing the plastic spool sides from a 100% recycled polycarbonate (PC). So if you have a fresh spool of Prusament on your desk, it's probably already made with recycled materials.
We would like to make further improvements. Polycarbonate waste is a rather common commodity which we buy from various sources to produce the sides of our spools, however, our next goal is to use waste created during the manufacturing of Prusament PETG. We want to use recycled PETG in combination with injection molding for the production of spool sides, so we have more options than just recycled polycarbonate.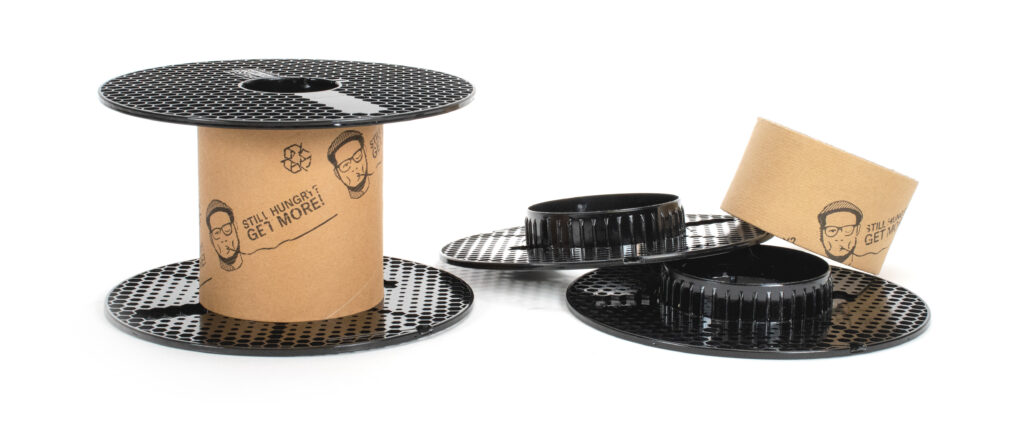 Pricing and availability
Back to our new filament! I bet you're curious about the pricing and availability. One 2kg spool of Prusament PLA Recycled is 44,99 USD / 46,99 EUR (incl. VAT), which means it's a bit cheaper than standard PLA. As for the availability – the production volume depends on the amount of waste produced. This is why the number of available spools in our e-shop will be limited. The first batch of Prusament PLA Recycled launched right now consists of 500 spools.
Be sure to let us know how you like printing with the new material – we're looking forward to your feedback!
Happy printing!