What's the best student engineering competition in the world? If you're into motorsports at all, there's only one clear answer: Formula SAE. Or Formula Student, if you're in Europe. More than 500 student teams from universities worldwide build, test, and race small Formula-like cars. Launched in 1981, the project provides a great experience and career preparation for future engineers. And it's also an ideal environment to utilize some 3D printing…
To be clear, we at Prusa Research love modern technology and support creativity and smart solutions. That's why many people here are die-hard Formula fans. And that's one of the reasons why we sponsor and support Formula 2 and 3 teams like Charouz Racing System. We are also excited about the number of  Formula Student racing teams all over Europe (teams like eForce FEE Prague Formula, Rennteam of the University of Stuttgart, and many more) that use our 3D printers. In this Prusa Story, we'd like to invite you right into the neighborhood of the legendary Leaning Tower – where the E-Team Squadra Corse of the University of Pisa develops their award-winning racing cars with a little help from the Original Prusa 3D printers.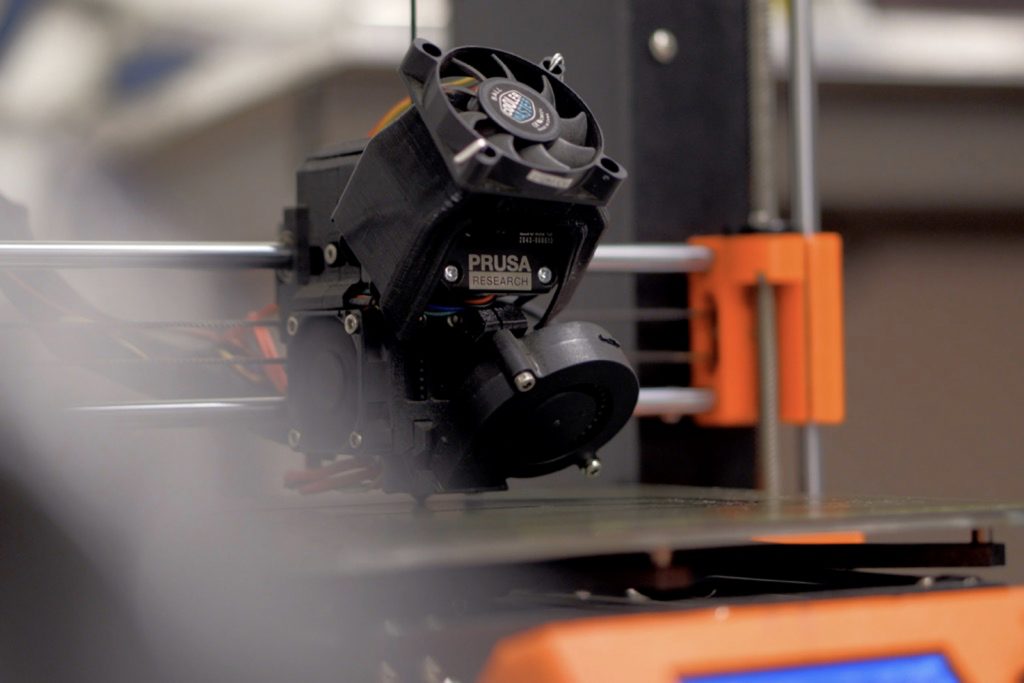 15 years on the track
E-Team Squadra Corse made its debut in 2008 at the Italian Formula SAE competition in Fiorano with the first race car "ET1" designed and built by the students. At that time, the team consisted of just 40 people, and even with a limited budget, they managed to finish an endurance test in third place out of eleven Italian teams. Today, the team has over 100 members, divided into several departments, with students taking care of everything from development and logistics to finance, business plan, and marketing.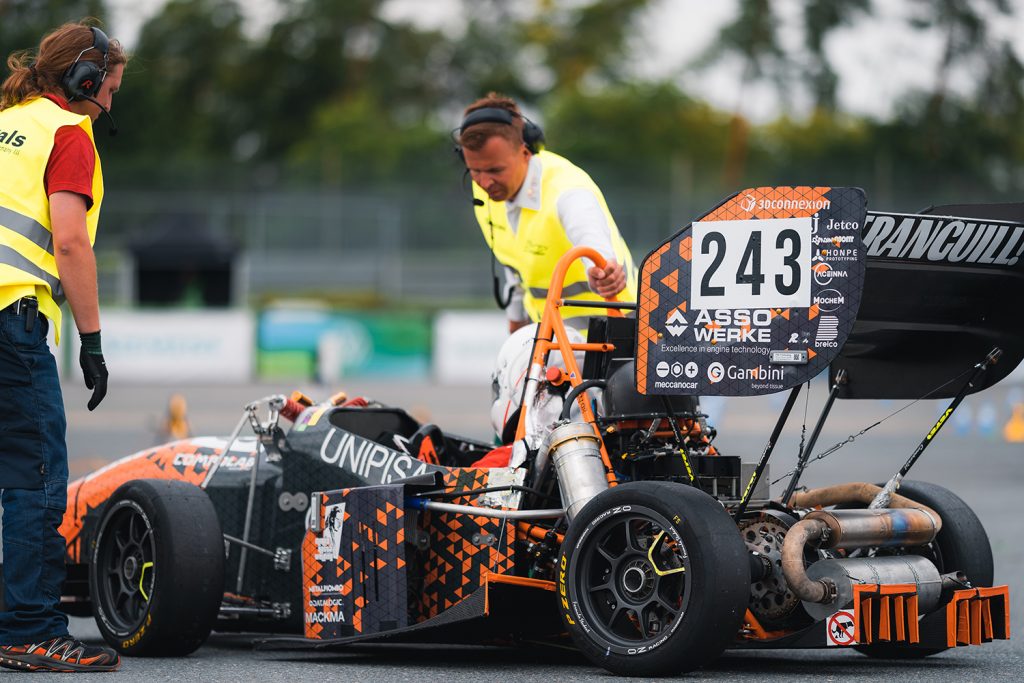 In fact, this is an important rule of Formula SAE – everything has to be done by the students – so that they can gain experience by facing the same challenges as professional teams. They must overcome numerous obstacles and then face the competition. But the reward is tempting – professional racing teams watch Formula SAE closely, always on the lookout for new talent…
But back to the E-Team Squadra Corse. Their track record brought them academic recognition, better funding, and an influx of fresh talent into the team. One of them is Andrea D'Ambrogio, the layout manager and one of the team leaders.
"The team started from scratch, but always showed great ambition," says Andrea with pride.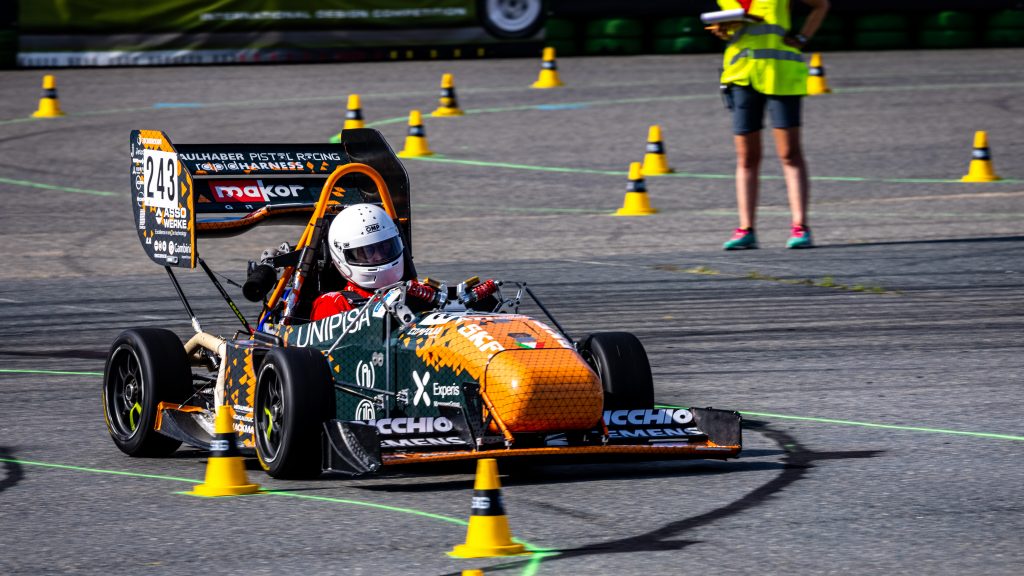 Slowly but surely, the team grew not only in numbers but also in achievements, winning awards such as Best Cost Report in Formula ATA and Formula Student Germany, Best Business Plan in Formula ATA and FSG, Best Cost Report CV and Best Design DV in Formula ATA. In 2022, they added the Erre Prize "Know How, Agility and Problem Solving" to the collection.
"In 2021 we brought two cars to the competition: Galileo with a combustion engine, and Kerubless, a driverless car and a great achievement in the development of an autonomous driving system equipped with sensors, also developed by the team," says Andrea, presenting their progress.
And their goal for this season, the team's 15th one, is to make an electric car.
What do they print?
An Original Prusa 3D printer became part of their workshop last season – and they use it a lot! One of the visible 3D printed parts are paddles for shifting gears on the steering wheel. Another, a less visible example is brackets for spacers on the car. With each part, they often experiment with the amount of infill and printing patterns.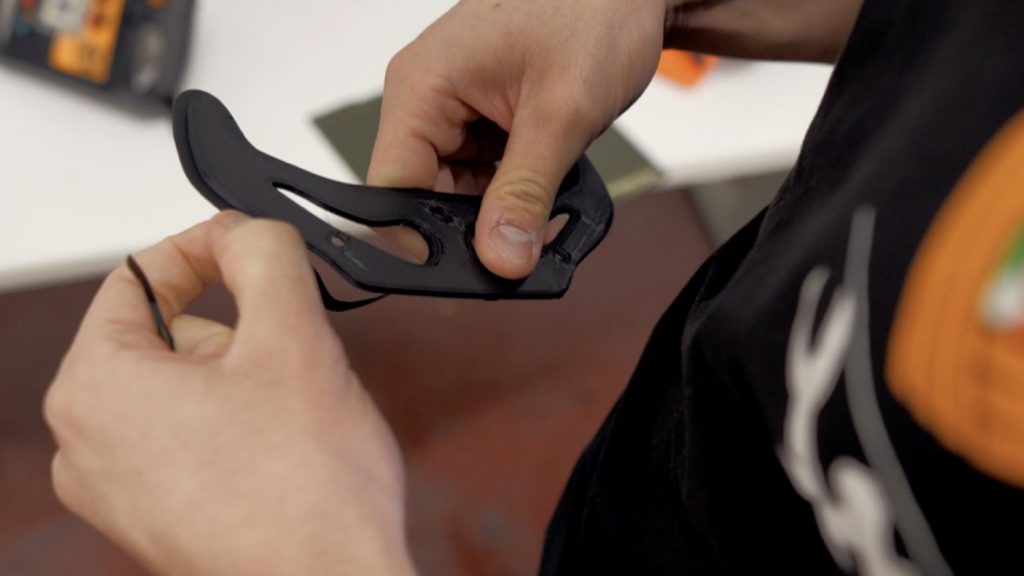 With the electric car in development and the driverless car already in competition, there will be even more 3D printing. For example, the whole geometry of the steering wheel is different for each type of car – but that's no problem when you have an original Prusa MK3S+ at your disposal. You can custom print a steering wheel tailor-made for each driver's hands.
"So far we have printed housings for electronic components, chassis fittings, brackets, spacers, and many other objects with special shapes," says Andrea.
One of the most difficult devices to design is the computing unit (PC box) for the driverless car – there are a lot of components, they have to fit into a small space, and you have to think about cooling as well… On top of that, you have to keep water out of the box. That's why E-Team Squadra Corse used a combination of metal case and 3D-printed covers. And it works beautifully!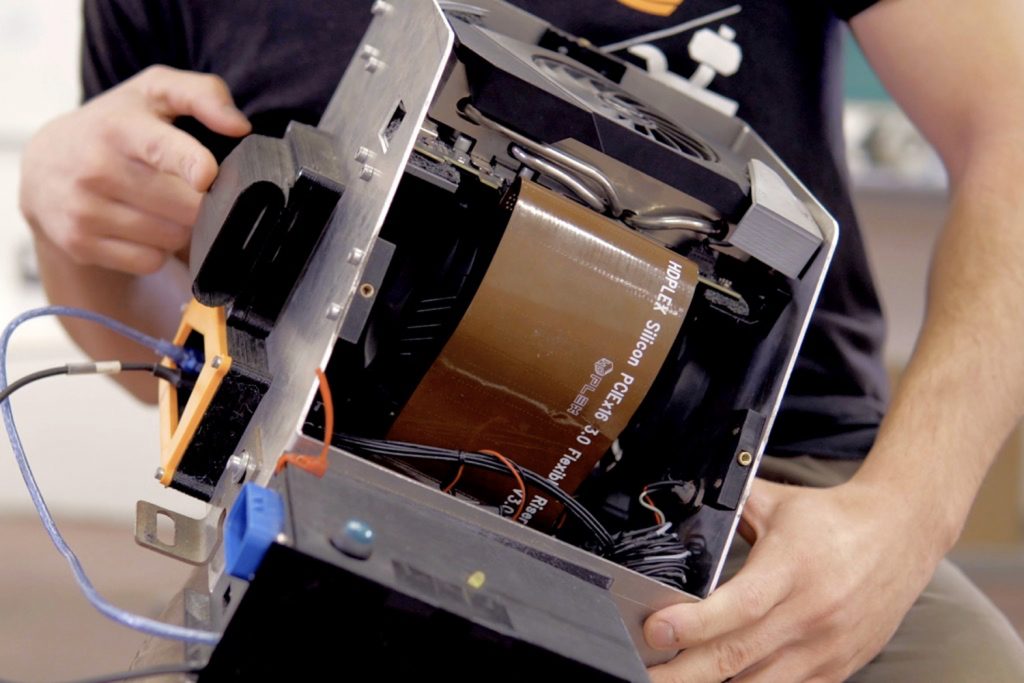 "Having a 3D printer readily available allows us to invent and customize machine components at any time, which would otherwise be much more complicated to obtain with any other manufacturing technology," says Andrea.
Biggest benefits
When asked about the benefits of 3D printing, Andrea is quick to answer:
"The limitations that 3D printing allows us to overcome are mainly the waiting time for custom components, which are often not even commercially available," says Andrea, showing us the print time calculations in PrusaSlicer. "It's hours instead of days you'd wait for a commercial product," smiles Andrea.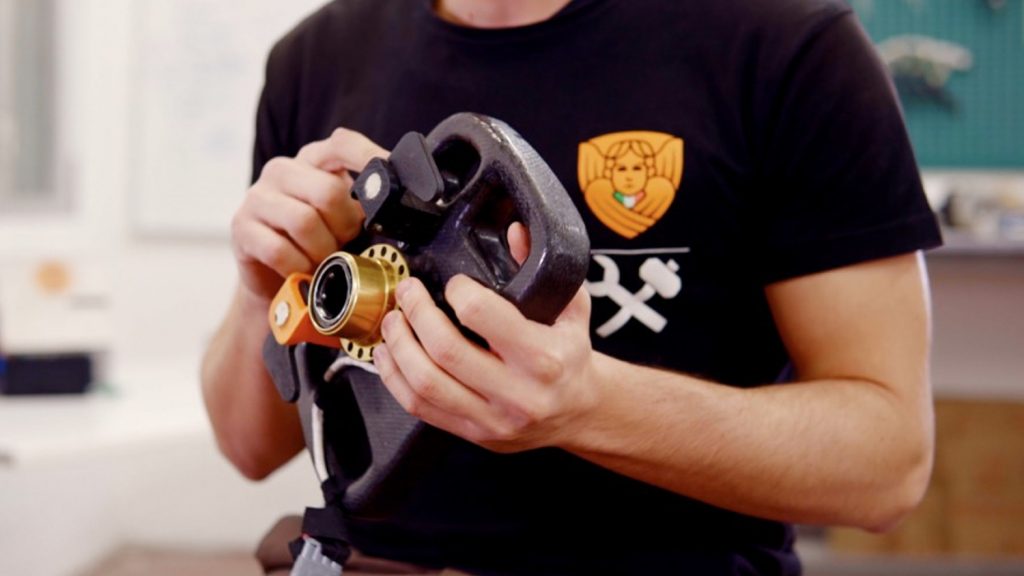 For various parts, they use several different filaments: PLA, PETG, ABS, TPU, carbon nylon, and carbon PETG. And with each application, they learn more about the materials, which helps them plan better for the following seasons.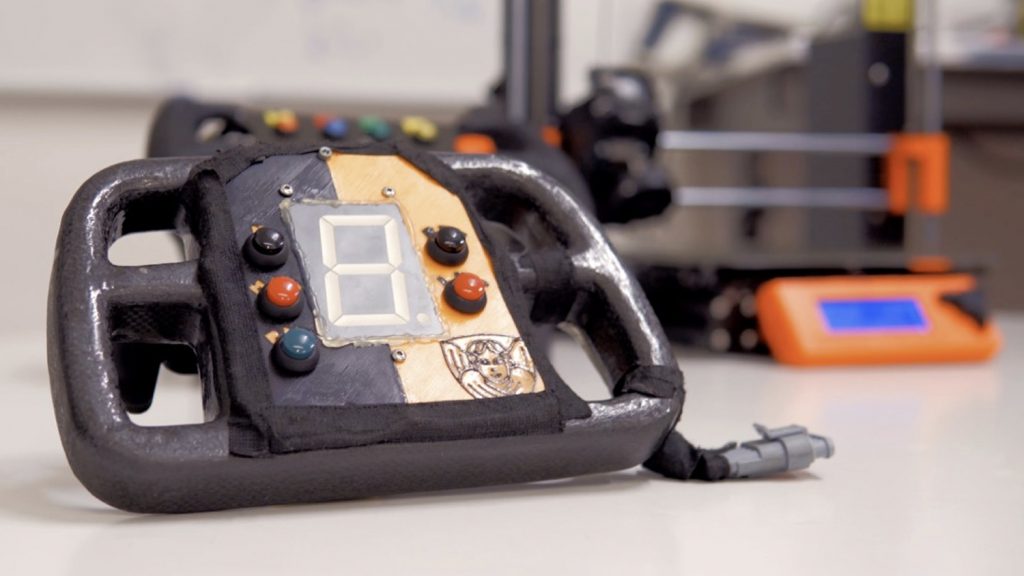 In terms of software, E-Team Squadra Corse uses SolidWorks for part design and PrusaSlicer for cutting:
"PrusaSlicer is one of the easiest and most useful software on the Internet," says Andrea. We're glad to hear that 🙂
See you on the race track!
There's a lot of excitement in the air ahead of the new season – the team can't wait to get out on the track and test all their ideas against other teams. And we're excited to see how many car parts will be 3D printed and how it will help the team compete and – fingers crossed – win!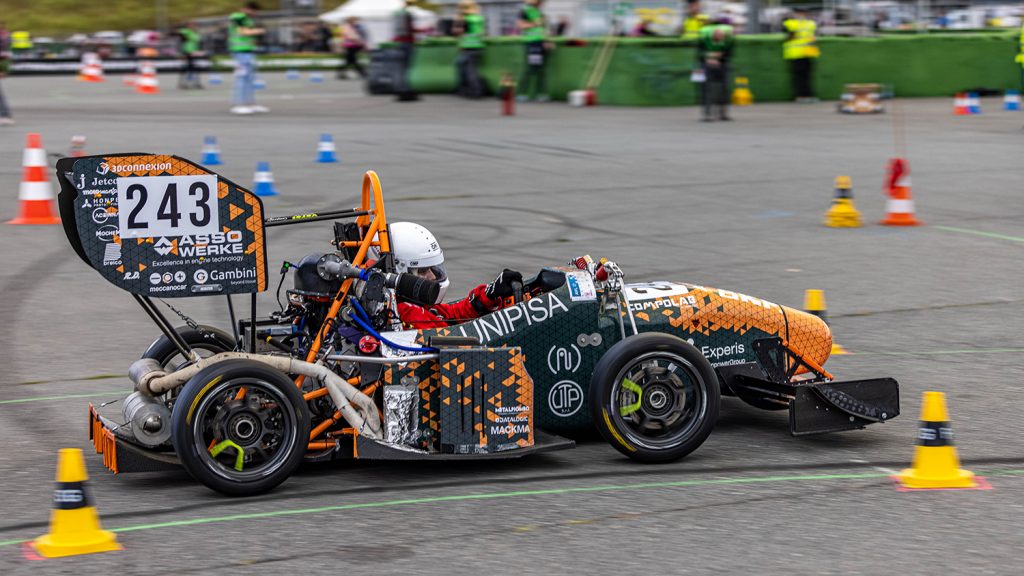 But this Prusa story already has a happy ending:
"Now that we've gotten used to having a printer ready to go, it's hard to imagine life without one," Andrea admits.
And as for the future, Andrea is very optimistic:
"Personally, I am confident in the development of this field. I hope that one day we will be able to use additive manufacturing for mass production, especially in the automotive sector," says Andrea.
Keep it going, guys!