Finding some spare time is not easy, but when I do manage to find a few quiet moments, I often spend them building a factory in a popular Czech game called Factorio. Wait a second! Does that mean I spend my free time managing another factory? Honestly, it's quite relaxing to watch how all the bits and pieces fit together to create one large functional production line. Sometimes, I joke with my colleagues about the fact that if everything worked so well in real life, things would be much easier. And actually, there are times when everything works great even in real life, not just in a simulation – Prusament, which celebrates its 3rd birthday today, is one of these examples.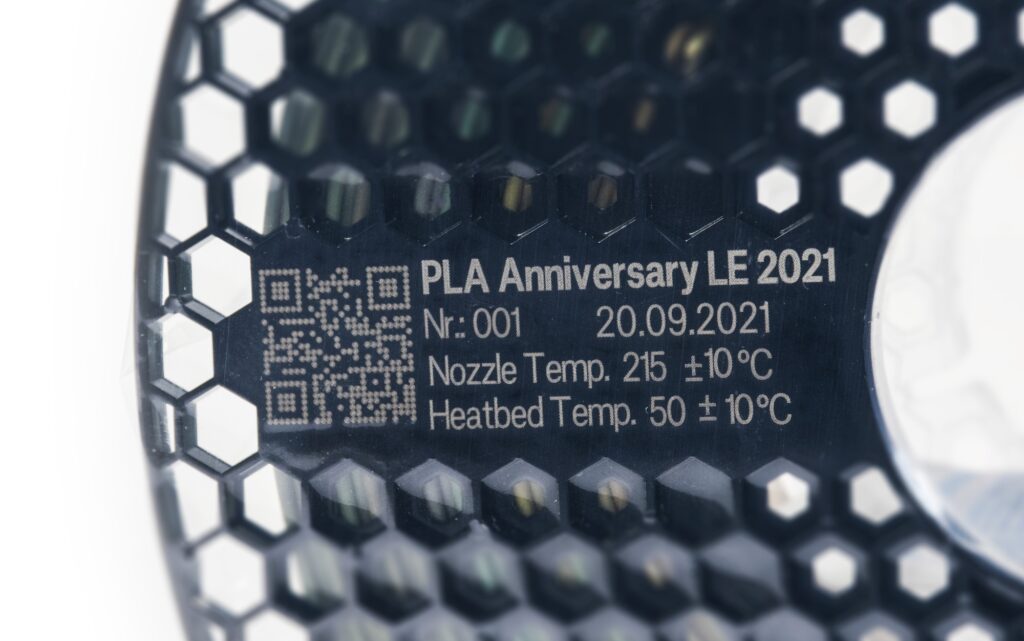 How it all started
We launched Prusament in 2018. By that time, we'd been working on it for roughly a year. It all started when we were joined by Martin Pešek (the current head of Prusa Polymers company) and his colleague Adam Pinkner. They laid down the foundations of our Prusament team, which quickly expanded to 122 people. In 2017, we also received our first extrusion line. Getting such a project off the ground wasn't easy, but the entire team had such a laser focus on their goal, we were ready to announce Prusament filaments a mere one year later. And it wasn't "just another filament."
On September 20th, 2018, we became the first (and only – even today) 3D printer manufacturer producing its own filament. Why did we start? Because we tend to make everything in-house – from hardware, electronics, software, to print settings and firmware. We had complete control over everything that affects the quality of 3D prints. Except for one thing: filament. With Prusament launched, it was no longer the case.
Prusament was an instant hit, not only because of its highly consistent properties but also because of the never-before-seen diameter tolerance of 0.02 mm and the possibility to inspect the manufacturing details of every single spool that ever left the factory. 3D printer users worldwide quickly realized that spiced-up descriptions of cheap materials may not fully translate into the real world, and became more aware of the products they buy. As many tests proved, Prusament truly is a top-quality 3D printing material.
More materials, more fun
Quality is, however, merely one aspect of Prusament's success. To make it truly universal, we needed to expand the range of colors and materials. And, of course, we did just that. 21 PLA colors, 18 PETG variations, 6 different PVB, 5 ASA, 4 PC Blends and PC Blend Carbon fiber – that's where we are today. Why not more colors? The thing is, every new color is meticulously tested before we start producing it. The cornerstone of every new material and color is a perfect masterbatch (base granulate with additives) – and we need to ensure that we will be able to produce the material with consistent properties in years to come. During the last three years, we tested over 267 different color variations for PLA and 107 for PETG – the reasons why they didn't make it to full production were either difficulties with producing the masterbatch, issues with maintaining required properties, or we simply didn't like the color.
As you can see, our development is definitely not slowing down. On the contrary! You can look forward to many awesome new products! This year, we have bought another compounding line as an addition to our current one. The one we've been using can prepare 5 kilograms (roughly 11 lbs) in an hour. The new one? 10 times more! This will help us speed up the entire process immensely.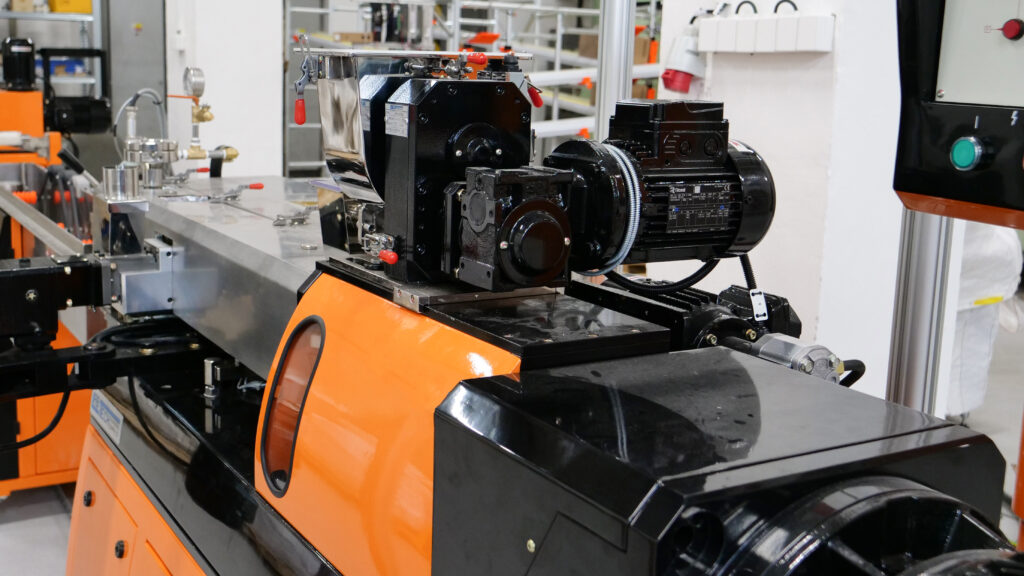 Our new compounding line
12 lines, day and night
The only major issue we had with Prusament over the years, was the stock availability – in other words: we struggled to make more spools than you order. We did our best to expand the production quickly, but everything has its limits. I guess it goes without saying that you can't buy new extrusion lines in your local hardware store, so we couldn't simply expand the production by leaps and bounds overnight. You place an order for a new production line and wait.
In total, we now have twelve production lines. The only thing keeping us from getting more is the lack of space in our current HQ. The other problem was the worldwide shortage of PLA granules. However, we're finally on the right track with enough resources not only to fully stock up all the materials, but we can go back to our long-term plan to re-stock Prusament on Amazon again. This brings me to another important point: if you occasionally see overpriced Prusament spools on Amazon, they are not ours – certain merchants buy Prusament spools from our e-shop and resell them on Amazon. It's better to order Prusament directly from us (shipping to the USA is only 12 USD for two spools and you will get the package in 2-3 days). Or wait a bit until we send a new official batch to Amazon.
What you may not know is that we also use our filament production lines to manufacture an "industrial" version of Prusaments for our own print farm where we produce plastic parts for our 3D printers. During the first year of production, we made 120 tonnes of Prusament, 300 tonnes in 2019 and 500 tonnes in 2020. And this year? We already broke last year's record – and it's only September. 🙂
Forging ahead
We continue to develop new products, not just filaments, under the Prusa Polymers brand. Thanks to our talented team-members running our special lab, we were able to start the production of Prusament Resin for SLA 3D printers and the popular satin steel sheet. We are now also in possession of two injection molding machines, which are used to produce certain parts for our 3D printers (MINI+ and SL1S SPEED) and filament spool sides. Sustainability is also important to us, so we're planning to introduce several interesting surprises soon!
Let's celebrate!
As you can see, there is a lot going on and Prusament has a very promising future. So, we thought, why not celebrate the three-year anniversary with some style? So here are the three candles on an imaginary cake:
Limited Edition Prusament PLA Anniversary 2021
Over the last three years, we received MANY requests to produce a rainbow filament. However, we found it rather difficult to produce it in large quantities and up to our standards. We can do a smaller series, though. So here it is: the PLA Anniversary 2021! We made 500 spools (each one of them will have a laser-engraved number). This is a very limited run, we don't plan to produce more of these any time soon. Every spool will be completely different, so even your 3D prints will be totally different and unique. And I have added a signed Thank-you note to every package. Prusament PLA Anniversary Limited Edition 2021 is available for purchase from our e-shop for 39 USD / EUR (VAT incl.).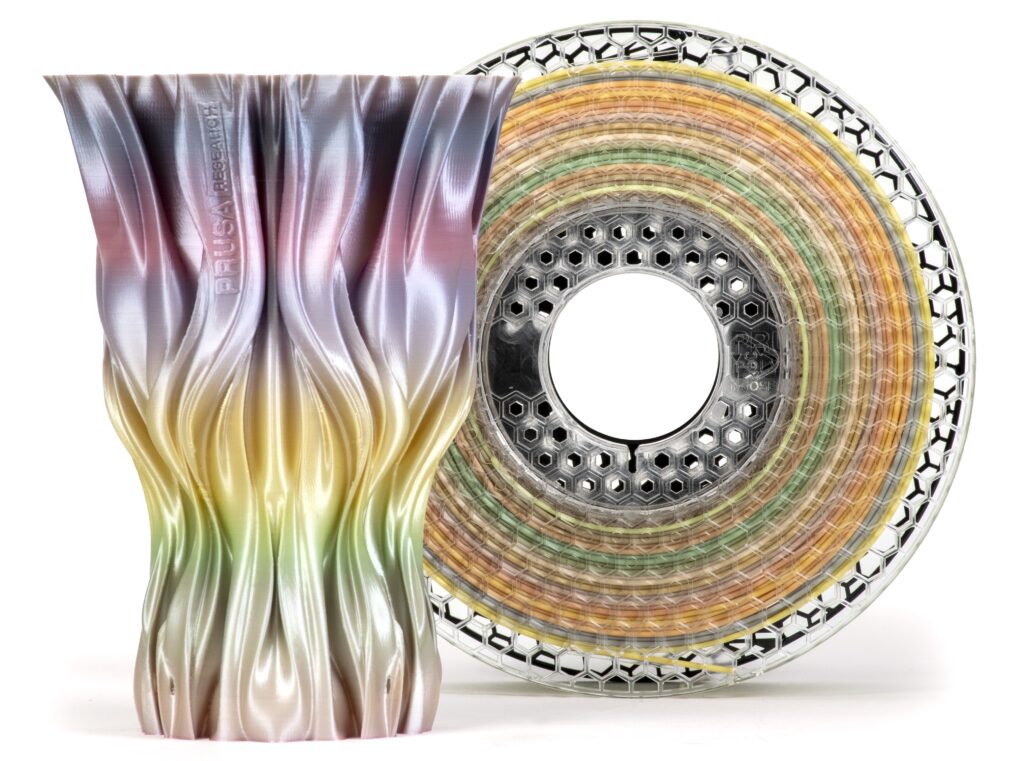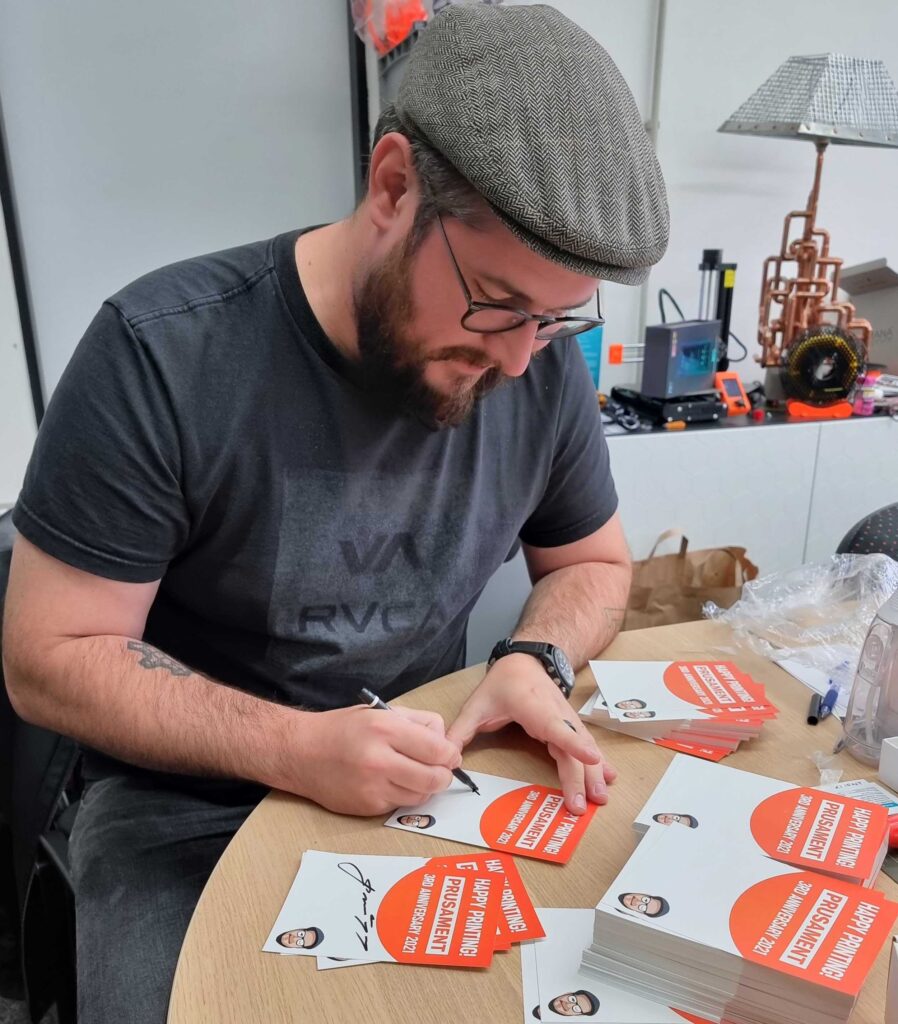 Special promo: 4 Prusament spools with every Original Prusa i3 MK3S+ till the end of September
As part of the celebration, we have also prepared a special promotion – all new Original Prusa i3 MK3S+ owners can start printing with Prusament immediately. We'll add 4 Prusament spools to every MK3S+ 3D printer (assembled printer and assembly kit) completely for free: PLA Prusa Galaxy Black, PLA Galaxy Purple, PETG Jet Black, and PETG Prusa Orange. The shipping costs for this package will be higher due to the weight, so this is why we decided to compensate for it: we will cover 50 % of the increase. In total, when counting the bundled silver PLA filament, you'll get 5 kg of filament with every new printer. Not bad, right? 🙂 The special promotion ends on September 30th, 2021 at 11.59 p.m. EST (1st October at 05:59 CET).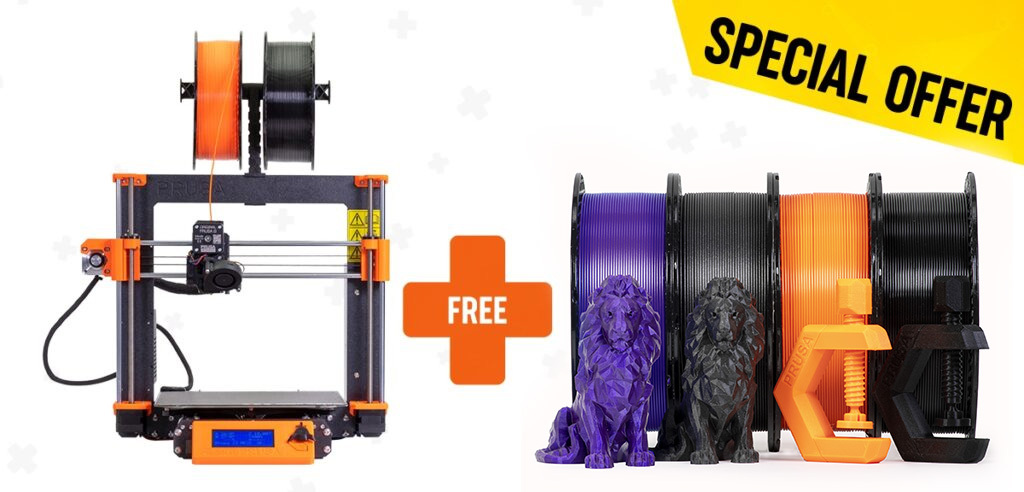 Prusament PLA and PETG packages
Due to the long-term steep price increase of PLA granulate, we had no other option but to price match our PLA with PETG at 29.99 USD/EUR. Manufacturers worldwide are making similar price adjustments and we have to take the same step. To counterbalance this change, we're introducing discounted Prusament PLA and PETG packages – also something you requested many times over the years. There are four packages so far, two for each material, and you can find the details below. They all contain five spools and thanks to the discounted price, one of the five spools is, in fact, free! This way, you can still get our most favorite PLA filaments at the original price of 25 USD/EUR per spool.
PRUSAMENT PLA BEST SELLERS PACK 4+1 FREE – buy on our e-shop
Azure Blue
Jet Black
Prusa Galaxy Black
Prusa Galaxy Silver
Vanilla White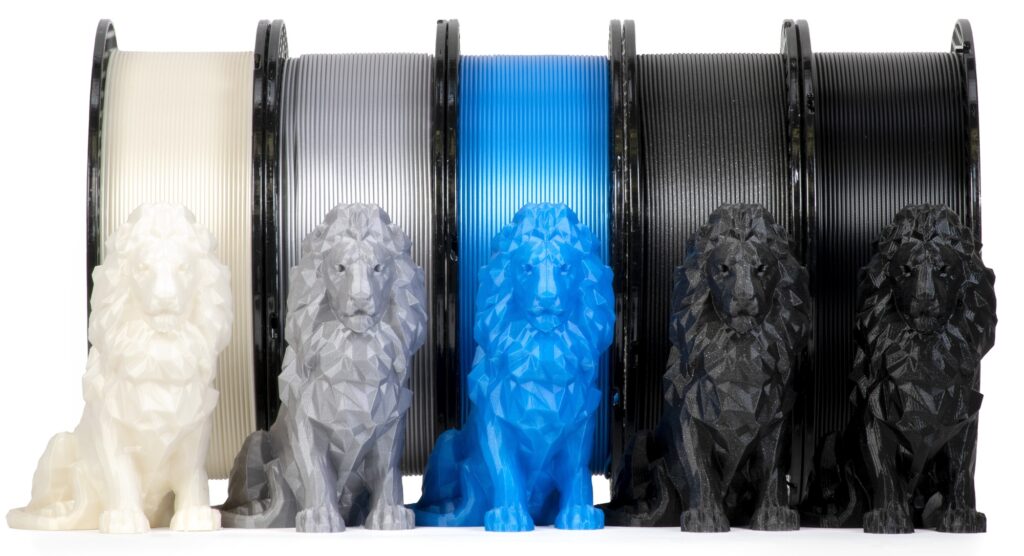 PRUSAMENT PLA EXTRAORDINARY PACK 4+1 FREE– buy on our e-shop
Lime Green
Lipstick Red
Royal Blue
Opal Green
Pineapple Yellow
PRUSAMENT PETG BEST SELLERS PACK 4+1 FREE – buy on our e-shop
Jet Black
Prusa Galaxy Black
Prusa Orange
Signal White
Urban Grey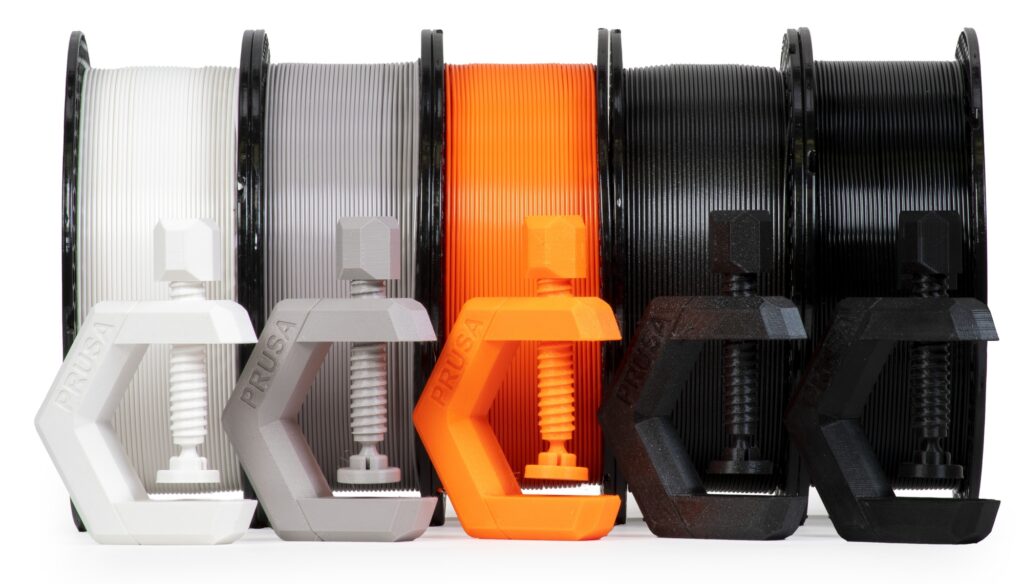 PRUSAMENT PETG EXTRAORDINARY PACK 4+1 FREE – buy on our e-shop
Jungle Green
Terracotta Light
Mango Yellow
Lipstick Red
Pistachio Green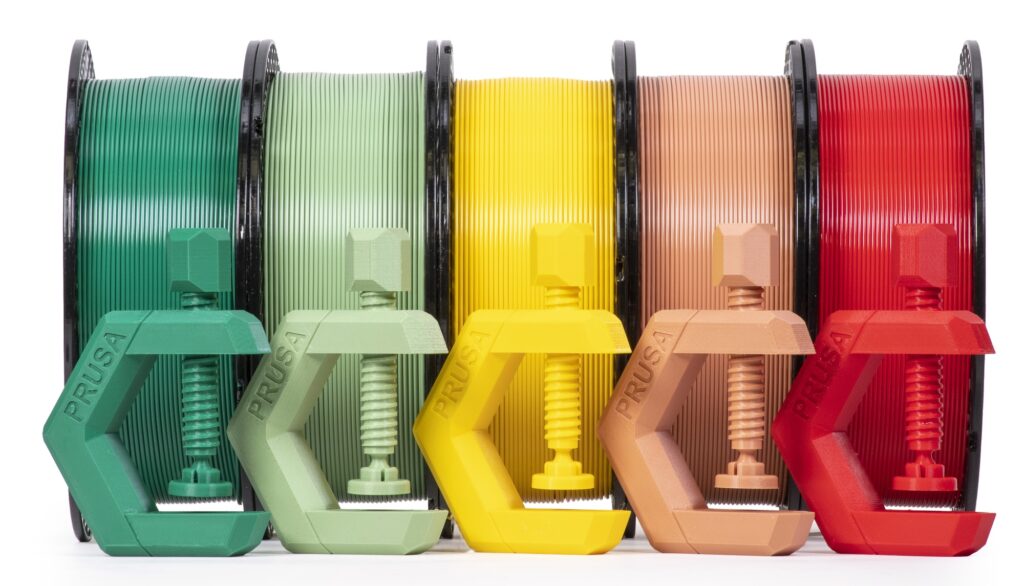 We hope that you'll find at least one of our special anniversary promotions interesting. And even if not, you can still join me in wishing Prusament and the entire Prusa Polymers team Happy Birthday! 🙂