I usually start these announcements with a bit of a backstory and some broader description. Allow me to skip all that today and give you a quick rundown of the main features of the new MK4: it's built around our new 32bit connected architecture, it has the next-generation extruder (Nextruder), it lays down a perfectly smooth first layer every time without Live Adjust Z and it has support for high-speed printing with Input Shaper and Pressure Advance. We also improved the safety features even further. Plus, there are a ton of useful things, such as quick-swap nozzles, built-in support for remote printing and webcams, and many more. And it's still beautifully quiet. And the best thing?
We already have a couple of hundred units in stock and we're ready to ship them right away! 
Yep, you read that right.
Oh, and MK3 to MK4 upgrades and kits are coming, too! And the MK3.5 and 3.9! And we have a new Multi-Material Upgrade 3! In short: The new MK4 delivers high-speed printing with ease and I can't wait to give you a deep dive into the technology that powers it! Before I do that – just a quick note: Please DO CHECK OUT the MK3.5 and MK3.9 upgrades. They give you many of the MK4's features.
Whew, where do I even start? 🙂
Chapters:
Not a single stone left unturned
The MK3 line is our greatest success with over 350.000 open-source 3D printers sold worldwide and with four consecutive "3D printer of the year" awards (and countless others). So it was pretty clear that the successor had to use the same type of frame and construction – we know it inside and out. The open construction gives you perfect access to all printer parts. Any kind of maintenance, modding, repairs, etc., is quick and easy; and there is a direct upgrade path for all MK3S/+ owners.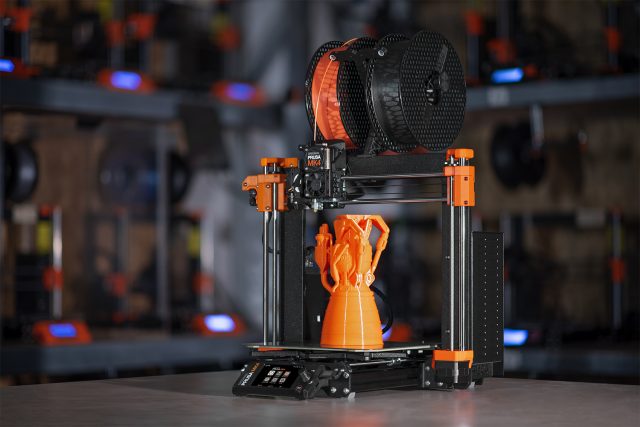 The MK3 printer design is incredibly reliable – less than 1% of all users requested a warranty claim (both assembled and kits).
However, we knew that we can push it "a little" further. We went through many iterations and since one thing often led to another, we eventually changed and improved more than 90% of the MK3S+ parts! The only things we kept the same are the Y-axis profiles, a couple of bearings, the heatbed and the power supply. Yes, even the frame is different. The cut aluminum frame we used so far is now replaced by a brand new die-cast aluminum frame (the translation previously stated "injection-molded" which is not correct). To be more specific: we're using an aluminum-based alloy that is first injected into a two-part mold. After that, the raw cast frame is cleaned from technological runners and other casting scraps, sandblasted and powder coated.
We started the development of the MK4 around the same time as the XL and many of the technologies were developed simultaneously. The development of the XL and MK4 ran in parallel and various elements (firmware, Nextruder, quick-swap nozzle system) were shared between the two machines. This is also why we could announce the MK4 so quickly after the XL – so many puzzle pieces fell into the right places recently and we finally managed to clear at least some supply chain issues. Fun fact: we've actually shown some early prototypes to selected content creators several years ago and we've been running hundreds of MK4s in the company on a daily basis for more than a year. More than a hundred MK4s accumulated over a million hours so far. Honestly, it's kind of unbelievable we could keep the MK4 under wraps for so long. 🙂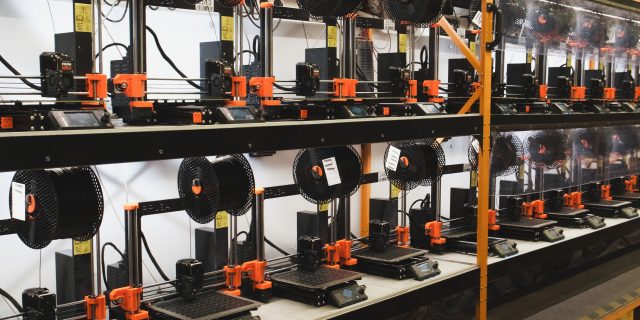 But the long internal testing period was absolutely necessary. The MK3 quickly gained the status of a 3D printing workhorse and it sort of became "normal" that you could easily go through thousands upon thousands of print hours without any serious issues and only basic maintenance. I hope you will excuse a little pat on the back of our team when I say that the MK3 set the bar very high.
PHM Racing by Charouz
We designed the MK4 with the same mindset: as an open-source 3D printing workhorse with long-term support. As always, you can expect high-quality parts, easy maintenance, reliability, advanced safety features, regular updates, flexible print sheets for easy print removal and much more. The MK4 can be operated completely offline, or you can take advantage of the optional connectivity features – it's up to you! Plus, the "usual" stuff: 24/7 tech support, hassle-free part replacement, worldwide warranty, factory-tested print profiles, new PrusaSlicer and more.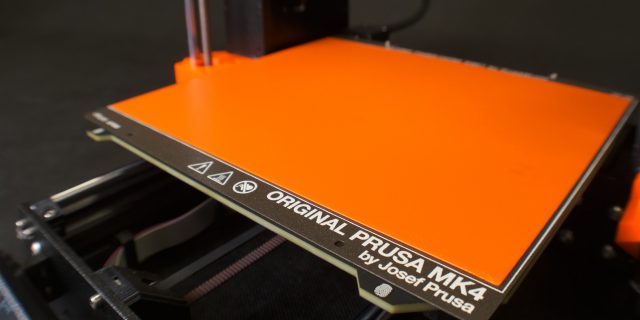 When we published a survey earlier this year, asking you what you consider to be the major features and most important aspects of a new Prusa 3D printer, it was great to see that pretty much all the boxes have been already ticked by the MK4 which was being finalized at that point. It was great to see that open-source, easy maintenance and upgradability were among the top choices. Check out the infographics below before we move forward. 😉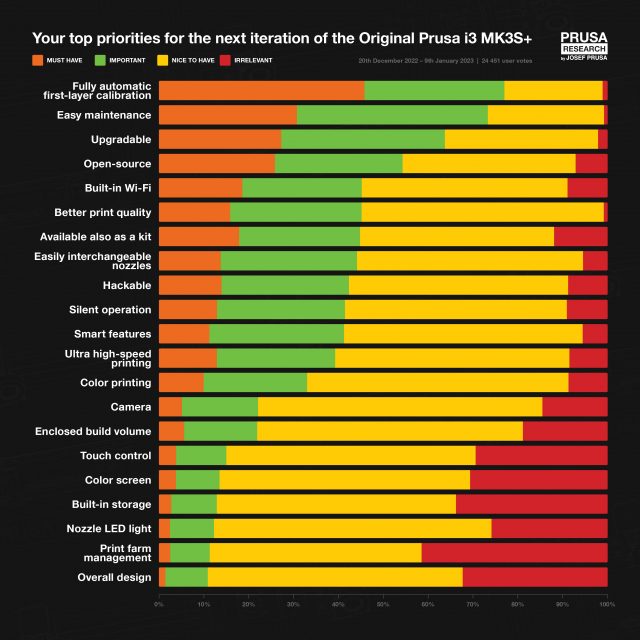 So now it's time to dig in!
What's new?
If I should point out the main things about the MK4 briefly:
Quiet high-speed printing with ease
32-bit connected architecture
Nextruder with Quick-swap nozzles
Fully automatic perfectly smooth first layer without user interaction
Dozens of hardware changes and quality-of-life improvements
The cornerstone of the MK4 is our new xBuddy board. It's a 32-bit STM32-powered mainboard with new hardware, plenty of connectors, awesome safety features, built-in ethernet, support for high-speed printing with Input Shaper and Pressure Advance and much more – I'll get into details in a bit.
The next important part is the Nextruder. I already talked extensively about the Nextruder in relation to the XL. The MK4 uses a smaller, lighter version of the Nextruder, but it has very similar capabilities to its bigger brother. It has the same Load cell sensor which is used to set the distance between the nozzle and the print sheet with incredible accuracy by measuring the tension inside the extruder. This means you can say goodbye to Live Adjust Z. Once you unpack the MK4 and run the Selftest, the printer is ready to lay down a perfect first layer. No more tweaking, no more asking whether you should move the nozzle higher or lower. So I guess we can delete like half of the handbook and a ton of guides from our Knowledge Base. 🙂 The Nextruder is also more compact than the previous model which gives the MK4 another 10 mm on the Z-axis, so the total print dimensions are 250×210×220 mm.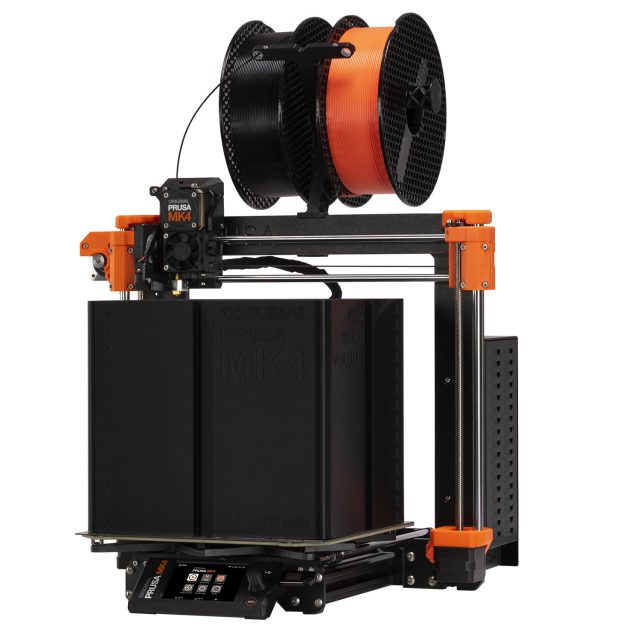 Next, we have the quick-swap nozzles. There are two thumbscrews on the side of the Nextruder. Loosen them, disconnect two cables from the electronic break-out board and you can pull out the entire hotend in a second. I think it's pretty clear from the previous lines, but let me stress how important the Load cell sensor is. Imagine a situation where you want to swap both the nozzle and the print sheet. With the MK4, you can basically release the thumbscrews, pull out the entire hotend (nozzle+heater block), install a new one in a minute, swap the print sheet and start a new print immediately – the MK4 will calibrate everything quickly and automatically at the beginning of a new print. This is a huge time saver!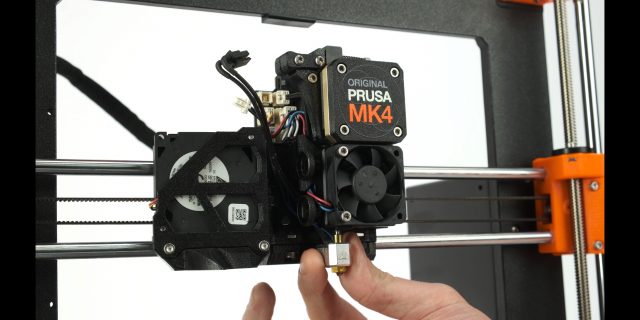 We also said goodbye to the good old segmented LCD. The new MK4 uses a graphic LCD. It supports G-code thumbnails, longer texts, graphics, QR codes and other elements that make using the printer so much easier. And we gave the MK4 a bit of a flair. 🙂 Directly under the LCD, you can find an RGB status bar – a programmable set of RGB LEDs that use various colors to signalize the current status of the printer. There is a proper USB-A port next to the display, so you can use a standard USB flash drive for storing G-Codes.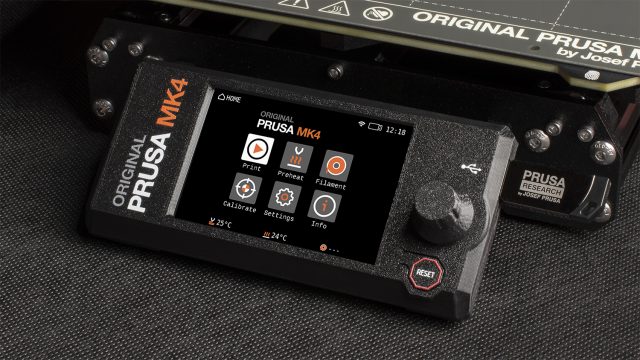 We have also redesigned all the plastic parts of the printer – to make them more robust and easier to install. The MK4 has new precise stepper motors (precise 0.9° / step; low inductance) that help eliminate VFA (Vertical Fine Artifacts), so the prints look even better now. Plus, we're using thicker 10mm rods on the Z-axis.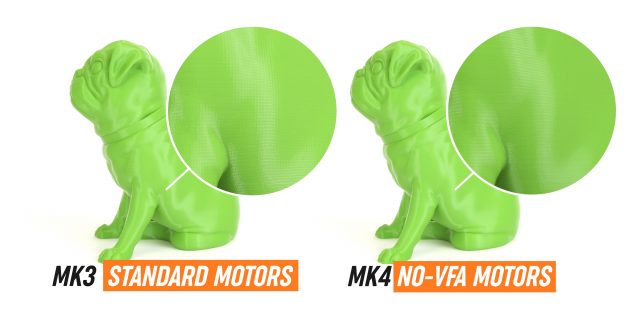 And there are dozens of other changes! Let's go over them just briefly:
Support for Multi-Material Upgrade 3 (MMU3)
New expansion joints under the heatbed that compensate for the heatbed's thermal expansion
Metal box for the electronics
New tidy cable management
Simple firmware updates from the USB drive
…and more!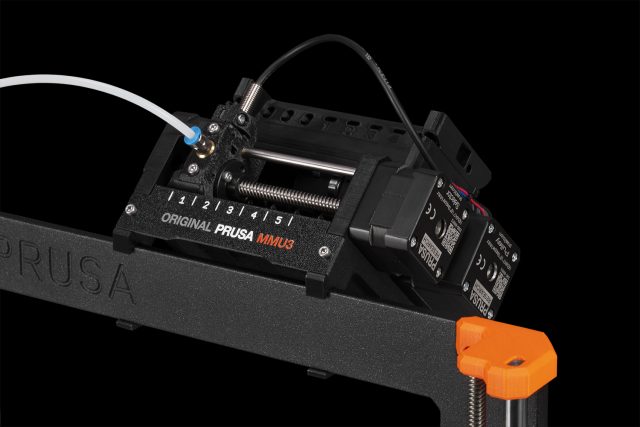 As usual, all components are submitted to rigorous testing before we ship them out!
🧵💡 I prepared another electronic assembly goodness 🍰 In our quest for ultimate quality control we invested in an X-ray It's Nordson Quadra 5 \w CT 👨‍🔬 Int the video you can see the main processor of the Original Prusa XL 😍 pic.twitter.com/zFWThxpS2T

— Josef Prusa (@josefprusa) March 17, 2023
Shipping now, kits and upgrades coming soon!
Before I jump into a detailed analysis of the technology behind the MK4, let me summarize another important subject: shipping, upgrades and lead times.
We're starting shipping the fully assembled printers first. The store page for assembly kits is live and orders will be enabled within the next two weeks. You can set up a watchdog, so you're notified once the kits are ready to be ordered. We'll publish the shipping schedule for the assembly kits once the orders are enabled. The price of the assembly kit will be 799 USD / 889 EUR (VAT incl.).
Right now, we have several hundreds of assembled MK4s in stock priced at 1099 USD / 1199 EUR (VAT incl.). Although, it's possible that by the time you reach this paragraph, they are already gone. But we have all components in stock and we're ready to manufacture several thousand units every month.
You also have the option to switch your existing XL pre-order to regular MK4 order. We understand that the XL didn't go exactly according to schedule and also when you pre-ordered the XL, you didn't know the MK4 was coming. So if you haven't switched your XL pre-order to a full order yet, you can go to the Orders section in your profile in our eshop, open the Order detail page and look for the "Switch to MK4" button. This will replace your XL preorder with a high-priority MK4 order. Because we're shipping based on the date of creation of the pre-order, your order will go to the front of the queue. Please note that this process (switching from XL to MK4) is irreversible.
Braasi Industry
If you already own the MK3S+, you will have three upgrade options, all available for ordering now. We will start shipping them in June 2023. Upgradability is a major feature of our printers and technically, you could have gradually gone all the way from the MK1 to MK4 – sure, there's not really a good reason to do that, but still, it's possible. We simply don't want you to throw away your old printer just because a newer model came out.
MK3S+ -> MK3.5 Upgrade (249 USD / 279 EUR – VAT incl.): contains the xBuddy board and new LCD, gives your MK3 the new 32-bit electronics, new connectivity options, Prusa Connect support, a new LCD screen and also Input Shaper and Pressure Advance for high-speed printing. Nextruder is not included. The complete contents of the upgrade package are described in our e-shop.
MK3S+ -> MK3.9 Upgrade (499 USD / 549 EUR – VAT incl.): contains everything from the MK4 except for the X/Y/Z motors (Nextruder motor is included). You will reuse the frame, PSU and motors from your MK3S+. And if you want, you can additionally buy the new precise MK4 motors (eliminate Vertical Fine Artifacts, 0.9° per step) and thus complete the full upgrade to MK4 later.
MK3S+ -> MK4 Upgrade (589 USD / 649 EUR – VAT incl.): this is the full upgrade that also contains the MK4's new X/Y precise motors (400 steps, 0.9°per step). It's the most expensive of all three, but last time you voiced your interest in a full MK2->MK3 upgrade pretty strongly, so we decided to give you a full MK4 upgrade as well. 🙂
Just to explain the difference between the MK3.9 and MK4 upgrade packages a bit more: the only difference is in the stepper motors. The MK4 uses higher-precision stepper motors that help eliminate VFA (Vertical Fine Artifacts) – these are tiny surface artifacts that are visible if you closely inspect a printed object. In other words, the motors in the full MK4 upgrade are the cherry on top – if you're chasing the highest possible level of quality, they will come in handy. But the MK3.9 upgrade is very close to that.
Check the Shipping FAQ at the end of this article if you have any questions regarding existing MK3S+ orders, upgrades, order updates, etc.
As usual, we'll update the shipping table in the upcoming weeks once the production stabilizes.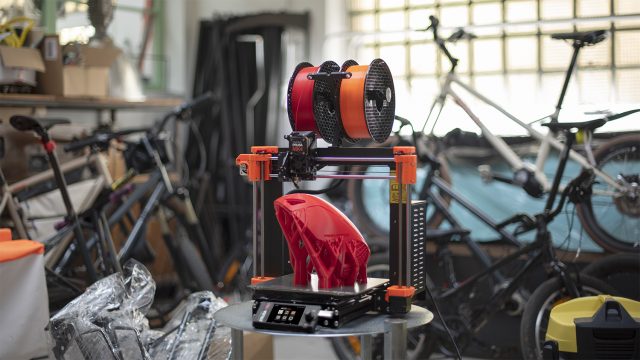 Braasi Industry
Now, if you're ready, let's take a closer look at the hardware!
Hardware in detail
As I already mentioned, the MK4 may look similar to the MK3S+, but we made an incredible number of changes under the hood. Here is a detailed description of the main things we've changed and added.
32-bit xBuddy board
It's time to say goodbye to the good old EINSY RAMBo. It's been a great piece of hardware and our firmware devs managed to squeeze out unbelievable things from it – such as the recent Thermal Model Protection system.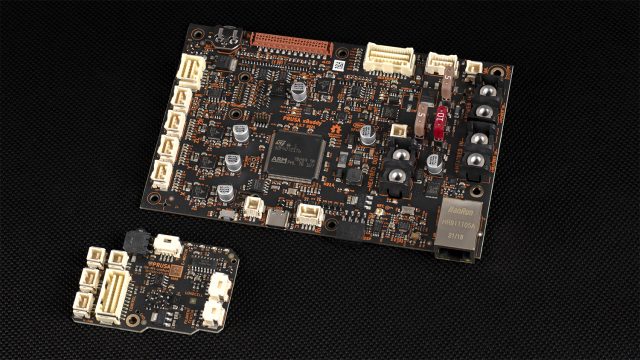 As you can probably imagine, the new 32-bit board gives us a plethora of new options. 🙂 The entire board was designed, manufactured, and tested in-house. We took everything we learned on the EINSY, brought it to the xBuddy, and added a lot of new features. Our main priority is, as always, safety and reliability. To give you an idea of what xBuddy is capable of:
Dual voltage measuring
Heater current measurement
Hardware-based protection; disconnects the hotend heater if the current goes over 2.8 A
Total input current measurement on the 24V branch
Hardware overcurrent protection and safety function that disconnects the heater and heatbed power supply when the total current exceeds 15A
Power panic (recovery from power outage)
Four thermistors (hotend, heatbreak, heatbed, ambient)
The xBuddy board features TMC2130-LA drivers and is fully equipped with many different ports:
ESP-01 Wi-Fi port (Wi-Fi module is included but optional)
Ethernet port
Service USB-C port
I2C port
Accelerometer port (unpopulated)
Multi-Material Upgrade 3 port
Nextruder port (there is only a single cable leading from the mainboard to the extruder)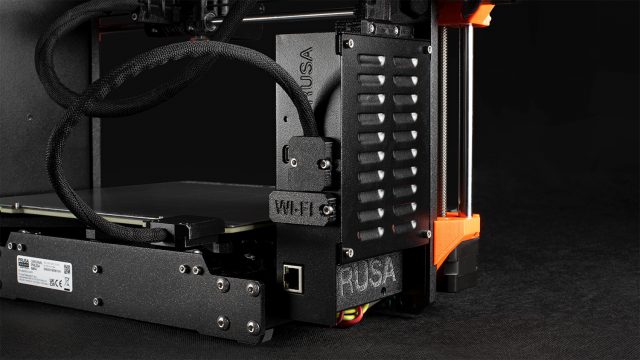 Most of these are pretty self-explanatory, however, I would like to explain the Nextruder port a bit more. All our 3D printers always had all the extruder components connected directly to the mainboard. As a result, when you needed to, e.g., replace the hotend fan, you had to take apart the zip-ties, cable sleeve, and plastic parts and then put everything back together. With the new connector break-out board (codenamed LoveBoard) inside the Nextruder, all of the components, such as fans, heaters, thermistors, etc., are all connected directly there. If you need to swap anything, it takes just a minute.
Speaking of the Nextruder…
MK4 Nextruder, an always-perfect first layer and Quick-Swap Nozzles
Our next-generation extruder, Nextruder, has been built from scratch to make it lighter and with the center of gravity closer to the X-axis.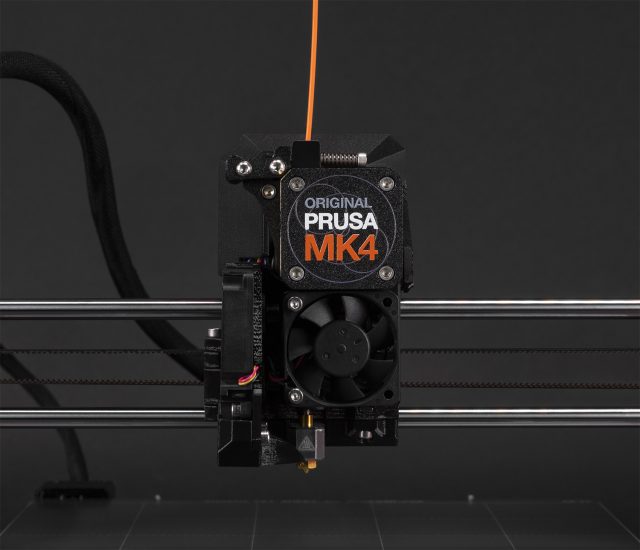 One of the most important parts is the large aluminum heatsink which doubles as the body of the Nextruder. Two quick-release thumbscrews on the side of the body hold the nozzle in place. This time, we're using special nozzles with an all-metal filament guide. This means that the entire path of the filament through the Nextruder is all-metal, no PTFE tubes anywhere. This improves the overall reliability of the printer and makes changing nozzles much faster. If you have your favorite V6-compatible nozzles, no worries – we're offering a simple Nextruder-to-V6 adapter. Once you install it, you can use any V6-compatible nozzle including hardened and high-flow models. We're, of course, offering a range of various nozzles (from 0.25 to 0.8) in our e-shop with more models coming later.
| | |
| --- | --- |
| | |
Filament is pushed into the nozzle by a large 35mm no-slip drive gear that is powered by a precise 10:1 planetary gearbox with a "pancake" stepper motor (again, to bring the center of gravity closer to the X-axis). There is, of course, a filament sensor (uses a Hall sensor) that works as you would expect: once the printer detects that it ran out of filament, it pauses the print and notifies you that it's time to switch spools. Automatic filament loading goes without saying.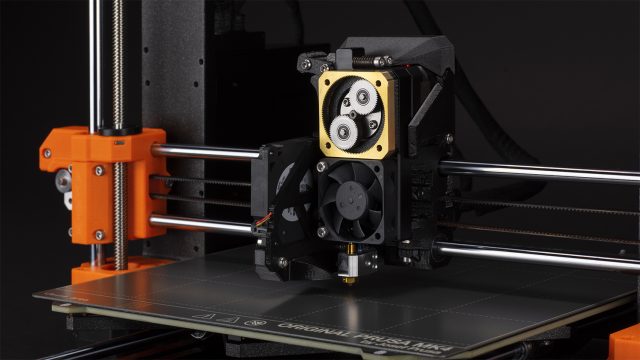 The MK4 has the same Load cell sensor as the Original Prusa XL. It's an extremely precise analog sensor that we use to lay down an absolutely perfect first layer – automatically, no interaction is required. At the beginning of a print, the MK4 taps the print sheet with the nozzle in a grid-like pattern. This way, it precisely measures the distance between the nozzle and the print sheet across the print area and calculates the correct offsets. This technology is far more precise than the old P.I.N.D.A sensor and it completely eliminates the need for Live Adjust Z. We're (not) gonna miss you, buddy 🙂 The Load cell sensor is very capable and we might be able to squeeze something more from it in future firmware updates.
And here's a nice little quality-of-life improvement: the height offset for the first layer is calibrated only in the area of the actual print, so with smaller objects, the process is faster.
Input Shaper and Pressure Advance, Benchy in 19 minutes
Input shaping and Pressure Advance are two technologies that have been causing quite a stir in recent years. They allow 3D printers to operate much faster, often decreasing total print time by up to 75 % while keeping good print quality. We understand that rapid prototyping should be rapid, so we started developing our own implementation of these technologies. Why not just port Klipper?
Originally, we used Marlin as the base for most of our firmware code – but that was many years ago. As time went by, we have rewritten nearly everything, so now there are only a few bits here and there that remain. The firmware we currently have is incredibly robust and feature-packed.
So it only made sense for us to write our own Klipper-inspired implementation of Input Shaper and Pressure Advance technologies. It's not a direct port, but rather our own solution that is written directly for the STM32 bare metal, so you won't need any additional electronics (like a Raspberry Pi). It's low-level and with the same accuracy as Klipper (which is better/more precise than Marlin). Now, I should probably explain a bit more because chances are you don't know what these terms mean.
In short: the machine can print faster. Much faster. Input Shaper is a way to eliminate resonance in prints. Since a 3D printer has moving parts (extruder and heatbed), it is prone to transferring vibrations into prints. When an extruder needs to create a sharp 90-degree corner on the object, it needs to stop in a precise spot and then the heatbed starts moving – the sudden stop of the extruder can cause vibrations (it "shakes" when it is quickly stopped in one place) which are then transferred into the printed model and manifest as a "ghosting" effect.
Input Shaper suppresses these effects by "learning" how the printer moves – this is done by placing an accelerometer in the extruder and interpreting the reported values. The MK4 doesn't have a built-in accelerometer in the Nextruder, but there's an accelerometer port on the xBuddy board. We use it to calibrate the Input Shaper and then you can use the pre-calibrated firmware without an accelerometer installed.
By using complex mathematical models, Input Shaper can "smooth out" or avoid resonances – something similar to noise-canceling headphones. Pressure Advance (or Linear Advance in Marlin firmware) is a predictive technology that is used to control the flow of the filament. It reduces under-extrusion at the start of lines or Z-changes (seams) and blobbing at the end of the line or in corners. Again, this enables faster printing with better print quality.
We are, of course, aware of the SpeedBoatRace and crazy attempts to print the Benchy in the shortest amount of time possible. While this is pretty cool and exciting, we see the biggest gains on our print farm, when we're printing a dozen of technical parts, prototypes and other functional models in 3 hours instead of 9 with the same quality.
But I don't think we could get away without showing you the Benchy. So here it is: a 19-minute Benchy using work-in-progress firmware on a preproduction bed-slinger 🙂
This Benchy was printed with the default acceleration of 8000 mm / s2 and 200 mm/s on external perimeters. These are work-in-progress numbers since we're still in the process of tweaking everything, so don't take them as final and definitive values.
One important thing: with our printers, we aim to deliver great print quality, not blobs of plastic in a record amount of time. So we'd rather extend the print time by a few minutes and have nicer prints and accurate dimensions, instead of chasing every single second. Inter-layer adhesion is extremely important, too – what is the point in printing something insanely fast when the object falls apart the moment you take it in your hand?
Since it's all still under development, it also means that Input Shaper and Pressure Advance won't be available in the shipping firmware. But I'm sure you're eager to try it as soon as possible, so we will probably soon release an alpha firmware with input shaping and Pressure Advance in a few weeks. It won't be as feature-packed as the full firmware, but you can play around with it until we merge the two branches. 🙂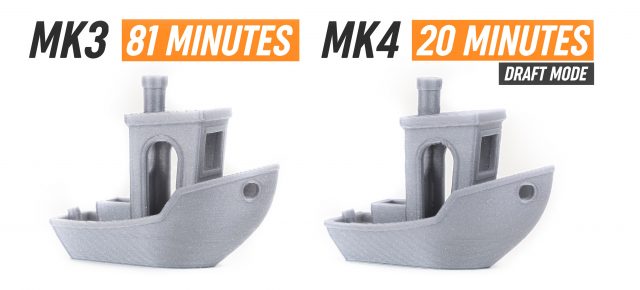 What's also amazing is that the printer is still beautifully quiet when it's running with Input Shaper on and achieving these amazing speeds.
And one last thing: if you upgrade your MK3S+ with the xBuddy board to MK3.5, you'll be able to use Input Shaper and Pressure Advance, too, with a future firmware update. We'll share more information about availability and speeds later on.
I'm sure you will have a ton of questions regarding more technical aspects of our Input Shaper and Pressure Advance like whether a calibration print will be necessary, whether you'll be able to tweak it on your own, etc. Please be patient for a bit more time, we'll share more details soon. It's time to move on to the next chapter now!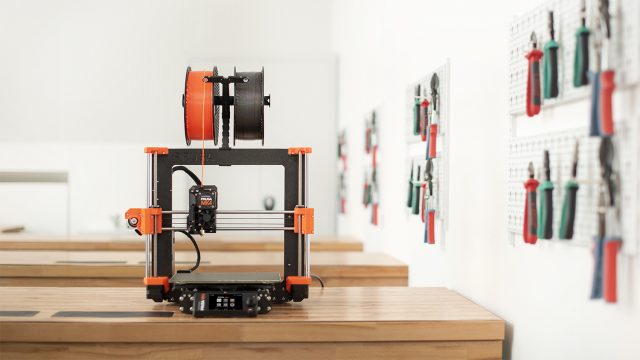 COPAG High school, Prague
Software
The release of MK4 also means the release of new firmware, PrusaSlicer and also a big update to our remote print management software – Connect.
Buddy Firmware
The firmware for MK4's xBuddy shares the codebase with the XL and the MINI+. So when we recently released the XL and published the firmware codes on Github, some of you noticed that something is a bit off in the code. 🙂
We have redesigned many of the existing menus to make access to various functions more straightforward. There is, of course, still the one-click printing feature: once you insert the USB drive with G-Codes, the printer automatically opens the latest file and you can start printing it with a single tap of the control button.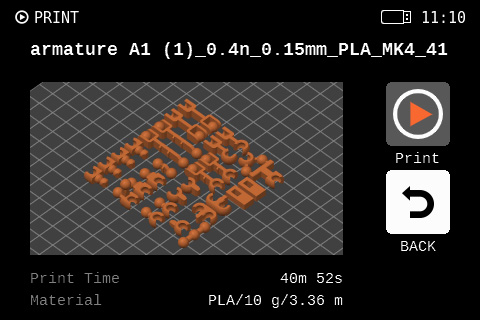 We're also giving you some new options, such as the possibility to customize the UI – you can select up to five different values in the footer of the main screen, such as temperatures, fan speeds and print speed.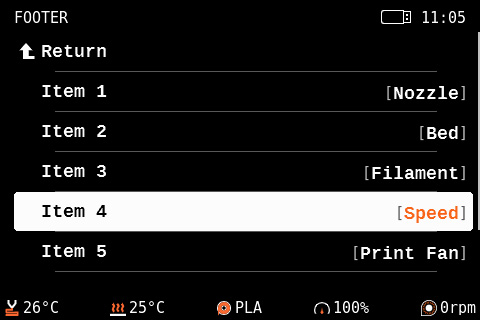 As always, you can expect regular firmware updates that will bring new features, improvements and more.
PrusaSlicer 2.5.2 and 2.6.0
The release of the MK4 is accompanied by the release of PrusaSlicer 2.5.2, our amazing open-source slicing software. It features factory-tested profiles for the MK4 and a ton of useful tools. I'm sure I don't have to introduce PrusaSlicer in too much detail, it's a truly wonderful piece of software and our devs keep inventing new features all the time – and all source codes are publicly available after every release.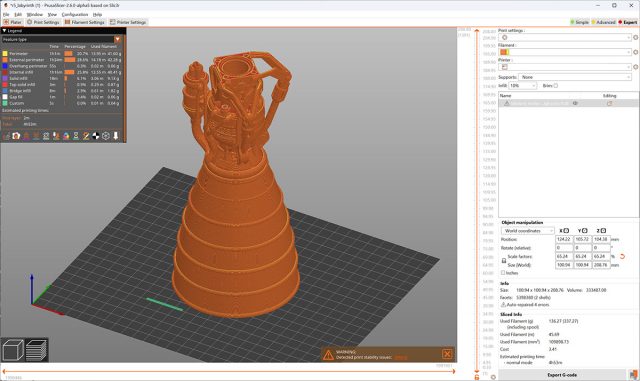 When I say that by purchasing our 3D printers, you also enable us to push the industry forward, this is precisely what I have in mind. An incredible amount of skill, effort and talent goes into every PrusaSlicer release and we still keep it free and open-source because we believe it's the right thing to do.
PrusaSlicer 2.6.0 is on the way and if you don't mind a slightly less stable (still very good, though!) alpha build, you can get it now from our Github and enjoy all the latest features, such as the awesome organic supports, new cutting tool and paint-on support options.
Prusa Connect and MK4 connectivity options
The launch of MK4 also brings a big update of Prusa Connect, our internally-developed printer management software with an encrypted connection. Its web interface gives you access to a ton of useful features.
Every 3D printer you add to Prusa Connect (currently, the MK2.5, MK3, XL and MK4 are supported) has its own dashboard with a complete overview of the machine. You can drag and drop G-Codes into the browser window to upload print files first into the cloud – each user gets 1 GB for free. Then, you can transfer the print file into the printer's USB storage and start the print remotely. All communication between the printer and Prusa Connect is encrypted with an EU-based server structure in Frankfurt, Germany.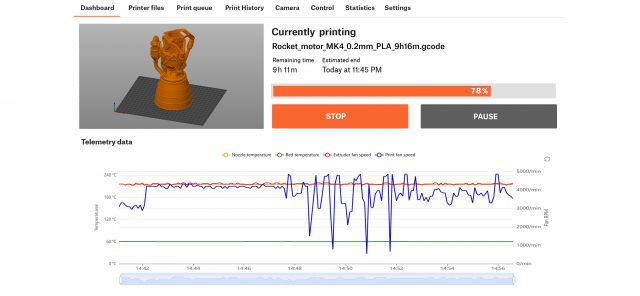 You can, of course, check the printer's statistics and telemetry data, control the axes remotely, etc. We have also added an elegant way to monitor your printer with a camera: if you have an old smartphone or tablet lying around in your drawer, you can use its camera to scan a QR code in Prusa Connect, which pairs the phone's camera with the system. You can then set up how frequently the smartphone should send a new photo of your printer.
We continue developing Connect also based on your feedback – so do let us know what you think about it! We'll also bring support for more of our printers in the future.
Multi-Material Upgrade 3
Alongside the MK4, we're also announcing the new Multi-Material Upgrade 3 or MMU3 for short! It's compatible with MK3S+ and MK4. Since the release of the MMU2S (previous model), we've been collecting your feedback and started preparing something like an MMU2S+. However, at one point, we decided to completely rewrite the firmware from scratch, redesign the plastic parts, add more robust metal parts, improve the electronics, update the filament buffer, add support for the MK4… and thus, the MMU3 was born.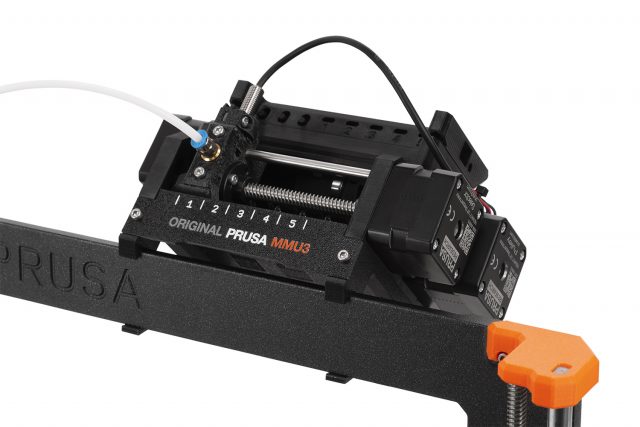 Before I jump into details: it's possible you have never heard of a Multi-Material Upgrade. It's exactly what it sounds like – it's an optional add-on that allows your single-extruder printer to print with up to 5 colors (materials) at the same time. The MMU3 contains five filament insertion points. Load the five colors of your choice, slice the object with the MMU3 profile in PrusaSlicer and start the print. The system automatically selects filament using the selector, loads it into the Nextruder and the MK4 starts printing. When it's time to change the color or material, it also happens automatically.
Every time you switch filaments, you need to purge the previous material from the nozzle to prevent cross-contamination. There are various ways to do it and the MMU3 uses an efficient "wipe tower" – it's a compact, partially hollow block next to the printed object where the "old" filament is purged and the pressure in the nozzle is stabilized. It's quite elegant solution because there's no waste around the printer. And we're offering more ways how to save filament and reduce plastic waste – PrusaSlicer gives you options for "wipe into infill" (the printed object's infill is used as a wipe tower) or you can use "wipe into object" where another object is used as a wipe tower – it will be very colorful but if you, e.g., need a functional part or you will paint it later, it's a great way to reduce plastic waste to a minimum. The only way to make the wipe tower even smaller is to use a multi-extruder setup like the Original Prusa XL with toolchanger which requires only a tiny priming tower.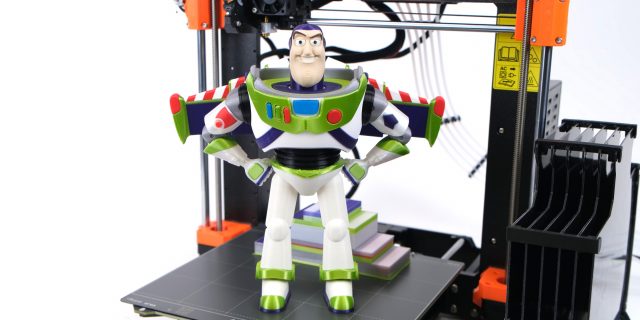 I'm especially proud of the new firmware. Our firmware guys put a ton of hours into making the MMU3 firmware on par with the rest of our lineup. When we studied the comments and suggestions regarding the MMU2S that came from our community members, it was mostly about the fact that the unit needs to be set up perfectly to reach its true potential, and that it doesn't provide enough feedback to the user – status messages, error codes, etc. We decided to change all that.
The MMU3 has full two-way communication with the printer (both MK3S+ and MK4). In case anything goes wrong, e.g., filament does not reach the nozzle during loading, the MMU3 first tries to solve the problem on its own – it will attempt to reload the filament up to three times before it notifies the user about a problem. These repeated actions actually managed to solve nearly all the problems our beta testers reported. The rest was solved by further modifications of plastic parts.
Another huge help is the fact that the MMU3 now displays proper messages and error codes on the screen of the printer, instead of using LEDs to communicate with you. The entire firmware is built on three layers – HAL (hardware abstraction layer), Modules (buttons, filament sensor, LEDs, etc.) and Application logic (actions such as cut, eject, home, etc.). The way the communication between the printer and the MMU was improved is actually pretty exciting and complex – we're preparing an extensive developer diary in which we'll cover exactly how we made the new MMU3.
So, this is a very short taste of the MMU3 and we'll get back to it in a couple of weeks in April when you will be able to order it from our e-shop (you can set up a watchdog now) along with an MMU2S->MMU3 upgrade kit. We'll start shipping the MMU3 in three months – in June 2023.
Model credits: Buzz Lightyear by ChaosCoreTech, Deadpool by Eastman, Anatomic Heart by Malte, Melting Rubik's Cube by Malte.
Enclosure
Since the MK4 has the same dimensions as the MK3S+, it also means it's fully compatible with the Original Prusa Enclosure.
If you want to print more advanced technical materials on your MK4, you'll find the Enclosure really handy. It stabilizes the printer environment, eliminates draft and odors, and makes the printer even more silent.
The Enclosure is available with a range of useful add-ons, such as a filtration system, locking mechanism and more – check out the announcement article and the Enclosure section on our e-shop.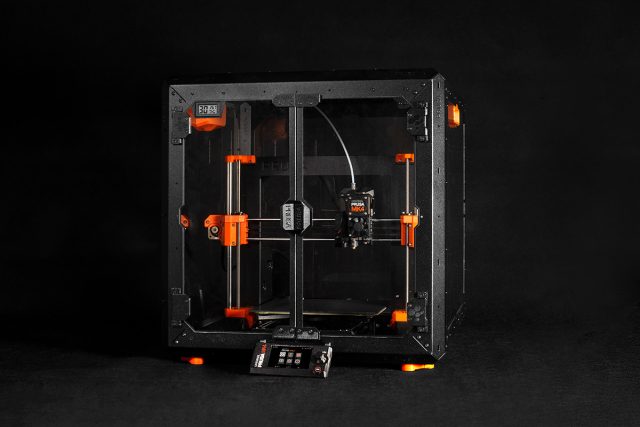 Shipping information recap, MK3S+ discount
Almost… there… 🙂 That was a lot of information squeezed into a single article! But I have a feeling this is exactly what you expect from us. Not just a generic announcement but a proper explanation of all the tech stuff.
So, just to recap:
We're starting to ship the fully assembled Original Prusa MK4 now, and the orders are live. We have (had) a couple of hundred units in stock and we're manufacturing several thousand printers every month. The price is 1099 USD / 1199 EUR (VAT incl.)
The Original Prusa MK4 assembly kit will be available for ordering within two weeks (you can set up a watchdog now) and we'll announce the shipping schedule at that point. The price is 799 USD / 889 EUR (VAT incl.)
Multi-Material Upgrade 3 and MMU2->MMU3 upgrade kit will be available for ordering within two weeks (you can set up a watchdog now), and shipping will start in June 2023.
Also, we have decided to lower the price of the MK3S+! The new prices are:
Assembly kit: 649 USD / 719 EUR (VAT incl.)
Fully assembled printer: 899 USD / 999 EUR (VAT incl.)
We'll keep the MK3S+ in our eshop as long as the demand remains. It's still a great choice, a true 3D-printing workhorse and you can upgrade it later if you want. 😉
So, that's all the news I have for you right now. But there is, actually, one more thing. It's something that has been worrying me as of late – it's the state of the 3D printing industry and open-source. I have recently published an article where I'm sharing my concerns and my views of the current situation – I would very much appreciate it if you could read it and share your thoughts.
The entire team put so much effort and so much work into the MK4 and I'm truly excited that we could present the MK4 to you after all these years of development!
And as always, it doesn't end for us with the release. We'll keep supporting the MK4 as long as we can. The MK3 has received more than 30 firmware updates and two major hardware upgrades during its lifespan. The latest firmware updates (Thermal Model protection) being only a couple of weeks old.
So here's to our newest addition to our family, the Original Prusa MK4!
Happy printing!
| | |
| --- | --- |
| Build volume | 250 x 210 x 220 mm | 9.84 x 8.3 x 8.6 in |
| Layer height | 0.05-0.30 mm |
| Max hotend/heatbed temp. | 300 °C / 120 °C (572 °F / 248 °F) |
| Mainboard | Custom 32-bit xBuddy electronics with STM32 |
| Stepper Drivers | Trinamic 2130 silent stepper drivers |
| Stepper Motors | 400 steps (prevents VFA) |
| MMU3 support | Yes |
| Extruder electronics | Custom breakout board for connecting fans, thermistors and other parts. |
| Filament path | Aluminum heatsink, all-metal hotend, no PTFE tube |
| Drive system | Planetary Gear System, 1:10 gearbox ratio |
| First layer calibration | Automatic thanks to the Load Cell sensor |
| Nozzle diameter | 0.4mm (default) / other nozzle diameters supported |
| Quick-Swap nozzle system | Yes |
| LCD screen | 3.5″ graphic 65k color screen |
| Print surface | magnetic heatbed with removable PEI spring steel sheets |
| Bed calibration | Automatic, Mesh Bed Leveling (only on print area) |
| One-click printing | Yes |
| Status LEDs | Yes |
| Input shaper | Yes |
| Linear Advance | Yes |
| Supported materials | Any thermoplastic including Nylon and Polycarbonate |
| Filament sensor | Yes (built-in Hall sensor) |
| Power panic | Yes |
| Ethernet connection | Yes |
| Wi-Fi connection | Optional ESP Wi-Fi module (delivered with the printer) |
| Prusa Link | Integrated |
| Load cell sensor | Yes |
| Advanced sensors | 4 high-precision thermistors (genuine Semitec) + fan motors RPM monitoring |
| Print medium | USB drive / LAN / internet via Prusa Connect |
| Firmware update interface | USB drive |
| Power supply | 240W, custom made by Delta with Power Panic HW |
| Kit price | 799 USD / 889 EUR (VAT incl.) |
| Assembled printer price | 1099 USD / 1199 EUR (VAT incl.) |
Technical / Hardware FAQ:
Q: When will you send review units?
A: In April
Q: Which print sheets are available?
A: The MK4 is compatible with the same double-sided spring steel print sheets as the MK3 – Smooth PEI, Satin, Textured PEI (Powder-Coated) and PA Nylon sheet
Q: What's gonna happen with the MK3S+?
A: We'll keep selling the MK3S+ for a lower price. Spare parts will be held in stock.
Q: Is the quick-swap nozzle system the Revo? Is it compatible with Revo / Hemera?
A: We're using a different (custom) design
Q: Is the MK4 compatible with third-party nozzles?
A: When you install the Nextruder-to-V6 adapter, you can install any V6-compatible nozzle
Q: What are the max printing speeds with Input Shaper?
A: We're in the process of adjusting and fine-tuning the system. Giving away any exact numbers right now could be counterproductive in the long run. Check the Input Shaper section to learn more about it.
Q: Is there an accelerometer inside the Nextruder?
A: No, but there is a free accelerometer port on the xBuddy board. We're using it to calibrate Input Shaper.
Q: Is there a Dwarf board (from the XL) in the Nextruder?
A: No, the MK4 uses a different, smaller, connector break-out board, codenamed LoveBoard. It contains only connectors, not Trinamic drivers.
Q: Does the MK4 have a touchscreen?
A: HMMMMMMMMMMMMMMMMMMMMMMM…
Q: Does the MK4 come with a Wi-Fi module?
A: Yes, the Wi-Fi module is a default option, but you can operate the MK4 in offline mode
Q: Do I need internet access to set up and run the printer?
A: No, the MK4 is offline-ready. No apps, no registrations.
Q: Is the MK4 compatible with MK3 print sheets?
A: Yes, fully compatible.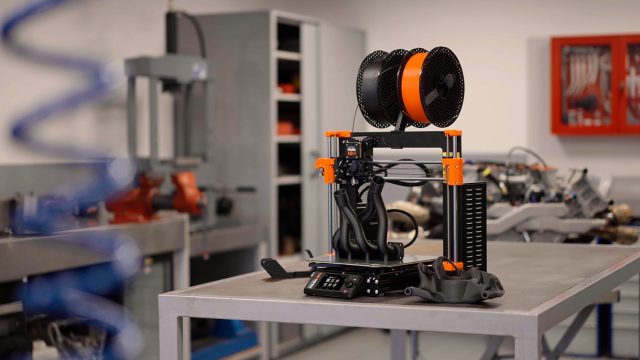 Shipping / Ordering FAQ
Q: I just ordered an MK3S+ and the order is not yet fulfilled or shipped. Can I update it to MK4?
A: The easiest way is to cancel your MK3S+ order and make a new one for MK4.
Q: I have just received my MK3S+ and now it is cheaper. Is there something you can do for me?
A: If your MK3 was ordered and paid within the 30 days before this announcement, you will receive a voucher that compensates you for the price difference between MK3S+ now and then (e.g., if you have an order in USD, you will get a 150 USD voucher per kit and a 200 USD voucher per assembled printer, and so on…). You will get these vouchers via e-mail by the end of this week.
Q: I have a preorder for XL. Can I switch it to MK4?
A: Yes. You can log into your e-shop account, go to Order detail and look for "Switch to MK4" button next to your XL preorder. This will replace your existing XL preorder with a high-priority MK4 order – this action is irreversible. See the next question regarding shipping speed.
Q: If I switch my XL pre-order to MK4, how fast will I get it?
A: We'll give your order a high priority. We're shipping the printers based on the date when the pre-order was created, so you will jump to the top of the list. The delivery time depends on whether you'll choose the assembled printer (shipping now) or assembly kit.
Q: I want to order an MK4 and MMU3 – what is the fastest way to get them? (MK4 now, MMU3 later?)
A: The fastest way is to buy the assembled MK4 now and then buy MMU3 separately when it becomes available.
Q: When will MK4 be available at Printed Solid?
A: Yes, at a later time.