It's been a year since we released Prusament PC Blend so we thought it was a great time to introduce a new member to the PC Blend family. Here comes the Prusament PC Blend Carbon Fiber! Thanks to its great mechanical and temperature resistance, it works amazingly well for printing various engineering components. Let's have a look at its best qualities.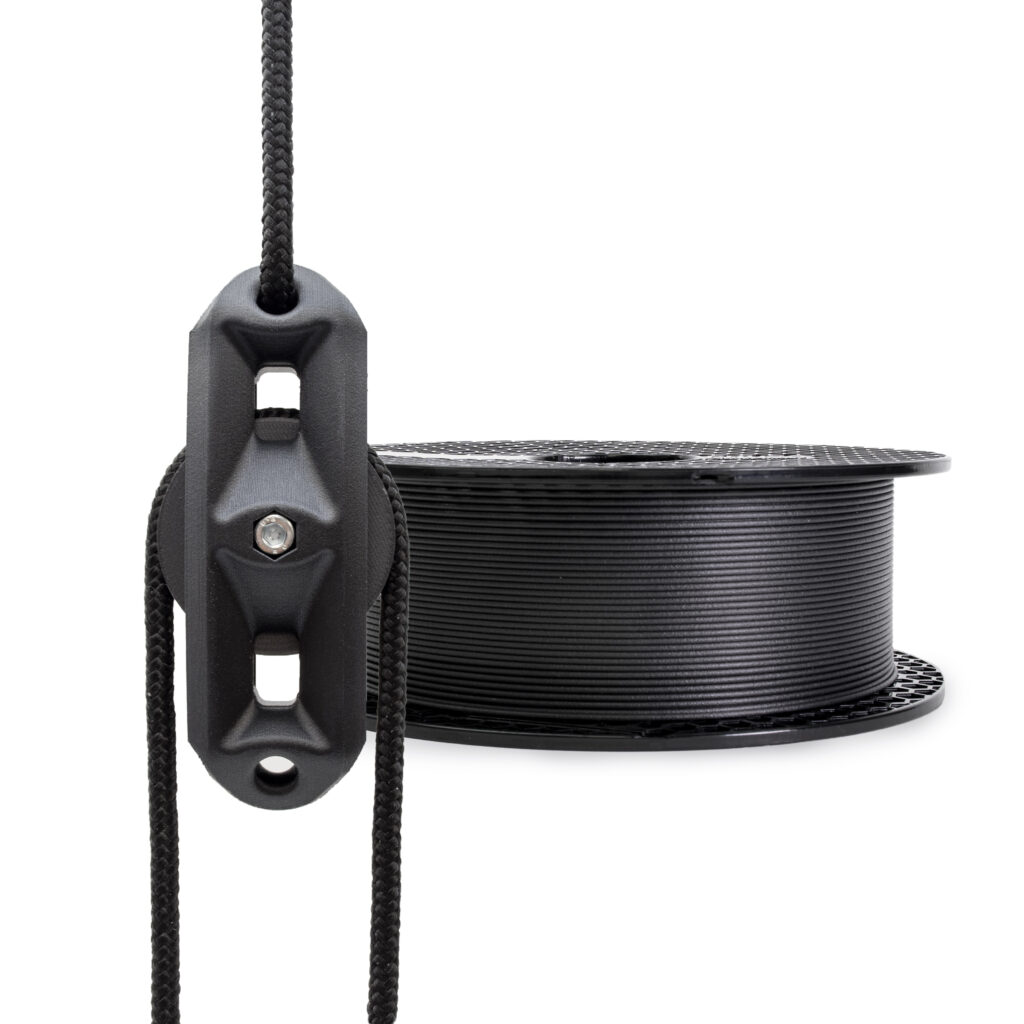 Specification
PCCF (Prusament PC Blend Carbon Fiber) has similar printing qualities to unmodified PC Blend but the addition of the carbon fibers makes it even stronger, more resilient, more temperature resistant, and dimensionally stable. Compared to other materials, PCCF has good resistance to UV light and common chemicals.
PCCF is slightly lighter than unmodified PC Blend, with approximately a 5% difference. Carbon fibers inside the filament are made by recycling waste from the carbon fiber composite manufacturing process or from carbon composites after the end of their lifespan. PCCF is ideal for printing mechanical parts and heat-stressed components, for example, gears and machine parts requiring heat resistance over 100°C.
Probably the greatest advantage of PCCF, compared to PC Blend, is the possibility of printing large models without the necessity of using an enclosure due to it's extremely low warp, even less than its PC Blend sibling. For those looking for a matte finish, PCCF will find a welcome home.

Broken PCCF test object with visible carbon fibers seen under the electron microscope
Like any other material, PCCF also comes with few downsides. The main disadvantage is the necessity of using a hardened steel nozzle. Carbon fibers are highly abrasive material and may damage a brass nozzle. Another disadvantage is that the filament is more prone to breaking (i.e. lower charpy impact toughness).
The third disadvantage is the slightly higher price per kilogram of material, due to a more difficult manufacturing process we sell PCCF for a higher price than the unmodified PC Blend, with 800 grams of filament on a spool. However, due to the lower density of the filament, you'll still get slightly more filament than you'd get with 800 grams of unmodified PC Blend.
Pros and cons
Pros
Great mechanical properties (strong and resilient)
High heat deflection temperature (114 °C)
Easy annealing (increases the HDT to 130 °C)
Dimensional stability – easy to print large models
High wear resistance
Good resistance to UV light and common solvents
Nice, professionally-looking matte surface
Lighter than pure Prusament PC Blend
The enclosure is not needed
No need for drying prior to printing
Reusing recycled carbon fibers taken from the manufacturing process
Cons
The necessity of using a hardened steel nozzle (highly abrasive)
Lower impact resistance compared to the pure Prusament PC Blend
Higher price
Lower precision tolerance (0.04 mm)
Keep in mind that the stated precision of the PCCF filament thickness is slightly lower  – this is because the filament strand is rough due to the carbon fibers embeded in it. However, due to the homogenous surface, the overall filament volume remains as precise as possible.
Color and price
Similar to the legendary Ford Model T, you can have Prusament PC Blend Carbon Fiber in any color, as long as it's black 🙂 However, we think the matte black finish (i.e. natural look of the carbon fibers in the filament) results in an extraordinary, professional appearance which more than makes up for the lack of color choice.
We sell one 800g spool of Prusament PC Blend Carbon Fiber for 59.99 USD / 59.99 EUR (VAT incl.). The price per kilogram is therefore higher, but as mentioned above, thanks to the lower density of PCCF you'll get slightly longer filament than with the same weight of PC Blend.
Print with hardened nozzles
The biggest disadvantage – and yet more like an inconvenience rather than a real disadvantage – is the necessity of printing with a hardened nozzle. If you haven't used any abrasive materials yet, don't forget to buy a hardened steel nozzle with your PCCF spool. Regular brass nozzles might wear out and cause trouble in the future.
Print surface preparation
The material name gives a hint on how to treat it – it's Prusament PC Blend enriched with carbon fibers. This means that print surface preparation is similar to the unmodified PC Blend: When printing on the smooth PEI sheet, ALWAYS use a glue stick to prevent any damage. Unlike Prusament PC Blend, PCCF doesn't need a separation layer (glue stick) for our classic Powder-coated and Satin sheets.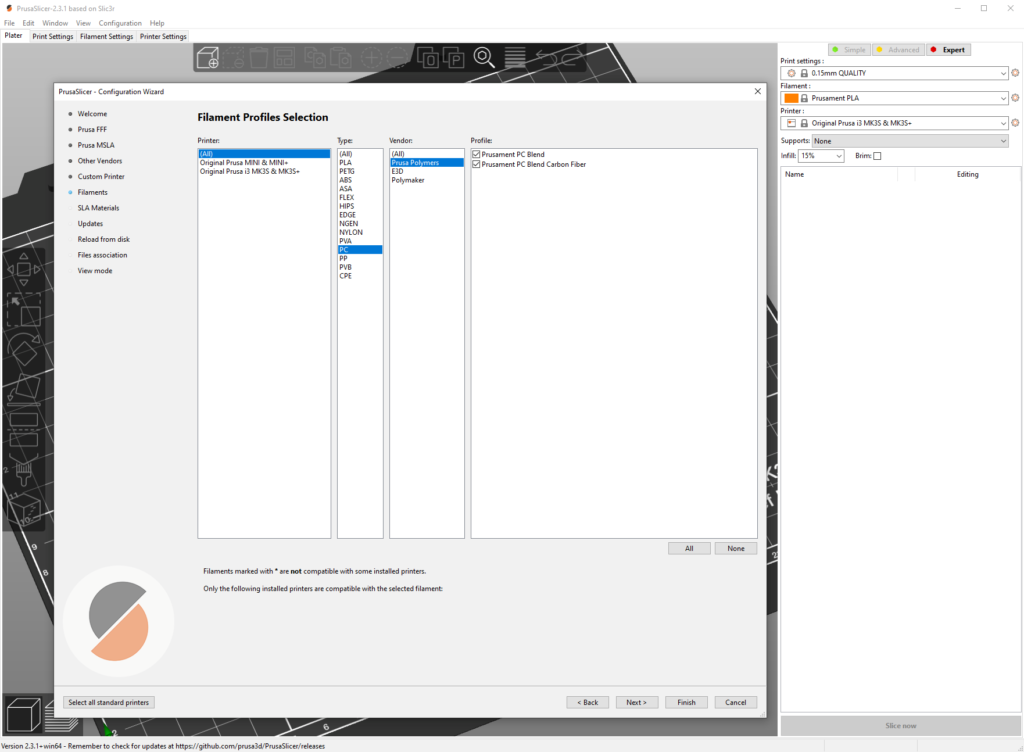 Protip: Do you need to add the Prusament PC Blend Carbon Fiber print profile into PrusaSlicer? Make sure you're running PrusaSlicer 2.3.1 or newer. Go to Configuration – Configuration Wizard – Filaments – PC – Prusa Polymers – check the Prusament PC Blend Carbon Fiber option and press Finish. Now, PCCF will be available in the list of materials.
PCCF annealing
As we mentioned above, Prusament PC Blend Carbon Fiber excels in its heat resistance. With its 114 °C Heat Deflection Temperature right after printing, it is by far the best of our supported filaments. That's not all, an even higher temperature resistance can be achieved with annealing. If done correctly, it can improve PCCF temperature resistance up to 130 °C! Even better, thanks to the added carbon fibers, annealing results in an almost negligible amount of shrinkage. We're talking about one percent! The whole process is pretty simple, too:
Print your model with PCCF PrusaSlicer profile
Preheat the oven to 140 °C
Put the model inside the oven for 120 minutes
Pull the model out and let it cool down to room temperature
Typical applications for Prusament PC Blend Carbon Fiber
Mechabox (Landy by 3Dsets.com)
(Highly stressed moving parts)
Fan shroud
(Heat resistant parts)
Tripod
(Large and tough prints)
Phone mount
(Large and tough prints)
Gears, bearings etc.
(Highly stressed moving parts)
Various mechanical parts
(Heat and mechanical resistance)
If you want to know more about print settings and the mechanical properties of our Prusament PC Blend Carbon Fiber, don't forget to have a look at our materials table. We believe that the Prusament PC Blend Carbon Fiber will suit your engineering needs and we are looking forward to seeing all your amazing ideas and original 3D models.
Happy Printing!