Two months ago we announced the upcoming feature that would let you support your favorite creators. At the same time, we started the closed beta with selected creators. We adjusted the system based on the feedback. We also implemented a couple of new features that we and the creators agreed were essential to be present for the launch. Today we have everything ready and you can see all the changes live on Printables! To celebrate the launch, we're running a special promotion where we'll double individual creator earnings up to $10,000!🧡 You'll find details about this promotion below.
Whether you're a creator interested in having your own club on Printables, or a user who's considering supporting a creator, we prepared a concise summary of how the new Printables Clubs work.
The core idea
The whole system is designed to enable users to support their favorite creators in their activities, rather than being a 3D model marketplace. This is reflected in many of the features. From payments, which go directly to the creator's account the second someone decides to support them, to exclusive models being available to all supporters, no matter their tier.
The subscription model we're rolling out is perfect for creators who post fairly regularly and for people who want to support such creators in the long term. Even in cases where the creator shares all their work for free. Such creators often already have a profile on platforms like Patreon, but they expressed their frustrations and missing features on these sites, from discoverability to file management. If you'd like to learn more about our motivations and reasoning behind Printables Clubs, we suggest going over the previous article.
We're aware the subscription model isn't the optimal choice for everyone. We might implement additional systems in the future to tackle the other use cases, such as selling individual models, but that's a topic for another time.
Below, you'll find a quick breakdown of the features of Printables Clubs. Instead of lengthy explanations, we've gone with brief points for easy understanding. We've also prepared a new section in our Help where you'll find additional information for both creators and supporters.
Tiers and benefits
Creators can create up to 5 tiers.
The tier price is limited to $3-$100.
Each tier can have benefits that the creator defines.
There are a couple of pre-defined benefits, such as advanced licensing options or member-only posts, which creators can assign to individual tiers. Creators can also define their own benefits. The benefits don't have to be cumulative, creators can set completely different ones for each tier.
Club memberships
Memberships are on a monthly basis, and the recurring payment is charged at the beginning of each month.
If a new member joins in the middle of the month, they can choose to pay the full membership fee for the remaining part of the month or a proportional amount for the current month plus the following month. We are particularly proud of this solution, as creators expressed their frustration with people joining near the end of the month and the confusion that came with the two payments close to each other.
If a user wishes to cancel their membership, it will be terminated at the end of the month.
As soon as a tier has at least one member, its price cannot currently be changed, so consider the prices carefully.
Creators have the option to create a custom welcome email for new members of their Club.
Creators have access to basic analytics about their club members and earnings over time.
Creators can set up a welcome message that all new supporters receive after joining the club.
Creators have the option to write mass messages to members of individual tiers.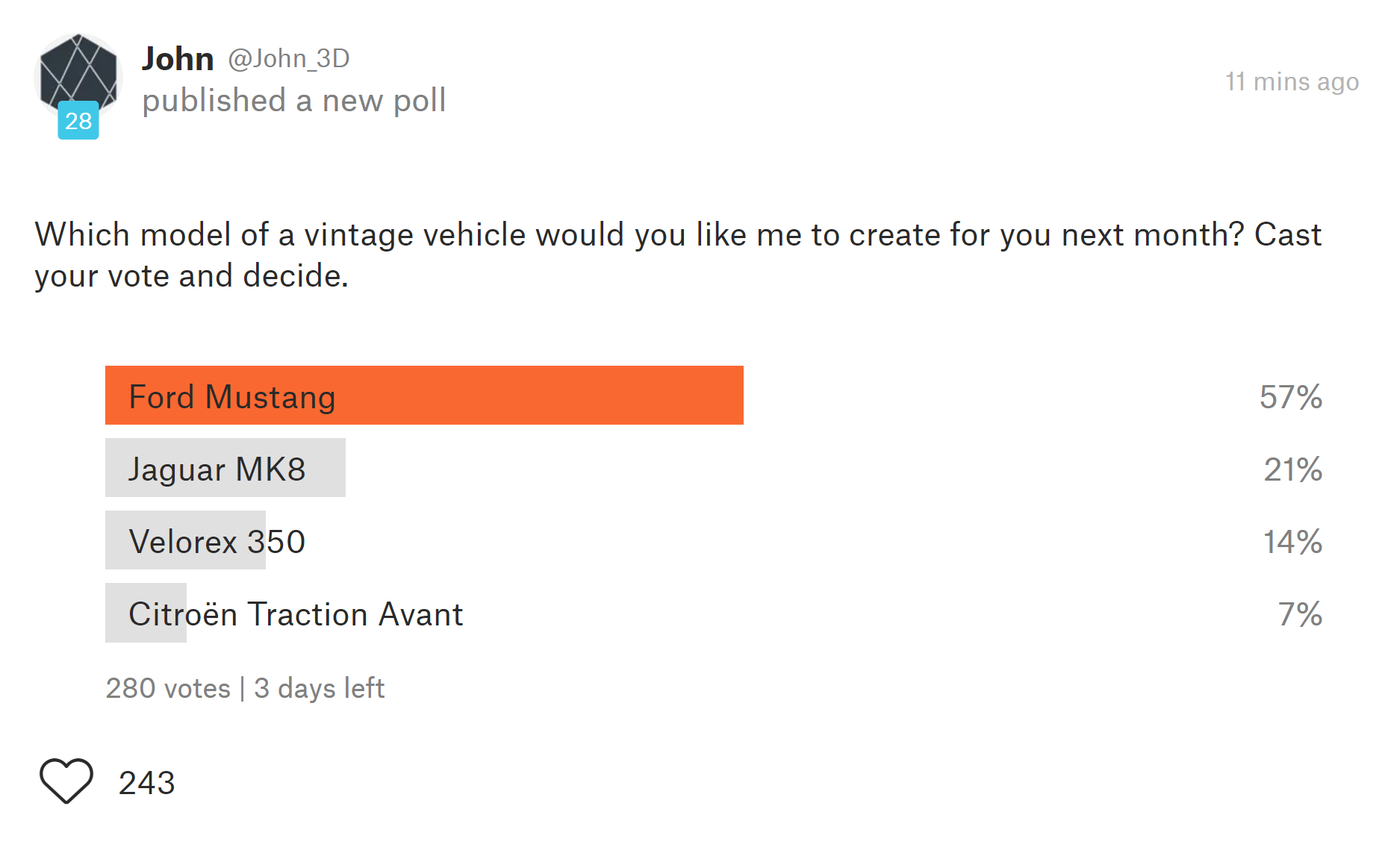 Exclusive models
Exclusive models are one of the possible, but not necessary, benefits creators can offer to their supporters.
If a creator decides to keep some models exclusive for their supporters, they will appear on a separate tab on the creator's profile.
Exclusive models are accessible to all supporters, no matter their tier.
The Exclusive Models tab is visible to everyone, however, non-supporters only see a preview of each model and are not able to download any model files.
Exclusive Models, which you do not have access to, are not visible when browsing the model database or when using the search function (more about this in the previous article)
Creators can schedule an exclusive model to automatically become freely available to everyone after a set amount of time.
Exclusive models do not generate any Prusameters.
Loyalty badges for supporters
Comments and makes from the supporters of the model author are highlighted with a loyalty badge. So everyone will see at first glance that the comment/make poster is supporting the creator.
The badges level up over time, with the continuous support of the creator.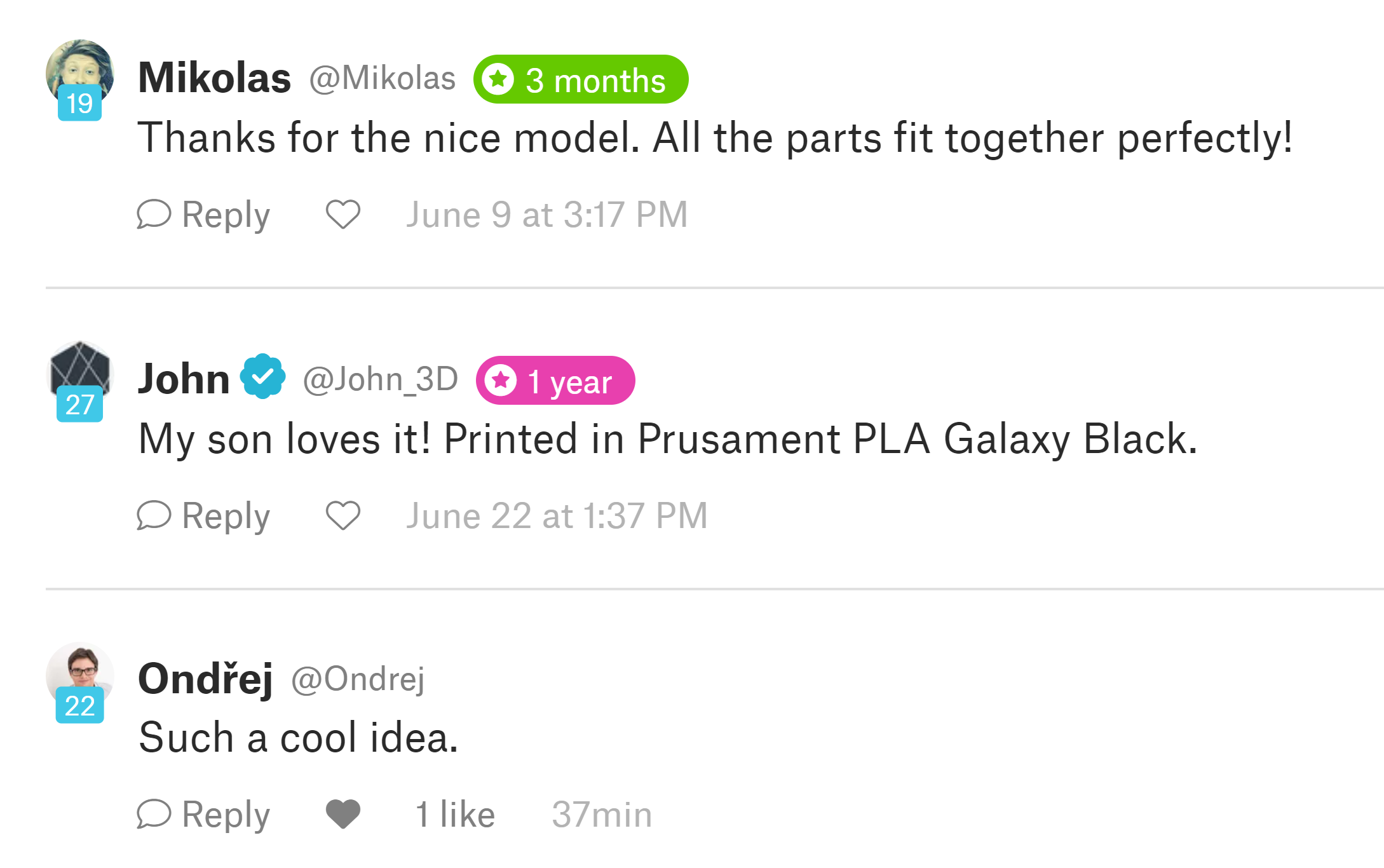 Commercial licensing
Creators can offer commercial licensing, or an entirely custom license for their models for specific membership tiers.
Creators can exclude specific models from Commercial use and Custom defined license terms benefits (e.g. for fanart). The restriction will be indicated on the model's detail page.
Payments and fees
Payments are processed by Stripe. Users can pay using their credit/debit card or with Apple Pay and Google Pay.
The money goes directly from the supporter to the creator, with a 10% Printables fee which will be used to help cover the costs of servers, maintenance, and development. The payment from the supporter to the creator is also subject to fees outside of our control, such as currency conversions or the Stripe payment fee based on Stripe rates.
Creating a Club is completely free and there is no monthly fee for running the Club.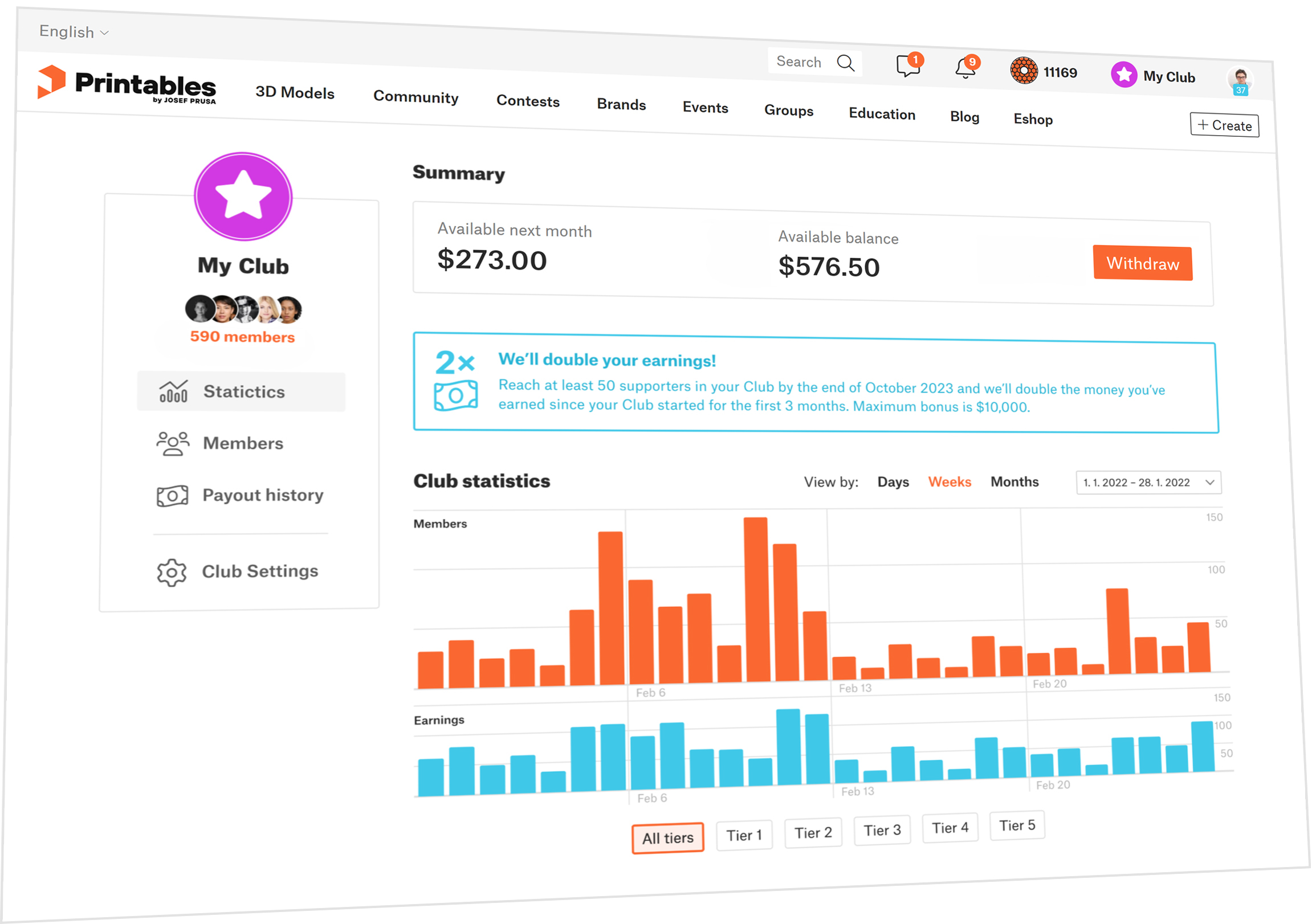 Where can you find the Clubs setup?
In the top menu bar, click on "Settings" below your avatar, and then select "Setup my Club." You'll go through a four-step wizard where you have to enter your basic information create 1-5 tiers for your supporters and set up your payout method.
Who can set up a Club?
Printables Clubs work globally. Users have to reach level 18 to be able to set up their club. You can skip this requirement by submitting your portfolio together with your application, e.g. if you have an established profile on another platform. To apply, click on your avatar in the top menu -> Settings -> Set up my Club.
Special promotion – we'll double your earnings!
To celebrate the launch of Printables Clubs, we're running a special promotion. Reach at least 50 supporters in your Club by the end of October 2023 and we'll double your earnings since your club started! The maximum bonus is limited to $10,000.
Note: Every Club eligible for the bonus will undergo a review process. In case of suspicious activities, we reserve the right not to grant the bonus to the creator.
We'd like to thank all creators who were part of the various testing phases, your feedback and insight helped us shape Printables Clubs to the current form. As with everything on Printables, we're planning to regularly update and expand the features based on your feedback. We can't wait to see creators building communities of supporters on Printables. Happy printing!