3D printer enclosures are pretty popular because they offer a number of great benefits – and now, we're introducing our own: the Original Prusa Enclosure!
Probably the most important feature of a good enclosure is the fact that it helps to create a stable environment for your 3D printer. The increased temperature inside the enclosed space is vital when you decide to print advanced materials (ABS, PC CF, PP and others) which are prone to warping. Also, some of these materials might produce unwanted odors during printing and the enclosure helps to contain them. Our model also helps to reduce noise coming from the 3D printer, shields the printer against drafts and protects it against dust. For peace of mind, you can install a lock on the door to keep your machine safe. 🙂 And that's not all – there are various useful add-ons you can install in this enclosure.
A couple of years ago, we brought you a guide on how to turn IKEA Lack tables into a cheap 3D printer enclosure and improved it further with a "v2" design. Both quickly became the top downloaded projects on our site and turned into highly popular choices when it came to DIY 3D printer enclosures. Now, we have a vastly improved and comprehensive solution, perfect for hobbyists and workshops, but also for businesses and schools: the Original Prusa Enclosure. It's our internally-developed product for the Original Prusa MK3S+ and it can be easily expanded with official and user-made add-ons and hacks. You can order it on our e-shop right now and the shipping starts in July 2022.
Prices start at 349 USD / 369 EUR (VAT incl.)
CONFIGURE IT IN OUR E-SHOP NOW!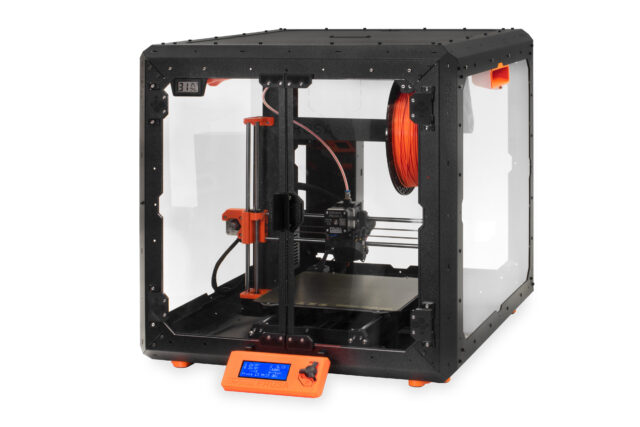 Before I jump into details, let me give you a quick overview of the best features:
High-quality components: Built with sturdy metal profiles and PETG side panels; the entire box weighs over 10 kg (22 lbs). Everything is included in the package including plastic parts, you don't need to print anything on your own. The only exception is the handles (seen in some photos) – these are optional and not included in the package because most users won't need to move the enclosure around.
Perfectly sized for the MK3S+ and its accessories:  There is enough room above the printer's frame for the installation of the MMU2S. You can place the spool of filament inside the enclosure and lead the strand of filament to the extruder through a PTFE tube, essentially a reverse-Bowden setup, which also helps to even out the rotation of the spool, resulting in a smoother feed of filament into the extruder.
Well-isolated: The enclosure reduces odors from specific materials, creates a stable environment for 3D printing, maintains increased temperatures required for advanced materials which are prone to warping (PC CF, Nylon, PP), protects against draft and dust, reduces noise.
Stackable: A rather unique feature among popular enclosures. You can easily stack multiple boxes onto each other and secure them using screws. It's a great solution for print farms!
Smart design: The LCD and PSU of the 3D printer can be moved to the outside, so you can easily control the machine and the PSU doesn't have to work under increased temperatures (there's a special brace included in the package so your MK3S+ won't lose its rigidity when you remove the PSU). A built-in temperature sensor gives you a quick overview of the temperatures inside the box. The frame of the box features various cut-outs and mounting points, so you can expand it with DIY brackets, holders, and more.
Print high-temperature materials: Some materials are more difficult to print than others. Our enclosure creates a stable environment with an increased temperature that prevents advanced materials from warping and detaching from the print sheet.
Upgradable: Modify the enclosure yourself or get one of our add-ons. We're planning to support the enclosure with more add-ons in the future (Smart Box, electronic lock, smart LEDs, RFID module – more details below)
Secure: You can install an optional lock on the enclosure's door to prevent unauthorized access, perfect for schools, businesses, events, hackerspaces, etc.
Dimensions with the LCD mounted outside:
530 mm (w) × 545 mm (h) × 715 mm (d)
Dimensions with the LCD inside:
530 mm (w) × 545 mm (h) × 640 mm (d)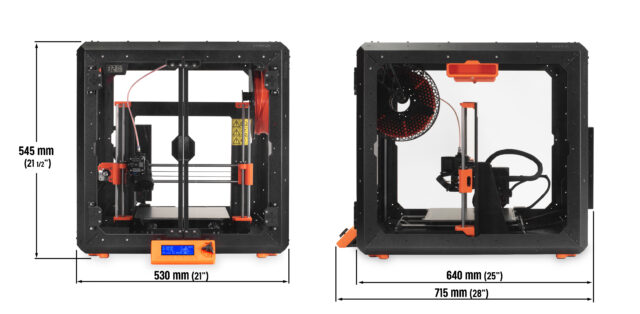 It made sense to create something high-quality and advanced (designed and tested by us, aimed for businesses, schools and other institutions) because the DIY enclosure from IKEA Lack tables is still a good budget option, so there was no need to create a replacement for it.
So, when we started designing the enclosure, our primary goal was to build a solid, sturdy box that ticks all the most popular, well… boxes: metal profiles, transparent side panels, metal top and bottom panels, a durable frame, stackable and expandable with a community-friendly design. We put numerous mounting points onto the frame, so you can easily attach various tool holders and other handy accessories to it, but you can, of course, go more advanced and really play around with various ideas and improvements. If you don't feel like spending time on modifications, we prepared a number of ready-made add-ons, so you can configure the enclosure in our e-shop and equip it with the things you need without any tinkering. Please note that the Enclosure is tailor-made for our most popular 3D printer model, the MK3/S/+. The MK2.5/S has a different PSU and mounting elements (e.g., for the LCD) – we're currently investigating the options and we'll share more details in an upcoming development diary where we will also dig deeper into the MMU2S/buffer setup.
I think it goes without saying that bringing a new product to the market in these times is rather challenging when it comes to both sourcing materials and setting up the right price. Compared to last year, the prices for metal, plastics, electricity, shipping and other elements skyrocketed (in general by about 30 percent), nevertheless, we did not want to compromise the build quality and decided to stick with high-quality components.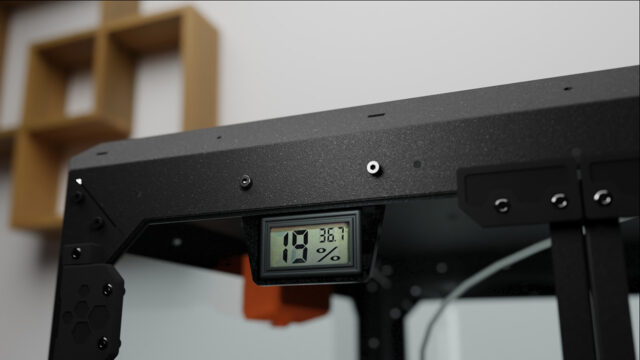 One last thing before I get to the add-ons: the chamber is not actively heated. The temperature inside is elevated by the heat coming from the MK3S+ heatbed, which is perfectly suitable for a vast majority of materials. We're considering a separate heater addon, however, it will not be designed to push the temperatures too high (it could affect the rigidity of the printer's plastic parts). It will be useful for situations where you have the printer and enclosure in a very cold environment (e.g. a garage) and the printer would otherwise show Mintemp errors.
In usual ambient temperatures (20-22 °C), the average temperatures inside the enclosure can reach the following values:
33 °C when printing PLA
36 °C when printing PETG
38 °C when printing ASA
39 °C when printing PC BLEND
Please remember that these numbers are affected by the surrounding environment temperature and printing temperatures. Also, it's important to note that printing PLA at high temperatures may lead to the printer's nozzle becoming clogged. If the ambient temperature is higher than 28 °C, it's recommended to print PLA with the enclosure's door open.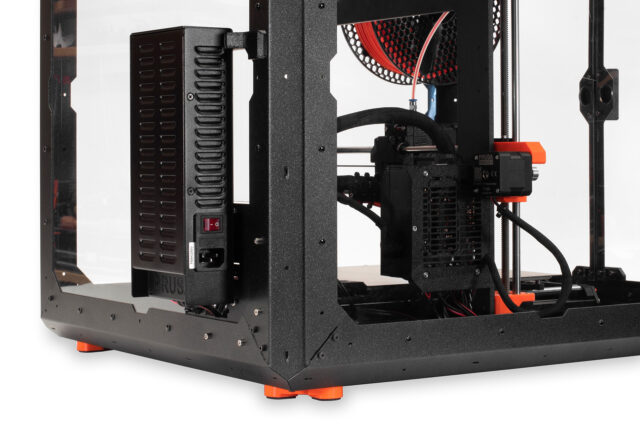 Optional Add-ons
The basic package contains everything you need to assemble the enclosure: metal profiles, transparent side panels, top and bottom panels, mounting material, and a temperature/humidity sensor. There is no need to print any plastic parts. You can get the base package for 349 USD / 369 EUR (VAT incl.).
The optional add-ons include:
Fire Suppression System
Self-contained tube-style fire suppression system. The system is manufactured in Europe and uses an extremely effective, clean, and safe extinguishing medium. The system operates automatically and independently of any power supply by reacting to high temperatures. Our 3D printers are known to be extremely reliable and safe, so there is no risk of fire hazards. We're adding this system mainly due to the requirements of certain institutions (schools, hackerspaces, etc.) where there is a frequent requirement to have a fire suppression system.
Advanced filtration system
Especially useful when you print materials such as ASA and other materials that produce an increased number of ultra-fine particles and fumes during printing. The base version has a manual on/off switch, however, it will be also compatible with the "Smart Box" electronics (more info below), one of the future add-ons, which will bring automated functionality. Please note that enclosures with the filtration system have extended lead times!
To explain it a little bit more: Studies have shown that most of the commonly used 3D printing materials should be safe, but we wanted to take this a step further. Our farm running over 600 printers has been testing its own air filtration system for some time. When we started designing the enclosure, we wanted to provide you with a similar solution. Fewer particles and less odor in the air are always better. Our first thought was to use ready-made industrial solutions, but their price was way too high.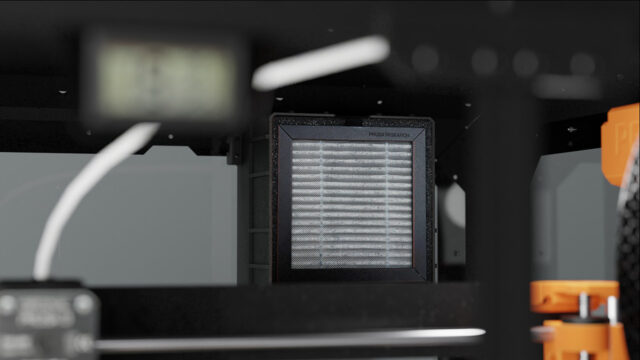 Instead, we partnered with a company specializing in air filters. By combining a highly efficient HEPA filter (99,9% efficiency) with active carbon granules we aim to get rid of both particles and smell. Currently, the tests are being verified by an independent laboratory at a local university. In the meantime, our developers are further optimizing the design and working to improve the airflow inside the enclosure.
While researching air filtration, we have discovered that there isn't currently any certification or standards for 3D printing. Once the development is finished we will share our knowledge with the community and hopefully inspire others to join us in this initiative.
Mechanical lock
A standard mechanical lock that fits in the door of the enclosure, so you can keep your printer locked away from prying hands. Perfect not only for your home but also for schools, universities, hackerspaces, and other places where you want to disable unsupervised access to your printer.
PSU quick-release connector
By default, there's enough clearance in the enclosure (and the PSU cables are long enough) for printer maintenance. However, if you plan to take the printer out of the box often, you can install a quick-release connector on the PSU cables – for instance, if you are running a print farm and need to switch your printers.
White LED strip
With the current version of the enclosure, the LED strip will illuminate the interior of the enclosure. Later along with the Smart Box add-on, this LED strip will become programmable.
We are also preparing a number of free add-ons! Once we start shipping the enclosure, you will find all the models at Printables.com. Then, you will be able to download the STL files and print them! 🙂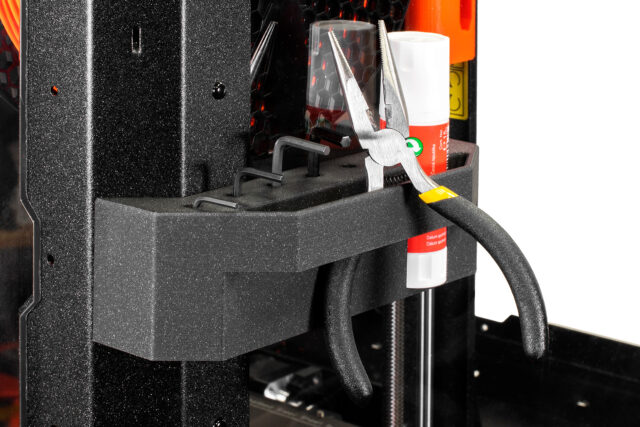 Future upgrades
Later this year, we're planning to expand the enclosure with more add-ons, which are mostly centered around the "Smart Box". It's essentially an electronics board that serves as an interface between the 3D printer and additional equipment, mainly the advanced filtration system, but also things like advanced sensors (improved thermal sensors, particle detection, humidity meter) and RGB LED strips. We're currently beta testing these features in various scenarios – e.g., the printer finishes a print job and the RGB LEDs signal that the print is done. However, before you can open the door, the system automatically sets the filtration fan to max power so that the air in the chamber is cycled through the filter before the electronic lock unlocks the door. You will also have the option to display the measured data on your PC.
We're going to publish more details about the Smart Box, Smart LEDs, electronic lock and also about an RFID module later this year, so stay tuned!
All add-ons are, of course, available separately, so you can upgrade your enclosure gradually over time.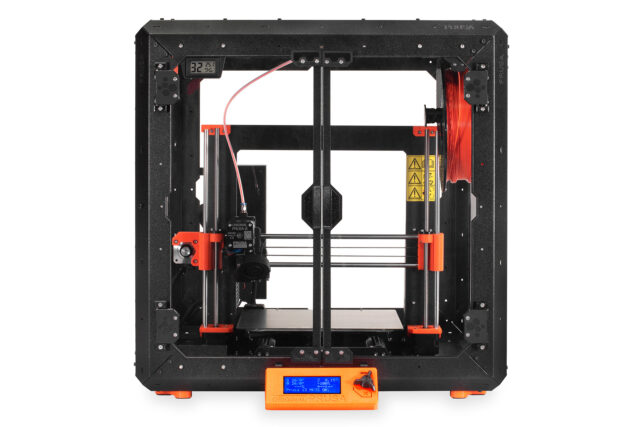 Coming July 2022!
Right now, we're putting the finishing touches on the packaging and we'll be ready to start shipping the first orders in July. The enclosure is, of course, delivered in a disassembled state, so you don't have to worry about receiving a massive box. 🙂 As usual, the assembly is quick and easy, so your printer will have a cozy new home in no time.  I think the owners of the MINI/MINI+ will be happy to hear that we also have a smaller enclosure in the works. 😉
We'll be back later this year to share more details about new add-ons and their features.
Happy printing!