They met in New Zealand, fell in love, and 3D print happily ever after. They also make electric bikes and build the best travel vans you can imagine. They are based near the Czech town Olomouc and their workshop feels like a magical place. Welcome to Ladi and Margaret's!
They bond together not only by their passion for traveling but also share their love to create innovative products. All of them are custom-made with attention to even the tiniest detail. And the most interesting thing about it is the way they've integrated 3D printing into the whole process of prototyping, production, and modification.
"I've had a time before Prusa and after Prusa," says Ladi while showing us their 3D printing farm. Three Original Prusa MK3S+ printers are in an enclosure of his own design. And all run practically non-stop. He admits that 3D printing is no longer just a hobby for him – or even work. It's a natural part of his life.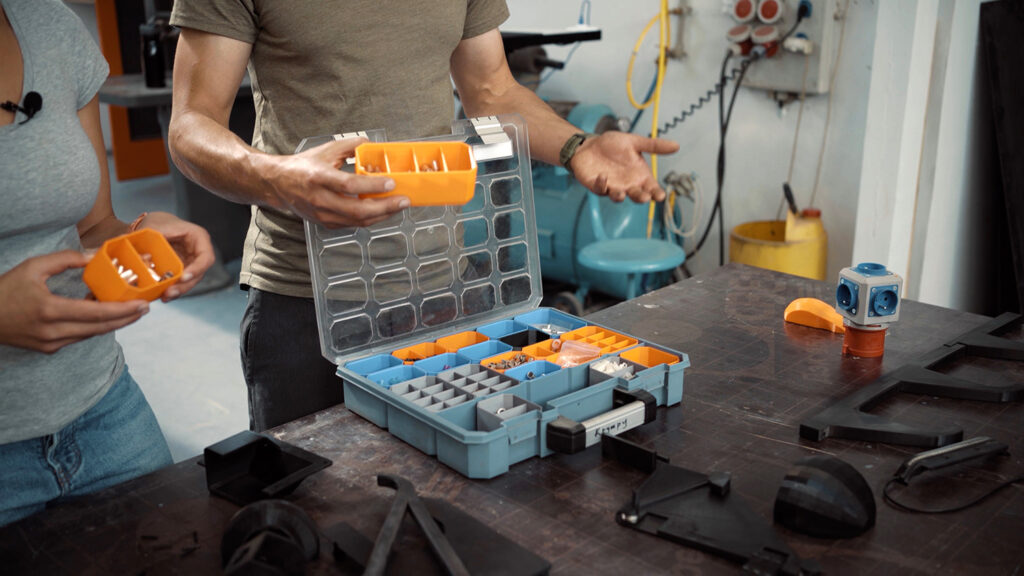 Ladi comes from a family with a long tradition of crafting and creating. They love making things and spend time perfecting them. Instead of buying stuff, Ladi and Margaret just craft everything. And it works perfectly! 3D printing solved a lot of problems they've had over the years: For example the small parts. They had to search hardware stores for various components and then cut or adapt them to get what they needed. Now they just 3D print them.
They share their ideas and know-how through social networks and YouTube videos (check their channel!) and they also sell complex manuals, various tutorials, and printable models.
That's how you can purchase their electric bike: You can choose between three models and buy a very complex and detailed manual with a shopping list, a summary of printable parts and assembly instructions. All for about 200 USD: and you can even purchase a finished assembled Cyberbike for 8250 USD – and that's a bargain. Imagine Tom "Maverick" Cruise chasing a fighter jet with it!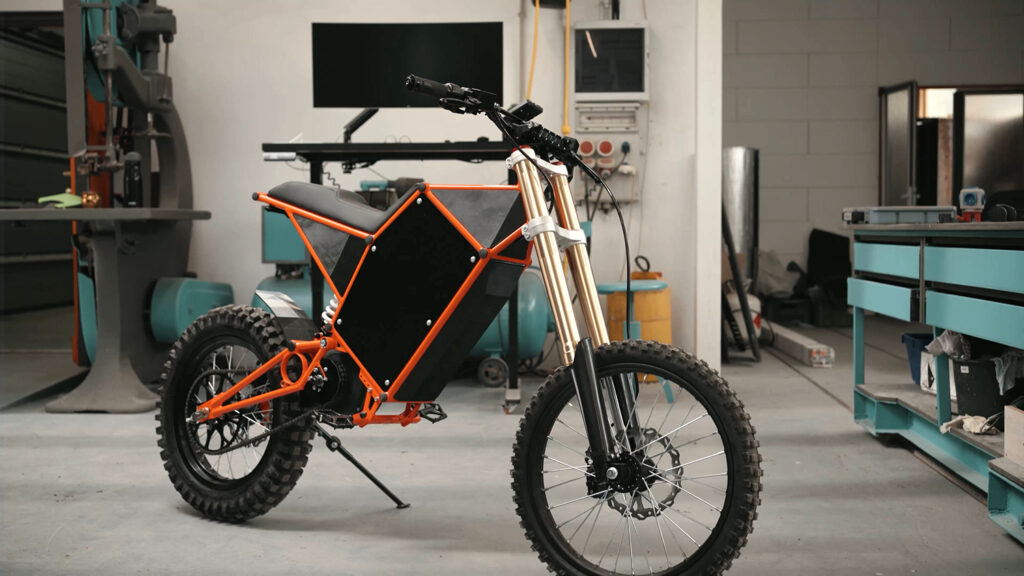 The highlight of our tour was the ultimate travel van. Imagine an ordinary van used for deliveries – Ladi and Margaret reimagined it into a movable living space that is both cozy and practical. You can tell that both love to travel and know exactly what a traveler needs most: Storage! Everywhere! For this reason, they've designed a modular system of storage units connected by pins – so you put together the exact size and shape you need. Also – handles, latches, joints… – everything is 3D printed and it looks cool! And it's not only functional but easily replaceable.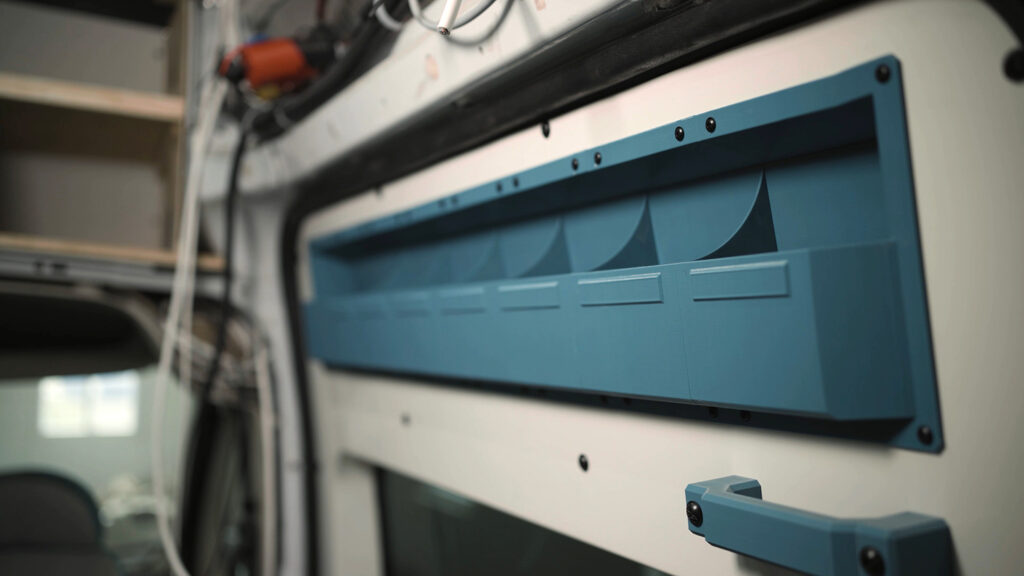 With 3D printing being such an essential part of their lives, Ladi and Margaret decided to integrate one Original Prusa MK3S+ straight into the van. They've designed a special enclosure that keeps a stable environment and has its own filtration system, so there's no smell when printing advanced materials. The display is placed outside the enclosure so the crew can monitor the printer's progress. Ideal for long drives!
"Why print while on the road?" – you may ask. When you have so many ideas as Ladi and Margaret do, you want to transform them into real objects as soon as possible.
"To have something on paper can only take you so far. To hold a prototype in your hands, touch it and study it, that's a whole new level," says Ladi. "This is the way you'll discover another path on which to take your model."
We already mentioned that they love making and creating, so it won't hit you as much of a surprise that they also print and tweak their standard tools and equipment. A good example is their custom-made handle for a scraper. A new one costs tens of dollars, a printing one will cost you about a dollar or so. And it can be tailor-made for your hand. They also make custom-sized security camera covers. And of course, a thing all DYI people must have – small storage cases for their toolbox – for all the small parts, screws, and everything they need. As video content creators, they also print a lot of equipment – such as cameras or light holders.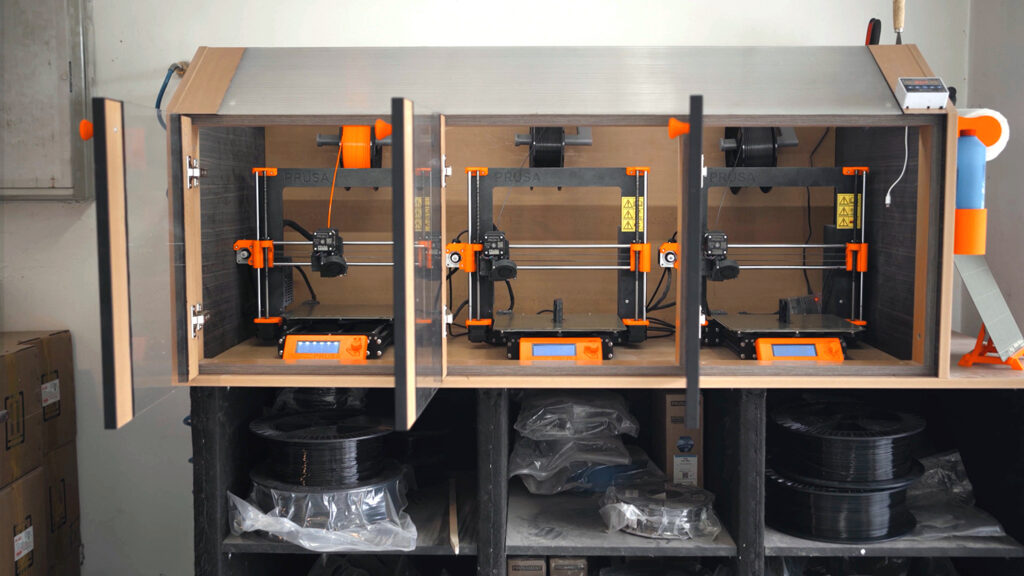 Not only did 3D printing help travelers Ladi and Margaret create their dream travel van, but it also changed their workflow and design thinking altogether. It became a natural part of their lives.
"For me, it's now much simpler to outright model and print what I need than to look for it online," smiles Ladi as our visit comes to an end.
Website: ladiandmargaret.com
– Tanya Nedeva, Stepan Feik, Jakub Kmosek