I still can't believe it's already a decade! Ten years ago, the world was a much different place. More straightforward in some aspects, and more complicated in others. There was no Original Prusa i3 MK3 – in fact, there wasn't even anything called the Original Prusa i3 design. It wouldn't exist for another three years. My brother and I had a small workshop and we used to ship our homemade 3D printer parts to enthusiasts all over the world, everything packed inside generic pizza boxes. Then, in May 2012, the Prusa Mendel i3 3D printer design came into existence. Those were the times, I was flying around the world, giving talks at conferences about 3D printing but back home, in Prague, pretty much no one knew what 3D printing was.
It wasn't exactly the beginning of the entire journey (that was back in 2009 when I built my first 3D printer to make parts for my music controllers), but it was a complete turning point. Honestly, this is where things picked up the pace so fast, the entire decade that would follow feels like a blur. New people kept coming on board and soon we had an incredibly skilled and dedicated team – even though building a business on open-source principles must have seemed like a completely crazy idea. We've been breaking new ground every day. It was wild, chaotic and thoroughly wonderful.
Ten years of 3D printing
Prusa Research wouldn't be here without the hard work of hundreds of amazing people who take care of the long and complicated process that starts with a blueprint of a new machine and ends with thousands upon thousands of 3D printers shipped into the entire world. Our team is the driving force behind everything and I couldn't find better people to surround myself with.
Of course, we haven't figured out everything on our own, especially in the beginning, and I wouldn't dare to forget about our roots. My huge thanks go out to Adrian Bowyer, the father of the RepRap project. Without him, the 3D printing world would be a very different place and I would have probably never become interested in 3D printers if it weren't for him. The same praise goes to Alessandro Ranellucci, the author of the original Slic3r, and to the team behind Marlin firmware. They kickstarted so many things when the entire industry was in its infancy and they continue to provide an incredibly important service to the community to this day.
And speaking of 3D printing communities and their members – they are the cornerstone of everything. It's amazing how many talented, skilled and wonderful people were attracted by 3D printing and its possibilities. We've been in close contact with makers, tinkerers and hobbyists since the very beginning and I still visit online 3D printing groups every day. There are so many talented designers, programmers, engineers and enthusiasts, there's no way I could name them all here and do them all justice. We're always trying to give you something in return for your efforts and hard work – we hope that Printables.com is a great place to publish your models, PrusaSlicer is our constantly-evolving slicing software for all 3D printer owners; we publish source codes so programmers can dig into them and help us improve our machines, we invite designers to Prusa Live podcasts… Our community is key and this will not change no matter how big the company grows.
Thank you, everyone, who is on this journey with us and who made all this possible. It's been an amazing experience so far and I firmly believe there are even better things waiting for us in the future! Thank you for making the 3D printing world a place for everyone.
There are dozens if not hundreds of stories I'd love to share. We've covered the best moments in an extensive video documentary linked above that goes over the very beginnings of my tinkering with various pieces of technology, maps the early years of newly established Prusa Research and continues all the way to June 2019.
If you haven't seen it yet, do check it out! Every important milestone is also laid out on the Timeline.
From two to 750
With the current team of over 700 people, it feels almost unreal to me that the beginnings were so basic. I had no investors, no massive loans, nothing like that. I just really liked my 3D printer and I spent every minute of my free time thinking about possible upgrades – and yes, that didn't go too well with my studies at the university. Many of these inventions came from a bare necessity to do something slightly more difficult, to print something bigger and more complex. So, just like many of you, I kept upgrading my machine all the time.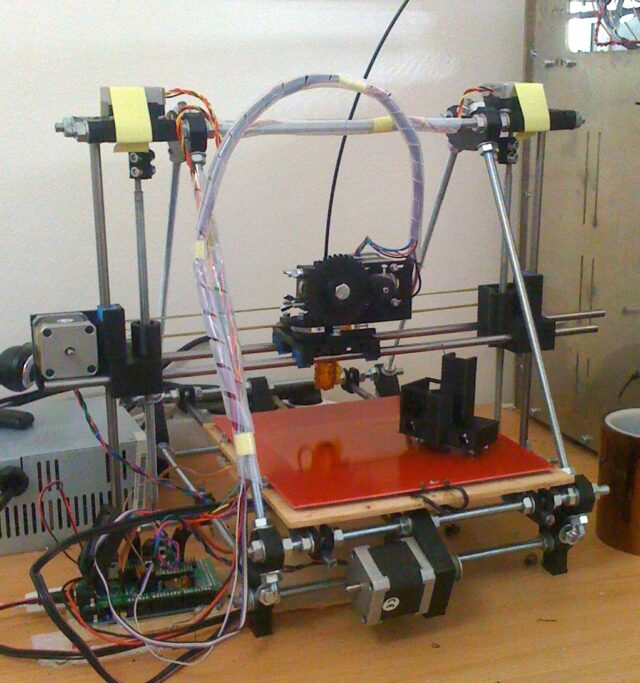 For example, nowadays every good 3D printer should have a heated bed. That was not the situation back then. However, when I realized that ABS doesn't detach from a heated surface so easily, I quickly came up with a little hack. I took a ceramic tile, strapped a piece of wire onto it and created my first ever heatbed. This proved to be a really useful upgrade, so I continued to improve the design – this ultimately ended up with the birth of the red PCB Heatbed MK1, my first real product, something that was widely copied and you can still buy it in various Chinese e-shops to this day. And do you still remember the Prusa nozzle? It was a similar story – the nozzles you could get for 3D printers back then were too expensive, so I made my own. All these improvements led to the Prusa Mendel i3 in 2012.
It actually took another three years before we moved into a proper office/workshop and the team expanded to about 15 people. Our first official Prusa party was held on the street in front of our office. 🙂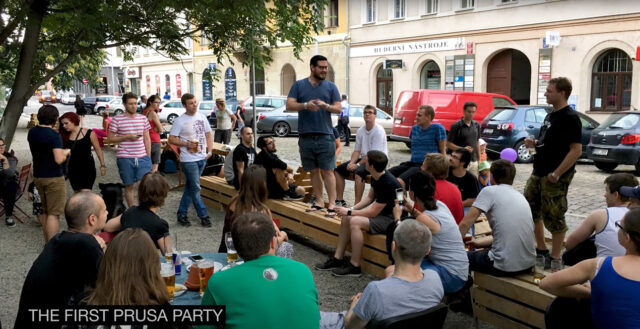 It's crazy compared to the situation now, the current team is 50 times bigger. And what's even crazier: there are people who are with us from the beginning! 🙂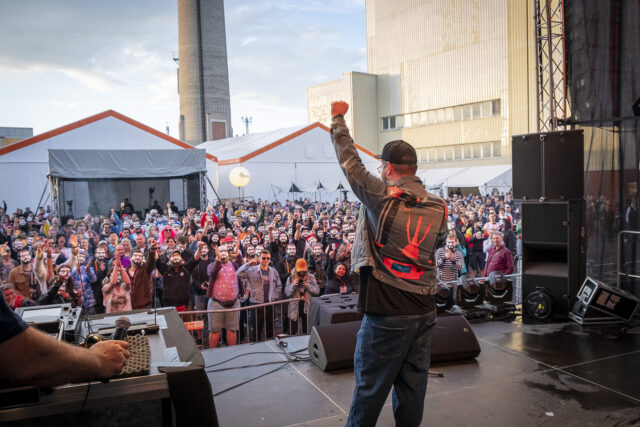 By the way, this is not some crazy cult in front of me – those are my fellow team members who decided to pull a prank on me during our party. It was totally unexpected and, frankly speaking, somewhat creepy, but it also reflects the overall atmosphere in the company – we're a long way from becoming a boring corporation and our team still knows how to have fun. 😉
I could go on and on about our history, I have so many fond memories of our humble beginnings and the sudden rocket jump that came with the Original Prusa i3 design. But there are other things to discuss. So now, onto the celebration!
We're celebrating!
So, we already celebrated our anniversary with a proper party, but we want you to have your share of fun, too! So, we went ahead and designed some really cool and unique things for you to enjoy. Here's what we have for you! 🙂
Original Prusa i3 MK3S+ 10th Anniversary Edition
This is a limited run of the Original Prusa i3 MK3S+ called the 10th Anniversary Edition – we have only 500 assembly kits and 500 fully assembled 3D printers on our e-shop, so you'll need to act fast! 🙂
The frame is finished in a nice shiny golden color and the cherry on top is the custom-made double-sided smooth PEI print sheet with the 10th-anniversary logo. Each frame is personally signed by yours truly. 🙂 We have these machines on our e-shop and we'll be releasing them in limited batches over several days at various times so we can cover more timezones. You can learn more in the e-shop.
The machine is not just visually stunning, but it also works just like any other MK3S+ and uses the same type of parts, so it's not designed to only look pretty.
The 10th Anniversary assembly kit is available for 899 USD (without VAT) / 949 EUR (VAT inc.)
The fully assembled 10th Anniversary 3D printer is 1199 USD (without VAT) / 1259 EUR (VAT inc.)
Both the kit and the assembled printer are covered by our standard warranty.
Original Prusa i3 MK3S+ Timeline Edition
And now for the pièce de résistance! Our team has created a special, extremely rare, version of the MK3S+ to celebrate the 10th anniversary. This machine is decorated with scenes depicting various important milestones in the history of Prusa Research – references to our 3D printers, moving to a new HQ and many more.
Honestly, I would love to point out all the tiny details and hidden meanings behind all the scenes, but I think it's gonna be more fun if you see it for yourselves. 😉 Check out the build process in the video below and try to find all the easter eggs our skilled designers created and added onto (and into) the machine!
Now, this printer won't be available for sale through our e-shop. Instead, we put it up for an auction and the proceeds will go to the Sanjay Mortimer Foundation Fundraiser. Last year, my dear friend and one of the founders of E3D, Sanjay Mortimer, tragically passed away. He was an amazing and dedicated man and I will forever miss the talks we had till the early morning hours. Sanjay's work touched many lives all over the world and he was one of the true visionaries of 3D printing.
His colleagues launched a charitable foundation in his memory and the first fundraising event will kick off on Saturday, June 11th, 2022. We're donating our "Timeline Edition" 3D printer so it can be auctioned off at this event – all the proceeds from the auction of the printer will go to the foundation and I will also contribute the same amount that the printer will be auctioned for.
You can participate in the auction both on-site and online.
More information can be found at E3D and TicketLab.
Community contest: Share YOUR story!
This celebration is an important milestone for us, but it shouldn't be just about our company. You are an integral part of our history, too – without you, there wouldn't be any "us". One of my favorite things is to hear about all your awesome projects and crazy ideas you brought to life using one of our machines. I know I'm repeating myself, but I really want to stress it out – it's truly inspiring to see all the awesome talent around 3D printers.
And we want to hear from you, too! So, share your story on your favorite social media network (Facebook, Twitter, Instagram) with the tag #myprusastory and let us know what amazing things you managed to create with one of our 3D printers. 🙂 We'll keep a close eye on your stories and award the best ones with physical prizes: 10× Original Prusa i3 MK3S+ 10th Anniversary Edition and 500× 10th Anniversary print sheets. Plus, a selected few will be invited to our podcast and/or we'll send out our camera crew to record a video about your project. We'll announce the winners on July 8th, so that gives you plenty of time to let us know about your project! 😉
We'll go through your stories, one by one, and we'll pick our personal favorites, so the chances of winning are not related to likes or retweets.
Here's to another 10 years!
A couple of days ago, I rewatched the Road to 100k 3D printers video and it was an amazing trip down the memory lane – I hope that I managed to share a bit of those nostalgic feelings. There's a lot that has happened in those 10 years. Many ups and downs, many wonderful moments and many challenges. Despite what was thrown at us all, we've always managed to pull through. And I'm sure we always will.
So, once again, thank you for your support, for your ideas, comments, videos, and printable projects you share. Thank you for being with us on this journey. We've already sent out over 400.000 3D printers into the entire world! It's been a wild ride and we're not planning on stopping anytime soon! 🙂
Happy printing!
Update July 8th – the list of winners
As promised, we went through all of your entries and picked our favorites. The number of entries was overwhelming, but it was a joy to go through! So many heartwarming stories and unexpected uses of our printers. Thank you, everyone, who shared their Prusa story with us! 🧡
Here are our favorite 10 entries that will receive the Original Prusa i3 MK3S+ 10th Anniversary Edition:
We also selected the 10th Anniversary print sheet winners and there are so many! It will take us a few weeks to reach out to all of you, so please bear with us while we do that. 🙂