This year's Black Friday & Cyber Monday deals are coming, so here's a complete overview of everything happening in our new e-shop. The best time to get your MK3S+ just in time for the holidays is here! 🙂
Black Friday & Cyber Monday 2021 deals
The deals on our e-shop start on November 25th at 3:59 p.m. PST (November 25th at 11:59 p.m. GMT) and end on November 29th at 11:59 p.m. PST (November 30th at 7:59 a.m. GMT). We also prepared a handy FAQ at the end of this article.
Free shipping worldwide
On orders* above 200 USD / 200 EUR
*Please note that preorders and the Original Prusa MINI+ 3D printer (kit and assembled) are excluded from the free shipping offer (adding a MINI+ to your cart will disable the free shipping option).
MK3S+ Bundles
MK3S+ is in its top shape right now. It's a highly reliable 3D printing workhorse that is being continuously updated and supported – and we don't plan to stop doing that anytime soon.
When you buy the Original Prusa i3 MK3S+ (kit and assembled printer), you'll get:
Free shipping worldwide
One extra Double-sided Spring Steel Sheet, for free. The first free sheet option is the Satin Powder-coated sheet. Once the stock runs out, the free sheet will be a Textured Powder-coated sheet.
One additional spool of Prusament PETG Prusa Orange, for free
If you order more than one 3D printer, you will get the corresponding number of free gifts and free shipping. Once the order is submitted, it cannot be further edited (e.g. add/remove items).
Our 3D printers have different lead times and delivery dates. At the time when this blog post is published, the Original Prusa MK3S+ kit has a lead time of 1-2 weeks, the Original Prusa MK3S+ complete 7-10 days and the Original Prusa SL1S SPEED 8-10 weeks. We're doing our best to ramp up our production to meet the increased demand during Black Friday and Cyber Monday and deliver as many 3D printers before the holidays as possible. However, in the case of a large volume of orders, the lead times may increase during the Black Friday sale.
So, before you complete your purchase, please double-check the leadtime information to make sure the printer can make it to you in time – we update the information regularly.
Also, please note that our Black Friday Sale is intended for end customers, not resellers and we reserve the right to cancel excessive orders.
Gift cards
Winter holidays are just around the corner! If you decided to buy one of our 3D printers for someone else and you're not sure if the package is going to make it in time, you can download and print one of our gift cards. Add a personal message and give them the card to let them know their 3D printer is on its way!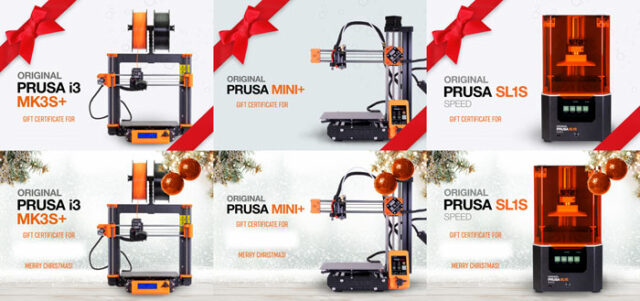 What's hot
We've recently introduced our brand new e-shop and we hope it's easier to navigate so you can find everything faster. Just in case you don't feel like browsing through everything on your own, let us point out the most interesting stuff!
Original Prusa i3 MK3S+ is the latest and so far the best version of our award-winning MK3. It's still going as strong as ever and it's a true 3D printing workhorse, which is still being further improved via software updates. If you already own the MK3, you can use the MK3S+ upgrade kit to gain all the latest features, such as the IR filament sensor, SuperPINDA, new bearing clips and more. Throw in a couple of extra filament spools and you can save a lot on the shipping! Or you can step up your 3D printing game and pick the MMU2S for printing with up to five colors!
This year, we've introduced the Original Prusa SL1S SPEED – the fastest MSLA 3D printer, which offers blazing print speeds and extremely high print quality. We've left no stone unturned and completely redesigned nearly everything inside the printer. 1.6 seconds per layer? Check. Larger print platform? Check. Longer display lifespan? Check. If you already own the SL1, you can easily upgrade to the SL1S with the upgrade kit. There's also the updated 4-in-1 Curing & Washing Machine, the Original Prusa CW1S for effortless post-processing of SLA 3D prints!
We keep expanding the range of our in-house-made Prusaments and free shipping is the best way how to stock up on our high-quality materials before Xmas. This year, we've introduced PETG Jungle Green, PC Blend Carbon Fiber, PETG Lipstick Red, PLA Gravity Grey and more! And that's not all. We also introduced Prusament resins for your SLA 3D printers. They are based on our own internally developed formula without using Bisphenol-A. So if you're looking for a high-quality resin for your miniatures, prototypes, casting molds, educational models or art & design creations, check out our selection!
Our e-shop is simply full of cool stuff for every 3D printer enthusiast out there – I'm sure you'll find something that will catch your attention! 🙂
Happy printing!
FAQ
Q: Will my printer or upgrade be delivered this year?
A: Please see our Shipping table with updated lead times. Some of the products like MINI+, MINI+ kit, MMU2S upgrade or SL1S printers will not make it this year and will be delivered in 2022.
Q: Can I get a different type or color of free Prusament than PETG Prusa Orange?
A: Free gifts from the promotion are automatically assigned to orders and cannot be changed.
Q: Can you tell me if I will get the Satin sheet or the Textured sheet?
A: No matter whether you order the MK3S+ with one or two sheets, you will always get one extra sheet – the satin sheet. If the satin sheet stock runs out, we will bundle a textured sheet instead of the satin sheet. This is done automatically, it is not possible to change the type of the extra sheet. Information on which sheet you'll receive will be displayed in the shopping cart.
Q: I have an unshipped order, can I combine it with a new one to receive free shipping?
A: No, the free shipping option only applies to orders placed during the Black Friday promotion and updates or combinations with other orders are not possible.
Q: Can I pay extra (the difference) for a faster shipping option?
A: No, the free shipping option is listed and if you select a different one that is not part of the promotion, a shipping charge will be billed in a standard way.
Q: Why is MINI+ not included in the Black Friday promotion?
A: We decided not to apply free shipping to MINI+, because there is already a very high demand for this model with leadtimes up to 9 weeks.
Q: What is the maximum price of an order I can make to still have free shipping?
A: Free shipping is available for orders up to 5000 EUR / USD