We prepared another awesome batch of materials for all of you 3D printing enthusiasts out there! This time, we're introducing an often-requested Prusament Refill (master spool filament refill system), new great-looking PETG Matte Black, and we're also expanding our line of resins with the BioBased60 and flexible options! Let's take a look!
Prusament Refill
The idea of a master-spool-like refill system is something we discussed even before we first launched Prusament in 2018. It turned out to be quite complicated to get right, as we explained in our article about the design process of the Prusament spool, and we ended up releasing Prusament with the lightweight sides you know very well by now. The plastic sides are made from 100% recycled material and they can be separated from the cardboard core. Now, we're ready to offer a refill system without any plastic sides at all, while maintaining the perfect quality Prusament is known for.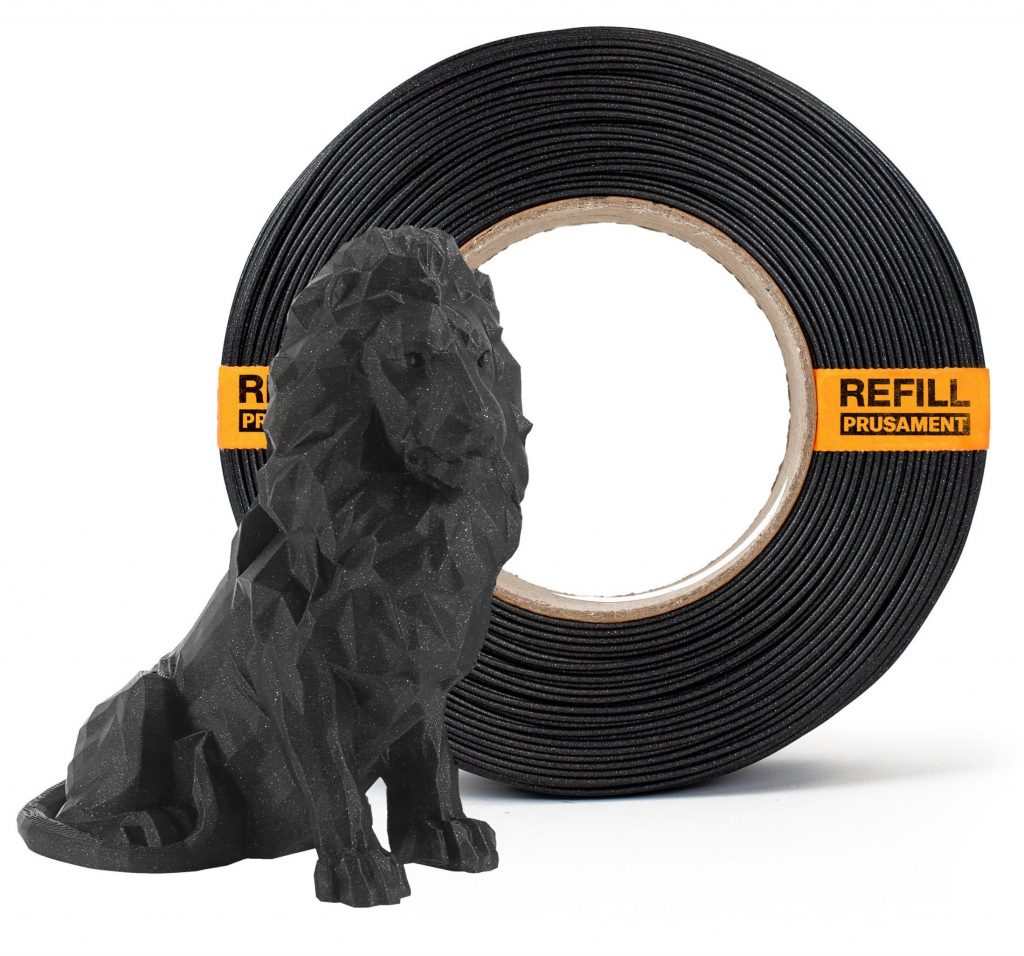 The existing refills for the master-spool system are usually shipped just as a coil of filament tightened with a couple of zip ties. When we tried this approach, the risk of the spool untangling or the winding getting completely loose was quite high. And the manufacturing process was quite complicated, considering our extremely tight demands for diameter tolerance and color consistency. So that was not a viable solution for us.
One of the key tricks to getting this to work was to keep the cardboard core in the spool. It provides a lot of support to the filament winding. The biggest chunk of development was spent on creating a manufacturing jig, which enables us to wind the spool in the exact same way our standard Prusament is made. Then, we tighten it and secure it with a wide strap created from Tyvek – synthetic high-density polyethylene fibers. These straps are extremely difficult to tear, but they are extremely thin and waterproof. Actually, you may know this material from the straps festivals use for marking attendees. Once this part is done, the sides can be safely removed. Vacuum packing the spool fixes everything in places so tightly, the spool doesn't even need a box to be shipped, lowering the amount of materials required for production and eliminating potential waste.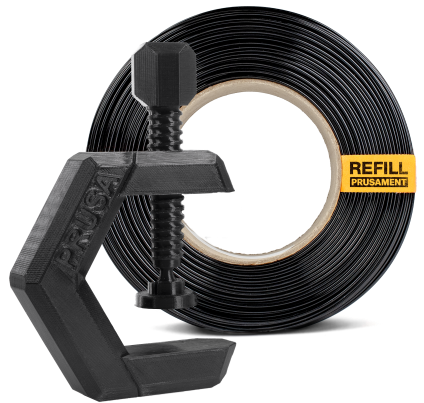 For the launch, we're releasing one popular PLA and PETG color from our lineup – Prusament PLA Prusa Galaxy Black Refill and Prusament PETG Jet Black Refill. Based on the demand, we'll be making more colors available as a refill. Please, let us know what color would you like to have available this way in the comments!
Matte Black PETG
Introducing a new filament color is usually not that exciting news. However, in this case, we beg to differ! PETG is notoriously known for creating prints that do not look as good compared to PLA. However, we love PETG for its mechanical properties and ease of use – for example, the printed parts on Original Prusa printers are printed from PETG. And for functional parts, aesthetics are not a priority.
The main reason why PETG prints look a bit worse compared to, for example, PLA, is its glossiness. Well, we found a way to make it look matte (and thus really good!) and our first release is the Prusament PETG Matte Black, but more matte colors will follow in the future.
Prusament PETG Matte Black is coming to our eshop in November 2022!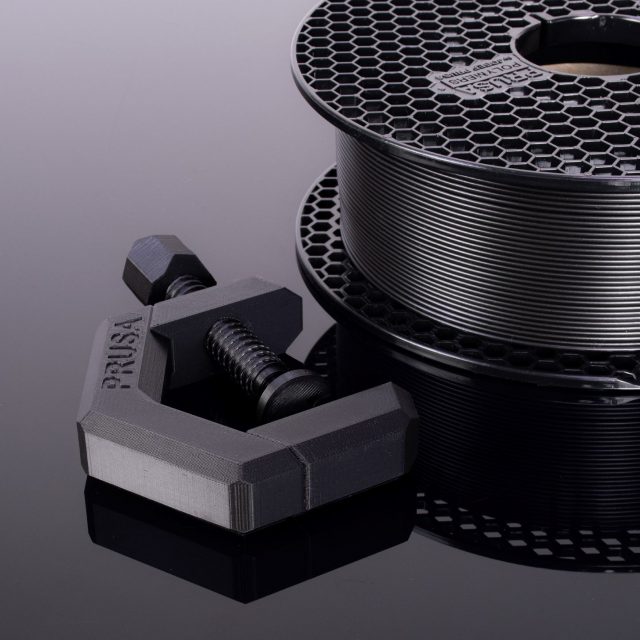 New Prusament Resins
We keep expanding our line of high-quality Prusament Resins and this time, we're bringing something completely new!
Prusament BioBased60 resin
With the new BioBased60 resin, our goal was to create a product with the highest possible content of ingredients obtained from plant-based sources while maintaining exposure times and reliability during printing. And we succeeded – we have created a resin with the highest proportion of renewable ingredients on the market which makes no compromises in the level of detail or speed! So, if you're looking for a printing material that will deliver intricate objects with amazing levels of detail, BioBased60 is a great choice.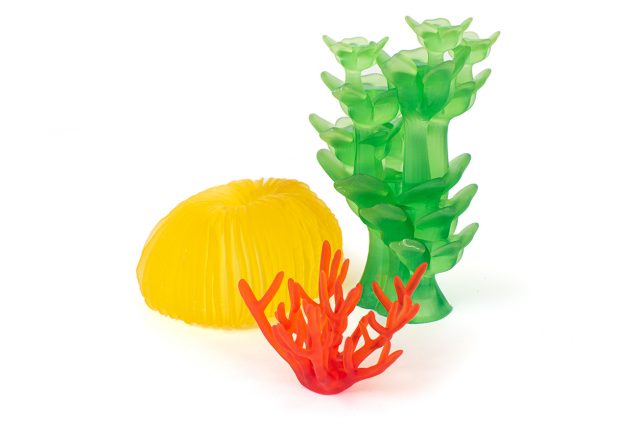 If you're wondering why we named our new resin BioBased60, it's because we wanted to reflect the content of plant-based materials in the name. In other words: 60 % of BioBased60 composition is made up of ingredients derived from natural sources. To be a bit more exact and technical: Its acrylic monomers are produced from natural oils and terpenes, such as α-pinene obtained from pine trees which gives the resin a nice pine-tree-like aroma. This is a major difference compared to conventional resins because their ingredients are derived exclusively from petroleum-sourced products.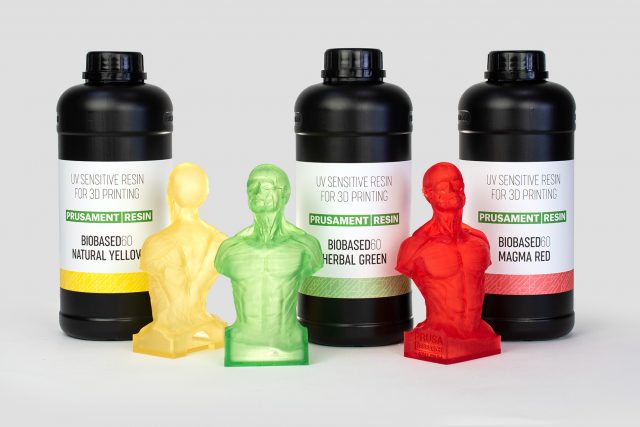 The resin still requires careful handling (and disposal) like any other resin, so keep that in mind.
The Prusament Resin BioBased60 is available in three colors (Natural Yellow, Herbal Green and Magma Red) in our e-shop.
Prusament Flex80 is coming!
You can also look forward to another resin type coming to our eshop, the Prusament Resin Flex80 and as the name suggests, soon, you'll have the option to print flexible objects on your SLA 3D printer. The main advantage of our upcoming Flex80 resin is its ability to retain incredible detail and intricate structures in SLA prints. Its hardness is around 80 Shore A and it's similar to a car tire or a rubber shoe sole.
This makes the Flex80 ideal for printing technical parts (spacers, tires for RC cars, etc.) and organic-looking objects (skin, organs, etc.). Printing with flexible resins is slightly more difficult, but we made sure that our SL1S can handle it with ease. Using thicker and denser supports or a high-viscosity printing profile is recommended to improve the printing quality of complex objects.
And that's not all – we also have more Tough resin colors coming!
So keep an eye on our e-shop, we will stock the Flex80 and more Tough resins in the near future. 😉
Happy printing!
Resins were developed with the support of TAČR (Technology Agency of the Czech Republic).