The Transportation contest is finished, and you all absolutely smashed it again. We had over 650 entries into the contest with a great variety of modes of transportation represented. As our community continues to grow, it's been incredible to see the response to our contests and what themes are a hit with you all, and which ones are not. This one was definitely a hit.
There were a few trends worth pointing out from the entries. It was great to see that cars didn't entirely dominate the entries and that bicycles actually accounted for a large number of the entries. I also loved how many entries there were for wheelchair accessories, something I hadn't anticipated. Finally, if you were looking for a way to hang your skateboard, you definitely have a lot of options now!
We know what you are really here for though, so let's move on to our winners!
First Place
Universal Travel Coffee Gimbal! by mobiobi
We all need an extra cupholder from time to time and one that won't spill our drinks would be even better. The creator had a great idea, why make a cupholder for just one form of transportation when they could make one that would attach to almost anything. To make things even cooler, the gimbal that helps keep your coffee out of your lap, is a print in place mechanism!
Mobiobi has won an Original Prusa MK3S+ kit for this great entry.
Second Place
Car trunk fixing element (velcro) by Mi Sch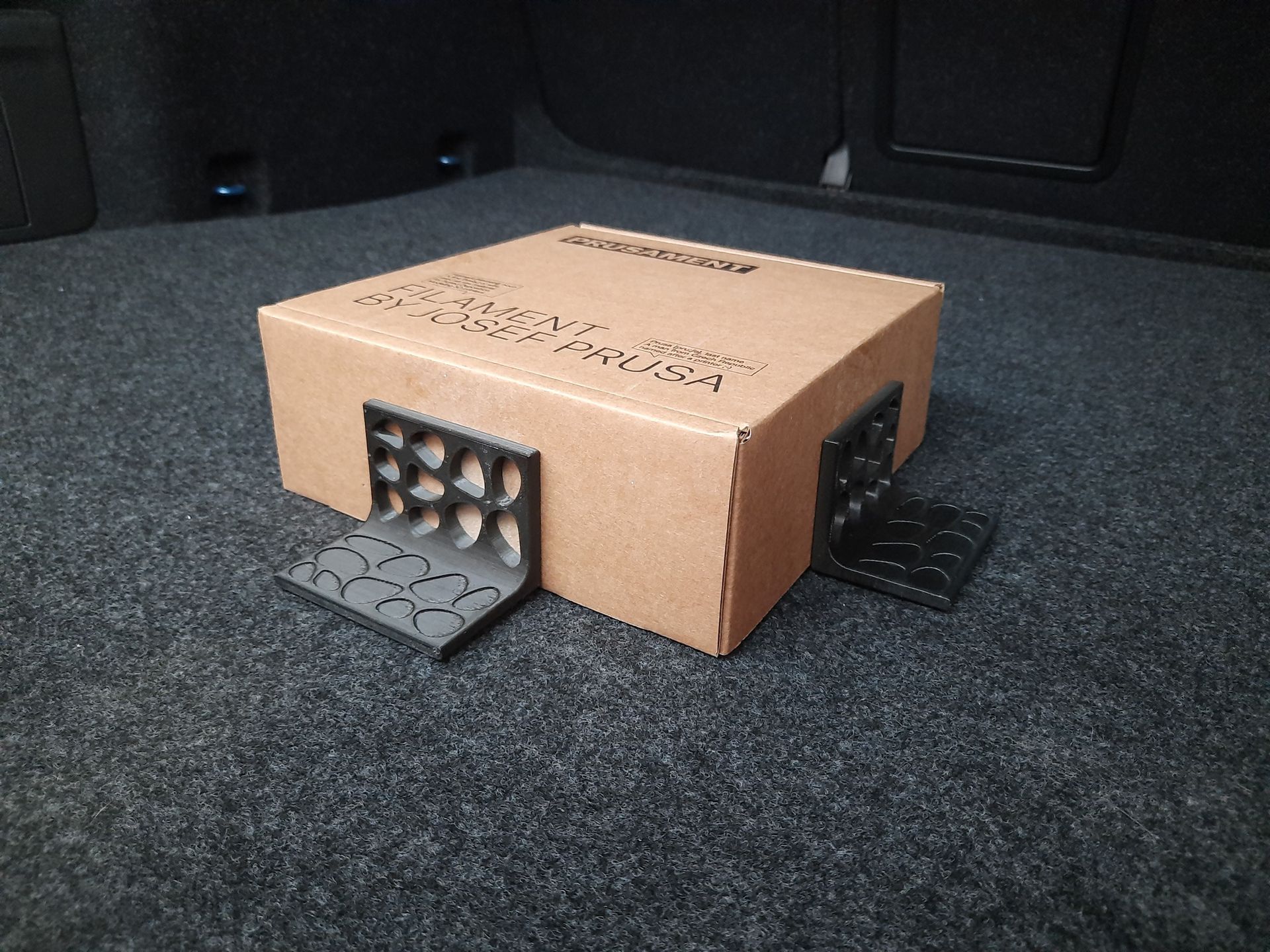 We've all had times when we've needed to move things in our truck just to hear them sliding around when going around a corner. These printable stops have Velcro on the bottom to help grip into your car's carpet. With a few of these, you can block packages to keep them from sliding. This of course isn't going to keep super heavy items in place but for many loads they will be great. Best part is, they won't take a lot of space in your trunk to store between trips.
The second place prize this time around is 3 spools of Prusament.
Third Place
Toolbox for bicycle by Printschnitzel.at
It's always nice to have a few essentials on your bike at all times. Traditional fabric trunks get dirty in no time and are hard to clean, a plastic one though would be easy to wipe down. If this trunk doesn't fit your needs, the creator has included a Fusion and a STEP file so you can edit it at will.
This third place win will receive 2 spools of Prusament.
You all have been posting your Makes of these entries too and the 5 with the most makes will each receive a $50 voucher to our E-shop.
| | |
| --- | --- |
| Single-Hand Key Organizer | |
| | Shopping Cart – Chips – Collection |
| Bosch KIOX Protector / Bumper Case | |
| | Flexible Slim Can Adapter for Cup Holder |
| Ratchet Strap Reel | |
Congratulations to all of our winners and we can't wait to see what all of the competitors come up with next. Don't forget to check out our Flash contests each week for more chances to win.