It's not that long ago when I started to sell the original Prusa i3 kits over at shop.prusa3d.com. I already have users in some pretty exotic destinations like Haiti, Puerto Rico, Saudi Arabia, New Caledonia, Malaysia, Colombia or New Zealand. I am overwhelmed with the positive response and feedback and I continue with the development all the time. They're the little things, tweaks and improvements RepRap community usually doesn't see as a printer improvement but at the end they make giant improvement for the first time builder. Or even safety, as my team prepares all the mains voltage stuff and puts everything under a printed cover. These are the things that make RepRaps more competitive against "prosumer" printers.
But now, it's time for a bigger change. As I already shipped the kits to every imaginable country I recognized a trend of the 1.75mm filament. From the data I've got, the trend is 9 to 1 for 1.75mm to 3mm filament. Yet I was still making 3mm nozzles with lapping technology, what can't be used for 1.75mm nozzles.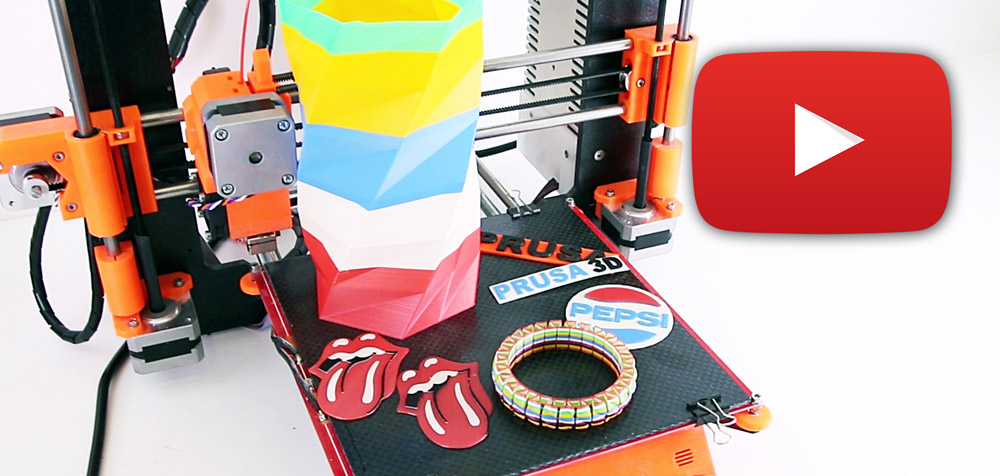 BTW check out easy color 3D printing on new original Prusa i3!
Instead of trying to make the nozzle myself and possibly rushing it to the market, as I would be running out of the 3mm stock, I looked around for the best alternative. And if you look for the hotends with the best reputation in the community, it is E3D.
I bought some, downloaded couple mounts and extruders from the internet and started some tests. I found a few points I needed to solve:
There wasn't neither sexy nor really good working extruder compatible with E3D for Prusa i3

The fan mount supplied with the nozzle blows at printed objects, and that's not good for ABS prints

No good printing-fan designs were available, especially if you want them aesthetically pleasing, not looking like a last minute addition

The standard V6 heatbreak (stainless steel part preventing the heat from the nozzle to go up to the heatsink where plastic needs to be cold) can bend easily and that's not good for first time builders

Filament had to pass thru the extruder body to PTFE and then to the nozzle, which makes printing flex materials extremely hard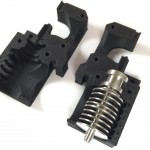 After a couple of weeks I finally came up with a sleek design for the extruder. I eventually found out that it is possible to combine extruder body + groove mount + fan holder into two nicely symmetrical parts + idler. I even managed to solve the problem of nozzle cooling fan blowing on the prints all the time by adding small fins diverting the airflow upwards.
A bit later E3D came up with V6-lite – having much stronger heatbreak I won't have to worry about my customers bending the nozzles while trying to print for the first time.
Assembly is pretty simple. You put prepared nozzle, with just enough teflon to reach the drive gear, into the cavity of the extruder body's half, cover it with the second half and secure it with bolting on the motor. Then you just mount the nozzle cooling fan and idler – and voilà! Ready to mount to the printer 🙂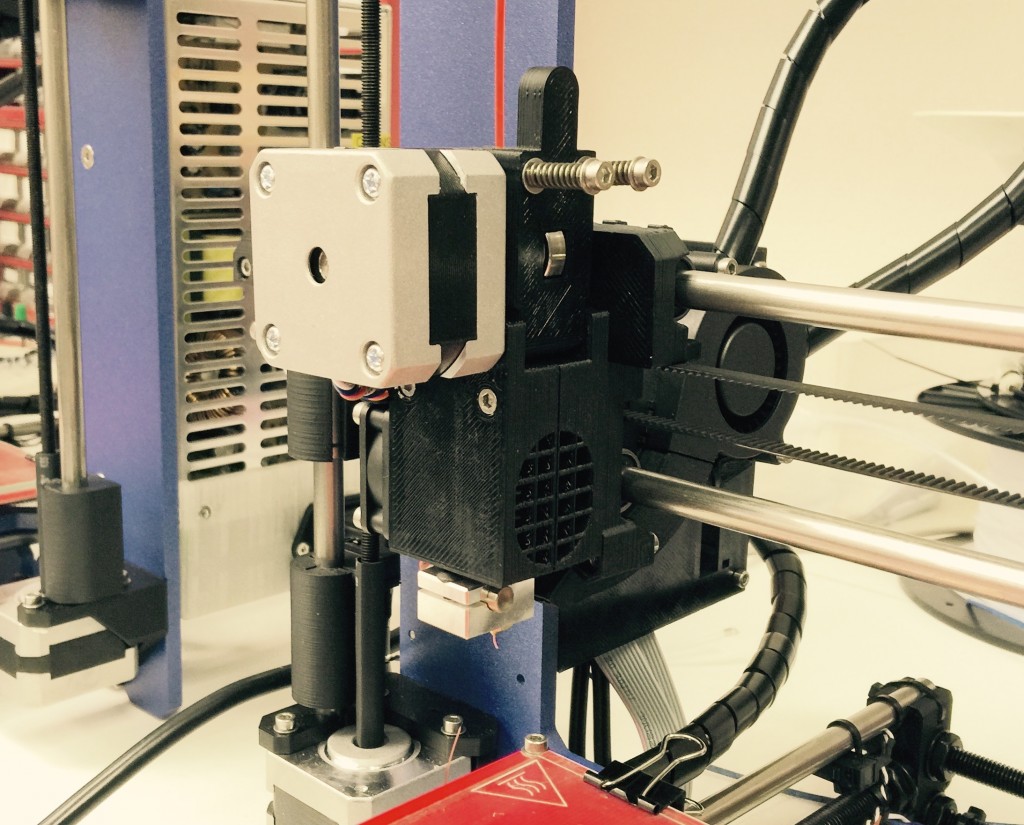 Oh BTW, you can see the whole assembly process in my kit manual here http://manual.prusa3d.com/Guide/5.+Extruder/43. I don't want to boast, but the manual is RepRap pornography 😉
But we still had one thing to solve and that's the print fan. This actually proved to be longer process than the extruder itself. We ended up using turbines instead of normal fan. My brother Michal, who worked on this, found a really nice solution with mounting the fan on the x-carriage back and blowing under the carriage to cool down the print. This way, the fan is hidden behind, you have a great access to nozzle and visibility of the print is great. Being able to see the nozzle is very useful for first time builders as it helps a lot with calibration.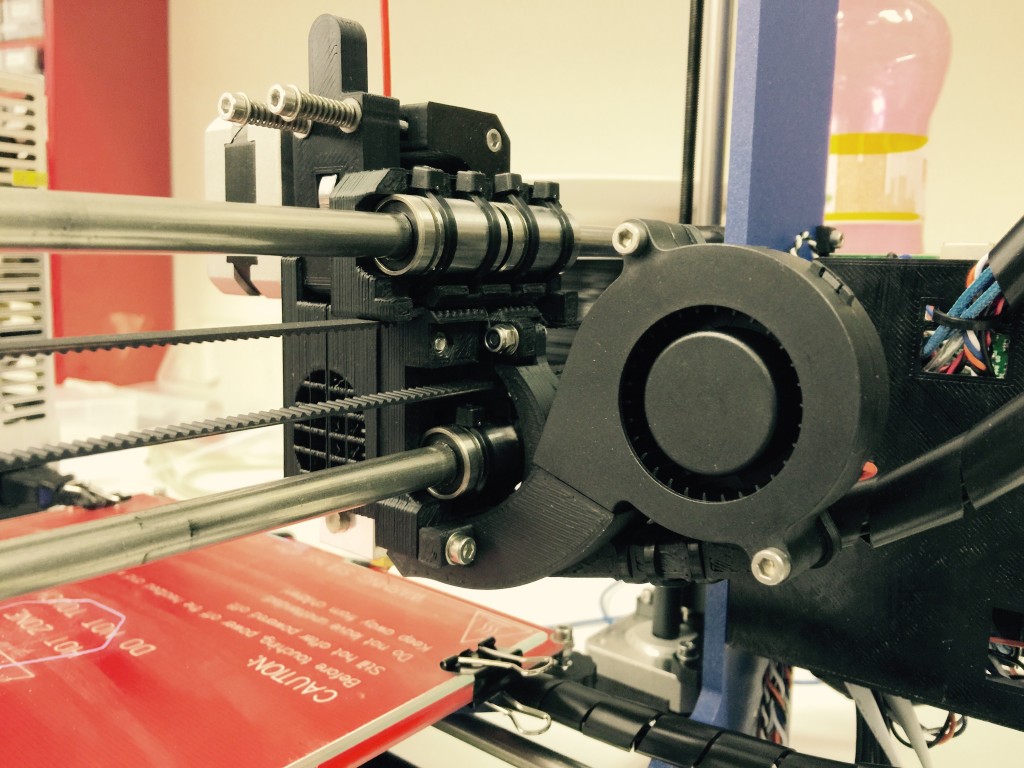 SUCCESS!
This move proved to bring many advantages.
First and foremost the print quality is improved a lot, mainly because the 1.75 mm filament tends to be more precise in diameter. The other reason for improved quality is that I can make the whole extruder assembly much smaller and less prone to vibrations.
The 1.75 material availability is way better as I mentioned before, some materials are not even available in 2.85 mm version.
Prusa i3 is now compatible with the whole range of E3D products, so our customers and ourselves have bigger freedom. Want a bigger nozzle? You got it! Want a faster printing? Get The Vulcano and print super fast.
So I think this all makes my original kit even better. I didn't write here about it before; so I will sum up the kit here for those who've read this article till the end 🙂 When I saw so many frustrated builders with poorly executed i3 clones, left wandering the various forums without any form of support or even assembly manuals I felt angry that those clones have my name on them. I decided to do it properly.
The first key element is the support we give to kit builders and customers. We prepared beautiful build manuals with hi-res photos with the help of amazing DOZUKI (documentation software from iFixit – if you ever saw their first-day teardown of new iPhone, it's the same system).
Next is our dedicated forum for our customers, that is crucial point as the generic forums can be huge mess because of thousands of varieties in the Prusa i3s in the wild. Take a look at forum.prusa3d.com I personally try to help everyone with their issues; not to mention my team checks the forum regularly too.
I also built an amazing support team you can reach through LiveChat on my pages. They are not 24/7 yet, but this service is coming soon. If you have any question, feel free to ask them on shop.prusa3d.com.
Now to the printer itself, when I saw what others use … I only use the best what I can source. For example milled special aluminium alloy frames made completely in Czech Republic are really important to make a durable printer with repeatable print results compared to acrylic lasercut sh*t.  The electronics I use is original RAMBo mini imported directly from Ultimachine USA, rock stable workhorse! I'm sure I would make UPS happy with shipping the replacement RAMPS clone every other time – only if I would use them. But we are still waiting for a first RAMBo not working on arrival. Good job, Ultimachine!
And I can go on and on. The original is not the cheapest, but me and my awesome team put one hell of an effort to make it the smoothest experience you can get 🙂 I am happy to see such a great feedback. Thanks!!