A 3D printed arm designed to look like a part of Buzz Lightyear's spacesuit brought joy to the life of little Tommy Dengel and his family. Charles University in Prague bought our Original Prusa i3 printer to create custom-made and cost-efficient tools for research. Tens of thousands of our printers continue to extrude filament every day in every corner of the world. Today, we bring you four inspirational stories about our printers and how they help people with extraordinary tasks.
Custom-made and incomparably cheaper biological combs
The Faculty of Natural Science of Charles University in Prague decided to purchase our Original Prusa i3 3D printer at the beginning of 2018. Doctoral student Jáchym Metlička, a long-time printing enthusiast, is considered to be the main proponent of 3D printing at the faculty. Metlička has long tried to excite his colleagues for this quite recent and popular prototyping method and eventually succeeded.
Our printer found its use in the cell morphogenesis lab, where it prints such things as media chambers for laboratory slides, or combs for electrophoresis – everything perfectly custom-made, plus incomparably cheaper than commercially available products.
"Supplies for electrophoresis are usually overpriced," Metlička describes his experience. "A comb for this device costs over 1000 CZK (around 50 USD) and it often has an inappropriate number of teeth. However, a custom-made comb with individual teeth configuration can be printed in 25-60 minutes, while the material costs are as low as 7 CZK (about 30 cents)," Metlička explains.
He tried to convince his colleagues to buy a 3D printer, but without success. Only after Metlička had purchased a 3D printer for himself and brought a printed comb to the university, his seniors finally understood the potential of this technology. "What I really appreciate about 3D printing, is how it changes the way you think – it allows to turn an idea into a real object, quickly and easily. Plus, it's easy to improve the design in case there are any defects or imperfections," Metlička concludes.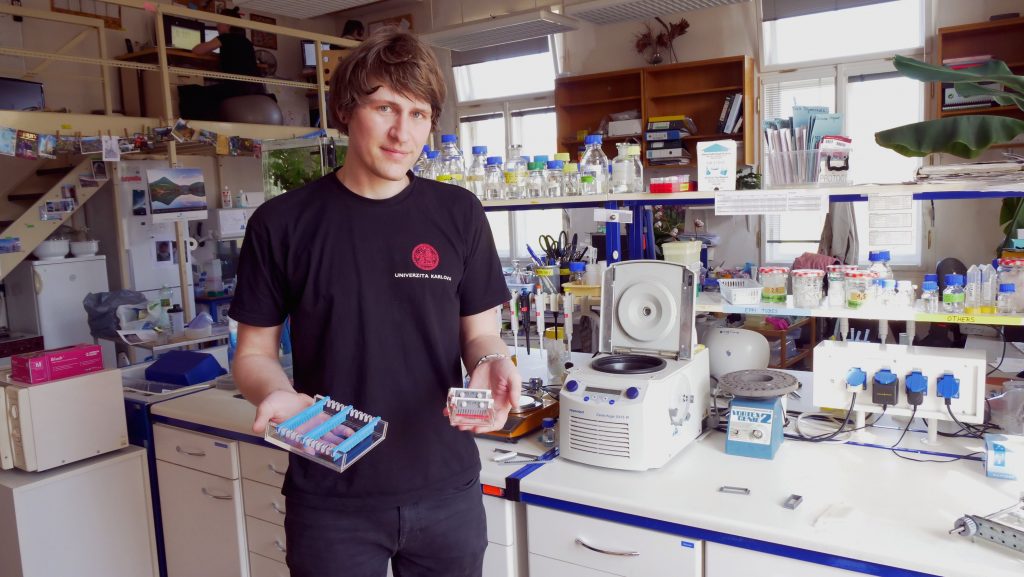 Buzz Lightyear's arm for little Tommy
When the 3-year old Tommy Dengel tried wearing an assistive device designed to look like a part of Buzz Lightyear's (Toy Story) spacesuit for the first time, he was entirely over the moon with it. Tommy was born without his right hand and most of his arm due to a rare condition – amniotic band syndrome. And the usual prosthetic arms didn't work well for him.
His father, Adam, set out on a quest to find a solution to this problem. He got in touch with Team UnLimbited, a non-profit organization providing custom 3D printed arms to children in need. This organization also offers free downloadable 3D models of various prosthetic limbs on its official website.
Tommy received his first assistive device from the family's friends, and when his father saw his excited reaction, he thought: "Right, this is something I need to do." Adam purchased an Original Prusa i3 MK2 printer and used it to print six different assistive devices for his son. Tommy still prefers the one resembling Buzz Lightyear's spacesuit, though.
Adam and his wife Katie also established their own charity effort with the goal to inform the public about living with disabilities, and also provide 3D printed limbs to children in need.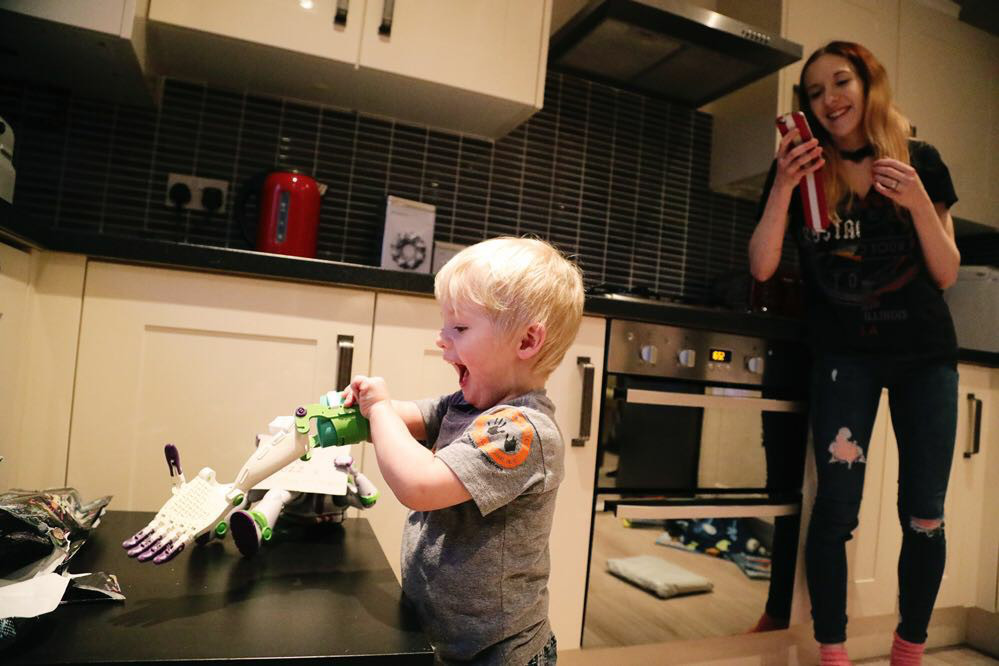 High school competition allows visually impaired to touch the world
When Ivana Pechová, a high-school professor at the Prague's Arabská Gymnasium (something like grammar school), visited a haptic exhibition in the National Gallery of Prague, she was captured by its idea. Part of the presentation was populated by small-scale models of various Czech castles, churches, towers and bridges, which the visually impaired visitors could touch to understand the shape of the real-world buildings and structures better.
In 2018, Pechová organized the second year of a competition for high school students at the Arabská Gymnasium. Contenders' task was to create and print a 3D model of a Czech monument for visually impaired students.
This school also collaborates with the Gymnasium for Visually Impaired. "When you browse through the online 3D printing portals, you will usually stumble upon foreign buildings or monuments, but very little to no Czech ones. Not only I, but especially visually impaired students, deeply appreciate this competition," says Jakub Jelínek, a teacher at this school.
This year, over 30 students took part in the contest and eventually 10 of them made it to finals with models of both Czech and foreign monuments. The Czech monuments included Prague's "V-Tower" skyscraper, the Battle of Sudoměř Memorial, astronomical clock in Brno or the cubist lamp by Emil Králíček. These models were accompanied by several foreign monuments, such as the Temple of Kukulkan, a Japanese pagoda, The White House, Fernsehturn (TV Tower) Berlin and the Arc de Triomphe in Paris.
3D printed remains of a Czech 14th century saint
Priest and Martyr John of Nepomuk is one of the most famous Czech saints. On March 20th, 1396, John died after being tortured at the behest of King Wenceslaus IV of Bohemia. His body was thrown into the river Vltava from the Charles Bridge in Prague. Even more than six centuries later, the cult of st. John of Nepomuk is still active not only in the Czech Republic but also in a large part of Central Europe. John's remains lie in the St. Vitus Cathedral, hidden from the eyes of the public.
Last year, the director of the Nepomuk museum contacted Karel Slobodník, a doctoral candidate at the West Bohemian University and a 3D printing enthusiast, with the intention to recreate St. John's remains using a 3D printer.
Slobodník used his Original Prusa i3 MK2 printer to recreate life-size replicas of the skull, shoulder-blade and even brain tissue. The skull turned out to be the most challenging part of the whole project because Slobodník had no access to Saint John's remains.
"I had to rely on an anthropological study from the 70's, because the access to the remains is strictly forbidden," Slobodník explains. The study, fortunately, contained accurate measurements. He then started with a 3D scan of another skull. Using the measures from the four decades old document, Slobodník reshaped the existing 3D model to achieve the final result: a very close recreation of St. John of Nepomuk's skull. To give the printed object a more realistic look, clay was used for the final touches.
The vicar of the Saint John of Nepomuk church in Čeladná (Moravia, Czech Republic) also expressed his interest in obtaining these 3D printed replicas and finally received them during a Solemn Mass this March.
The Nepomuk museum also works together with the Anthropological Institute in Brno with the goal to recreate the actual face of st. John of Nepomuk based on the 3D printed remains.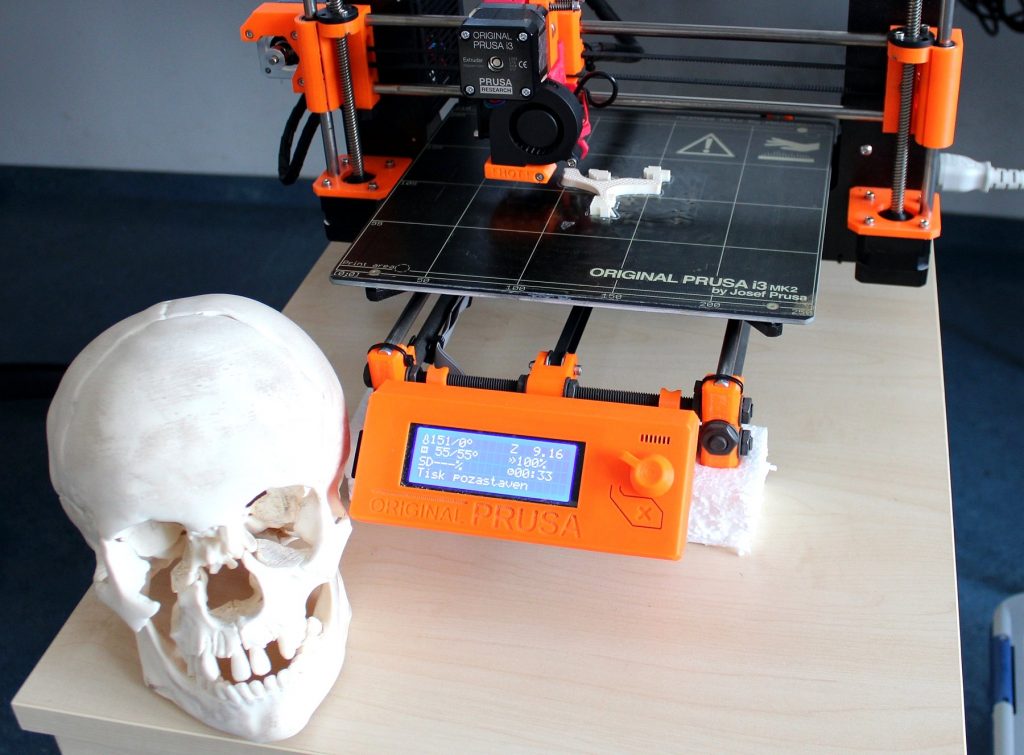 Share your 3D printing story…
These were just some of the wonderful stories about how our printers allow people to solve difficult life situations, design their own scientific tools or recreate lost parts of history. We at Prusa Research are proud that we can enable people all over the world to do something that they couldn't do before. These stories are our driving force, our motivation to bring you better and more accessible technology, to give you the tools needed to achieve your goals in an effective, cost-efficient and fun way. They give us ideas how to improve what we already have.
Hopefully, you also have a 3d printing story to share. And we would love to hear it. We are preparing a brand new Testimonial section for our website, so if you would like to see your story published, please let us know through our e-mail [email protected].