This year's wedding season is over, but that means only one thing: it's about the right time to start planning the next one!
So if you have a wedding coming up next year – stay tuned, because we've got some useful tips for awesome wedding 3D prints. Whether you're the guest, the groom, or the bride, this article is for you!
Inscriptions and letters
Mr & Mrs, Love, Bar, Wedding – these signs are the classical wedding decorations. But there are many more possibilities when you have a 3D printer!
You don't need to rely on the retailers or rental offers. In PrusaSlicer, you can play around with the size, shape, and thickness of the letters or even add holes so you can hang them. Big letters can decorate the bar, small ones can decorate the wedding cake – just use your imagination!
If you want to create your own model of a specific typeface, all you need is to spend a few minutes in one of many freeware programs. It's quite easy to create a model of the alphabet – check out the simple tutorial here and print letters exactly as you need. If you like a serif font similar to the one in the photo, you can use this alphabet from PrusaPrinters as well. Wrap those printed letters with bright LED lights and your fancy decoration is ready to use!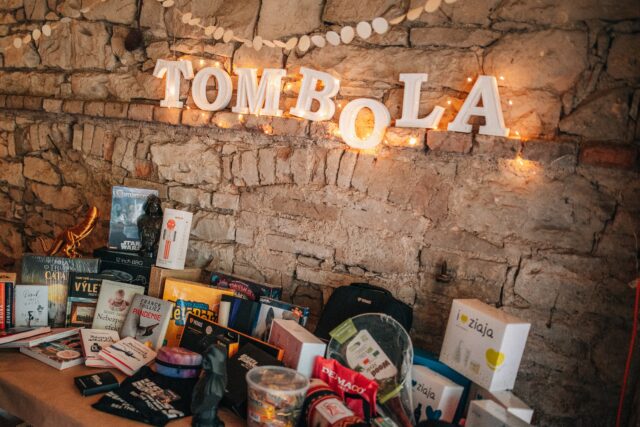 TIP: Our Original Prusa i3 MK3S+ offers a print area of up to 25×21×21 cm, but even that doesn't have to be the limit! We recommend you to read our The Great Guide to Gluing and Assembling 3D Prints.
Photo booth props
A photo booth should not be missing at any wedding, right? Guests will have a great time and you will end up with a lot of funny memories in your wedding album. But having a camera and a photo background is not enough – one of the key elements is the props! Heat up your 3D printer and print crowns, tiaras, glasses, mustaches, or magic wands and create a wide selection of original props for your guests. If you're looking for inspiration, check out this collection or try creating your own models based on the theme of your wedding.
Cufflinks and bow ties
With the help of 3D printing, you can give your outfit a new twist to make sure you're looking really dapper – there is no better occasion than your big day! For example, you can print your bow tie – whether in classic, modern, or batman style – cufflinks, lapel pins or practical collar stays. We recommend one of our design contest winners, an Emergency Debonair Card with pop-out buttons for all the forgetful best men. You can also print a very original tie and, for ladies, an elegant piece of jewelry. Take a look at our collection and fine-tune your unique style.
Name tags and table numbering
Every wedding needs a well-managed organization and seating plan so that guests can find their way around easily. Name tags navigate you through the wedding reception, while table numbers make it easier for the staff to work throughout the day. At PrusaPrinters, you can find practical name tag stands or cute lanterns with table numbers that create a romantic atmosphere. You can also print out individual numbers or help yourself again with a 3D-printed stand and use simple numbered paper cards. Seating arrangements will be a breeze!
TIP: The stands and numbers printed from Prusament Viva La Bronze look really great!
Wedding rings box or stand
Exchanging of rings – one of the most iconic moments of the whole wedding. Getting the rings ready for the ceremony is an important part of the preparations. You can print out this elegant round box with a magnetic closing mechanism and enough space for both rings (of course, you can adjust the size in Prusaslicer as you like ). You can use Prusament PETG Galaxy Black and add gold detail to the top of the lid or just go with the simpler version with embossing only. Once your box is ready, stuff it with a velvet cushion or fresh green moss and the result will be stunning. If this round box doesn't fit in with the concept of your wedding, there are other options such as stands, plates, or this case.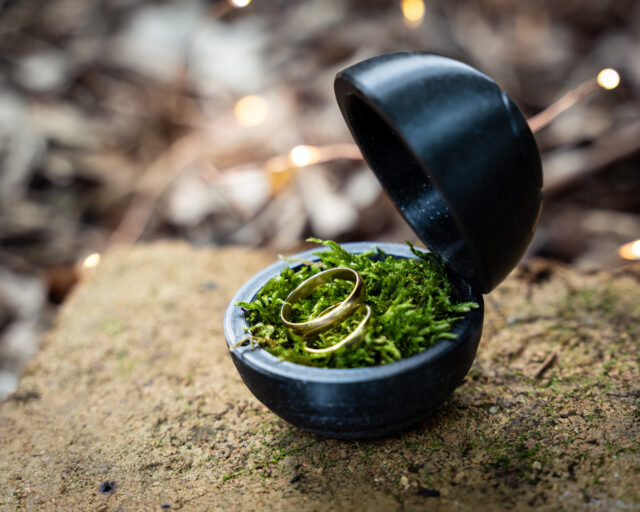 Cake topper
Another wedding classic is a decorative cake topper. There is a large selection of generic inscriptions that you can use to decorate your cake, but if you know how to work with a basic modeling program, you can make a topper with your own name. Or you can just try this one, which we personally tested and it is one of our favorites. It only takes 1.5 hours to print, so go for it! (Since the print will come into contact with food, we recommend printing from PLA material and using it only once). And if you know a bit about 3D modeling, why not try creating wedding figurines that look just like you (or your favorite dinosaur)!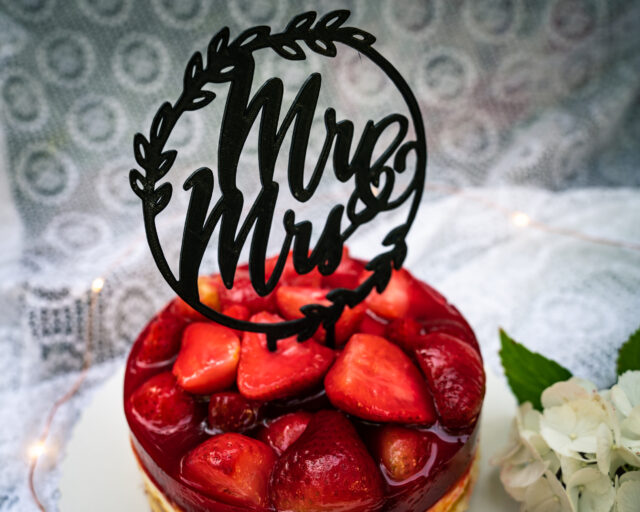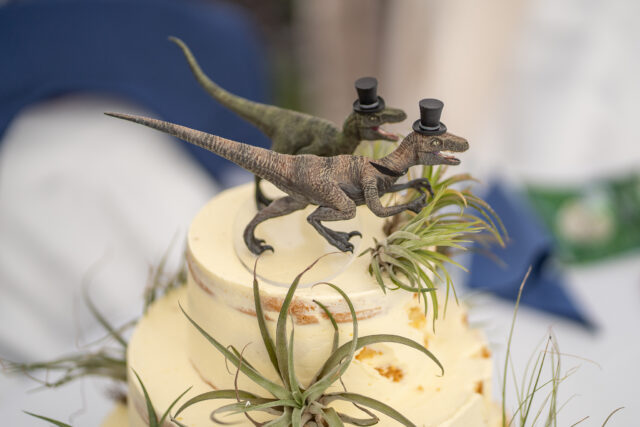 Hanging decorations
If you're a fan of minimalism, you might be interested in decorating your wedding with these gentle cranes that look like paper origami. Just string them on a line and let them sway in the summer breeze. Thanks to a good hole placement, they are perfectly balanced and don't tip over. Even if it starts to rain the cranes will be just fine. This durability makes them the perfect decoration for any outdoor party. Plus you can give them to your guests after the wedding. But when it comes to hanging decorations, there are many more possibilities. How about a hanging lantern or printed diamonds? See what other decorations PrusaPrinters offers.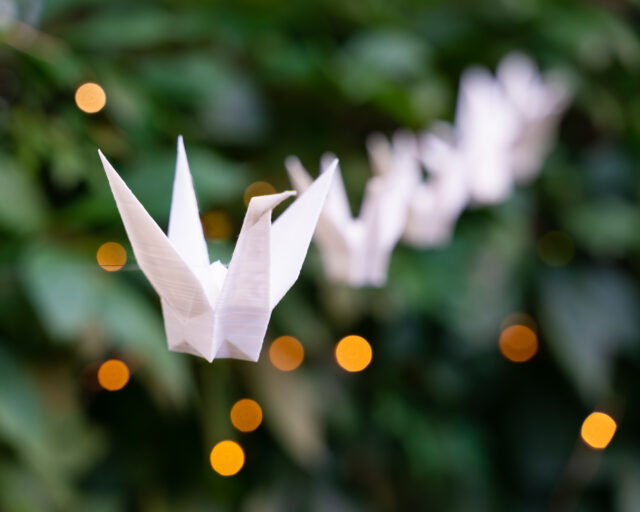 Stamps and seals
It's not uncommon for the "bride and groom to be" to create their own wedding logo with the date and their joint name. This logo is usually put on invitations, thank-you cards, various signs, and notes. If you're thinking about using your own logo, try making your own stamp or seal using your 3D printer. You can take inspiration from our earlier article on flexible filament printing, but if you're planning more detailed graphics, it's best to have a specialist company make the plate (the rubber part of the stamp designed to transfer the ink from the ink pad to paper).
It costs around 8 USD and the self-adhesive plate can be glued onto a 3D printed handle, which according to Prusa's calculator will cost you only 0,45 USD. And voilà, your wedding stamp is ready!
It is just slightly more difficult to make your own seal – you will need a resin printer for detailed printing and basic knowledge of modeling programs. However, your custom-sealed envelopes will undoubtedly be amazing!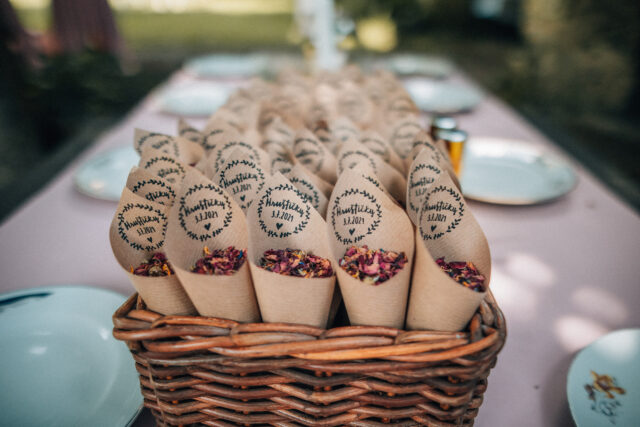 Wedding gifts
If you don't have to worry about preparations since you are just a wedding guest, 3D printing gives you the opportunity for a great wedding gift. The most practical gift is, of course, money or vouchers, but it would be a shame to just hand them over in an envelope.
How about trying a funny toaster for the newlyweds or cryptex with a secret password? Try writing a little hint for the bride and groom in the greeting card and you will see that your gift will definitely not be forgotten. At PrusaPrinters you can find a large selection of gift boxes or special containers, which you can only get into if you can decipher the riddle! Check out the collection of ideas here.
Extra tips:
Invitations
When you are designing a wedding invitation you have a lot of options. You must pick the right material, theme and design. Some people prefer playfulness, others prefer elegance. If you want to be able to customize your invitation to the smallest details and you want to be original, we're sure you won't go wrong with 3D printing. If you don't know where to start, you can always take a look at Pinterest.
Napkin rings
Does your wedding have a theme or a color palette? Find the right Prusament color and print the rings for napkins or the lunch menu roll. Guests will definitely notice all the little matching details.
Gifts for guests
There is a good chance that most of your guests are not familiar with 3D printing technology and will be really impressed by small 3D printed gifts. Just choose a few models on PrusaPrinters and print one trifle for everyone. How about these print-in-place alpacas with moving legs? No probllama!
Happy printing and happy wedding!