First off, I am no 3D printing guru. Like many of you, this is just a casual hobby. I do however like to work with my hands, and have several hobbies from R/C, to plastic models and also guitar. At work my job title is Proof of Concept, which allows me to build and tinker with rapid-prototype parts. When I discovered the PRUSA i3, I knew I had to get one for my home so I could make all kinds of things for my friends and family. Josef Prusa has developed the i3 printer to the point that it is very easy to use and very reliable.
I noticed that for most people the project ends when it comes off of the printer, but if you want to improve the look of your part, there is a whole other world to 3D printing in detailing your print job.
For big, time consuming print jobs, start small. The Face Hugger is BIG with many pieces. So I first printed it 50% smaller just to see how everything prints and fits together (pictured in white). I then went to printing the actual model, and when doing this be mindful what color filament will be best to use (I stuck with White PLA as it would take the paint color well).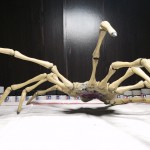 Selecting a low layer height makes for a longer print, but saves you from more sanding and smoothing, and personally I'd rather the i3 do that work for me so I printed at .10 layer height instead of a quick and dirty .20 or .25. Feel free to play with this, as on smaller builds, I will go down to .05 on occasion. I usually keep infill at about 20% (I did with the legs and tail), but to make it easier for the legs to hold up the body, I printed the body with 10%.
I under extruded the main body to get the 'skin' to seem porous. It came out ok, but I still want to play with this a bit more on future builds.
Once printed, it was time to assemble the pieces. Every part on this model sliced in half so the final product would not have any flat spots from printing, so I sanded the flats smooth and assembled them with Cyanoacrylate. I then did a dry fit of all the parts to be sure everything fit together well, fixing any issues that came up. After that was done I used Tamiya Modeling Putty to fill any seams and set the parts aside to dry. Once dried, I sanded the parts smooth starting with 150 grit and working down to a finer 600 grit. Warning – this was a long and tiring process.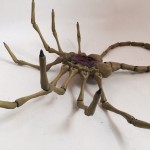 Next was finally paint time. I used Tamiya Surface Primer as my base, and Tamiya acrylic paint with a brush for the coloring (an airbrush will allow for better detailing and shading, but I didn't feel like getting it out to use it…cold winter 🙂 ). For the creatures skin tone, I mixed Lemon Yellow and Khaki Drab together till I got the desired color. Once fully painted I mixed German Gray with tap water at about 50/50 for the wash. A wash helps to get good depth into your part. I focused the wash mostly on any joints and the crevesas of the body. Finally I detailed the "mouth" using Red, Purple and White straight and mixed together to smooth out the color transitions. Below are some shots of the final product.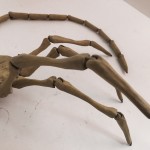 Again, for my next blog I will go into more detail on how to improve your final print, and provide step by step pictures! I hope you all enjoyed my Face Hugger and that it inspires you to do some detailing of your own with your PRUSA i3 prints! You can find the model on Thingiverse from user Agisis!