Hello everyone, it's time for another update and this time it will be a pretty massive one. We have been growing as fast as ever, and we already reached the incredible milestone of 100,000 3D printers shipped! Just in January, we dispatched 14,000 orders (not all of them are printers). I would have never imagined that when I started. We are actually working on a short documentary how we got (literally) from a basement to this level, I am beyond excited to show you parts of the story you never saw and I'm pretty sure you will love it, too. 🙂 But you are probably already excited about the MK3S and MMU2S from the title, so let's get to it.
Table of contents
Original Prusa i3 MK3S / MK2.5S
Some time ago we did a big survey about our products and it was immensely helpful. I want to thank everyone who participated. Constructive criticism is the best thing we can wish for and it helped us shape the updated products of MK3S and MMU2s.
Don't get me wrong, the printers are awesome and your feedback from the survey proves that. We also won first, second and third place on latest MAKE: Magazine 3D printer shootout which is pretty epic. But we just can't sit and not improve.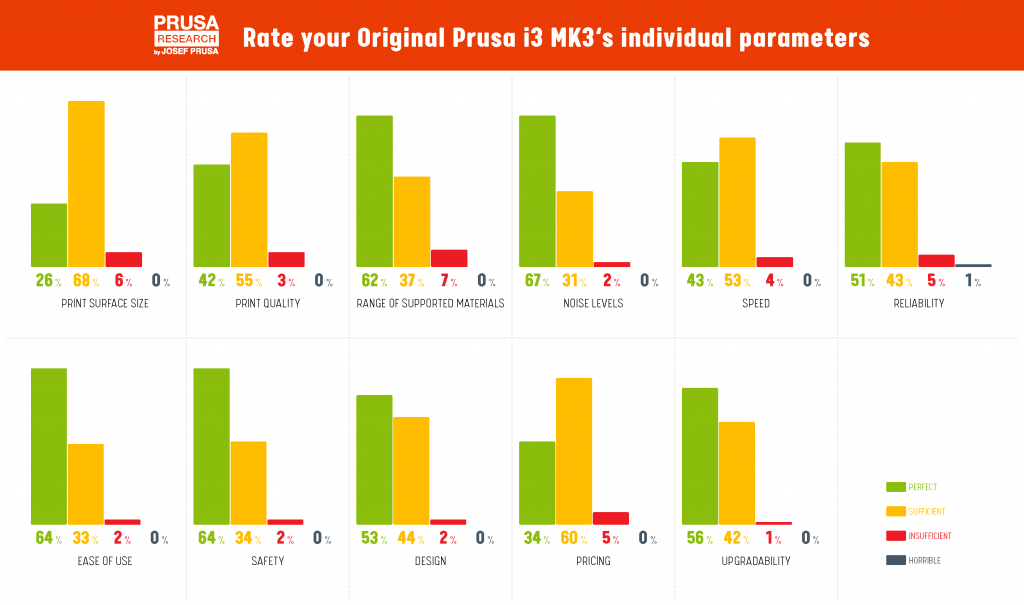 Results of our 3D printing survey regarding MK3 were very satisfying
With Original Prusa MK3S we are introducing a completely reworked extruder with a new filament sensor. The previous sensor didn't work well with some specific filaments. We did hear the community that we should try a different approach so we decided to go back to the drawing board. Mechanical switch approach is an easy solution. However, we've been testing them a long time ago and it proved to be unreliable in the long term run. Trust me, it didn't survive on our farm for long. Eventually, the hybrid of the two is the best solution. The new sensor is using the optical sensor which is triggered by a simple mechanical lever. This sensor doesn't care about the optical properties of the filament (it can be completely invisible) and cannot die because of mechanical wear.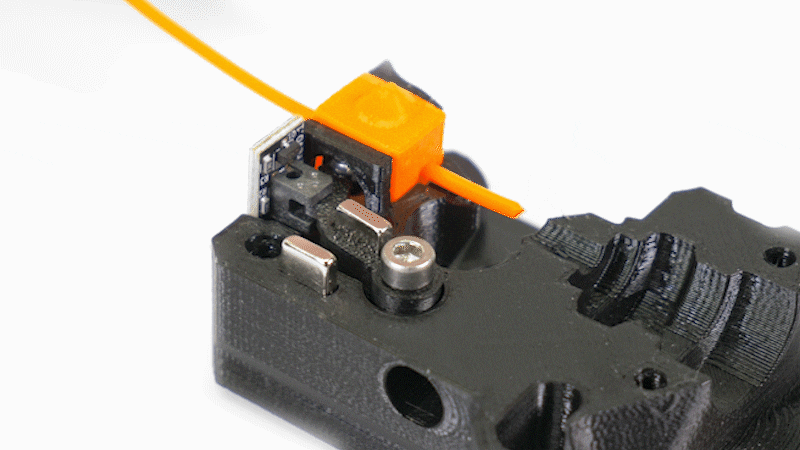 The mechanism of the re-worked filament sensor (the orange plastic part is black on production printers – this orange part is only for demonstration purposes)
When we were on it, we redesigned the whole extruder assembly. The feedback from the survey and our user groups indicated that it should be easier to service. So now you don't have to take apart the whole extruder if you want to change the nozzle or PTFE tube (two spare ones are now being included BTW). As a bonus, the nozzle and the extruder motor is much closer to the X-axis, this means less resonance and better prints too – this is also thanks to improved cooling. Better Y-axis belt tensioning is just the icing on the cake.
And, of course, the MK3S includes all the cumulative upgrades from the entire life cycle of the MK3. Before the release, we have made several improvements – like using genuine Gates belts, we also replaced the spiral wraps with textile sleeves, created a new Einsy case, added an anti-rust coating on smooth PEI sheets (more info below) and, of course, there are dozens of firmware and plastic parts enhancements.
The best part is, that the new MK3S is shipping since Friday, 8th February. You can get it from our eshop at the same price as the MK3 – 749 USD or 769 EUR (VAT included). Lead time for a kit is currently only 2 weeks.
If your MK3 printer has been shipped in the last two weeks (from January 28th onwards)*, we will automatically send you the voucher for the upgrade for free during this week. You don't need to contact our support team about that. These upgrades will have the printed parts printed by us.
*Update 13/02: Including all MK3 kits and upgrades and MK2.5 upgrades.
The regular price of the MK3S and MK2.5 upgrade kits are only 19.99 USD / EUR (vat incl.) when you print plastic parts by yourself and you can buy them right now on our e-shop:
At the same time, we decided to stop accepting new orders for Original Prusa i3 MK2S kit and assembled printer as the number of orders got quite low. But don't worry, we have all replacements in stock to provide long-term support to all current users of this printer.
Useful links:
New print profiles were just published for MK3 and MK3S. To get them, use Slic3r PE 1.41.3 or newer, which you can find in our updated drivers. We added the 70μm profile as a great option sitting between the 50μm and 100μm profiles. It is a great alternative for miniatures printing. 150μm Optimal and 200μm profiles were both split into Quality and Speed versions. Quality slows things down a bit and gives you better surface quality, while Speed speeds things up without much sacrifice to the settings we provided before. If you had inherited profiles modifying the system ones, you are not losing those, but I suggest to try the new ones. Slic3r PE has a lot of news by itself, but more on that in a separate chapter.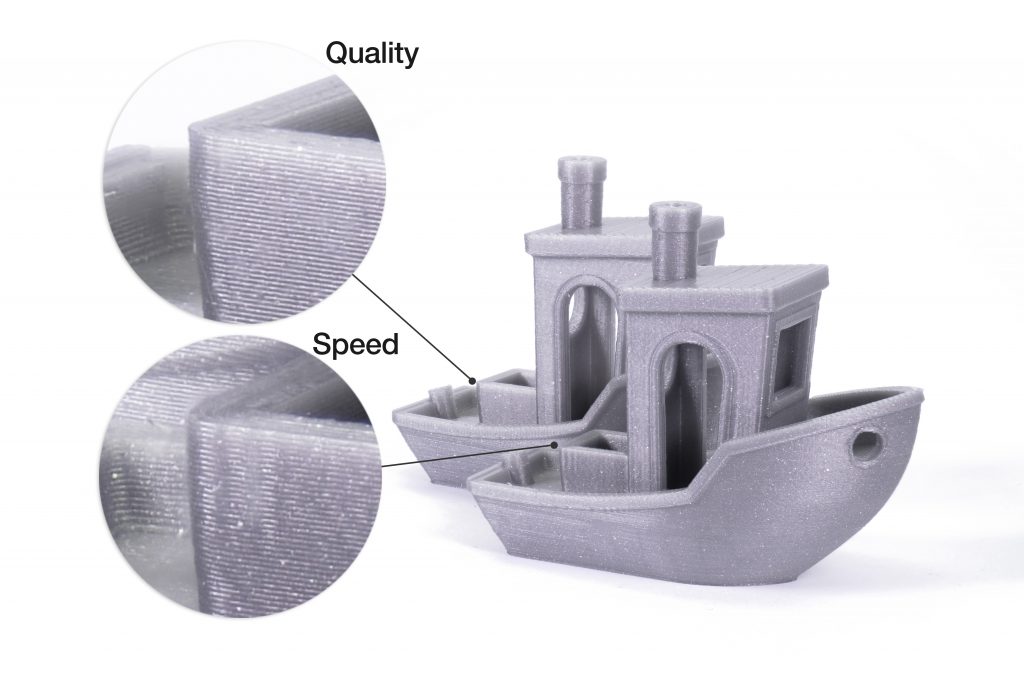 Original Prusa MMU2S for MK3S/MK2.5S
While the MK3 results in the survey were literally amazing, customer's feedback to MMU2 wasn't what we imagined. Although many of you print with five filaments without any hassle, there are users facing several issues with multi-material printing – usually related to reloading the filament and secondly from the filament getting tangled as the MMU2 is unloading filament from the five spools.
Before I even start about MMU2S, I have to tell you, that every current owner of MMU2 will be getting the upgrade to the MMU2S (self-printed parts for the extruder upgrade) for free no matter where in the world you are. If you want to receive factory-printed plastic parts for the new extruder with the upgrade, you can get them for 20 USD extra.
Everyone will receive a voucher for MMU2S upgrade with free shipping by the end of this week and all already placed orders will be automatically switched to MMU2S. No need to contact support, we will process all of these through our system. With such a cutting edge product, it is very important for us that everyone is happy.
When we were redesigning the MK3S extruder, MMU2 reloading problems were one of the things we thought of and we wanted to solve them. With the MMU2S we managed to sense not only that the filament is present, but that it actually reached the Bondtech gears. You have to switch a few parts on the MK3S extruder (which is a part of the MMU2S upgrade). But with this mod, the filament sensor detects when the idler doors open a bit as the filament pushes Bondtechs apart. We have done an incredible amount of testing, as you can see in the photos below, and I'm sure that the reliability of the unit has increased significantly.
The testing process of the MMU2S took 2 months to finish, we used 20 printers and we printed 478 test blocks designed to test frequent switching of all five filaments. There were two types of blocks: the first one took 19 hours to print, it has 607 filament changes and the second one took around 70 hours to print, while it had 3520 filament changes, so the total value of filament changes was nearly 600.000. Both blocks were designed to test frequent filament changes (even in higher layers). More than 93 % of this prints were successfully completed (about 19 % of prints required user attention, but they did not fail) and we are still working on the firmware improvements to decrease the number of failed prints even more.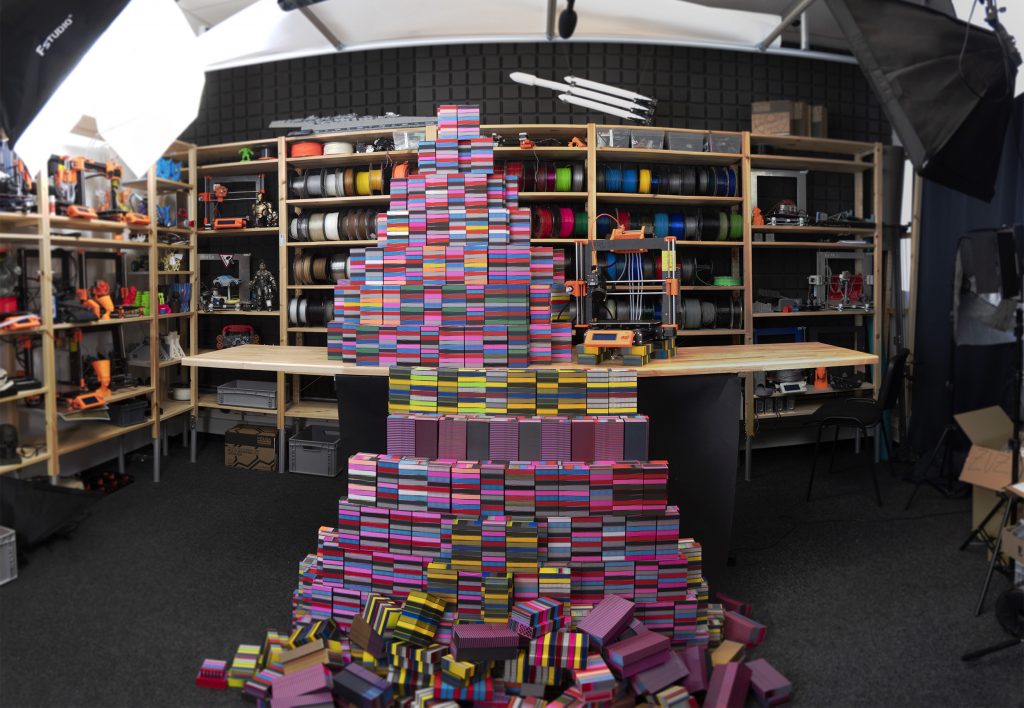 We printed two types of blocks – one took about 19 hours to print (607 filament changes), the other around 70 hours (3520 filament changes)
The tangling of the filament while unloading was a tougher nut to crack but we solved it by having a separate buffer which contains the unloaded filament. The user survey showed that the previous existing spool holders work properly if the filament guides are removed and the spools are placed far enough from the printer. Unfortunately, it took a lot of space.
In the new revision of MMU2S handbook, you will find tips, how to arrange everything for successful print and how to save some space.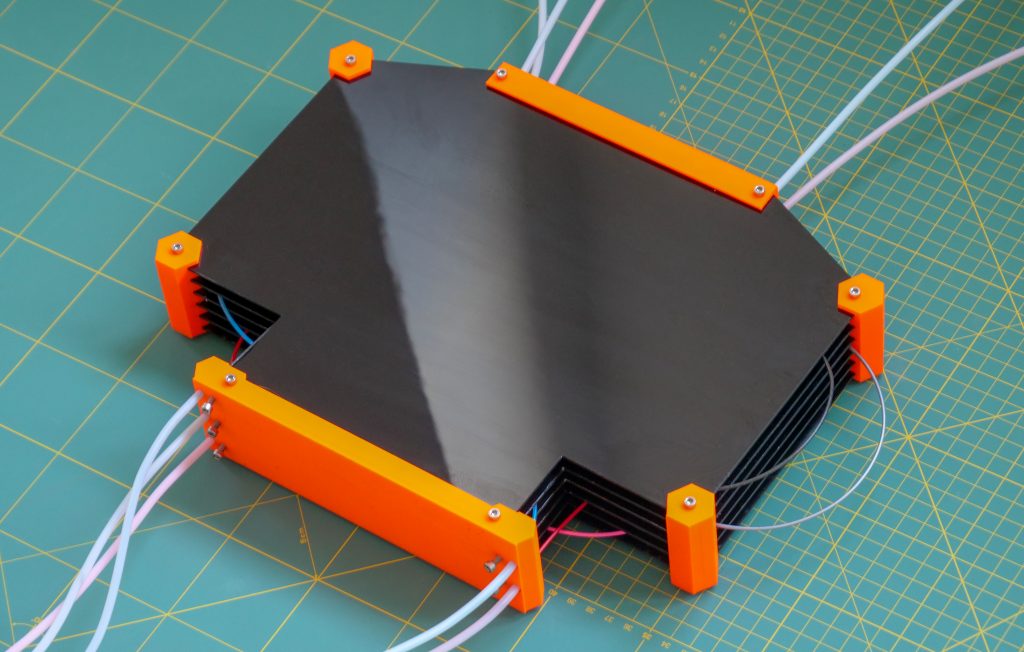 To summarize everything, with MMU2S you will get the new MK3S/MK2.5S extruder parts (with new filament sensor) and the new filament buffer. The MMU2 unit is remaining the same as most of the problems were elsewhere. And yes, if it isn't clear from the previous lines: when you have an MK3 or MK2.5 and order the MMU2S, you are getting the MK3S/MK2.5S upgrade along with it as well! In other words – MMU2S is MMU2 + MK3S/MK2.5S upgrade + filament buffer.
We are still waiting for some parts, but we will be able to start shipping the MMU2S over the course of next week. And once more – ALL MMU2 users will get vouchers for this upgrade FOR FREE by the end of this week.
New firmware builds – 3.5.3 and 3.5.2
The new firmware is also being released with support for MK3S / MK2.5S (version 3.5.3) but brings many improvements for MK3 and MK2.5 (3.5.2), too. One of the standouts is a different method for controlling the heatbed power which reduces the PSU clicking noise. Finer mesh bed leveling is in the works by popular community demand but it just takes time to do properly without hitting the magnets which throw off the readings even thru the steel sheet. We also strongly suggest babysitting any printer with any untested community firmware as safety checks might not work properly.
Textured sheets
The difficulty of their manufacturing is legendary, maybe on the level of unobtainium. We actually shipped over 10 000 of those so we have achieved some success here. But even a year after we introduced them to the public, we learn over and over again how hard they are to make. As our only acceptable option for us is a 0% area removed in the cross-cut adhesion test, and this is a challenge for every manufacturer. But we can't lower our standards just to get them out as we know that this spec can survive PETG and even flexible filament prints removal. You can find some clones even, which is embarrassing with a product we developed, but none of them are up to our standards.
We ended up building our own testing lab, where we can inspect every part of the process: from making the powder (Ultem/PEI can break even the best Japanese cryo grinders) to the powder coating and baking in a custom in-house-made furnace.
You could see it evolving with slightly modified designs going out. Thanks to our research of the coating process, even the "regular" PEI sticker sheets now come in black. They are specially treated to prevent rust. Regularly shipping to 160 countries provides us with a lot of interesting challenges. But thanks to our improvements, the sheets won't rust even under extreme humidity conditions like the ones found on seaside locations. Each technology iteration is now tested in a humidity chamber with salt mist. A huge departure from the beginnings in the basement 😀
Long story short, we now have suppliers able to manufacture it up to our standard and right now we are testing the repeatability before we start big batches. I do not want to promise any dates, burnt myself too many times and made a lot of people sad, but I am excited that we will be able to provide the best print surface experience to everyone "soon" 🙂
Original Prusa SL1
With our first resin-based 3D printer we don't want to leave anything to chance. We finished the second internal beta testing of SL1 last week with really awesome results. We have managed to solve all hardware issues and all promised features are working great now. The next step is an external beta-test starting in late-February with more than 50 SL1 printers (testers have already been selected).
Also, we have switched some parts for different ones to get better printing results and construction strength. Unfortunately, we had to sacrifice some more time because of these improvements as some of our suppliers have been delayed by the Chinese New Year.
First units should reach the first customers in late March and we have already extended the special pre-order price of the printer and bundles until then. With this extra time, we will be able to deliver you the best possible product we can.
Anyway, the biggest issue which occurred during the internal testing process was a painful one: printing displays often cracked on several units during printing of large models (80-100 % of printing area). This problem can be very common on cheap SLA printers, but we have solved it by changing most parts of the display mount. And remember the tilting mechanism of our SL1? Now it can calculate the size of the printed layer and it adjusts the tilting speed to further decrease the stress on the screen. Also, there was another problem – with the precision on the Z axis. We changed the supplier of rods and added a second spring to the Z-axis motor. Z-axis precision is now guaranteed and print quality is fantastic.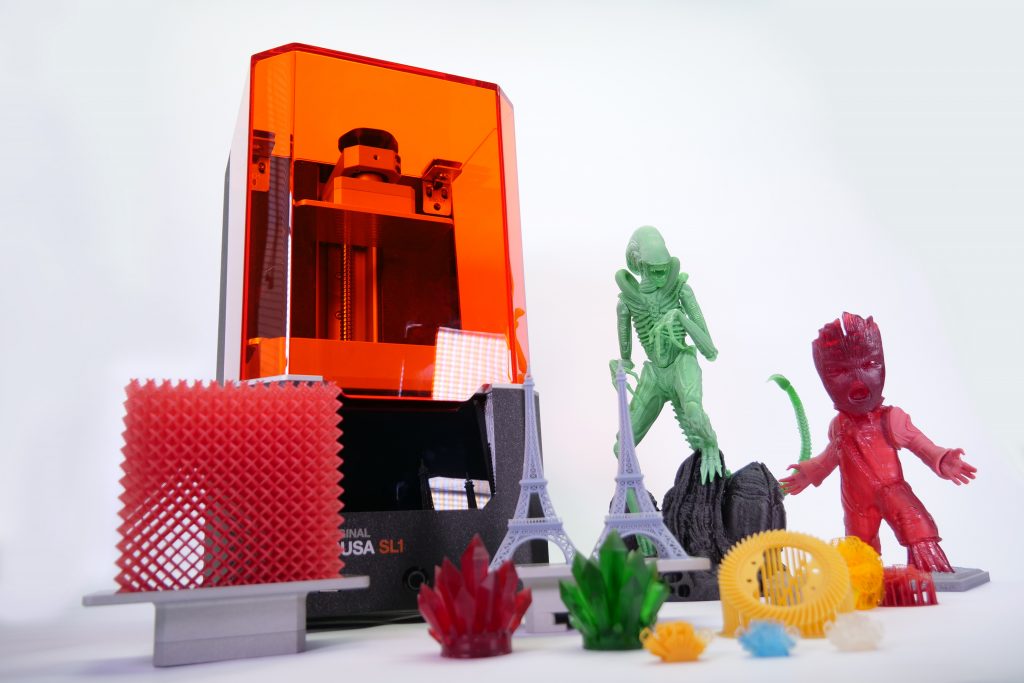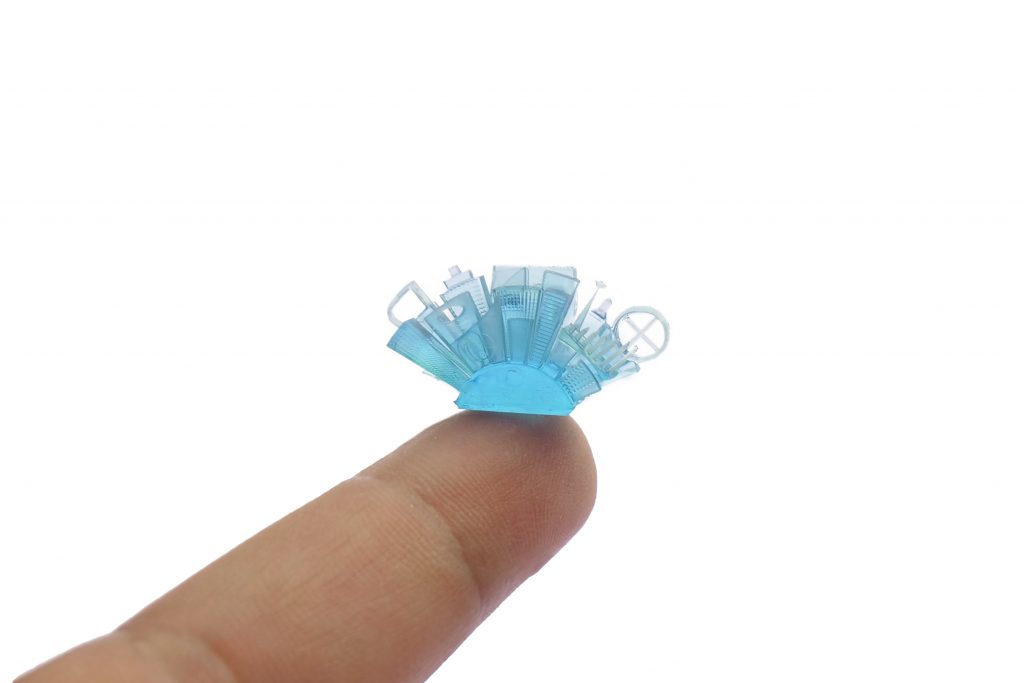 With these hardware problems solved, we are now focusing on the improvement of the calibration process, automatic supports in Slic3r PE and overall user experience.
As you may know, SL1 will support various resins from different manufacturers. We have already tested over 100 types of resins made by 3DM, Bluecast, Jamg He, Monocure 3D and many more. All of them will get their own profiles in Slic3r PE and we are still testing more resins to offer you a huge range of materials, so you will just select the brand you are using and Slic3r will do the rest. Since we're developing an open-source printer, it means you can use pretty much any 405nm resin. Plus, the bottom of the tank is easily replaceable – so you don't have to buy any expensive cartridges or complete tanks.
Slic3r PE
If you are following us closer you have probably noticed that Slic3r PE development is gaining some serious speed. If you haven't, make sure to check out our GitHub. I mean, if you are feeling adventurous and want to give some early versions a shot, you can test the new GUI and actually help us shaping the look of our slicer. Slic3r PE team is now 7 people strong and listening. Our goal is to have the best slicer out there for every printer, not just the Original Prusas. It works great, receives regular bugfixes and new features, it is improved based on user feedback and it's free. I am very proud as of right now, even getting bugs fixed in a timely matter isn't standard if you know what I mean 🙂
Prusament
I will be repeating myself again, but we did not expect such a demand. But … Again we are desperately sold out and received universal praise. When we made it available on US Amazon it instantly sold out and back ordered so much, Amazon decided to make it unavailable. We are continuously increasing the production capacity of our lines and our goal is to achieve a non-stop production with fully robotic operators. Besides that, I immediately ordered two more lines to our five which are coming soon, but I realized it won't be enough and ordered 6 more a few days ago. It's not a stock item (wait time is 6 months) and when they come we have to do all our mods to achieve the quality we want but I hope we will be able to meet the demand this year. I still have a feeling I will need to order more though. 😀
More to come!
I hope this update covered everything you wanted to know about the current developments at Prusa Research. There's a lot going on right now (as always) and we still have some cool stuff to announce later on. But first things first – we hear your feedback, so I hope you will be happy with the updated MK3S and MMU2S, and that you'll like the improved reliability and new features.
Remember to keep checking Prusaprinters.org for latest updates from Prusa Research and many other interesting guides and tutorials. And, of course, feel free to leave your comments if you have any questions.
Happy printing!