I have great news for everyone! First MK3s are already shipped to those who ordered in the very first hours after the release (The rest will follow according to schedule everyone has in theirs eshop accounts so there is no need to check it with our support).
However, we've encountered a problem with the first batch of the Powder Coated PEI spring steel sheets, where the first batch arrived in poor quality and the PEI was peeling off the sheets. We have to analyze what has happened as it took us by surprise and this will take some time to get back on schedule. A new batch is expected to arrive in late January within a reasonable time frame. Manufacturing at scale can always surprise you, we were very confident with this as we are manufacturing and testing the powder coated PEI sheets on our farm for over a year now.
As we know you are eagerly awaiting your MK3 we started a production of alternative spring steel sheets with the very same and great PEI which is on the MK2/S. (We actually planned to manufacture it later as an option.) Back when we announced the MK3, the textured print surface caused mixed feelings in many users and roughly 30% of users prefer the velvet finish from the PEI sheets they are used to from MK2 anyway.
The steel sheet has PEI on both sides doubling the lifespan and denting/scratching is improbable. Remember, you can release the parts by slightly flexing the plate. And of course, it works on the magnetic bed same as the powder coated version.
We asked first 100 customers who ordered if they are fine with the substitute + $10 voucher and we got very positive feedback. Hence we decided to swap it automatically by default until we have the powder coated version in stock. I know it might be annoying for some and if you prefer to wait a bit longer, email us your order number to [email protected].
I just can't imagine delaying the shipments as we were ready with all the parts for the November launch.
You can check out all the goodies for the MK3 as they are already online.
Handbook – www.prusa3d.com/downloads/manual/prusa3d_manual_mk3_en.pdf
Build manual – manual.prusa3d.com/c/Original_Prusa_i3_MK3_kit_assembly
Parts – github.com/prusa3d/Original-Prusa-i3/tree/MK3
Drivers and firmware (FW is beta version) – www.prusa3d.com/drivers
Firmware will follow shortly.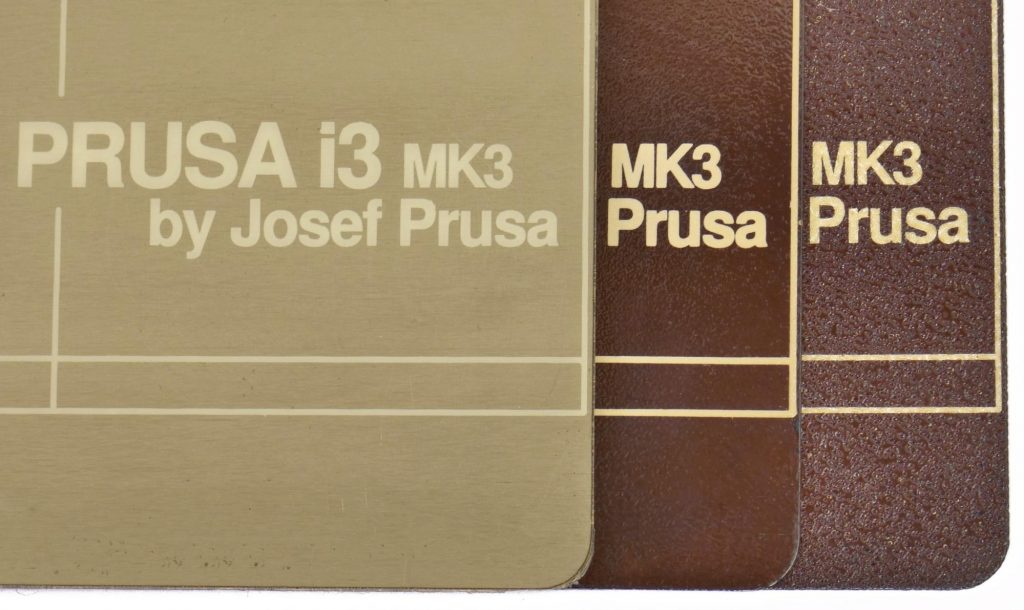 Different available surfaces pro MK52 magnetic bed – smooth PEI sheet, glossy powder-coated and textured powder-coated.
We plan to offer three version of the steel sheet:
Spring steel sheet with smooth double-sided PEI sheet – 29.99 USD (excl. VAT)
Double-sided glossy powder-coated spring steel sheet – 24.99 USD (excl. VAT)
Double-sided textured powder-coated spring steel sheet – 24.99 USD (excl. VAT)
Spring steel sheet with smooth double-sided PEI sheet in action
The sheets are considered consumables but we are offering the $10 voucher for textured powder coated steel sheet to everyone who receives the printer with smooth PEI "sticker" sheet and free shipping with it. We want you guys to be happy. We are also working on ways to provide special affordable shipping for sheets on every continent.
Thank you and I cannot wait to see the first MK3s printing in the wild 🙂