This year's Black Friday and Cyber Monday are nearly here and we're here to bring you several attractive offers you don't want to miss! Also, if you haven't seen it yet, we have recently published an extensive November Update article with news about upgraded 3D printers (MK3S+ and MINI+), MINI+ Assembly kit, new Satin powder-coated PEI spring steel sheet (login may be required), new materials, and more – check it out before you make a purchase!
Black Friday and Cyber Monday deals
So, let's start with the dates – the deals in our e-shop will start on November 26th at 4.00 p.m. PST (this is November 27th at 12:00 a.m. GMT) and end on December 1st at 12:00 a.m. PST (or December 1st at 8:00 a.m. GMT).
And here's what you can look forward to!
Free shipping worldwide
On all orders above 200 USD / 200 EUR
Discounts
Bundle deals
Original Prusa i3 MK3S+ (kit and assembled printer)
Free shipping
One extra spring steel sheet, for free. The first 300 orders of MK3S+ (kit and assembled printer) will receive our brand new Satin powder-coated PEI spring steel sheet, the rest will receive the textured powder-coated sheet
Free Basics of 3D Printing with Josef Prusa (physical) book (available in EN, FR, IT, GER, ES, CZ and PL)
One extra spool of Prusament PETG Prusa Galaxy Black for free
Original Prusa SL1 (kit / complete)
Free shipping
One extra 1kg bottle of Azure Blue Tough resin, for free (one bottle is already included, so you will get two bottles in total).
Discounts:
If you order more than one 3D printer, you will get the corresponding number of free gifts and the shipping is still free! 🙂
Please note that our 3D printers have different lead times and delivery dates. At the time when this blog post is published, the MK3S+ kit has a lead time of 1-2 weeks, the MK3S+ Complete 3-4 weeks and the MINI+ 8 weeks. We're doing our best to ramp up our production to meet the increased demand during Black Friday and Cyber Monday and deliver as many 3D printers before holidays as possible. Because we would like to avoid situations with a massive shortage like the PlayStation 5 or GeForce 3xxx, we may limit some overly excessive orders to ensure better availability of our machines for everyone.
Also, this year, we won't offer filament discounts. Due to a shortage of materials from our suppliers, we cannot manufacture enough PLA Prusaments to satisfy the increased demand. In general, the demand for Prusament is very high and our manufacturing capacities are running at max. Discounting the materials would result in increased lead times.
New e-shop vouchers
With the winter holidays nearly upon us, we decided to add a new set of gift vouchers with values of 100/500/1000 USD and EUR. They come in two design templates (universal and Xmas-themed) and you can use them to pay for the goods from our e-shop. Make sure to choose the correct currency – we offer the vouchers in EUR (for the EU), CZK (for the Czech Republic) and USD (for the US and the rest of the world). Also, in case you are waiting for the MINI and it won't make it in time for holidays, you can visit the store page to download a special gift voucher you can give to your friends or relatives before the printer arrives.
What's hot
Just in case you don't have time to go through the entire November Update article, we prepared a quick overview of the latest announcements:
Original Prusa i3 MK3S+ is the latest version of our award-winning MK3. It features an improved SuperPINDA sensor and several smaller updates of the design, resulting in higher reliability, easier assembly and better maintenance. MK3/S -> MK3S+ upgrade package will be available early next year (pre-order available).
Original Prusa MINI+ is an updated version of the Original MINI featuring an improved SuperPINDA sensor, resulting in much more reliable first layer calibration. The price of the MINI+ has been increased by 50 USD / 40 EUR (see the full article for more details) and you can take advantage of the free shipping deal during Black Friday to compensate for the increased price. Depending on your location, you can save even around 40 USD. And there's one more option – keep reading!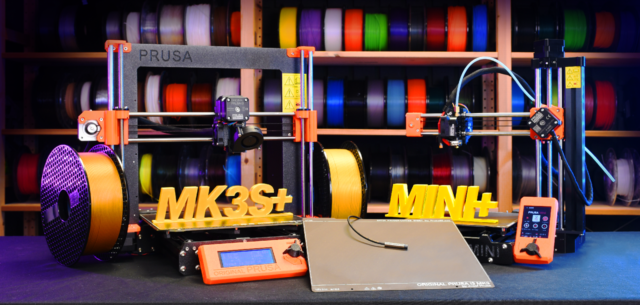 Original Prusa MINI+ Assembly Kit coming soon! We asked you whether you would like to have the MINI available as an assembly kit (same as MK3S) and your voice was loud and clear: a resounding yes! We're planning to start shipping the MINI+ Assembly Kit in early 2021, so you can build your MINI+ screw by screw and learn everything about how it works. And we're keeping the 349 USD / 379 EUR price!
New Satin powder-coated PEI spring steel sheet is here! We're offering limited quantities of our brand new type of print sheet, which was in the making for nearly a year. It's a great choice especially for those who often print PLA and PETG. Many materials can be printed without a separation layer, including FlexFill 98A.

And last but not least! The range of our high-quality filaments keep growing! With the introduction of the new "Oh My Gold" and "Viva La Bronze" PLA blends (available on Thursday, November 26th), the range of offered Prusaments is bigger than ever.
Happy printing!